Submitted by

Bill

on Wed, 05/31/2017 - 21:24
Airlines and other carriers restrict the size and weight of bags, have limits on the number of carry-on bags, etc. What about cruise lines? There is no shortage of advice about how to pack for a cruise, and we have a great cruise packing list you can use, but how much you can bring onboard? Let's look at how much of your world you can bag up and bring on a cruise and what cruise line policies say about how lightly you need to travel.
Bringing Luggage on a Cruise - The Basics
First know that you can easily fit all of your cruise luggage into two categories: carry-on and checked. Cruise lines make this distinction quite easy - if you plan to carry a bag on with you (which means you'll be holding onto it until your room is ready) it's a carry-on. Simple stuff, huh? Any of your bags you wish to leave at the curb at check in, and not see again until later on your embarkation day are checked bags. You should know however, that beyond the obvious (keep valuables and breakables in your carry-on), any alcohol you're bringing onboard (in accordance with cruise line policies - here are our thoughts on bringing alcohol onboard) should be hand-carried or placed in a carry-on bag. You should also carry on anything you'll need the first few hours of your cruise, such as medications, a change of clothes. In fact, this is one of our 12 embarkation day tips. Sometimes less is more, and we have a list of things you should bring on your cruise that will save you money, and potentially space.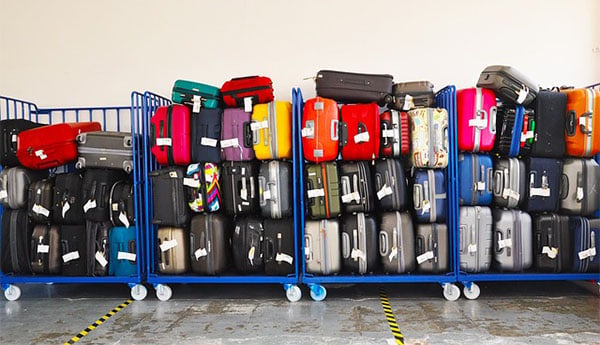 How Many Bags of Each Type Can I Bring?
We've outlined some popular cruise line policies below, but in general, there aren't enforced restrictions for either category so we'll try and summarize. Know that at times, embarkation day can see crowds in buffet areas and such, and no one wants to lug around a bunch of bags their first few hours on the ship - so try and limit your carry-ons to what you can comfortably keep with you in a crowd. Unlike checking in for a flight however there will be no bins your bag needs to fit in or gate agents ensuring your bag or bags fall into specific parameters.
Quick Tip: Check out CruiseHabit Ric's free Luggage Contact Sheet to make sure you and your bags don't spend too much time apart, and look at our cruise packing list for tips on what you should put in your bags.
For checked bags several lines have no restriction on the number of bags, others have suggestions based on the length of the cruise, and you can bet that no line wants their crew to have to move around your 100 lb suitcase. The real restriction on the amount of baggage you bring is how much space is in your stateroom. While rooms have become larger over the years, and offer more storage than ever, you still won't have space for your favorite piano or steamer trunk. Another limiting factor may have to do with you getting to and from the ship. Any baggage fees assessed by airlines or other common carriers still apply.
You should remember that if you're planning on checking bags, you will want to arrive to the port at least three hours before sail-away unless otherwise indicated by the cruise line. It takes time to load up all those bags, and at some point the porters who get them to the ship go home - you want to be sure to get to your vacation before they get to their car.
Everyone has different gear and techniques, but we have an whole series of articles to help you pack.
Cruise Line Baggage Policies
Policies on this matter vary by cruise line, and we've only listed a few below though they're reasonably standard across the board. If you have a cruise on a line not listed, let us know and we'll be glad to help you find the right information.
Carnival
To help you plan, we suggest you limit your luggage to a maximum of one bag per person, if traveling on cruises of 3-5 days duration, and no more than two bags per person, for cruises of 6 days or longer. ... Each checked suit case and carry-on suit case should not weigh more than 50 pounds, and when lying flat, bags must not exceed 16 inches high by 24 inches wide (the length of the bag is not a factor). For security screening purposes and to avoid any delivery delay, all luggage should be unlocked.
The full policy can be found here.
Royal Caribbean
Each guest is permitted to carry a reasonable amount of personal property (including luggage) aboard the vessel; however, for your comfort and convenience, it is recommended that you limit the number of pieces you take. Keep in mind that airlines may charge for excess or oversize luggage. Charges incurred for excess or oversize baggage are the sole responsibility of the passenger. Each airline has a different limit on the amount of luggage they allow. Check with your air carrier for specific restrictions, such as allowance of pounds and any additional charges.
Celebrity
Each passenger is permitted to carry a reasonable amount of personal property (including luggage) aboard the vessel; however, for your comfort and convenience, it is recommended that you limit the number of pieces you take. Guests who have made air arrangements on their own or with Celebrity Cruises should check with their air carrier for specific baggage policies related to the following: Number of bags allowed, baggage weight restrictions, baggage size restrictions, special conditions for sports equipment, or additional restrictions, as the air carrier may impose additional fees for some or all of these items. Celebrity Cruises will not be responsible for any additional fees incurred as a result of carrier baggage restrictions.
The full policy can be found here.
Princess
Princess has no policy around baggage restrictions online. We spoke with their team and they informed us that for cruises (land-cruise packages may be different), they have no restriction on the number of bags you can bring, they only ask that no single bag exceeds 50 lbs (~22.5 kg).
Norwegian
Each person is allowed up to two pieces of personal luggage on board, with each piece weighing a maximum of 50 pounds. However, if passengers are traveling by air, they need to check with the airline for specific restrictions.
Disney Cruise Line
The Disney Mom's Panel (which is an "official" voice of Disney) has this to say about baggage allowances:
According to your Disney Cruise Line contract, guests can bring two suitcases per person on board plus a carry-on bag which can not exceed 22" wide, 14" high and 9" deep. These dimensions are meant to be a guideline. More than likely, there won't be anyone at the terminal with a measuring tape making sure every guest's bag complies. However, if someone tries to carry on an enormous piece of luggage, a Disney Cast Member at the Port Terminal may say something or ask the guest to check the luggage on. Embarkation Day tends to be busy and congested in some areas and at some times. Therefore, making sure that guests are traveling as light as possible helps to alleviate a lot of issues.
Oceania
Guests may bring a reasonable amount of luggage onboard an Oceania Cruises vessel. No baggage of items heavier than 70 lbs. will be loaded onto or off-loaded from our vessels. Please refer to your Guest Ticket/Contract for all applicable Terms and Conditions.
The full policy can be found here.
Holland America Line
Holland America Line's website does not indicate any specific restriction with regard to the size of weight of bags. Speaking with them on the phone, they indicated that you can bring as many bags as you want, keeping in mind that you'll have to fit them in your stateroom and that airlines may charge fees as well.
MSC
Guests are encouraged to limit their checked luggage to two suitcases per person (not exceeding 90x75x43 cm in size and 23 kg in weight per bag), and two pieces of hand luggage per person (not exceeding 56x45x25 cm in size and 23 kg in weight per bag).
On all MSC Grand Voyages to/from The Caribbean, South America, South Africa and The United Arab Emirates, the above mentioned guidelines represent the maximum limit allowed per person. In any case, the maximum amount of luggage in each cabin must not exceed 100 kg and/or 8 pieces among all passengers in the same cabin.
The full policy can be found here.
Have you ever brought too many bags to store, or ruined your porters back with your brick collection? Maybe you just have a question? Let us know in the comments below or reach out on Facebook or Twitter.