Author: Bill April 6, 2023, Updated: April 7, 2023
Surprises on vacation can be fun, but seeing what your cruise ship looks like as it sails away without you onboard isn't something any of us want to experience.  While we've got a lot of practice cruising, there's still a little part of us that worries about missing the ship in port, but if you do these five things you can almost certainly make it back onboard with just enough time to shower before realizing that you forgot about your dinner reservations.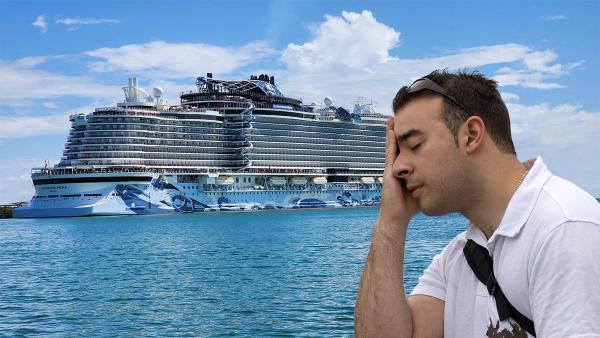 Write Down the All Aboard Time
The time your ship leaves is NOT the time you need to be back.  In fact, that may be too late.  The time that all guests need to be back on the ship (the, "all aboard time") may be 30-minutes before sail-away.  You can find this time in the daily program, the cruise line app, and at signs near the gangway as you disembark.  I tend to take a photo of the sign showing the all-aboard time when I'm getting off the ship.  Writing this down or taking a photo may seem obvious, but I'll admit I've walked into town multiple times and realized that I totally forgot when I needed to be back, so be better than me!  
Book an Excursion (Third Party or Through the Cruise Line)
This isn't requisite, and we often explore ports on our own, but taking an excursion can absolutely help ensure you're back before the ship leaves.  Many cruisers think the key is booking an excursion through the cruise line, as lines love to sell that as a great reason to book with them.  It's not completely wrong, but it is a bit misleading, as if you take a tour from a third party that specifically caters to cruisers, they'll get you back in time - they'd go out of business immediately if they didn't.  This doesn't mean any random tour guide knows when to get you back - but there are many companies that make a business out of providing
shore excursions
through sites like
Viator
and others.  Your travel agent can often help you find great third party excursions that can save you money and provide experiences not otherwise available (one of the many reasons to
consider booking through a good travel agent
).

Ask Locals About Return Times
If you ask me how long it takes for me to get from my home in South Florida to Port Everglades, the answer is "it depends on the time and day".  Our vacation escapes are other people's daily lives, featuring some of the same fun rush hours and traffic jams that you left behind.  Before venturing out, ask locals what time you should leave the place you'll be hanging out in order to get back to the ship before your all-aboard time.  Sometimes this may not matter much, but in some places it may surprise you that it takes much longer to get back than it took to get away from the ship.  For example, workday traffic patterns in St Maarten mean that the 25 minute drive to Marigot from the cruise port can easily require a 45 minute return trip.  Locals know, so lean on their knowledge, but always pad times to be safe.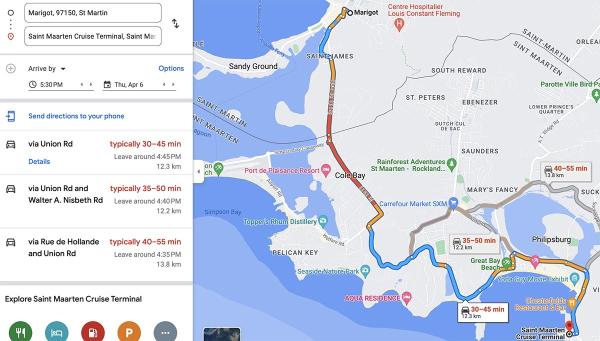 Prepare Your Phone and/or Watch
Setting an alarm for when you need to head back to the ship seems obvious - but don't forget, because we all get extra distracted on vacation.  There's another important part to this, however.  Depending on time of year, itinerary, and the Captain,
ships change time zones
, or the ship time may be different than the time on shore.  This can be a problem if you get back for all-aboard at 4pm...but it's already 5pm on the ship.  Making things all the more complicated can be your phone's automatic timezone feature.  It may be that your phone matches the ship's time, but then when you go ashore and turn off airplane mode, suddenly you switch timezones.  For this and other reasons, I turn off my phone's automatic timezone feature in settings before every cruise - and re-check it, as some phones re-enable this feature when you reboot your device.  So, check to see if the ship is on a different time than shore (you'll be notified in advance, and there are usually signs near the gangway), disable automatic timezone features, and set an alarm to alert you when it's time to start heading back to the ship.
Bonus tip from my father:
"Never trust that the clock in the taxi has the right time unless you want to explore Haiti in the 70s, without any money or documents."  Well, you probably won't time travel, but I think you get his point.

Take a Picture of Your Key Card & the Daily Program
If you find yourself in a position where you think you're going to be late, you need to know who to call.  While this doesn't guarantee that the ship will wait for you (it depends how many people are how late, what the ship's schedule is, etc), getting in touch with the right people could prove your lifeline.  There are two phone numbers you should have every time you go ashore on your cruise: the port agent, and the ship.  
Cruise lines work with local companies called port agents, they coordinate many elements of the ship's visit.  This also means they're among the primary points of contact between the cruise line and the port you're at.  If you think you may miss the ship, let them know.  If you end up missing the ship, they'll also be the ones you contact to figure out next steps, and they'll likely have your luggage and documents, as the cruise line clears out cabins of guests who've not boarded, and turns everything over to them.  Port agent information is in the daily program and/or the cruise line app.  Usually it is listed right next to the local weather forecast, port location, and all aboard time.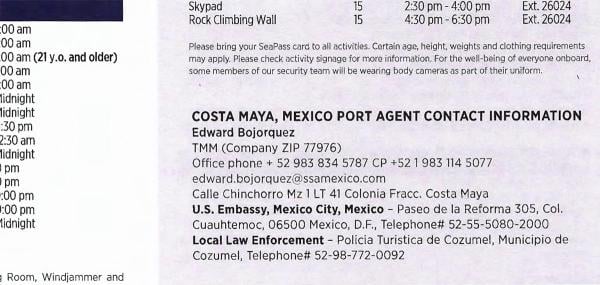 The ship also has a phone number - sort of.  Depending on the cruise line, the emergency number for the ship may ring to someone on the ship itself, or to a representative at the cruise line that can reach the ship.  This number is usually found on your cruise key card, as well as in the daily program.  Contact them if you're running late - or if you have other emergencies, such as medical issues, as they may have shoreside representatives that can help.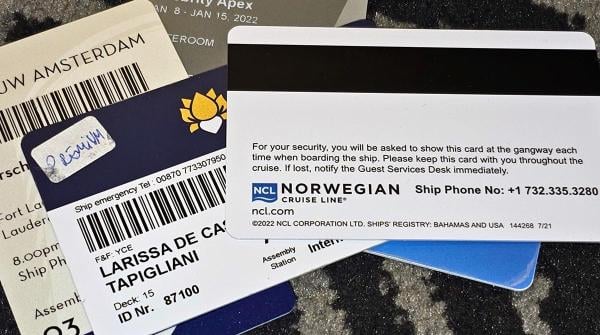 Watching Sail Away from the Ship
Hopefully you'll never need any of this advice, but taking a few photos, setting an alarm, and asking a local about traffic are all easy things you can do to help make sure your vacation doesn't go south in a big way.  We've taken a lot of cruises, and despite making many silly mistakes over the years, these tricks have helped us make sure we watch the land get smaller in the distance, not the ship.