Author: Bill May 29, 2017, Updated: July 5, 2020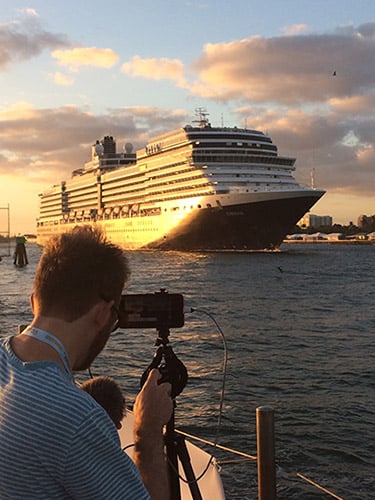 Nearly every week we broadcast live on Periscope from Port Everglades, Port Miami, or even ships at sea.  When in port we broadcast sail-aways of cruise ships, wave to friends old and new who might be sailing, give you information about the ships leaving that day, and answer your questions about cruising.  That's just the beginning though.  You can also use the free Periscope app (or watch online) to chat with us as we tour ships, share our onboard experiences, explore destinations around the world, and more.  In short - join us so we can talk ship - you might even catch some great views.
Oh, and if you want to share your experiences, whether on ship or shore, you can broadcast too!  All you need is a smartphone with a decent connection.  Of course, we get a bit more fancy, so if you want to see what we use to bring you these broadcasts you can see our gear here.
**Increasingly we've been sharing experiences on ship and shore view Facebook Live.  We'll add detailed instructions soon, but make sure you like us on Facebook and have notifications enabled!**
How to Join Us Live
Download the Periscope app for your Android or iOS device.  It's free!

Sign up (it takes just a second) or sign in with your Twitter account, if you have one.

Click the magnifying glass in the upper left, then select "People" and type CruiseHabit.


Click the blue avatar with the plus symbol to the right of CruiseHabit.


​
You'll now be alerted anytime we go live.  You can watch, listen, and chat, right from your device.  You can also watch on your computer by to Periscope.tv/CruiseHabit, or clicking on the Periscope button on the top of CruiseHabit.com.  If I'm live, it will be red, but you can always click on the button to watch past broadcasts.
How to Join Us in Person
If you'll be in the South Florida area and want to watch some sail-aways then come join us!  We're usually in Ft Lauderdale near Port Everglades, though we occasionally head to Port Miami.  Checkout where you can watch from Fort Lauderdale or Miami.
Need help joining the action?  Comment below or reach out on Twitter or Facebook!