Author: Bill February 20, 2017, Updated: June 15, 2017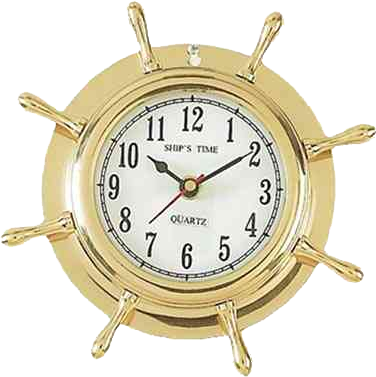 We usually adjust our clocks during daylight saving's time, but what about when we cruise across time-zones?  Whether or not you find yourself moving your clocks forward or back during your cruise depends on several factors.  Let's take a look at when you change your clocks as well as some things to consider to make this journey through time as simple as possible.
When You'll Definitely Change Your Clocks
If you're on a cruise that starts and ends in different time-zones, such as a transpacific or transatlantic sailing, you'll certainly be changing the time on your clocks during your sailing.  The nature of the changes will depend on how far you're traveling and whether you're slowed by stopping at ports of call along the way, but generally changes are no more than an hour each day of the sailing.  On a 5-night sailing from New York to Southampton, you'd change your clocks each and every night by one hour.
When You Might Change Your Clocks
If you're on a "closed loop" sailing, where your cruise starts and ends in the same port, you may still have to adjust your clocks if you're visiting ports in different time-zones.  Where things get tricky is that the ship may adjust its time to match that of the ports you're visiting or they may stay on the same time throughout the duration of the cruise.  This means that if you're sailing from Miami to Aruba (which is an hour ahead of Miami) you may be asked to set your clocks forward on your way to Aruba and back on the way back to Miami – or the ship may decide to stay on Miami time, and you'll be reminded while in port that local time is an hour off of ship's time.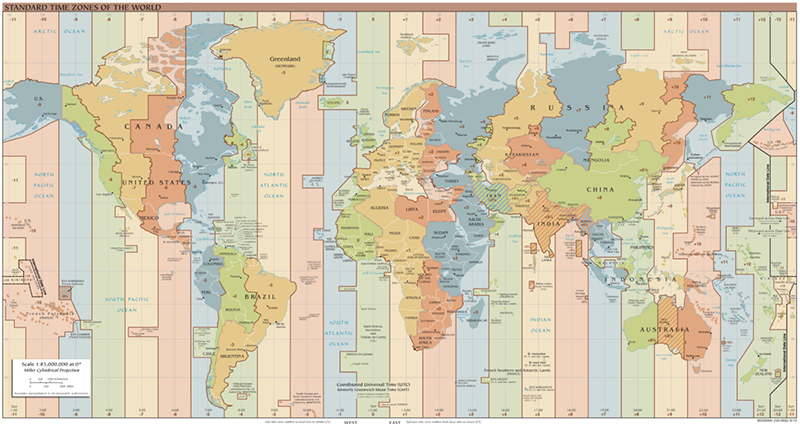 Who Decides When & If The Ship's Time Changes?
This is an easy answer: The Captain.  The Captain of a cruise ship is in charge of it all, from HR issues to Engineering, to whether or not you're going to change the time on your watch. 
When Do These Changes Take Place?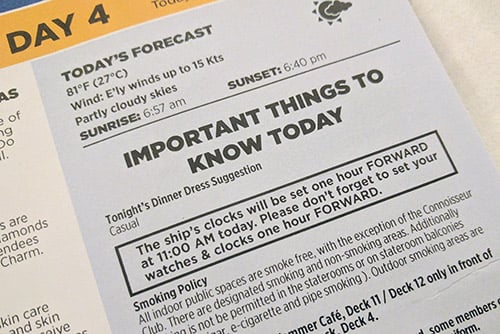 If I was writing this six hours ago, I'd say that you change your clocks overnight – say one or two in the morning.  As I write this however I'm on the Navigator of The Seas sailing to the ABC islands, and was recently informed that we'll be setting all the ship's clocks forward at 11:00am tomorrow.  While I can only assume the captain has a great reason for this decision, I can't imagine what it is.  In my many cruises I've never seen a time change during the day.  The guest services officer I spoke with, other passengers, and my travel agent all echo my observation. 
The good news is that the cruise lines make it obvious as to when you'll be needing to do this with a prominently displayed message in your daily cruise schedule, left in your stateroom each night.  Additionally, it will be announced on the shipboard television channels, by wait staff, and on the daily announcements over the public address system.
Things to Watch Out For
Phone time. If you're using your mobiel phone onboard, and you've disabled data roaming but are still connected to the ship's cellular network your phone's time will likely be set by this network.  On the surface this seems like it'll make things easy, but the reality of the situation is that I frequently see these systems set to the wrong time zone.  To prevent confusion, check the time, and go into your phone's settings to manually adjust your time zone settings so that you don't miss an alarm. Checkout this post from RoyalCaribbeanBlog.com about using your phone onboard and other ways to keep in touch while cruising.
Being in port with a different time on your watch.  I can't decide if I prefer staying on embarkation port time or adjusting as we cross time-zones, but it can be quite confusing when you find yourself in port with a watch set to the ship's time which is different than local time.  The real danger is getting confused about when your shore excursion (or worse, the ship) is scheduled to leave.  If you have any doubt, ask the crew, or if in port, look for other passengers from your ship.
Have questions about changing time while on a cruise or anything else?  Want to share your experience?  Reach out on Facebook or Twitter, or comment below!