Author: Ric December 15, 2017, Updated: December 1, 2018
One of the things I prefer about a cruise vacation over traveling by air is that your luggage travels with you. The risk of getting separated from your bag is much slimmer on a cruise than on a plane, but that doesn't mean the risk is zero. Plus, you may be transferring bags from cabs, hotels, shuttles, and planes just to get to the cruise terminal. The easiest scenario to imagine is that at some point while your bag is being transported from curbside to your cabin, your luggage tag falls off. However unlikely this scenario is, I go into it prepared. For every trip, I make a contact sheet with my information, the information of anyone I'm traveling with, and my emergency contact back home. This way, if my bag has no outwardly identifiable information, someone looking through my bag is sure to see the sheet and know how to get ahold of me or someone I'm traveling with. Also, in the case that something happens to me, my emergency contact information isn't far away.
If you're looking for some high-tech help in tracking your bag down, checkout Tiles, we've just started testing them out on trips across the world!
Also useful are luggage tag holders to ensure your cruise luggage tags stay securely attached to your bag!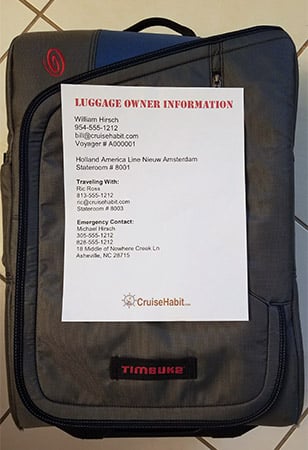 In the spirit of fun and safe travel, CruiseHabit.com invites you to download this Word document and customize it to your needs.