Author: bill August 27, 2016, Updated: October 2, 2022
The beauty of social media is that anyone with a smartphone or tablet can get involved.  Want to share your day?  You're just clicks away.  How do I do this from cruise ships, or on the beach?  Because I do this every week, sometimes with somewhat challenging conditions, I've built up a collection of gear to make it a better experience for everyone, which has led to many questions about what microphone I'm using, how I'm supporting the camera, etc.  Check out my collection below, where I explain why I use what I use.  I've included links to the exact pieces of gear on Amazon so you can up your game and share your adventures!  

The Phone
My primary phone is a Samsung Galaxy S22 Ultra.  It has multiple lenses (including long zoom and wide), optical image stabilization (OIS) which is handy when walking around and recording, and it's water proof - which is really nice when working around salt water or in rainy climates.  The good news is you can really use any vaguely-modern phone for streaming, but a newer device with a good quality camera and LTE or 5G is generally best.
The Microphone
Every single time I stream from the beach, someone asks me what microphone I'm using.  It makes sense, the port/beach is a windy place, and while smartphones have multiple mics to combat this, they have their limit.  The mics I use most often are a RØDE VideoMic Me and a RØDE Wireless Go 2 set. 
The VideoMic is what's known as a shotgun mic.  It's directional, meaning it picks up far more sound from the front than the sides and back, and comes with a furry wind screen, making it look like I carry around a dead hamster.  The wind screen can be taken off, as you wouldn't generally need it indoors, but it doesn't hurt anything, so I leave it on.  The Wireless Go is a set of two wireless mics and a receiver.  I can plug in another mic (such as a shotgun, or a lavaliere) to make them wireless, but I usually use the built in mic.  Both of these offer fantastic audio quality, and each has their own use case, while also making it easy to block wind noise.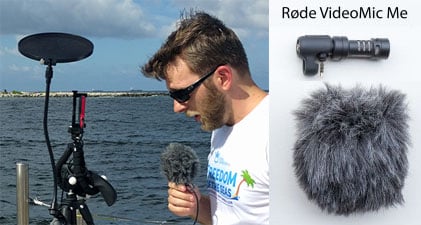 The RØDE VideoMic Me is made to plug in and hold on to your smartphone for portable use, which is great.  Sometimes, however, I use it as a hand mic, by plugging in an extension with a four conductor 1/8" connector on each side, often labeled something like a '4 Conductor TRRS Extension'.  Note that you can get variants of the VideoMic microphone with Lightning connectors or even a USB-C.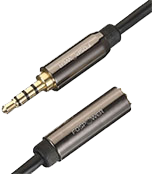 The Tripod, Mount, etc
Often when streaming, you're walking around, or only on for a few minutes.  It used to be, however, that when at the port and seven ships were sailing out, with a few minutes between each vessel, my shoulders felt like I'd just hung a dozen ceiling fans.  I knew I needed something to hold my setup for longer scopes.  I already had a few tripods, and started using a lighter, more portable one for these days.  There are a ton of tripods out there, and they can get pricey, but I found that the Manfrotto Compact Action Tripod was the best combination of portability and quality for the price.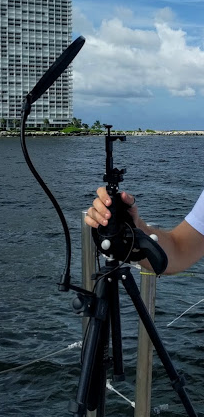 A tripod alone isn't enough - you have to have the right rig to hold your phone to the tripod.  There are many options here, but I went with an unconventional approach which, like the single mic with extension cable, allowed me some flexibility in my setup.  First, to hold my phone, I use the Ulanzi ST-02S mount.  I use this one in particular because it's solidly built, holds larger phones, and has a "cold shoe" on the top where I can clip my mic or mic receiver.  In the past I've also used the RetiCAM Smartphone Mount XL when I don't need to mount audio gear to the top.
Both of these clamps have a standard thread to mount them to a tripod (full size, tabletop, or otherwise).
Gimbal
When walking around, I'm usually using one of two devices to hold my phone steady.  Sometimes I use a PGYTECH Extension Pole Tripod with the Ulanzi ST-02S mount attached.  This makes it easy to carry, set down on a table, expand out as a selfie stick, or place on a low surface and expand up to be closer to my eye level.  When I want to shoot really smooth and still video (at the expense of some weight and setup), like when filming a ship tour, I use a DJI OM4 gimbal.  This device has motors that will stabilize your phone so that you can avoid the jerky motions, steps, etc that none of us want to see in a video.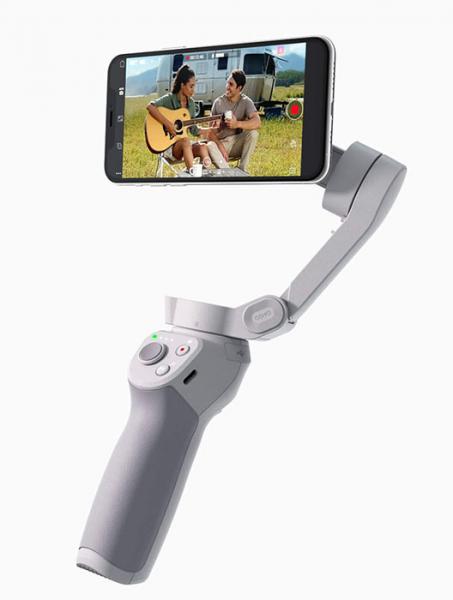 Miscellany 
If you've watched me or anyone else on streaming apps, you know it can drain your battery pretty quickly.  Broadcasting on any platform drains your battery even more quickly than watching.  Your phone's processor, radio, camera, and screen are all working overtime.  For short broadcasts, this is no big deal, but I like to make sure I'm covered all the time, especially when on vacation and away from outlets.  I've got several options, and I usually use one of my larger Anker portable battery chargers.  You may want to consider a smaller battery to keep in your pocket instead, as the larger one is great, but I wouldn't want it on my person.  This is what goes in my pocket when walking about.  Many companies make these batteries.  I prefer Anker as their quality is much higher than some of the others, and they stand by their products.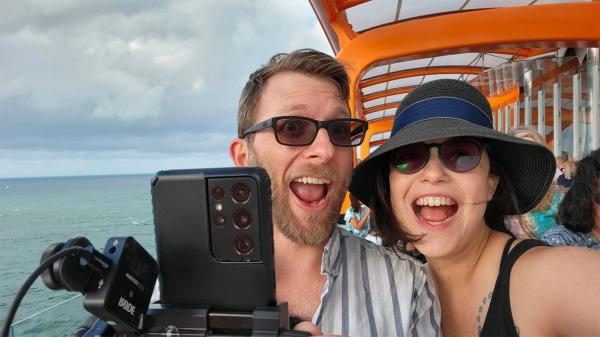 Another accessory I find handy is a studio pop screen.  This is usually placed in front of a microphone, but that's not what I use it for.  In the extreme Florida heat, I found the sun beating down on my phone for long periods of time was just too much, so I actually use this clamp on pop screen as a shade to block the sun without catching too much wind.  You probably won't need this, but now you know what that weird circular thing is in all of my pics.
These are just some of the accessories I use when streaming.  Depending on what I am filming, where, and why, I also use DJI Osmo Action camera, lighting rigs, and more.
Toting It All Around
Bags are, I think, a remarkably personal preference.  The style, the function, and what you need it for all weigh on this.  For me, I'm a huge fan of Timbuk2 bags.  I have their luggage, laptop bags, accessories, etc.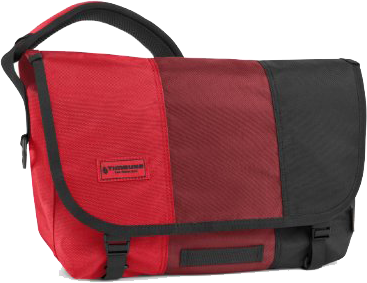 I use a Timbuk2 Classic Messenger bag (XS) as my day bag when out in port, and this is also what I use to carry around and store my gear.  It's waterproof, has multiple compartments, is comfortable, and available in many different styles.  If you ever see a guy holding a phone, wearing this bag, come say hi.
What's in your bag?
Let us know what you carry around on vacation, and how you carry it.  Who knows, maybe one of your suggestions will lead me to update this article for new and improved streaming gear!
*Note that many of the links in this post are affiliate links.  That just means if you buy something from one of these merchants, after clicking my link, I get a small percentage.  It helps keep the lights on, the site up, and the gear fresh - so thanks!