Author: Bill April 2, 2017, Updated: August 7, 2023
No matter if it's your first cruise or your one-hundredth you'll probably agree that the first day of your cruise is the most exciting, but there are a few things you'll want to consider doing to make your trip as enjoyable as possible.  I've come up below with a list of twelve tips, in chronological order that you should consider on embarkation day.  Oh, and if the word "embarkation" has you opening a tab to dictionary.com, you may want to start with our article on Nautical Terms for Cruisers.  You'll find links which diver deeper into some of our topics, but you can find them all on our First Time Cruisers page.
We now have a video version of this list.  Check it out on our YouTube channel, and don't forget to click like and subscribe :-)
1) Don't arrive to the port before 10:00am.
I don't often make blanket statements with such absolute numbers, but on embarkation day, crews have to clean the entire ship, offload trash, load new supplies, etc.  No matter how early your ship is sailing, arriving before 10:00am will only leave you waiting outside the terminal, as security won't even be open yet.  Different cruise lines have different ways of managing arrival times, and these are sometimes flexible, but not pre-10:00am flexible.  Further, in the past several years, lines have enhanced check in processes to reduce crowding, meaning there will be less wiggle room than usual in the schedule.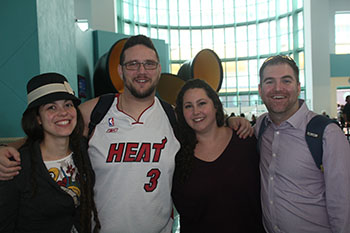 2) Bring a carry on with anything you'll need for your first few hours.  
Cruise lines don't really have restrictions on how much luggage you can bring so long as it can safely fit in your room.  This doesn't mean you should over pack. I try and keep things light yet still bring more than I need much of the time.  Check out how I pack for a four night cruise.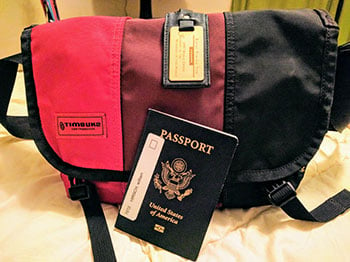 The good news is, that no matter how much you pack you can check those bags for free (though you'll want to tip the porter).  You'll need, however, to bring on a small carry on with any valuables as well as anything you need for the first several hours of your trip.  Oh, and your cruise docs and passport go in this bag - don't check those!  Checked bags may not arrive at your stateroom until the late afternoon or early evening, so a bathing suit, medications, and maybe even clothes for dinner should probably come with you as you walk on the ship.  Keep the bag light though, as depending on your cruise line, your stateroom may not be available until later in the day.

3) If you have any special dining requests (food or seating) make them clear right away.
If you've got any dietary restrictions then follow our guide for the best experience possible.  This includes heading to the main dining room as soon as you board.  Likewise if you're looking for a specific table in the dining room, either because you want a private table, or perhaps you'd like to dine with others, this request is usually best made as soon as you board as well.
Note that while this is generally the way to go about this, if you board early you may find that staff isn't yet at the main dining room, or, you may find that on a particular ship the staff handling these requests is actually at a specialty dining venue or in a lounge.  Ask any officer or crew member once you've boarded and if the main dining room isn't the place for these requests, they'll point you in the right direction.
4) If possible, avoid the buffet for lunch.
This one pains me to say a bit, because to me, the first meal on board is quintessential to the embarkation day experience, but unless you're on an ultra-premium or luxury line, you may want to avoid the buffet on embarkation day.  Why?  They're swamped.  Everyone is heading to the same place, and many are carrying rolling bags, backpacks, etc - further crowding things.  For this reason, ask about other dining venues that are open on embarkation day.  On Disney Cruise Lines, for example, one of the three main restaurants will be open for lunch.  On Oasis class ships on Royal Caribbean, Central Park Cafe is open during this time.  


5) Take a look at the day's schedule.
The first day's programme may be handed to you when you check in, available at guest services, or increasingly, in the cruise line's app (for which you don't need internet access). This will list important information about the afternoon and evening happenings, ranging from muster drill (which you'll need a good shirt for) to shows.  Everyone likes different levels of planning (for me, I like to know what I must do, and wing everything else on a cruise), but the first day will go quickly, so see what you don't want to miss.  You'll also want to look out for any sales or promotions that are mentioned.  For example, specialty restaurants often have cheaper rates the first night, and there is almost always one other thing in this schedule which we'll cover below.  Look up daily programmes for similar cruises to yours here - they won't necessarily be the same from sailing to sailing, but it should give you a good idea of what to expect.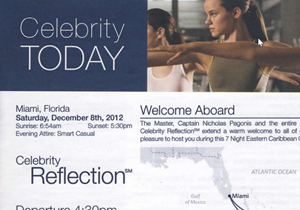 6) Go to the spa raffle, even if you're not that interested.
I'll admit this was new to me, but a number of people have made me see just why this should be included on your embarkation day plans.  Almost every cruise wants you to show up to the spa on day one to entice you to come back and spend money, and to do this, they'll be having a drawing for free spa services - but you must be present to win.  The thing is that not that many people tend to show up, so you've got a great chance of getting a free spa service or credit.  I know one cruiser who, just by showing up, won on 14 cruises in a row.  Thanks Nick for the tip!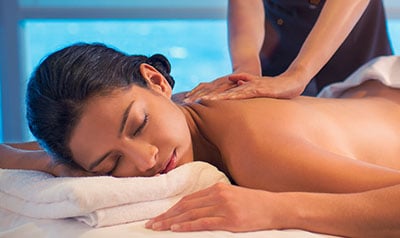 7) Finally, get to your stateroom and get settled.
By this time your stateroom is probably ready, so go check out your accommodations for the next several days or more.  You've got several things to accomplish now that you're here.  For starters, take a look at the map on the back of your stateroom door.  This shows where you'll need to go during the muster drill that is coming up soon, and of course, where you're to head in the unlikely event of an actual emergency.
While in your stateroom for a bit, be sure that everything is in order.  Are the beds in the right configuration?  Is everything clean?  Is the A/C cool?  Have enough hangers?  If there are any issues at all just grab your stateroom phone and let them know.  Better to find out early so they can make it right early.
Lastly, before you head out of your stateroom, unpack your carry on.  You'll want to go conquer the ship and explore, but later on you'll get the rest of your luggage, and this way you'll have a less cluttered stateroom and be ahead of the game.  This will also give any clothes you've got in your carry on time to unwrinkle a bit on a hanger.
Oh, and put on some sunscreen, as you're going to spend the next couple hours outside as you explore the ship (hopefully you brought along some reef-safe sunscreen if heading to various destinations in Mexico or the Cayman Islands), head to muster, and wave to all the suckers folks on shore.
8) Start exploring the ship - with a plan, or just by walking around.
Ships these days are laid out to be easy to navigate, but they can still be a bit overwhelming.  Take this opportunity to explore so that you're that much more familiar with the ship when you actually have a venue you're looking to head to later.  
Ask if the ship you're on has an art walk then follow this, as it is generally a great way to force yourself to walk around each of the main areas of the ship where they've put art.  On a Dream class ship with Disney, play the Midship Detective Agency.  It's a fun game and will serve you well in your mission of exploration.
9) Head to the muster drill.
The muster drill or emergency drill is where everyone - regardless of age, how many times you've cruised, etc, goes to their designated muster stations (remember the back door of your stateroom) to get familiar with that location and to review what the procedures would be in the event of an actual emergency.  On some lines, bar service will stop 15-30 minutes before the muster drill because everyone musters at once.  Now, most lines have made muster quicker and easier by allowing you to watch the safety video on your phone or stateroom TV, and then head to your muster station for a quick check-in in the first few hours after you've arrived.  The crew will make announcements about this once onboard, and you'll see instructions in the cruise line's app.  Don't worry, you can't possible miss it.  You did pack your muster drill shirt, right?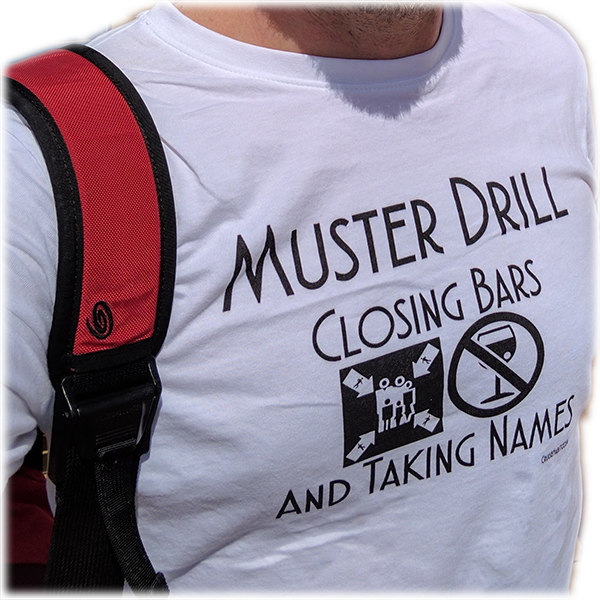 If you are sailing a ship that still uses traditional muster (everyone at once), every passenger will be in a mad dash to get back to the pools, bars, their staterooms, etc when it's over.  Don't rush.  I usually try and find the closest comfortable place to sit and relax for fifteen minutes.  It's far more relaxing than fighting the crowds as everyone is leaving their stations.
10) Find a good spot from which to enjoy sail-away.
By now it's probably time to leave port, and while vacation started when you boarded, this is when your cruise really starts.  There is generally a deck party by the pool, but that may or may not be your speed.  Perhaps there is a lounge with a nice view of the port you're leaving (every ship is different, but if sailing Holland America look for the Crow's Nest, or the Viking Crown Lounge if on Royal Caribbean).  If you're leaving from Port Everglades you'll have the state park and jetty on your port side (left) and beach on your starboard side (right).  Maybe you just want to relax on your verandah and wave to me as I broadcast your ship leaving - or maybe just enjoy that time on your verandah without me :-)  The point is, figure out where you want to be for the official beginning of your cruise so you can arrive in time to wave to the suckers on land with one hand while holding a drink with another.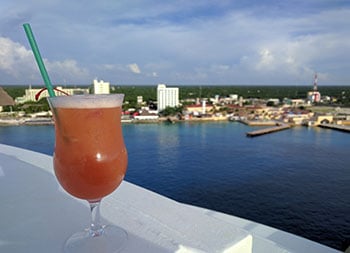 11) Remember the rest of your bags? Time to unpack them.
Once your port of embarkation is in the ship's rear view mirror (no, that's not a real thing) you should probably head back to your stateroom to see if your bags have arrived.  With a little bit of luck, they'll be there just in time for you to unpack and then get ready for dinner and whatever else your evening may hold.  If you have any garments that absolutely must be pressed, you'll find instructions for that in your stateroom.  I generally find that hanging something in the restroom as I shower get's things in good enough order - I'm on vacation, not going for a job interview.
12) One last thing...
Don't forget to relax!  As mentioned, I'm not a hyper-planner on cruises, I just like to know the way in which I can do things to make life a bit easier.  This means that now your cruise has started, you're unpacked, and freshened up, you can do as much or as little as you want - and that, to me, is what cruising is all about.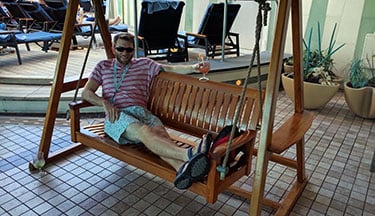 If you want to dive deeper and get more tips for your first cruise, check out our First Time Cruisers page with many articles to make your first, second, or twentieth cruise an enjoyable one.
Have a tip we missed?  Let us know in the comments below, or reach out on Facebook or Twitter!