Author: bill January 29, 2017, Updated: May 23, 2020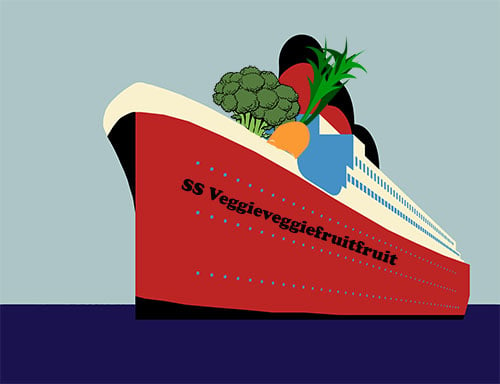 Dining is always a big topic when it comes to cruising as there tends to be such a wide variety of options (and frankly quality) when it comes to food.  That variety is great because we all have different preferences (such as vegetarianism in my case), and some, because of medical conditions (such as celiac disease or food allergies).  No matter personal preference or medical necessity, let's talk about what it's like cruising with dietary restrictions.
On the whole, you'll find cruise lines are very accommodating, not like land-based establishments that may be accommodating where others are unwilling to adjust recipes.  This doesn't mean that execution is perfect.  The good news is that there are a few simple steps you can take to help ensure you'll have the best dining experience possible.
Let Your Travel Agent Know About Dietary Restrictions
Frequent readers will know that I'm a huge advocate for using a good travel agent (read more here), and this is another great reason.  Once your travel agent knows, he or she should be the one taking care to ensure that your restrictions are noted on your airline reservations, your cruise, even your hotel reservations in some cases.  As I write this, I'm on my way to the airport (no, I'm not driving) and once I board my flight I'll have a vegetarian meal because my travel agent knows my preferences (hopefully Brock also mentioned that I really hate peanuts and olives).  
This is really step one, making sure the cruise line knows about your dietary needs before the cruise even starts.  It helps them allocate resources, and depending on your need, the cruise line may even reach out to you with more questions.  If you didn't book with a travel agent, you can always mention this to the customer service team at the cruise line.  If related to a severe allergy or other medical problem, be sure to contact the special needs team for the cruise line with which you're sailing.
Speak With Your Head Waiter On Embarkation Day
You've let the cruise line know you're coming, but now it's time for your first point of contact on board.  On most cruise lines, there is a head waiter or similar dining crew member available on embarkation day to accommodate dining request.  This includes table assignment requests, menu inquiries, and of course, dietary restrictions.  Once you've boarded check the embarkation-day schedule or simply ask a crew member where you can go to speak to someone about dining requests.  This person will look up your room number and should see the notes previously put there by your travel agent, and there may even be information about how they are going to accommodate your request.  This is there first chance to dig deeper and ask questions about the exact nature of your restrictions, what your dining plans are for the cruise, etc.  
Quick tip - speak with someone on embarkation day even if you don't plan to go to the main dining room.  This person will discuss your needs and preferences and enter them into the ship's reservation system that is used by all dining venues.
Be Honest About What You Want, Not Just What Is Acceptable - No One Wants Salad Every Night Of A Cruise
When someone is doing something special for you, in any circumstances, we often feel compelled to take what's given and not express much in the way of preference.  When speaking with dining staff about your preferences or restrictions, also tell them what you like and what you'd enjoy on your cruise.  Even as a vegetarian it's hard to come up with a good suggestion if you just tell me that you're looking for a meal, but if you express interest in a certain type of cuisine, or perhaps suggest that a vegetarian version of a certain dish is appealing, then the wheels start turning.  The person you're speaking with probably wants you to have something you really enjoy, but there is a chance they themselves are familiar with the options (especially if they're not a chef), so be sure to speak up.  If you're offered an option and it doesn't excite you, don't feel bad about continuing to explore additional options.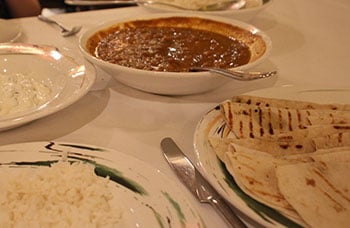 On many cruises, we request an Indian dish each night in addition to other items we might want from the menu.  Indian food may or may not be your thing, but this is an example of just asking - the worst thing that happens is that they can't accommodate your request.  This holds true for private islands in the Caribbean.  Disney Cruise Line for example will cook anything we ask for (within reason of course) and have it ready on Castaway Cay, but if I simply asked if there were vegetarian options, I might be eating a veggie-burger and fries.
Be Clear If You Have An Allergy Or Other Intolerance
Many restaurants on land and sea now have procedures for accommodating guests with food allergies.  These procedures often involve communicating directly with a chef, using a different prep area to avoid cross-contamination, etc.  If you simply ask for a dish without an ingredient you're allergic to, they won't know to follow these procedures.  They may also then open up about other options and suggestions.  Either way, this is important for your safety, so speak up!
Not Satisfied? Ask To Speak With Someone Else
I've found that most people really want to help, but that alone doesn't ensure solid execution.  If you don't feel someone is being helpful enough or understanding the nature of your request, ask someone else.  For example, most any of the dining staff will be understanding and helpful, but vegetarianism and veganism is much more prevalent in some cultures, so if I have the option, I'll always look for an Indian crew member in the dining area that might be able to help me out, as India has a very large vegan and vegetarian population..
On a very similar note, this also means that you should bring things to someone's attention if they're not working out.  Labeling for example is something I notice isn't done very well at times, but on two cruises recently (on very different cruise lines), I simply brought it up once and this was immediately corrected.  This is helpful if you're like me and enjoy the variety that buffets offer.  
Extra Considerations If Keeping Kosher
While all major cruise lines can accommodate kosher guests, you should know that your experience will vary greatly based on the cruise line and even specific cruise ship.  Why?  Space is at a premium on ships, so maintaining additional sets of cookware, a separate prep area, etc is rarely practical.  Many cruise lines use meals prepared at kosher facilities on land and then warm them onboard.  While I've heard the meals are often satisfying, that's a far cry from what you may expect from a dining experience.  Some ships in the past however, have had separate kosher kitchens - in fact we toured one such galley on the QE2 many years ago.  We're reaching out to cruise lines for more details on current practices, but if you have an idea of what ship you're interested in, have your travel agent reach out to find out exactly how they cater to those keeping kosher. 
Wrap Up
Dining with dietary restrictions is much easier now than it was just a few years ago, and it shouldn't be any different when you're on vacation.  There are plenty of helpful staff looking to make your vacation more enjoyable, so don't be afraid to plan ahead, speak up on board, and, importantly, give feedback during and after your cruise.  Yeah, sometimes it may take a bit more work than other times, but out of all my cruises I've never come back hungry or dissatisfied.
Do you have a tip?  Comment below or reach out on Twitter and Facebook!