Author: bill April 11, 2017, Updated: April 11, 2017
Oceania Cruises, known for for cuisine and dining experiences that stand out in the cruise industry, has introduced a large variety of options on new vegan menus as well as cold-pressed raw and vegan smoothie bars.  This expands their already impressive menus and culinary crew which cater well to passengers with dietary restrictions.  The juice bars are already available on the Marina and Riviera, while the new vegan menus are available across the fleet of six ships.
The vegan menus include a total of more than 250 dishes and will be available in the Grand Dining Room for breakfast lunch and dinner.  Selections include multiple courses - soups, salads, appetizers, entrees, and desserts.
"We are delighted to expand our culinary offerings to please an even wider array of palates and offer our guests more diverse choices to suit today's wellness-focused lifestyles," said Bob Binder, President & CEO of Oceania Cruises. "Whether guests are looking for a healthy and invigorating start to their day or a refreshing and rejuvenating mid-day pick-up, the Raw Juice & Smoothie Bar has something to delight every palate."
A few highlights from the Grand Dining Room and Terrace Café
Breakfast: Vegan Tortilla Española with potato, onions, and tofu; vanilla waffle with fresh berries; apricot and pistachio muffins; cream of wheat or oatmeal.  Grilled tomatoes, sautéed mushrooms, vegan link sausage and Lyonnaise potatoes are always available as sides.
Lunch: Tuscan-style bean soup with garlic croutons, a fantasia Italian salad with assorted greens, roasted bell peppers and toasted garlic bread, involtini stuffed with tofu, spinach, and capers served with pasta and olive tapenade sauce. For dessert, an Italian chocolate vegan-ricotta pie with vanilla and raspberry sauce.
Dinner:  Quinoa salad and vegetable tartare, creamy truffle flavored parsnip soup with chopped tarragon, Thai red vegan curry with steamed jasmine rice.  For dessert, vegan strawberry sable, a shortbread with passion fruit cream and strawberries.
Again, these are just a few of the offerings, as the goal here seems to be to offer a wide variety of vegan options so guests with dietary restrictions aren't resigned to repeating a handful of dishes.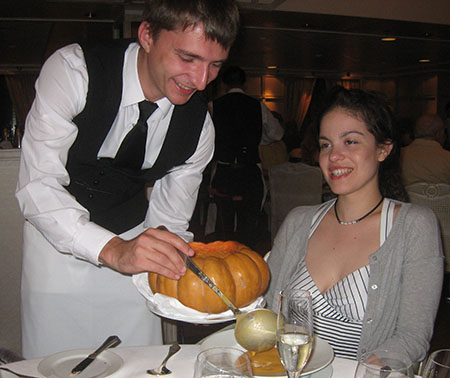 Raw juices and smoothies
The Raw Juice and Smoothie bar is on the pool deck next to Waves Grill (author's note: Waves Grill has the best poolside dining experience I've ever had at sea), and offers cold-pressed juices and vegan smoothies until 11:00am.  Selections include the Rise & Shine juice, Coco Island juice, Tropical Green smoothie, Sweet Green juice, Yellow Sunshine smoothie, Cacao Joy smoothie, Cold Brew latte, Acai Berry bowl, and Chia Cashew Yogurt bowl.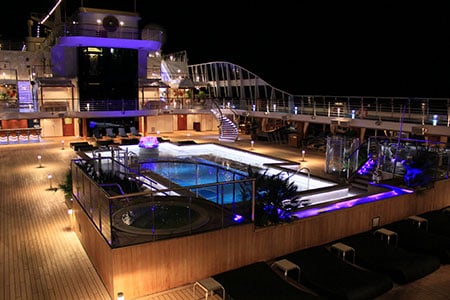 Billy's Take
Long-time readers and viewers will note that I rarely hand out superlatives in any category, but having sailed Oceania several times before (and hopefully many times in the future) I can honestly say that no cruise line I've sailed has provided better dining experiences, so this change only cements that standing in my book.  
Choices are always a good thing, but Oceania has taken a big step here.  Over the years cruise lines (and hotels) have tried hard to accommodate a wide variety of dietary restrictions.  Some restrictions are for medical reasons, others are preferences, but in both cases these offerings can make the decision as to where someone spends their vacation dollars.  The Wynn and Encore in Las Vegas offer separate vegan menus in all of their restaurants, almost all cruise lines ensure there is at least one set of vegetarian options per meal, but having 250+ selections delivers a message that there will be no compromise on Oceania - a line that has long strived to present guest experiences without any compromise.  It will be interesting to see how this not only affects those with dietary restrictions, but their families looking to accommodate everyone's needs and preferences.  If improving the experience for some means bringing larger families and groups over to a cruise line that may not have previously been on the radar then I suspect that others would follow in Oceania's steps, but the challenge will be keeping up with the quality of the culinary experience offered on these fantastic ships.
Want to learn about accommodating dietary restrictions on any cruise line?  Check out what you should know before you sail as a vegan, someone with Celiac disease, or a guest who keeps kosher.
Questions or comments?  Comment below or reach out on Twitter and Facebook!