Author: bill April 22, 2017, Updated: April 30, 2017
This weekend we were lucky enough to enjoy several hours on Carnival Vista, Carnival's newest ship.  There will be lots to digest here, but I'll tell you this much - we are truly impressed.  In last week's post we pointed to seven things we were looking forward to on the Vista, and they all delivered.  This 133.5K gross ton cruise ship offers up many great options not found on other Carnival ships and it's hard to try and take it all in on a three hour visit but we sure tried.  In this review, which we're guessing will take us three rounds, we'll share some of what we saw, experienced, and tasted.  Just typing this made us hungry, so we're going to start off talking about dining on the Carnival Vista.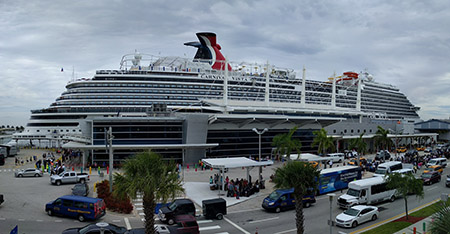 | | | | |
| --- | --- | --- | --- |
| TONNAGE | CAPACITY | IN FEET | CREW |
| 133,500 GROSS  | 3,934 GUEST  | 1,055 LENGTH  | 1,450 ONBOARD  |
Dining on Carnival Vista
Dining is one of the big points of interest on any cruise no matter the line, location, or duration.  While our three hours only allowed us time for one meal (I promise, next time I'm going to fast the day before and somehow make it two), we did explore a number of the venues.  Just ten years ago you had a choice between a buffet and the main dining room, modern ships have many more venues to chose from, and the Vista is no exception.  What did stand out is not only that the Vista has many more dining venues than other ships of her size, but that many of them are complimentary, especially for lunch.  The variety of venues and options seemed to really help the flow on embarkation day too, which is traditionally the most hectic day on a ship (everyone is exploring, rooms may not be ready yet, and everyone wants their first meal and drink). 
The Lido Marketplace is the main buffet area, and on each end of it are other venues we'll discuss.  In recent years cruise lines have changed these buffets from a long lines of food to stations or islands to better manage crowds, but what Carnival has done is create distinct areas - almost like restaurants within the restaurant.  There is a deli, a salad bar, a carvery, several desert stations, hot items, and more (including pour your own beer stations!!).  The only downside to this is that I personally like to walk around a ship's buffet venue before making my selections, ensuring I don't miss anything of interest.  This can be tricky because of the layout, but I suspect that by day two you could figure out a pretty good plan - either way this is a first world problem if we've ever typed one out.  We didn't have lunch here, but we did grab deserts, which, if I'm being honest, were better desserts than I think I've had on a non-luxury or ultra-premium cruise buffet.  The highlight?  Earl Grey infused cake with strawberry - next time I'm bringing Tupperware.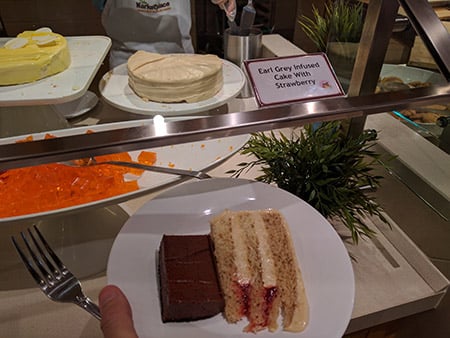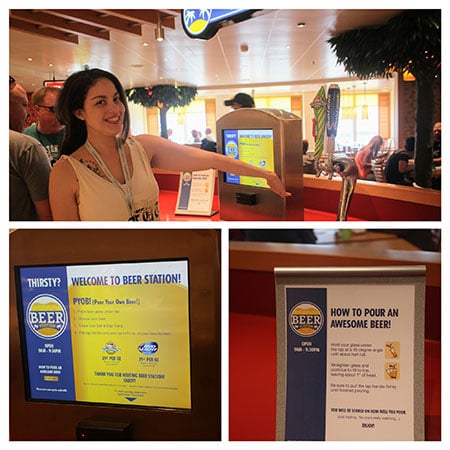 Blue Iguana Cantina is a complimentary made-to-order Mexican joint just outside of the Lido Marketplace and near the main pool area.  The food happens outside (well undercover though) but it's only steps away from plenty of seating both indoors and out.  You approach from one side, select your tortilla type (taco shells and taco shell bowls are also available but the tortillas are made on site) and then select what you want inside.  There are multiple types of vegetables, sauces, cheeses, meats, seafood, etc - a really impressive number of options.  The cook then wraps up your meal and then it's time to head to the salsa bar, where around ten options await, including habanero salsa and salsa roja which have a nice level of spice, something this chili-head doesn't always find.  Those who have sailed Royal Caribbean may wonder how this compares to Sabor, Royal's answer to Mexican fare.  While both are Mexican venues they're quite different.  It's hard for me to say that one is better than the other, but I do like the ability to grab a quick bite at Blue Iguana (and Sabor Taqueria on Oasis class ships) compared to a sit-down meal at Sabor Modern Mexican - but I also really like that Blue Iguana is complimentary.  You're sure to find us at this venue when we sail Vista in the future, though we do hope that by then they've got some Mexican dessert options to counteract the great spicy food.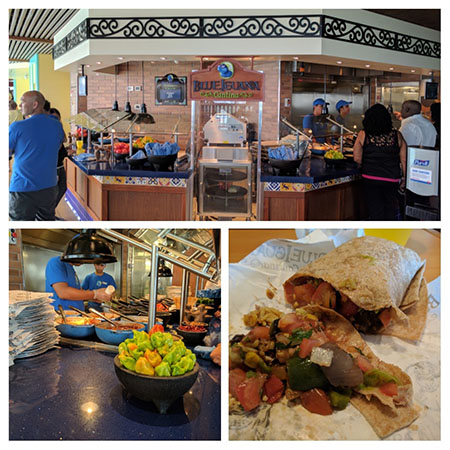 Of course, we weren't able to sample things in every venue, but let's get some quick points on some of the other spots on the Vista where you can grab a meal or a snack.
Bonsai Sushi & Fahrenheit 555 (Vista's steak house) are located on deck 5 midship on opposite sides of the "mini" (in quotes as it's still two stories)  Dreamscape LED funnel, like the larger one found in the atrium.  Bonsai has freshly prepared sushi, bento boxes and other items with a la carte pricing (check the photo gallery at the bottom for a better pic of the menu and prices).  Fahrenheit 555 caries with it a $35 cover charge but we've heard nothing but good things about this venue on other Carnival ships, suggesting that for many this price tag will be well received.  While both these venues sit just above the casino, the Dreamscape LED funnel is surrounded by glass so you won't smell a bit of smoke.  Both of these venues have seating both indoors and out on the Lanai, a feature we think is fantastic.  Who doesn't want the option of sea-side dining?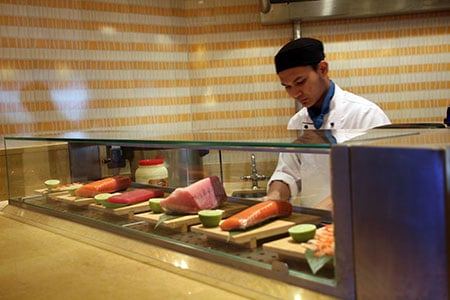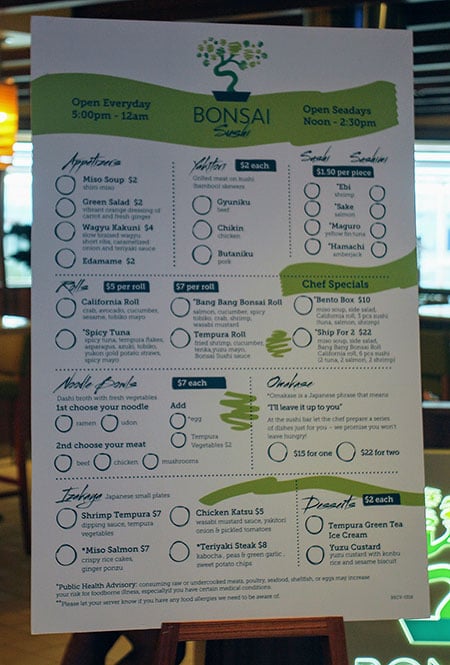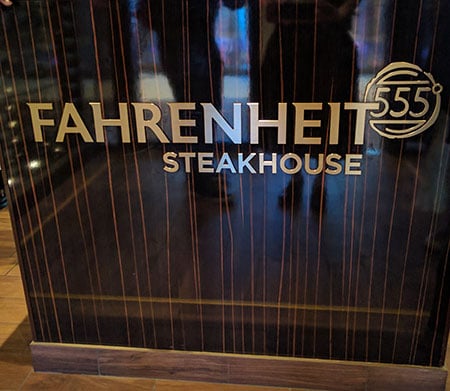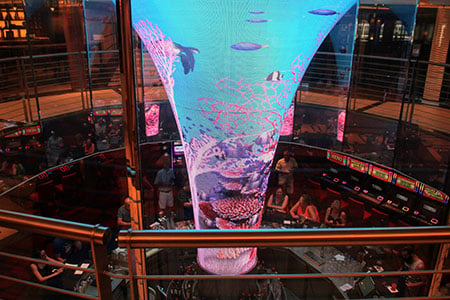 JiJi Asian Kitchen & Cucina del Capitano are located on deck 11 aft, and are pretty isolated from other areas of the ship.  On the upside, their location offers some great views if you get a seat near a window.  JiJi is Asian fusion, open for dinner only, and carries a $15 cover for all menu items.  Cucina del Capitano is an Italian restaurant which is complimentary for lunch, and at dinner carries a $15 cover.  We loved this space because the artwork, some of it against attractive faux-brick walls, is largely nautical themed, with photos of past Carnival ships, maps of the ocean, etc.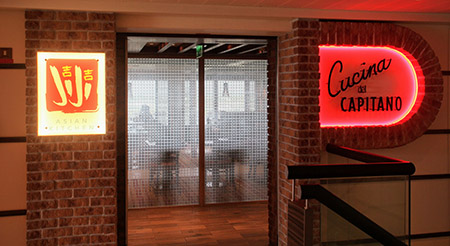 Horizons Dining Room is the main dining room on Carnival Vista, occupying a sizable part of decks 3 and 4.  Reflections Dining Room offers the same fare in a smaller space for those who opt for traditional fixed dining times.  During our visit there was a private event taking place so we didn't get to snap any photos, but did note that the color schemes in these venues focus largely on ocean blues, just as we saw in several other spots, including Liquid Lounge, the main theater.  Overall we thought the look of these rooms was quite nice.  Not gaudy or trying to impress, but more contemporary.  Even the larger tables (think traditional captains tables) seemed to lack giant chandeliers and such, and we're okay with this.  While the hues we're different, the feel reminded us of something you might see on a Celebrity ship.
Aft on deck 10 at the Tides Bar and Tides Pool you'll find two more places to grab a meal, Pizzeria del Capitano and Seafood Shack.  This area is a great place to go and relax, very pretty, but we were a bit surprised to see these venues here though it is the opposite site of the Lido Marketplace from Blue Iguana Cantina and Guy's Burger Joint.  This isn't a bad thing at all, we're just used to seeing dining options near pools consist of hamburger and hotdogs, but on a ship with so many pools and restaurants, you're bound to find some interesting combinations.  The pizzeria is a complimentary venue and is a casual place to grab a slice, decorated like a typical red and white tablecloth neighborhood Italian spot.  Seafood Shack is open for lunch and dinner and items here carry an additional charge of $6 to $12, though we've heard that their lobster rolls are well worth the cost.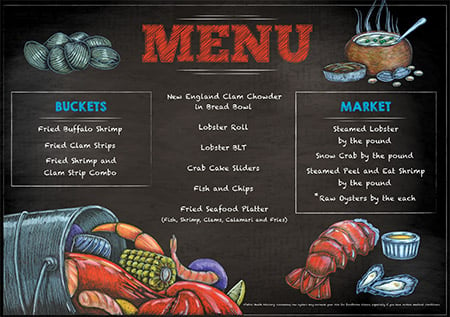 Guy's Burger Joint and Guy's Pig & Anchor BBQ are both creations of restaurateur Guy Fieri.  Guy's Burger Joint, located near Blue Iguana Cantina is a staple on all Carnival "2.0" ships and seems to be a crowd favorite for a good burger.  The offering is complimentary and the menu features a number of different burgers and pairings.  For those so inclined (myself included), veggie burgers aren't on the menu but are available upon request.  Also complimentary is Guy's Pig & Anchor BBQ, which is located along the Lanai, so this is truly a "seaside" dining venue, where you sit along the promenade.  As we strolled past we couldn't help but be impressed by the number of options that many passengers were lined up for - it seemed a far cry from the typical (and frankly lack-luster) poolside BBQ we've seen on many ships.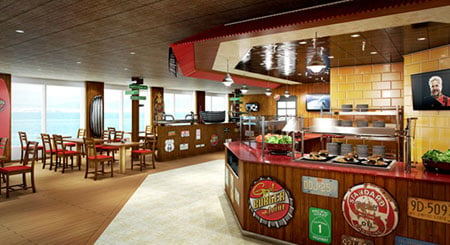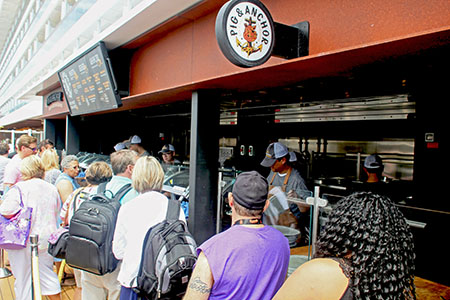 We're down to the last four options, which we'll tackle pretty quickly - not because they're not worthy of their own mention, but because they're not the kind of places you just pop in for a meal.  
Fresh Creations is located high up on deck 15 in the Serenity adults-only area.  It offers light fare, salads and such. This is probably a great thing as you'll see when we discuss the Serenity area that we'll spend a lot of time here one day, so this may guide us towards some smarter decisions.  This isn't just some iceberg lettuce and toppings though.  The menu below shows some suggestions, but check out the "build your own" options in the photo gallery at the bottom of the post.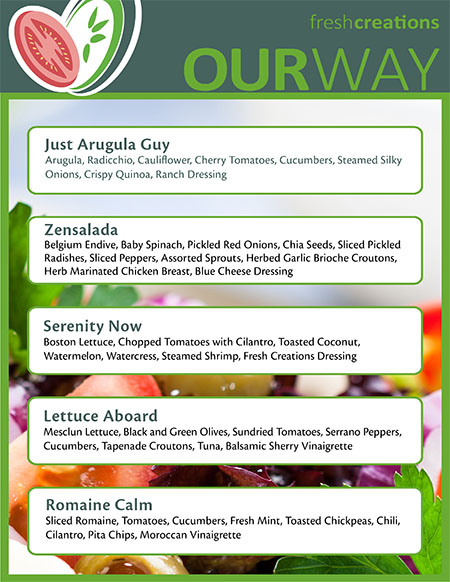 We didn't get a chance to check out Chef's Table, maybe because as best as we can tell it's hidden.  Seriously, look at the deck plan below - I'm not sure how one gets there.  It does seem to be the type of offering found on other lines, a multi-course meal, custom-prepared for your party.  We'd love to try it out as these types of spots tend to provide more than just meals, but experiences.
 Cherry on Top was closed while we were onboard, and it's more of a candy shop than a dining venue but we're including it because well, food.  Also, they actually have a seating area for those indulgences you just can't wait to enjoy out on the Lanai.  Fudge, hard candy, chocolate, ice-cream, and more by the sea?! Count us in.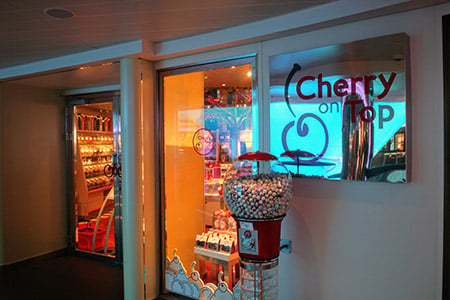 Taste Bar isn't a traditional restaurant but an awesome concept (for cruiser's taste buds as well as Carnival's bottom line, we're sure).  This spot on deck 5 at Ocean Plaza, a great multi-purpose lounge, is where you can stop by and try a complimentary appetizer or sampling from any number of the venues on board.  This is a fantastic way to try out fare from different spots on the ship without committing to or paying for a meal.  We'd love to see this on all ships.

Billy's Carnival Vista Dining Wrap Up
The number of dining options on Vista is truly impressive, especially since many of them are complimentary.  As we mentioned, having so many of these spots open during embarkation day seems to help manage crowd levels in a way that I hope other cruise lines learn from.  Each venue seems truly distinct, not like we've seen on other ships where they change the decor and call it a different cuisine.  It's a bit hard to imagine spending too much time in the main dining rooms with all of these options, and we're wondering how busy they actually get for dinner.  Keep in mind however that Carnival doesn't have a "dining package", which means if you do want to enjoy the venues that carry an additional cost you have to pony up each time - though we think the prices are reasonable.
We've got lots more to talk about from our visit on the Vista, so stay tuned because yes, we're going to talk about Red Frog Brewery, the Havana Cabana suites, and much more!
Have you sailed Vista before?  Do these options have you thinking about taking a Carnival cruise where you were previously looking at other lines?  Tell us about it below or reach out on Facebook or Twitter!
Edit: By popular request, below are the Periscope broadcasts from my visit. You can catch my broadcasts live by downloading the Periscope.tv app and following @CruiseHabit!
We're on @carnivalcruise Vista, their newest ship. #travel @periscopetv https://t.co/2Hbz5WCEtk

— CruiseHabit Bill (@CruiseHabit) April 22, 2017
Quick scope from Havana Pool area on Carnival Vista #travel https://t.co/4NoQl2ZGcb

— CruiseHabit Bill (@CruiseHabit) April 22, 2017