Author: Bill October 29, 2023, Updated: November 12, 2023
For years, Carnival's fleet has felt a bit homogenous to me, but when Carnival Mardi Gras came out in 2021 I got a sneak peak and realized that the new Excel Class is something different.  Excited by that visit, this summer I sailed the second Excel Class ship, Carnival Celebration.  You can check out my videos about that ship, and our cruise on here, but in this article I just want to share my five favorite spaces on the 183,521 gross ton vessel.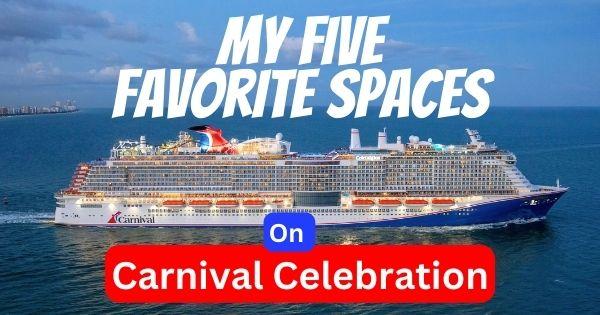 Celebration Central
Many modern ships feature an atrium - a space you enter, say, "wow, it's pretty here", and then spend little time in, aside from when walking to and from other parts of the ship.  On Celebration, and her sister ships, however, Carnival managed to turn this space into something beautiful and highly functional.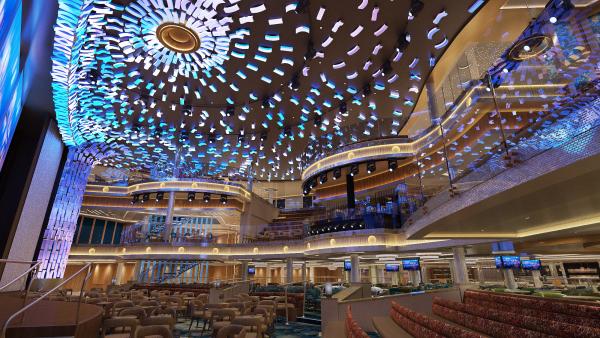 Instead of being a perfectly centered space with small windows, Celebration Central's three decks position shops, restaurants, bars, and a cafe on the port side, and leave the starboard side open, with a stage.  Seating in front of and around the areas, allow guests to relax and take in the views through the massive floor to ceiling windows out the side.  You can get a good idea of the scale in the below photo when we were docked next to Allure of the Seas in Costa Maya.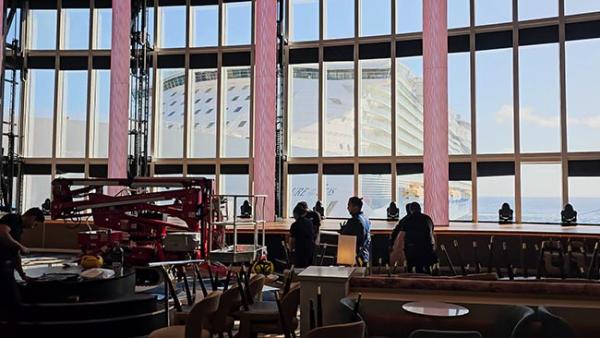 Other times, however, blackouts roll down over the windows and the stage is used for game shows and feature performances such as The Most Magnificent Circus.  Rigging for aerial acts and advanced lighting make this a no-compromises theater, from a production standpoint.  Enjoying a show while feeling like you're in the openness of a giant lounge is a unique experience.  The downside is that the seating density is low, so it isn't easy to snag a seat for some of the more popular performances on these ships carrying over 6,000 guests.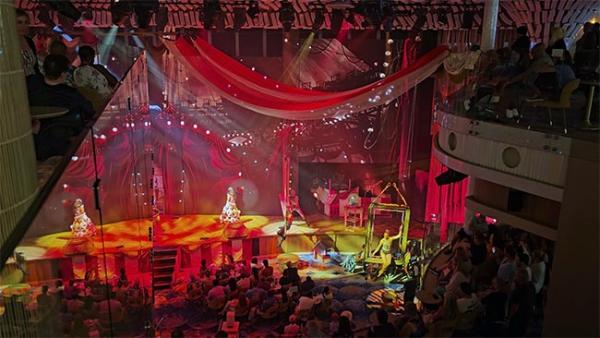 Despite the seating challenges at times, the overall area flows well, with multiple ways in and out, making it stress free to transit the space and passively take in some of what's happening either on stage or out the windows. 
If you want to get an idea of just what's happening onboard, check out the daily programs from our cruise.
Serenity Adult-Only Retreat 
As someone without kids traveling on a family-friendly line, it's probably no surprise that the 21+ Serenity deck was where I spent a lot of my time.  The reason, however, isn't just because it's restricted to adults.  In fact, Carnival has these areas on all of their ships, but on this class of ship it's really something special.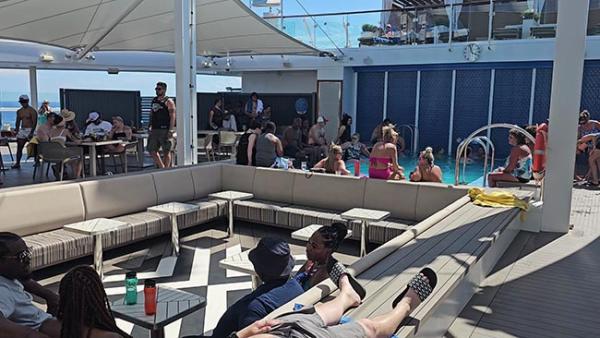 For one, there is a pool at the Serenity Retreat on Celebration - something not found on non-Excel Class ships.  Now, a few rainstorms and the fragility of always living in warm South Florida kept me out of the cool water, many guests enjoyed it, and it acted as somewhat of a centerpiece to the area, though there is much more to the space.  Surrounding the pool are loungers, tables and chairs, a sunken seating area, and round sunbeds.  The furnishings and accents all feel just a bit more premium here than on other parts of the open decks.  Even on sea days, when this was very popular, we always managed to find a space, though sometimes we had to go all the way forward for that.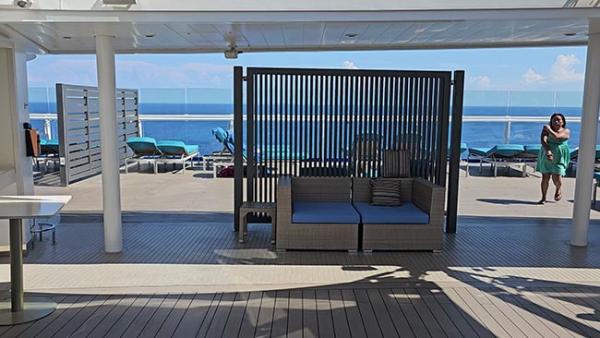 Forward of the pool, the deck wraps around and you'll find more places to quietly lounge in gray deck chairs, some in the shade, others not.  Because it's away from the pool, these tend to be less popular, but offer the benefit of panoramic views - especially those directly in the center of the forward end.  If you want to enjoy the hot tubs though, they're located at the opposite end of the deck, and seemed less popular than I'd have expected.
Of course this area has a full bar, and even a salad bar - though I wish it had longer hours so that it was easier to grab a light snack while getting up between naps and margaritas.  Either way, this is where I spent a lot of my time - awake and asleep.  I should add that sleeping is quite easy in this area, as the whole space is acoustically separated from the often very loud pool decks located just midship from there.
Latitudes Bar
I love travel.  Yes, on ships, but exploring new places in most ways (well, once I unfold myself from an economy airplane seat) is a passion, so a bar that has nods to not only different places in the world, but the journey we take to get there, really resonates with me.  Latitudes Bar is part of The Gateway, a zone on Celebration that is about, according to Carnival, "...grand locations, landmarks from around the world."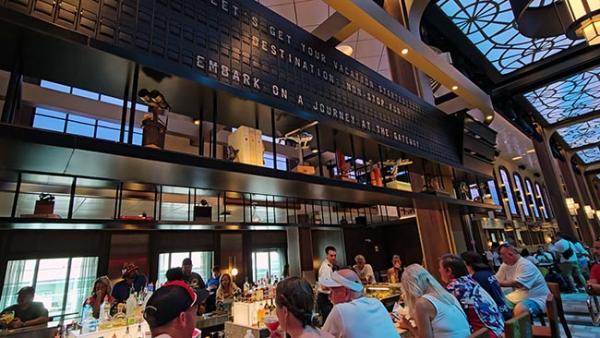 Approaching the bar, your eyes are drawn right away to a giant flipboard sign above the bar itself.  Like the signs from train stations and airports in the past (and still in use in some places, like NY's Penn Station), each letter is made of two sections on a spindle, and the spindles loudly rotate to flip letters and spell out messages.  Instead of train times, however, this sign changes every few minutes to remind you of upcoming events on the ship, or simply offer cute messages about your cruise.  
The bar is also adorned with small mementos to travel, such as model airplanes and binoculars.  You can watch for many subtle details as you enjoy the live music often playing at a small nearby stage, where we often found a solo vocalist and guitarist setting a nice atmosphere.  The menu follows the theme of the venue as well, with drinks that are nods to or famous in different destinations around the world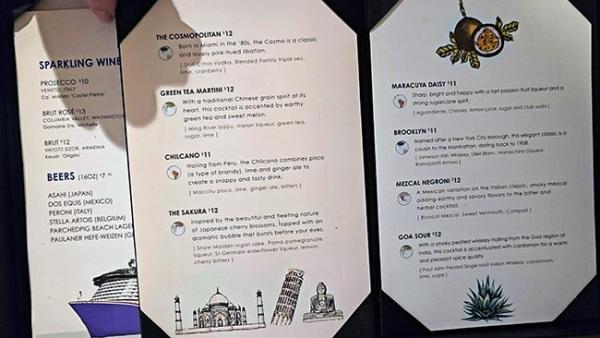 Golden Jubilee
Like the previous entry, Latitudes, the appeal of Golden Jubilee is the theming, but with a very different appeal. This time, appealing to my obsession with the cruise industry. This classically designed space with dark wood and classic cocktails (enhanced, in some cases, by a smoker) is all about the history of one of the first modern cruise lines - Carnival.  In fact, the name is a reference to Carnival's 50th anniversary, having been formed by Ted Arison on March 11, 1972, and the signature cocktails on the menu are denoted by past and present Carnival executives that particularly enjoy them.
Looking up at the high ceilings, you see large blueprints from past Carnival ships - including some of the line's first vessels.  Across from the bar is a long wall of dioramas showing what cruising Carnival was like through the decades, and in front of that wall, a massive model of Carnival Celebration.  The pièce de résistance, to this nerd, however, is the engine order telegraph from an early vessel, the Carnival Festivale.  This device was used by the bridge to signal to the engine room the power and direction of propulsion required.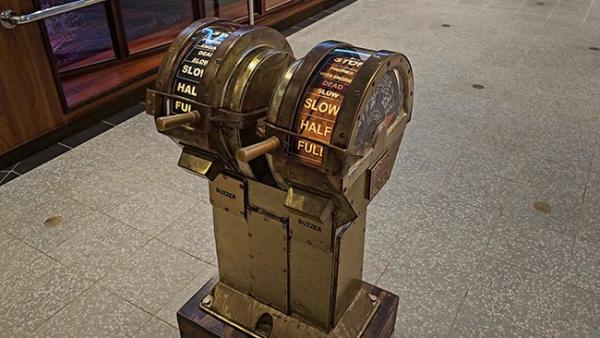 There are other relics, too - many of them.  In fact, I didn't notice all of them until the last day of our cruise, when I found that in the back of the menu there is a QR code that brings up a guide, showing you where to find all of the treasures in the bar.  This includes glass bulkheads from the original Mardi Gras (Carnival's first ship), tabletops from Carnival Fascination's Hollywood Boulevard lounge, and more.  To browse this impressive guide to the items in the bar, and see more photos, go to the bottom/page 67 of our collection of menus from Carnival Celebration.
Tides Pool
Everyone likes a nice ocean view, and The Tides pool is a great place to get just that, along with a cocktail, a dip in the pool or hot tub, and maybe even a snack.    Located high up on deck 16, and all the way aft, the Tides Pool's location is a bit separated from most other areas of the ship, if not inconvenient.  There are a few ways to get there, but you'll often find yourself walking through the buffet - and that's okay.  The location may be the reason this space didn't seem to fill up as much as others.  
The Tides Bar serves up a variety of drinks, including classic poolside frozen beverages, and right next door is Shaq's Big Chicken.  I don't eat meat, but the fries and omelets from Shaq's are great, and many seem to really enjoy the chicken.  In fact, Carnival Celebration has a good variety of complimentary dining - but that's a story for another day.  
As I write this, I realize there isn't anything particularly glamorous about this spot - but it offers a peaceful place to really take in that "Caribbean cruise feeling", even if you just want to roll up your pant legs and wade through the wide area of the pool with a padded surface and a few inches of water, rather than going for a swim.
Conclusion
Carnival Celebration has some extraordinary spaces, in decor, arrangement, and utilization.  I expected to like her, but I walked away feeling that as a ship, overall, she may have become one of my favorites.  Yes, there are things I wish were different, and we'll cover that in another article, but the variety of venues and options, along with the style, really appealed to me.  So, this list of five areas on the ship is only a small selection of what she has to offer, and you should absolutely check out my videos from our summer 2023 cruise to see more for yourself.  I may watch them again, in fact, until I can go back onboard, or perhaps check out one of her sister ships.