Author: Bill August 1, 2021, Updated: August 1, 2021
Carnival Mardi Gras is the line's newest ship, and a new class of ship from the largest cruise line in the world.  In addition, she's the largest ship in the fleet, the first ship with a roller coaster, is powered by LNG, and has more dining options than any Carnival vessel.  We were fortunate enough to be among the very first to experience just some of what Mardi Gras has to offer.  Did Carnival meet our expectations of something truly different?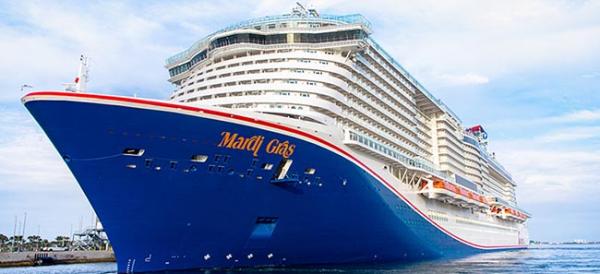 Carnival Mardi Gras Facts and Stats
Mardi Gras is the first Excel class cruise ship – which is really a subclass of Excellence class ships that includes the recently launched AIDAnova, Costa Smeralda, and P&O Iona.  Originally planned to set sail in 2020, her launch was delayed to July 31, 2021 due to delays at the shipyard, and then the pandemic.  

At 181.8k GT, spanning 1130 feet in length and 138 feet across, she's the largest Carnival Cruise Line ship ever.  She can carry a maximum of 6,500 guests (or 5,282 at double occupancy) and 2,000 crew.

The ship is powered by LNG (liquefied natural gas), which burns much cleaner than diesel fuel and bunker oil.  While there are several LNG powered cruise ships, Mardi Gras is the first of this kind to be homeported in the US.

While the ship is brand new, the name is not.  Mardi Gras was the name of the very first Carnival ship, which was just 27k gross tons.  
Scratching the Surface of Mardi Gras
This ship is not only big, but it has many different spaces, options, and unique qualities.  Summarizing this all in a single post just isn't possible – and in fairness, in the single day we had to explore and enjoy the new ship, we didn't get to see it all.  In this way, we want to share more about this ship so that you can get a feeling for what we felt, enjoyed, and wondered as we explored – including views of just some of what's new.
This doesn't mean your favorite Carnival features aren't on Mardi Gras!  While we're focusing here on what's new, you'll still find The Alchemy Bar, Guy's Burger Joint, Punchliner's Comedy Club, the Serenity adult-only retreat, etc.  They're not only there, but in many ways, they've been enhanced and are, in our opinion, better than any past Carnival ship.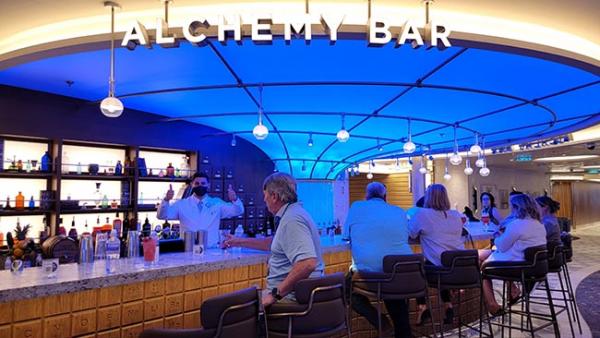 Let's start with a zone-by-zone overview of the ship.  After that, we'll share what we loved, what we didn't, and what we're really looking forward to seeing more of when we get to sail this ship.
Zone by Zone on Carnival Mardi Gras
When Carnival first released details about this new ship, they touted her division into zones.  This isn't a totally new idea, as Royal Caribbean's Oasis class ships have a somewhat similar neighborhood concept.  
Grand Central
This is the central atrium area, spanning three decks, and merges entertainment, eating, drinking, shopping, and more.  To me, it's the most unique and innovative part of the ship.  You might be going to get your coffee in the morning, sitting down for some sushi, or doing some shopping.  What makes the space special though, is that all of these spaces are essentially surrounding a stage.  Various shows take place in front of massive windows, which, at the press of a button, can be covered, with screens coming down and serving as a vibrant backdrop for the show.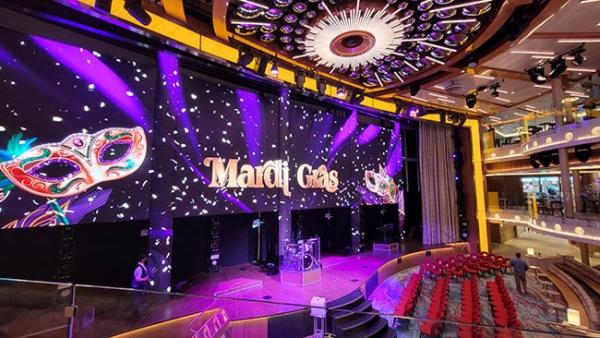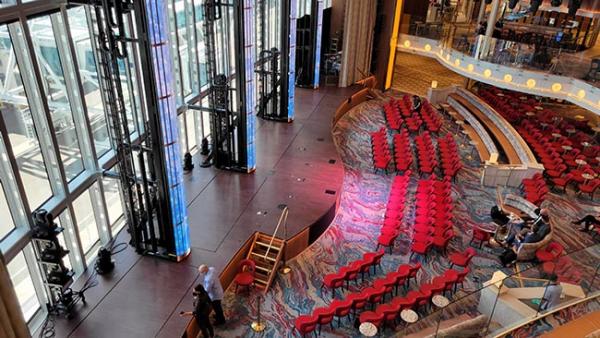 Each venue is still distinct here – as are their seating options.  This means that you might enjoy coffee-shop style seating in one area, cabaret seating near the bars, or more traditional theater-style seats – all with the ability of taking in whatever entertainment might be available at the time.  To ensure everyone has a view, televisions mounted to the ceiling ensure those facing away can still see what's going on.
Unlike most ships, the atrium/this zone is not symmetrical, so when you are facing the stage, you're facing the Center Stage, you're actually looking toward the starboard side of the ship.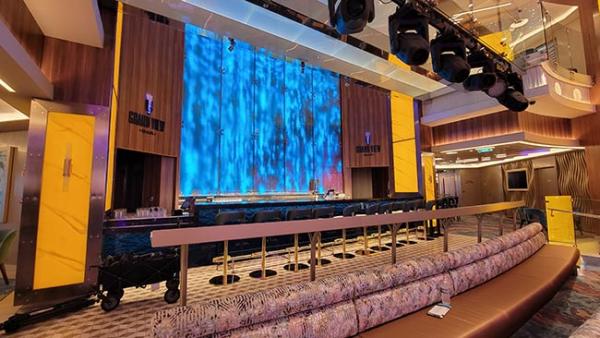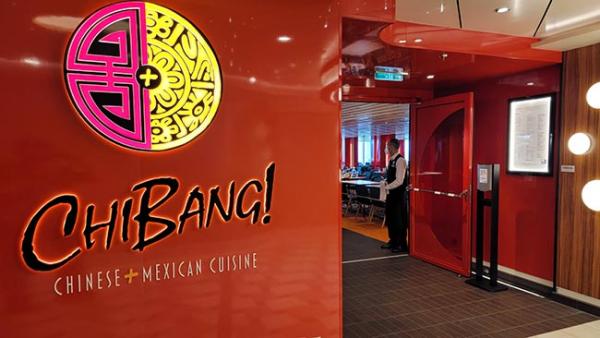 Highlights in Grand Central include Java Blue Café, Cherry on Top, Bonsai Sushi, Bonsai Teppanyaki, Grand View Bar, Center Stage Bar, and ChiBang! (Mexican and Chinese cuisine).
The French Quarter
This zone may, aside from The Ultimate Playground, have the most cohesive theme.  All of the venues here have a distinctly New Orleans theme, as the name suggests.  This is true of the colors, the signature cocktails, and the music.
The walls between and around the spaces here are adorned with images associated with the jazzy style of the famed neighborhood and nods to French impressionism.  The chandeliers in The Brass Magnolia lounge area have individual fixtures shaped like horns.  Personally, I think the theme is well-applied, even if a tiny bit 'in your face' in some parts, and is less overwhelming than what we felt on Carnival Conquest – where the entire ship carries a French Impressionism theme.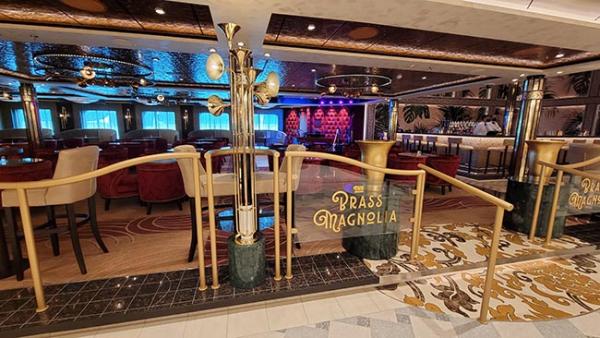 As people who really enjoy jazz, just walking past The Brass Magnolia felt like it'd be a good time.  This area is also where you'll find Emeril's first restaurant at sea.  Across from there though, you can hone your own cooking sills with classes at Carnival Kitchen.
Highlights in The French Quarter include Emeril's Bistro 1396, The Brass Magnolia, Fortune Teller Bar, and Carnival Kitchen.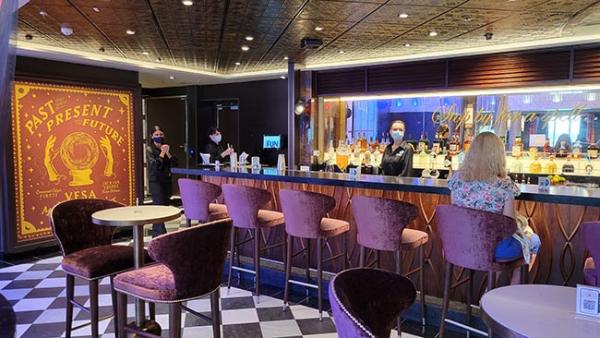 Summer Landing
If there was one part of this ship that I think you could stay in the entire time, it's Summer Landing.  That's not because it's inherently superior and worth spending all your time there – there are amazing areas all over the ship – it's because there is not only a wide variety of food and drink options here, but it leads out to a fantastic outdoor space, with loungers, an infinity pool, hot tubs, and more.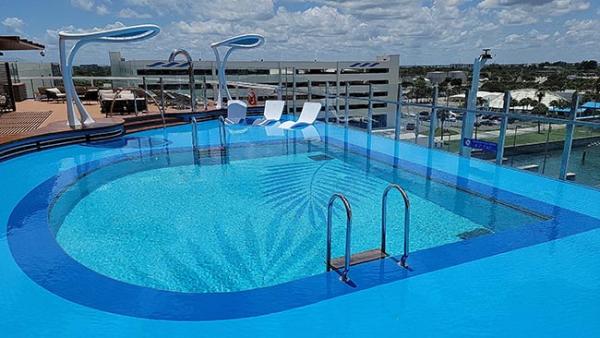 Most of the indoor spaces here are all under one roof – in a way that reminds us a bit of a food hall.  You can get craft beers (including some that are brewed onboard), enjoy complimentary BBQ, get some ice cream, or have a cocktail.  Because it's all relatively open, it doesn't feel overly "mall" to us, with large windows, especially out to the aft.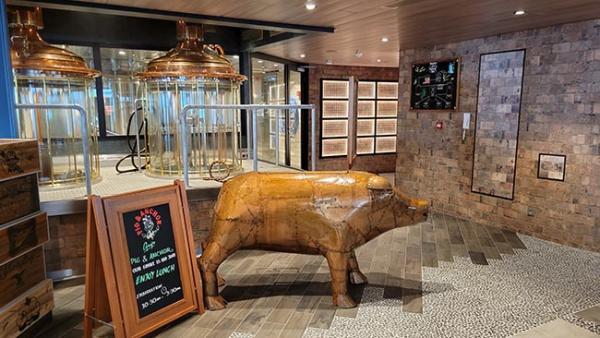 Walking through the glass doors out back is where you'll find the wonderful outdoor spaces.  When I first saw this area I actually asked a crew member if it was a space available to all guests, as it seemed so nice that I thought it might only be for those with a special pass or stateroom category.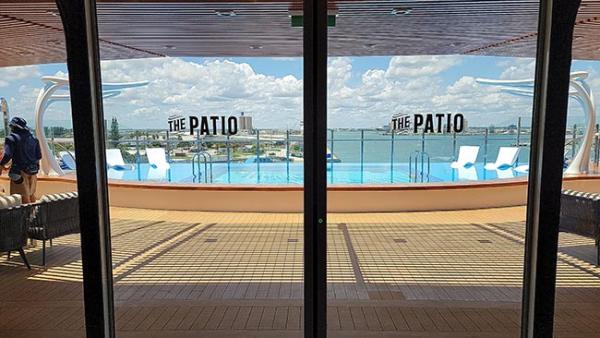 Highlights in The Summer Landing include Guy's Pig & Anchor Smokehouse/Brewhouse, ParchedPig Craft Brews, Heroes Tribute Lounge, Swirls Ice Cream, The Patio, and The Watering Hole.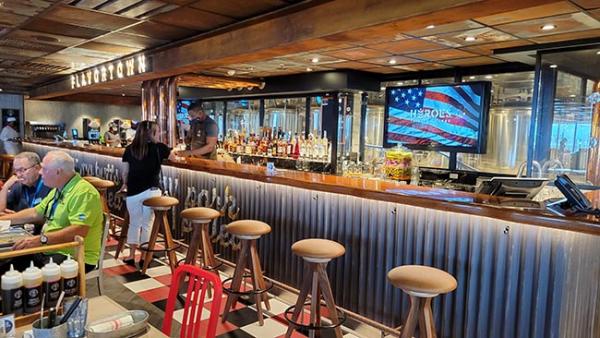 La Piazza
As the name suggests, La Piazza has a very Italian theme.  This is where you'll find several options for Italian cuisine…and of course a Vespa.  The zone is the smallest of the six, but is sure to be popular between the line's much-loved Cucina del Capitano, and of course quick service pizza options.  Everyone likes pizza.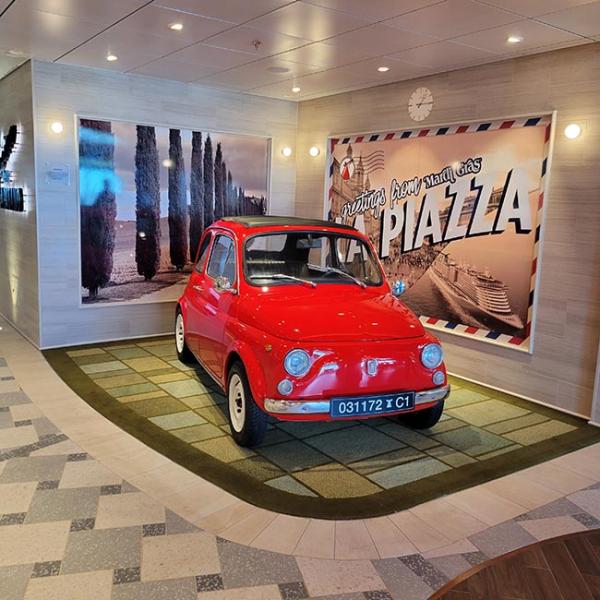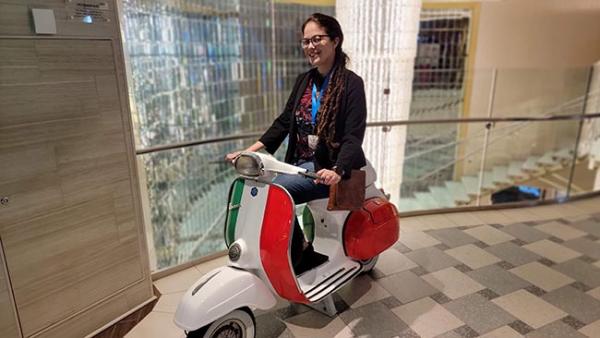 The interesting part here, to us, is Bar della Rosa, because it offers not only a nice place for Italian wines and cocktails, but you can step outside and enjoy the outdoor portion of this bar as well.  With so many options inside, it's important to have easy ways to enjoy a different part of the ship while still taking in the sun and sea.
Highlights in La Piazza include Cucina del Capitano, Pizzeria del Capitano, Piazza Panini, and Bar della Rosa.
The Lido
When you want to enjoy some time outside and you're hungry, The Lido is the spot on Mardi Gras.  The pool itself has a shallow splash around it where you can wade and cool off without committing to a swim, and there are loungers in the sun and in the shade across two decks.  These loungers are also great places to enjoy the onscreen entertainment on the large screen above the pool.  The screen itself is very bright and high-resolution, so the images were clear even on the extremely sunny day we were visiting.  
What makes this space different from other midship pools is that they packed in a ton of dining options.  Street Eats is a relatively small area for a quick bite.  Several stalls with different cuisines are available, almost as if several food trucks set up at the beach.  Thirsty?  The Red Frog Tiki Bar is a two-story bar overlooking the pool area, and featuring a full selection of cocktails, but with many tropical specialties and a nice variety of beer.  In this area you can also find some of the other classics, including Blue Iguana Cantina – our favorite spot for a burrito on land or sea.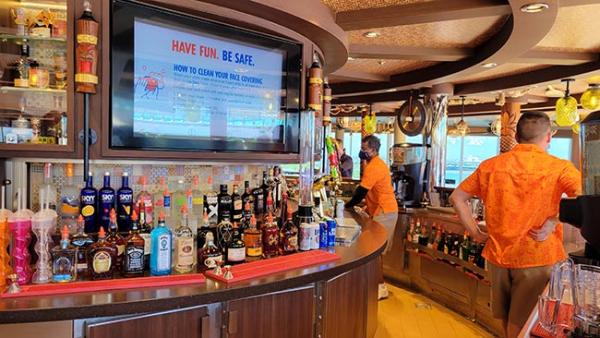 The whole lido has a fun resort feel to it, and compared to other Carnival ships, felt a bit more polished.  Half of the outdoor area, including the smaller Tides Pool and hot tubs, is located aft of the Lido Marketplace.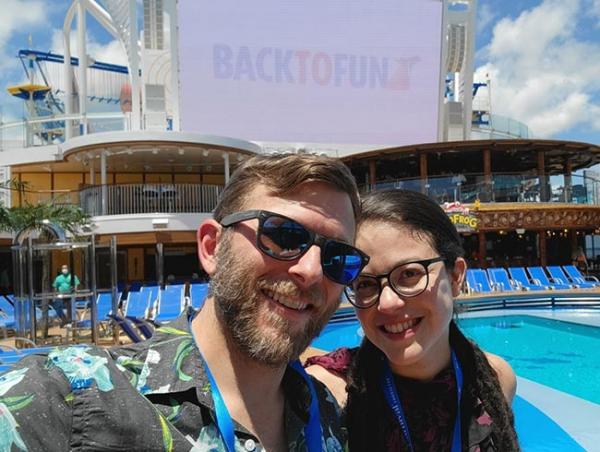 Highlights at The Lido include Street Eats, BlueIguana Cantina, Lido Marketplace, Big Chicken (Shaq's restaurant), Guy's Burger Joint, RedFrog Tiki Bar, Seaside Theater, and Beach Pool and Tides Pool.
The Ultimate Playground
Of all the spaces on Mardi Gras, this zone has the most "classic Carnival" look.  Bright colors, water slides, and a generally loud feeling.  If you want outdoor fun that isn't a pool and a drink, this is probably where you're headed.  There are outdoor sport options (including outdoor billiard tables…which we didn't know was a thing), water slides, a ropes course, and perhaps most notably, BOLT.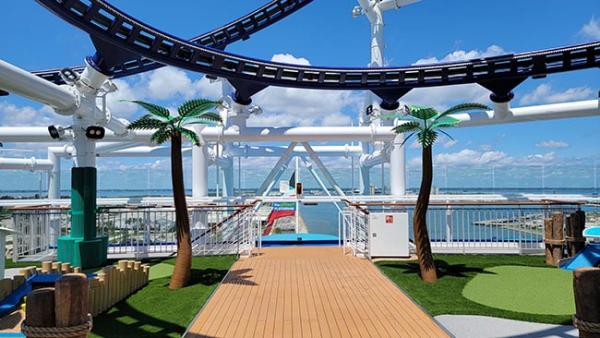 BOLT is the first roller coaster at sea.  It covers a significant part of the upper decks, looping around and offering a wild perspective of this big ship.  Guests can control the speed of their car, which they mount a bit like a motorcycle, and can go up to 35 mph!  It doesn't come free though – it's $15 per person for a quick ride, which can be booked via the Carnival Hub app. We'll be interested to see if they end up adjusting pricing for different times (mid-day at sea vs early morning on a port day, for example), but they'll need to keep a cost to this just to prevent overwhelming demand.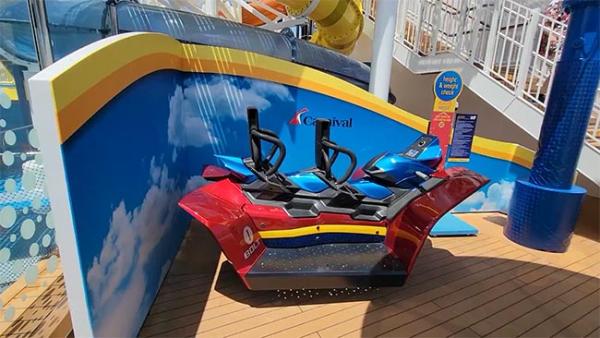 Highlights at The Ultimate Playground include BOLT, SportsSquare (ropes course, sport court, mini golf, jogging track), and Carnival WaterWorks (Splash Zone, Twister, Orange Thunder, and Blue Lightning).
Staterooms on Mardi Gras
There are a few types of staterooms on Mardi Gras – and honestly, they're all pretty nice, but some stood out in different ways, and there was one type we found a bit disappointing.
Standard Rooms
Whether inside, featuring a window (ocean view), or a balcony, these rooms represent the majority of the accommodations on the ship.  They certainly feel larger than other Carnival ships, and have sizable wardrobes.  The bathrooms are small, as on most ships, but the shower feels less cramped and has glass doors (rather than cloth curtains).  The desk/vanity is wide, has three US outlets, an EU outlet, four USB ports, and a well-lit mirror.  I personally liked the cooler and more subtle color scheme in these rooms.  I'll also put standard (non-Excel suites) into this category, which are like standard rooms, but feature additional living space.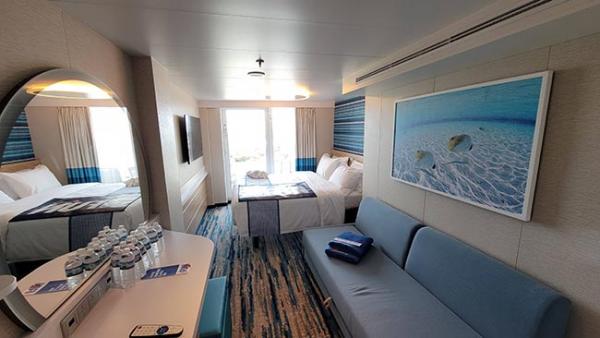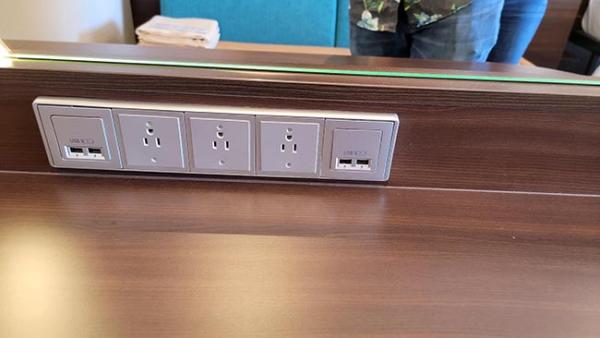 Family Harbor Rooms
These rooms are for families with kids, and none have balconies.  The colors are a bit brighter and there is a nautical theme to these rooms with some fun art.  Family Harbor suites have two full bathrooms – great for trying to get a family read at the same time.  Guests in these rooms have access to the Family Harbor Lounge for family snacks at various times during the day and family entertainment.  They also get free meals for kids at some specialty restaurants, and a free Night Owls evening for enjoying an adults only night while the kids are being taken care of.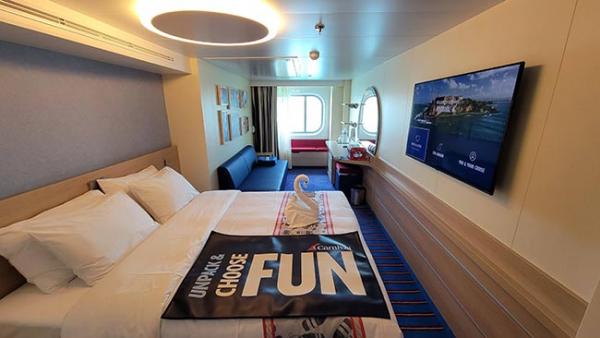 Havana Staterooms and Suites
These rooms have unique décor, colors, and art with a Cuban theme.  The Havana Cabana staterooms and suites have a large patio area with loungers and suspended swing chairs.  These are semi-private, far less private than a balcony, but very nice and spacious.  If your Havana Cabana room is on the starboard side, you can walk right out of your cabana gate into the exclusive Havana plunge pool and outdoor bar area.  There are also interior Havana staterooms, which are more affordable, and still have access to the exclusive deck.  All guests in Havana staterooms must be 12 or older, which also means this section of rooms as well as the Havana pool area should be a bit quieter.  We really liked these, and have already been eyeing them for future cruises.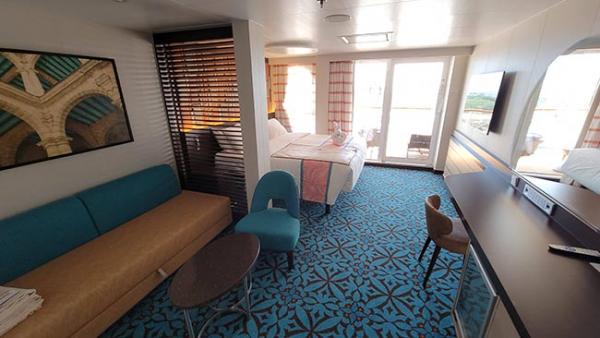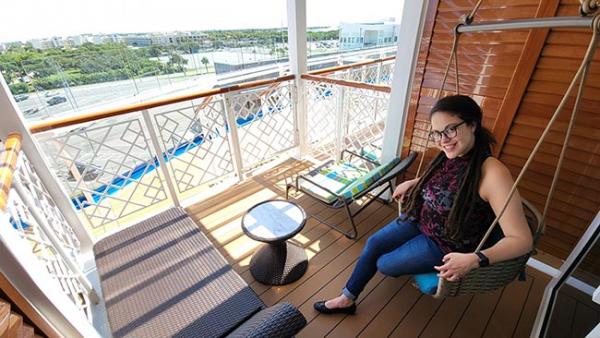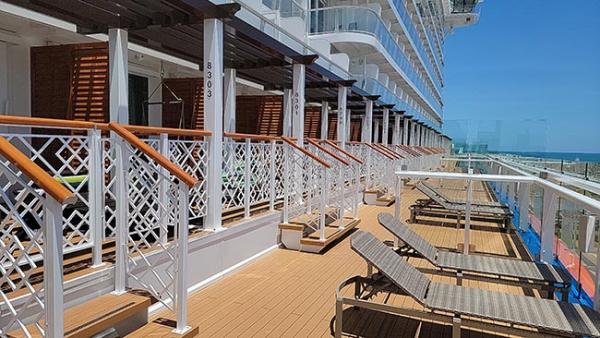 Excel Suites
The highest-end accommodations are Excel suites, which are larger rooms, with more attentive service, and access to Loft 19, a special top-deck outdoor bar, deck, and hot tub, featuring special snacks and services for these guests.  The suites, to me, were actually a bit of a disappointment.  Not that they're not nice, but even the largest seemed smaller than I'd expect, and felt chopped up a bit, where perhaps a single living area without a wall would have been more welcoming than multiple small rooms.  Again, they're nice, but in the last few years many lines really upped their suite game, but when comparing the prices of these suites to the prices and quality of some other accommodations on Mardi Gras, we'd not likely select these.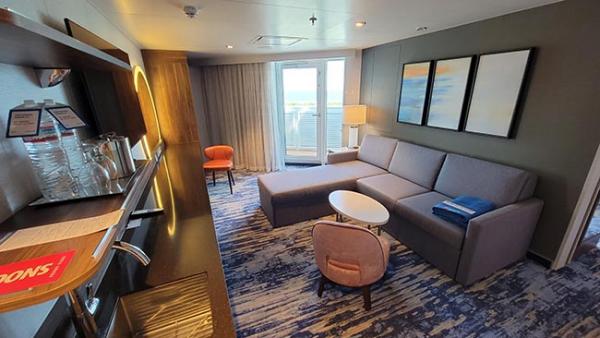 Most Impressive Parts of Mardi Gras
As soon as you walk on the ship you enter Grand Central, and even after seeing so many impressive things on Mardi Gras, it's still this atrium area that stands out.  In the past twenty years or so, many ships have had an atrium area that aims to impress – but often it's a lot of underutilized space.  Grand Central though managed to take so many things that bring guests together, and put them in the same three-story space, with a nice flow, and then turned it into an entertainment venue.  This not only allows for an interesting place to take in a show, but also means you can enjoy great ambiance while socializing, or take in entertainment you might have otherwise missed if it was taking place in a single room, on a single part of the ship.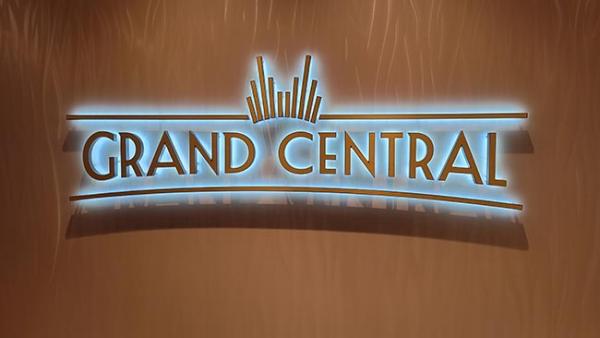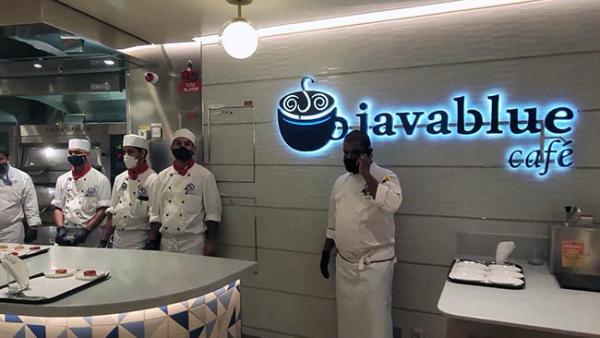 In the zone-by-zone overview, one thing I didn't mention was the Serenity adult-only retreat.  All Carnival ships have an adult only area, and usually they feel a lot different in style and feel than other parts of the ship – but they can be really nice.  On Mardi Gras, this space is bigger than on any other ship, and it feels disproportionately large, which is great.  Between the Serenity pool and bar is a sunken seating area that is really unique, and we can imagine spending a lot of time on this part of the ship.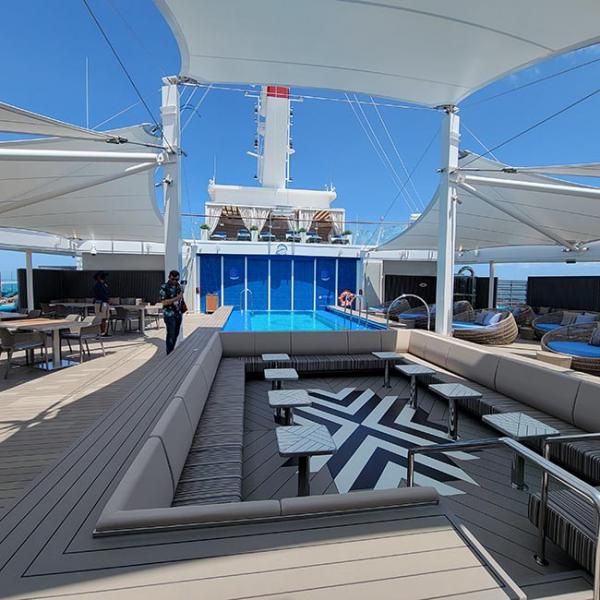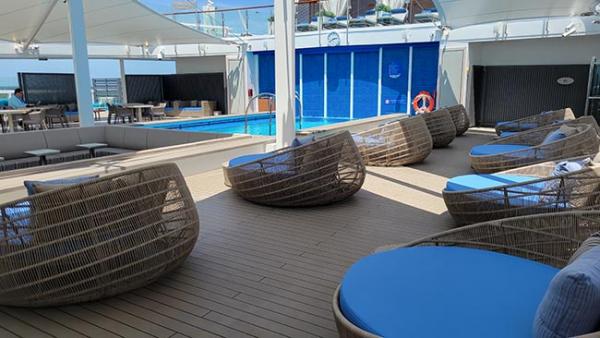 One area that is really special for a few reasons but isn't a zone, is the Havana Bar and Pool.  The Havana Bar has Cuban cocktails, music, art, and décor.  I liked this on Vista, and I like it just the same on Mardi Gras.  It seems like a fun area by day, and at night, we suspect it'll be a dancing hotspot for many, especially with Mardi Gras being based out of Florida.  Guests  booked in Havana accommodations can walk right from the bar to the outdoor deck with exclusive bar and the infinity plunge pool.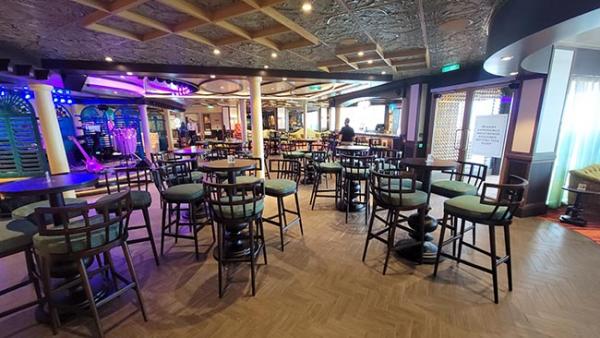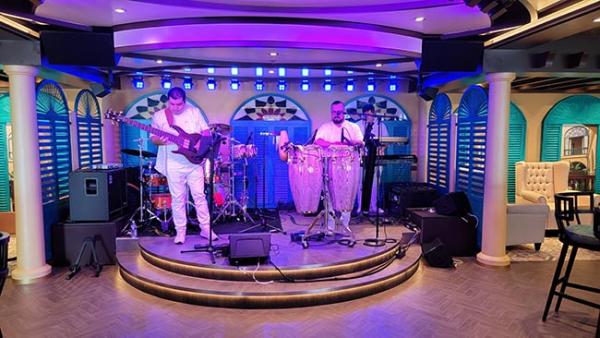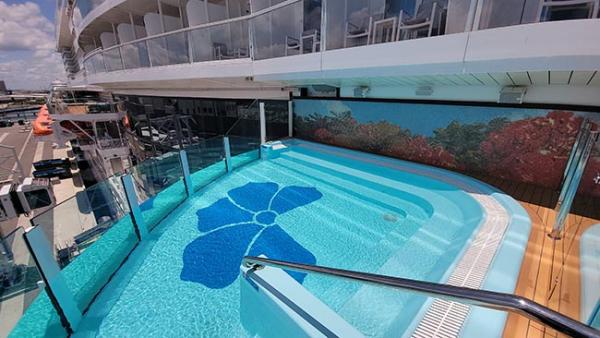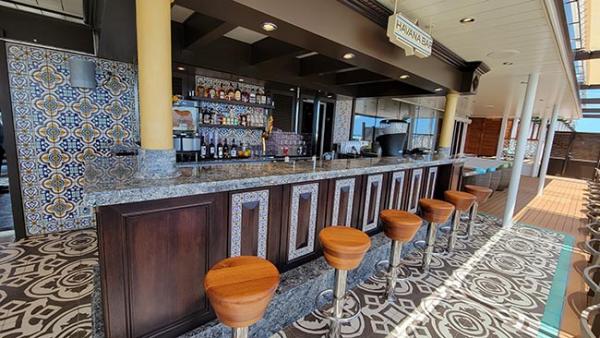 The Defining Characteristic of Mardi Gras
The large Grand Central, in concept, with all it's individual options, is actually a microcosm of the defining characteristic of the ship: many small spaces.  The success of this concept may be what makes the ship sink or swim (no pun intended here).  See, Mardi Gras carries around the same number of guests as Royal Caribbean's Oasis class ships – but she's around 40k gross tons smaller.  This means that to avoid making the ship feel crowded, they have to make sure to evenly distribute guests.  

Having a large number of smaller restaurants, bars, lounges, etc will hopefully help with the distribution of guests – but only if all of those options are reasonably popular.  This is a concern, as if the Havana Bar (open to all guests, though the Havana Pool area is only for those staying in Havana staterooms and suites), ends up being much more popular than other lounges in that area, it could get very crowded.  Only in time will we know how things flow, and of course Carnival can move around specials, and entertainment to help nudge guests and encourage them to spread out.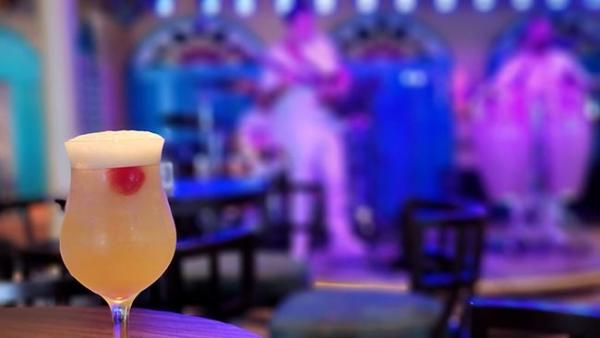 A couple ways that you can easily see just how many spaces there are on this ship?  She has more complimentary dining venues than any other Carnival ship, five pools, and two theaters (Center Stage at Grand Central as well as the Mardi Gras Theater).
Something Else that Makes this Ship Different
On other Carnival ships, we've found plenty of interesting, pretty, and fun spaces.  Until Vista class ships, the décor was often not my personal preference, but it was still fun.  Vista became more interesting and visually appealing to me – not as much felt so over the top, and it didn't seem as much was in primary colors.
Where Mardi Gras improves on this, beyond the zones, and the concept of so many smaller options, is in the parts of the ship that aren't a specially themed venue.  We didn't run across a single part of the ship that felt "plain" just because it wasn't in the heart of some highlighted space.  Every elevator lobby, every seating or lounging area on deck, and even the public restrooms just felt a lot more polished than other Carnival ships – and this was palpable.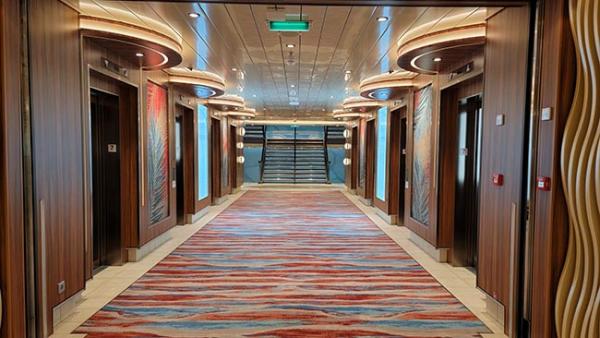 The Experience Starts on Land
Putting some notes about the beginning at the end, I realized I should mention Carnival's new Terminal 3 at Port Canaveral.  In the past few years cruise lines have realized that all parts of the vacation experience matter, and that includes the embarkation/debarkation port.  NCL, MSC, Virgin Voyages, Royal Caribbean, Princess, and Celebrity have all built or are in teh process of building really nice terminals. These aren't just more aesthetically pleasing, but they also ensure there is enough space for all guests, the proper flow can be maintained, there are separate areas for suite guests, etc.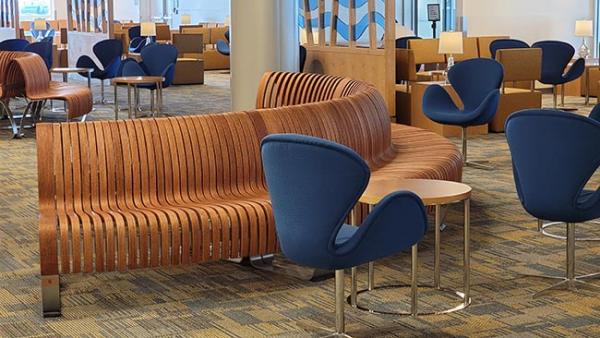 Carnival's new Terminal 3 is a giant facility.  The walk from the second floor of the adjacent parking garage to the terminal is an easy one, and the downstairs even has a covered drop-off area for those not parking.  Once inside the colors are pleasing, signage excellent, and there are enough security and check-in lines to hopefully make it so there isn't a bottle neck, even when a ship the size of Mardi Gras is sailing out.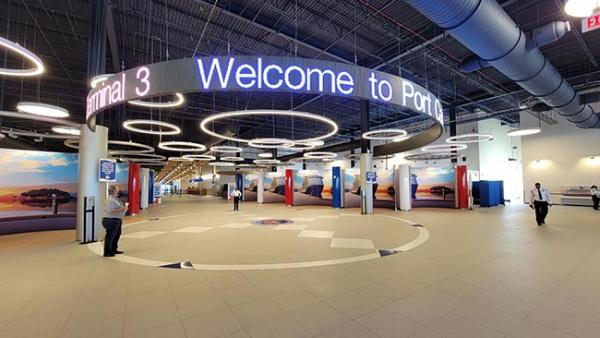 We'll be excited to see how the terminal works for a regular embarkation day.  I guess we'll have to do this, ya know, for research.
More of Mardi Gras
My biggest regret about touring this ship is that we didn't book the inaugural.  She's quite pretty, and there are just so many things to try out onboard that we barely scratched the surface.  I've toured several Carnival ships in the past couple of years, but it's been a number of years since I sailed with them.  This pause for me is mostly because, without kids or the need for water slides and such, we generally opt for quieter ships.  I do think this ship is special though, and I can't wait to spend a week onboard to better experience everything she has to offer then share that here with all of you.  There are some impressively good rates for this being a brand new ship, so request a free consultation and quote from our trusted travel partners.