Author: bill November 16, 2019, Updated: May 25, 2021
Most major cruise lines now have apps or mobile websites that you can access on your smartphone to view the day's schedule, book shore excursions, chat with other guests, and more.  Generally, these apps are free to use, but it can sometimes be a bit confusing since we often see costs associated with "WiFi".  Really, this confusion is just a matter of wording, and we'll clear it up so you can use your device worry-free.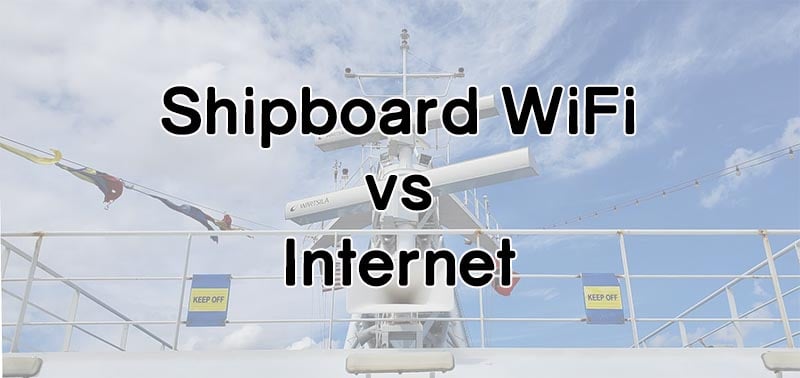 Cruise Line Apps
Royal Caribbean and Celebrity let you book entertainment, excursions, and dining with their mobile apps.  On Holland America Line you can book onboard activities and even read the New York Times through your phone's browser.  MSC's app helps you keep track of your kids.  NCL lets you use your mobile device to call phones on the ship.  Carnival now lets you order pizza wherever you are onboard!  Oh, and most all lines now have some sort of chat feature so you can stay in touch with other cruisers.  The ways cruise lines are enhancing guest experiences with mobile technology can be really helpful, and they're usually complimentary (nothing is free - you paid for that cruise).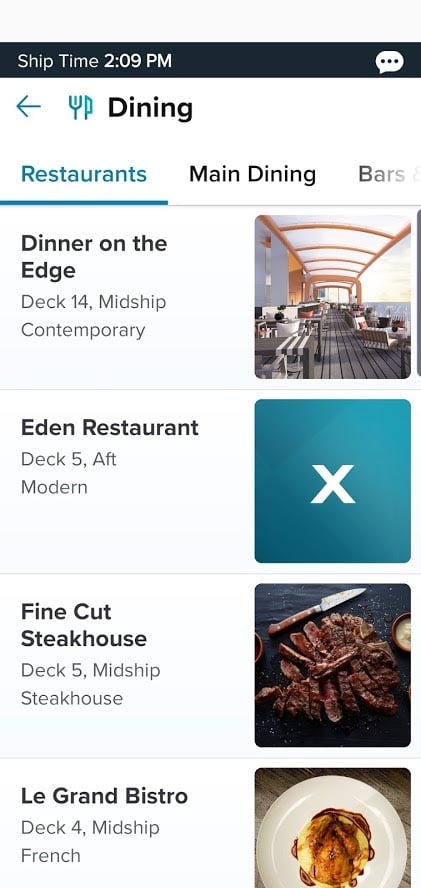 While some of the features can be accessed at any time, so that you can check in and start booking dining, for example, other features require that you're onboard the ship in order to use them.  It's not just your physical location though, you must be connected to the ship.  So how does that work?
Cruise Ship WiFi vs Internet Access
Those fancy app features that require a connection to the ship mean that you'll need to connect to the ship's onboard WiFi network.  No matter whether you use an iPhone or an Android device, you'll do this the same way you might connect at a hotel or other public place.  The difference is that once you connect in a hotel for example, you're generally on the internet right away (or maybe after putting in your room number), whereas on a ship, you may only be connecting to the ship's system, and never going onto the internet (unless you want to).  WiFi is just the name for a wireless method of connecting computers - those computer may or may not be on the internet.

Does WiFi on Ships Cost Money
No.  Using a ship's WiFi network for their mobile app or website is complimentary.  This allows your device to interact with the systems on the ship that have schedule and reservations information, chat systems, etc.  With the occasional exception of airline or other travel-related websites, you won't be able access sites on the internet, connect to social media, etc.  Accessing the onboard services though won't cost you a dime, and your phone carrier isn't at all involved - just make sure you're on airplane mode.  As long as you stay in airplane mode, you've got little chance of "accidentally" purchasing internet or making calls, as it requires a deliberate action.
What About Shipboard Internet Access?
In the past couple of years, internet access on ships has become faster, cheaper, and more reliable.  Some lines (mostly luxury) have even started offering complimentary internet access.  If you do want to purchase internet access, such us Princess Cruises' MedallionNet, or Royal Caribbean's VOOM, you'll stay connected to the same shipboard WiFi network that you'll be using for the cruise line's app.  One thing to keep in mind, is that most lines charge less (sometimes much less) if you purchase internet before your cruise, and even less if, when possible, you bundle it with your cruise fare (this mostly applies to NCL and Celebrity).  
Tips for Staying Connected (or not!)
Between staying connected in port, in other countries, and at sea, it can be confusing - and you definitely want to avoid hefty roaming fees.  Hopefully the above information clears some things, up, but luckily we have many more tips for keeping you connected and avoiding charges - check it out!