Author: Bill August 11, 2019, Updated: August 11, 2019
Last minute cruise deals are sometimes talked about like they're the secret you've missed out on which will soon have you paying less than everyone else.  This premise is incredibly flawed, in part because of the way many potential cruisers price shop, but also because of how the cruise industry has changed over the last twenty years.  In better understanding the truth behind sites promising last minute deals, and the reason there aren't many to be had (at least in the way many think), you might just find the deal you're looking for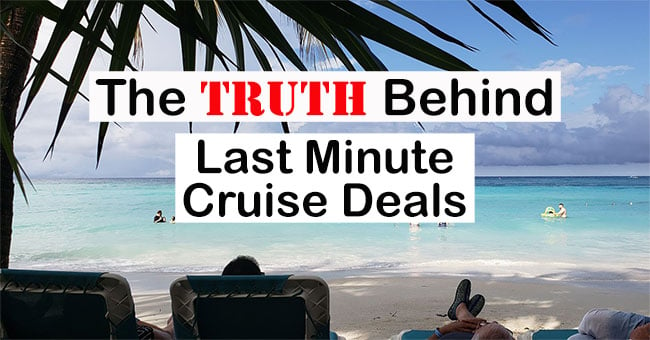 Are There Better Deals on Cruises Right Before Sail Dates?
The short answer is, "sometimes, but not usually".  Cruise ship staterooms are perishable commodities - they become worthless the moment a ship sails without someone booked in them.  In the past, this meant, quite understandably, that cruise lines would deeply discount fares.  While this lets lines get something for these rooms, rather than nothing, it also hurts pricing integrity.  A higher portion of cruisers might wait for low prices instead of booking ahead of time (which not only reduces how much a line makes, but also makes it hard to forecast performance), and, upsets guests who may have paid a lot more for the same cruise, and feel penalized by having booked early.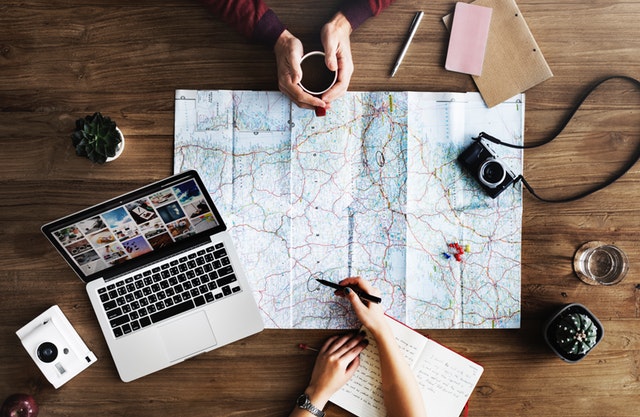 Make no mistake, fares are still adjusted in different ways to increase bookings of slower sailings.  One of these methods we see is in the form of price adjustments, but not to the same extreme as in years past.  A different method of influencing consumer behavior is by offering other incentives which are enticing, but may not impact a line's bottom line as much, and make comparing fares (to other cruises or even the same cruise booked earlier) a bit more tricky.  While most lines do this in some way, and have for a long time, this became a much more popular strategy several years ago when Royal Caribbean Cruises Ltd announced that to shore up pricing integrity, they'd stop deeply discounting sailings at the last minute, even if that meant sometimes sailing with empty rooms.  Some of the most popular examples of these incentives include:
When Price Drops Aren't a Good Deal
Quite often, when preaching the importance of booking as early as possible to get the lowest price on a cruise, it will be pointed out that it's not uncommon to see a cruise drop in price right after final payment date passes.  While the observation is a valid one, we need to zoom out on the pricing timeline to understand why this doesn't change the last-minute deal fallacy. 
Imagine our friend Ted is looking at cruise:
It's two years before sail date, it's currently advertised for $3000. 
Ted isn't sure f he should pull the trigger yet, so he waits.  As time goes on, that prices increases, because bookings are occurring at the rate the cruise line expects. 
A year from the sail date and it's now $3500.
Six months from sail date it's $3900.  Ted decides this trend isn't good, so he books now.  This makes sense, as the ship is filling up. 
Three months from sail date it's time for final payment.  Some people who deposited don't pay up, which frees up space.  The cruise line re-assesses things, and they drop the sailing to $3200. 
Ted thinks, "I could have saved $700 by waiting to book closer in!"  What Ted is forgetting, is that if he'd have booked two years ago, he'd have saved $900.
Is the takeaway that you should book after final payment date?  No!  Not only would you usually save more by booking much farther out, but in many cases, a cruise is filling up as the line expects, and the price will keep going up instead of ever seeing a dip.  If you do see a dip in cost after paying, make sure you're comparing apples to apples, and understand what your price drop options are.  A good travel agent can be a big help in these circumstances.
Other Ways to Save
Additionally, there is more to a fare than the price, so even the example of our imaginary friend Ted, it might be that his $3900 fare included drink packages and $400 of onboard credit - a total value of say, $1100.  Because of this, Ted still got the better deal than the person who got that flashy last minute cruise deal.  Is this true for everyone on Ted's cruise?  Not if they don't drink, but this is just one example - the things the line decides to include in the fare can vary depending on what they think will get people to book.
What About "Last Minute Deal" Cruise Sites?
Generally speaking, booking a cruise at the last minute has nothing to do with any particular travel agency or site. There are great reasons to use a good travel agent, but if a cruise line has more space than expected as a sail date approaches, they want to figure out how to sell those staterooms without regard to what agency might help make that happen.  That doesn't mean there is a shortage of those claiming to have some insider access to deals.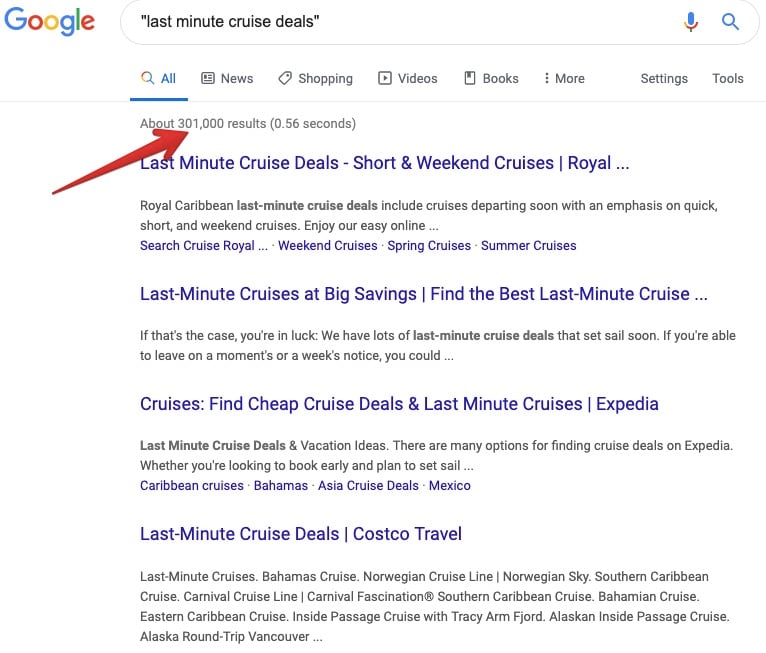 Can I Show Up at the Port For a Deal?
While this was a thing in years past, and could technically still work now, as someone who lives near two major cruise ports and is quite flexible with my schedule, I'd not waste my time.  There are a few reasons for this.  For one, because the Department of Homeland Security requires manifests with passenger information to be cleared a bit ahead of the sailing (it's no longer days ahead though, like it once was), and lines don't want to risk a last minute scramble or cause other logistics issues related to wrong guest details or travel restrictions.  Another reason that this isn't too common, is that more often than not, the techniques used by lines (the ones we've already discussed) are effective, and by the time it's time to sail, the ship is full.  For these reasons and others, there may not even be someone at the port that could facilitate your booking of a cruise.  The people working at the port are mostly contractors - not cruise line employees, and the employees that are on shore helping with logistics are crew and officers who are, by law, greatly restricted in what they're allowed to do, since they may not have authorization to work in the US, and the port may be controlled by various unions as well.  You may have a neighbor that swears they've made this work in the last couple years, and that may be true - but it's not something I'd bet on.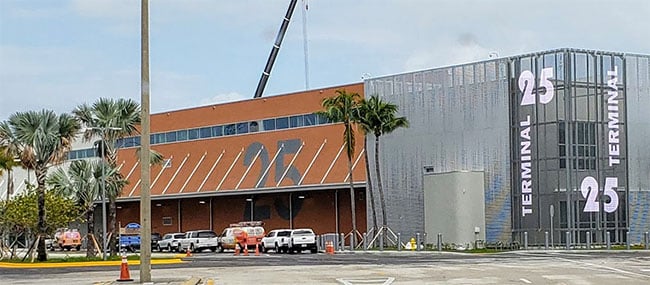 Tips Saving Money When Booking a Cruise
Beyond these "last minute cruise deals, there are some great ways to save money when booking a cruise. 
Book when itineraries first come out.  In addition to this potentially saving you money, it could save your trip, as waiting could mean that someone else snatches up all the staterooms (or maybe just the one you want).
Use a good travel agent.  They'll  potentially take advantage of special rates or have access to other perks - whether on your cruise, pre/post hotel stay, tours, etc.  Even when they don't their service alone can be valuable.  Plus, as agents get to know your likes, habits, etc - they may reach out to you when there is a deal that is just too good to ignore.
Keep an eye out (or better yet, have your agent keep an eye out) for the legitimate last minute deals there are out there.  Despite all the confusing sales, hype, etc, lines want people sailing on their ships, or they don't make money.  While you can't rely on these sales happening, if you're available when a line really is promoting a sailing hard, you'll want to make sure you find out before it's too late.
Cruise when prices are low.  If you have some flexibility, take advantage of times of high-supply and low-demand, such as right after school starts in the Caribbean, or shoulder season in Alaska.  We have a podcast episode where were identified trends in cruise prices.
Understand some of the different types of fares that are out there.  Comparing apples to apples, and understanding what is included with your fare is critical, just like in our imaginary friend Ted's example with the beverage package and onboard credit.
Check all room options.  There are many different types of room categories, and bigger/higher/better views aren't always more expensive.  We explain how we weigh our room choice options and even go into guarantee categories - a great option for some.
Ultimately, the cruise industry is like any other - prices are based on supply and demand.  Because those factors have more variables when it comes to cruising, it can seem intimidating, but with a little research and the benefit of planning as well as flexibility, you can walk the corridors of your next cruise comfortable that you paid a fare price without getting tripped up in gimmicks.