Author: Bill
Onboard credit may be completely new to you, but even if you're a seasoned cruiser there are probably things we can shed some light on. Commonly abbreviated as "OBC" or referred to as "shipboard credit", onboard credit can be thought of as a gift card of sorts for a specific cruise - money that you can use on your cruise for any number of things, including beverages, shore excursions, retail purchases, and more. What many people don't realize is there are actually different types of onboard credit, which can affect how you can use it. Let's look at how you get onboard credit, what you can do with it, and what happens if you don't use it.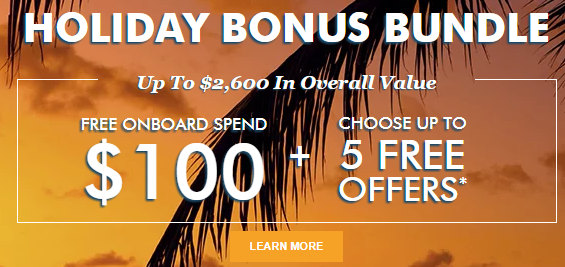 How to Get Onboard Credit
There are several ways of getting OBC, but most commonly, it's received as a booking incentive. A cruise line will often offer some onboard credit (as little as $25, up into the thousands of dollars) to incentivize you to book a certain cruise. This means that if your cruise costs $1500 for just the cruise fare and taxes, but you get $200 in OBC, the first $200 you spend on the ship will cost you nothing. This type of onboard credit is often called non-refundable onboard credit, and we'll discuss why that's important below.
Just as the cruise line may offer up some OBC your travel agent may as well. This is not to be confused with onboard credit the cruise line may offer if you book through a certain agency, as we're talking about when a travel agent actually adds in some OBC for your booking - perhaps as a gift, or, as some agencies do, as a way of returning some of their own commission to offer a more competitive overall price. We discuss the advantages and disadvantages of this in our article about the importance of using a good travel agent. This type of onboard credit by the way, is sometimes referred to as refundable onboard credit, and not only travel agents can purchase it. Have a friend or family member cruising and want to offer up a gift? You can call the travel agency or cruise line and purchase onboard credit to be placed on their account (which usually also results in a note in the guest's stateroom, explaining where the credit came from).
These aren't the only ways to get OBC, but they're the most common. A cruise line may issue some OBC on your account as a gesture of goodwill if there is say, an embarkation delay, or a mix-up with your reservation. Some cruise line branded credit cards may allow you to cash out points as onboard credit as well. You could even buy OBC for yourself to help you budget and prepay for things on your cruise.
What Onboard Credit Can Be Used For
In short, you can use onboard credit for nearly any expense you incur onboard. We've listed out some examples below - but essentially, if if goes onto your onboard account (just like charging something to your hotel room), your onboard credit will be automatically applied.
Spa services, such as massages or haircuts
Alcoholic drinks (including beverage packages)
Specialty (up-charge) dining
Onboard retail purchases (gift shop merch)
Gambling and other onboard games
We should note that certain things onboard will not go towards any onboard credit. Ship's medical services for example, are billed independently, and often don't go to your onboard account. Gratuities will usually go toward onboard credit, but any cash tips of course, is a different story - and some lines have not allowed gratuities to go towards OBC, but this doesn't seem to be the case anymore.
Gratuities are an entire discussion in themselves, so check out our article which explains who is usually tipped and how.
It should also be noted that more and more cruise lines let you book shore excursions, beverage packages, and more online in advance of your cruise. More and more lines have added functionality to their website to allow you to use your onboard credit when paying for these items online, but some OBC, such as gift onboard credit isn't available until embarkation day.
What happens if you don't use your onboard credit?
If you search this question you'll find many conflicting answers, and that is because for the most part, it depends on what type of onboard credit you have. Before I explain, know that in scores of cruises, I've had one single cruise in which I didn't quickly go through my onboard credit without trying - but it can certainly happen.
If your OBC was offered as a booking incentive from the cruise line, then it is considered non-refundable - so you either use it or lose it. If you somehow get a lot of this type of OBC and don't use it all by the end of your cruise (again, this is rare), then stock up on staple sundries or other items in the gift shop, see if you can use it for a future cruise credit if you book another cruise while onboard (most lines don't allow this - but it does vary), or go gamble with it (we don't personally gamble, but if you don't use it then you're guaranteed to lose). In the past, one trick was to buy casino chips with non-refundable OBC and then cash out - but now most lines give you "gift chips" for this credit, which must be plaid or turned back into non-refundable credit. If you win money with that play however, it's yours to keep.

If you're onboard credit is refundable, meaning it was offered up as a gift from your travel agency, then you can get back any unused portion at the end of your cruise. If however you had both types of OBC, it isn't always clear which is "used" first, so you may want to talk to guest services to be sure, if allowed by cruise line policy, that the non-refundable onboard credit was used up first.
Wrapping Up on Onboard Credit
To me, onboard credit is like cash, because I am confident each and every time that I'm going to spend it. Gratuities alone can quickly chip away and onboard credit, and if you're buying drinks that too can offset things right away. Some shore excursions are pricey enough to eat up even generous amounts of OBC all at once. It is important however to keep track of how much credit you should have and from what sources - mistakes happen and you want to ensure you get what you paid for (or your friends/family gifted you).


More and more ships allow you to check your onboard account (including any OBC) on your stateroom television, but you can go to guest services at any time to check on your tab as well - just don't wait until disembarkation day, as the queues can get quite long. If you're still unsure of just how onboard credit works, just buy us some for our next cruise and we'll tell you all about it ;-)
Have questions about onboard credit? Have you ever "lost" OBC because you didn't use it? Comment below or reach out on Twitter or Facebook!