Author: bill May 4, 2017, Updated: June 24, 2019
Whether you want to share your vacation memories as they happen or you want to be able to keep in touch with those back home, many of you have asked questions about staying connected while cruising, and there is no single answer.  In the past couple of years cell phone carriers have made international roaming a bit more palatable, but cell phone roaming rates on ships are still completely impractical, at least for calls and data.  What are your options if you want to stay in touch while cruising?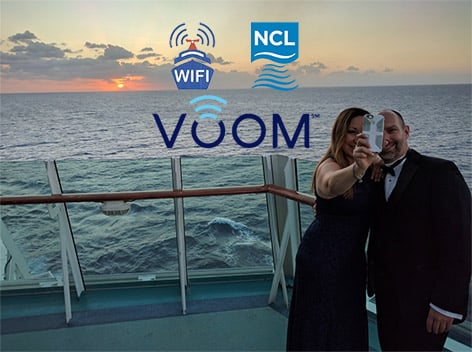 Tips For Staying In Touch On A Cruise
Use your phone in port on your mobile network.  This may seem obvious for some, but most major US carriers now have very competitive rates when roaming internationally.  Often, roaming within Mexico and Canada is included, it's just like using your phone at home.  Outside North America many plans from Verizon and AT&T offer "day passes" that offer practically unlimited use for around $10/day.  Be careful if you're not looking to use this, as this feature may activate the second you connect to a foreign mobile network, even if you don't intend to use it.  T-Mobile is a bit of an outlier, as most T-Mobile plans now include free international roaming to pretty much any destination you'll find yourself visiting on a cruise – though T-Mobile's international data speeds are quite a bit slower than at home.
Find free WiFi.  In touristy spots the world over there are businesses wanting to lure you in by offering free WiFi, sometimes requiring a code you only get after making a purchase.  This is true at cruise ports, but a simple trick is to ask crew-members where there is reliable free access.  They've likely visited the port many times before and take that opportunity to reconnect with friends and family.  They're pros at finding good WiFi.  I recommend using a service like TorGuard to stay safe while on public WiFi networks.
Purchase WiFi access on your cruise ship.  The success and price of this varies quite a bit depending on the cruise line, ship, and area of the world you're in.  A few years ago, all service was too slow and pricey to even mention, but things are getting better.  Royal Caribbean offers "Voom" on their ships, and ranging from $9-17/day (pre-paying and watching for sales can save a ton) the connection is generally more than adequate for simple web-browsing, and on some ships, is honestly as speedy as many have at home or work.  Carnival charges a bit more, but in some areas, has reasonable speeds.  They do however offer a package to access only social-media sites for $5/day, which can still help you keep in touch.  Norwegian too offers connectivity, and have recently rebranded access with, "Freestyle Choice Plans" which, for 7 night sailings, range from $35 for just social-media access to $245 for streaming media and VPN access. Things continue to get better, and now Princess and Oceania even offer some complimentary access! Still keep in mind delivering internet at sea is tricky - we explain some of the technical challenges here.
Wherever you sail (even if you're onboard a ship) take advantage of WiFi calling.  Most carriers offer this feature now and most modern phones support it.  If you have a fast enough WiFi connection, you can call and text without using the cellular network – often for free.  Be sure this feature is enabled on both your plan and your phone.
Third party messaging and calling apps can be another saving grace.  Popular free apps like Facebook Messenger and WhatsApp use data, so you'll need some level of access, but can generally operate, at least for text, on very slow connections.  Figure out which apps you like to use and make sure your friends and family back on land have accounts set up.  Have a faster internet connection while at sea or in port?  Great – many of these apps even support phone calls and video chat.
Use limited texting on the ship's network.  Text messaging while roaming on the ship is indeed an option, despite our warning about making calls and using data.  Check with your carrier, but receiving text messages while on the ship ranges from free to $.25, and sending is generally $.25-$1.  Much higher than what we'd usually find reasonable, but for the occasional check-in this may be enough, and doesn't require any special setup.
Two-way radios. Inexpensive portable radios can help keep your group in touch on the ship, but there are some things you should absolutely know about this option before picking up a few and relying on them during your cruise.  We  cover the features to look for, what expectations to have, and potential pitfalls in this article discussing using two-way radios at sea.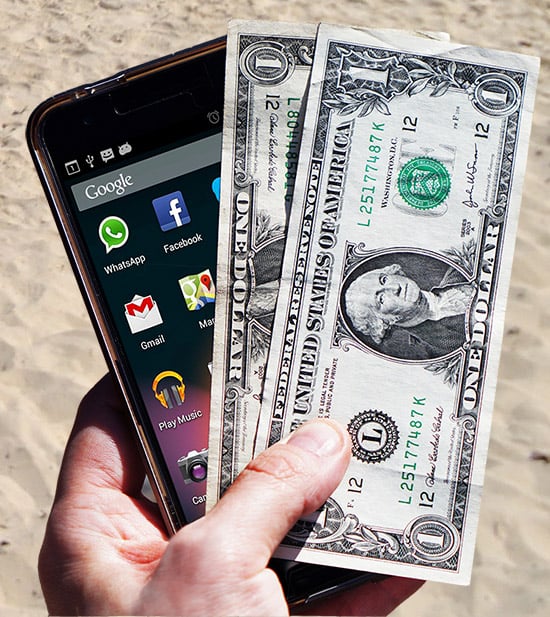 How To Avoid A Big Mobile Bill After Your Cruise
Surprise cruises are great, but surprises when you come back from vacation are almost universally bad.  To prevent any of these, take the following steps to avoid a much larger than expected phone bill after your cruise.
Disable data roaming while on the ship.  The ship's cellular network will turn on after you're a few miles from shore, and data is always running in the background.  Disabling roaming prevents apps from updating and pictures from syncing – all things that could run up a phone bill into the hundreds or even thousands of dollars.  If you want to be sure you'll avoid charges use an RF blocking pouch - this is also great if you want to use your phone for an alarm clock
If you don't have shipboard WiFi and you must make an emergency call, use your cell phone.  As high as the rates may be (think $5 or more a minute), the rates ships charge for using their phone service is usually even higher, and call recipients won't recognize the caller ID.
Check with your carrier to find out how everything we've discussed applies to you.  Some older phone plans may have different rates or terms than carriers advertise on their website. 
If you're using WiFi at sea, put your phone in airplane mode and then turn on WiFi.  This will help prevent you from accidentally roaming just because the WiFi signal was weak for a time.
If you have children be sure to check those roaming and airplane settings often.  We've seen many instances of people taking the time to prepare and understand roaming, shipboard WiFi, etc, only to find out that their young child changed setting while playing a game.  It takes a lot of chores to work off a $600 phone bill.  As mentioned earlier, you can also use an RF blocking pouch, as once inside your phone won't be able to connect to the ship (or any other) wireless network.
Sailing to Cuba? Things can be a bit more complicated. Don't worry, we have the details needed to keep you connected when cruising to Cuba.
Oh, and not that we've run into problems like this, but if you're toting your phone around on ship and shore you may want to pick up a cheap waterproof bag for your or two.  Some people tend to get a little more careless on vacation, and electronics don't like saltwater (or sand).  Okay we confess, we've broken some phones on vacation...
Update: Reddit user Nakatomi2010 suggests putting your SIM card in a small container at sail-away to guarantee you won't get hit with any roaming charges.  Just keep in mind that if you do this WiFi calling won't work.  The same is true if you use an RF blocking pouch to prevent your phone from connecting - these are also great for preventing tap-to-pay cards from being compromised.