Author: Bill March 15, 2018, Updated: March 17, 2018
This week Oceania Cruises, a subsidiary of Norwegian Cruise Line Holdings, announced "Wavenet", a new internet technology coming soon to the fleet, which includes free basic access for all guests.  WiFi on cruise ships was once, and in many cases still is quite expensive and slow, but it's become much better and cheaper over the past couple of years - changes certainly welcome by many guests as well as crew members.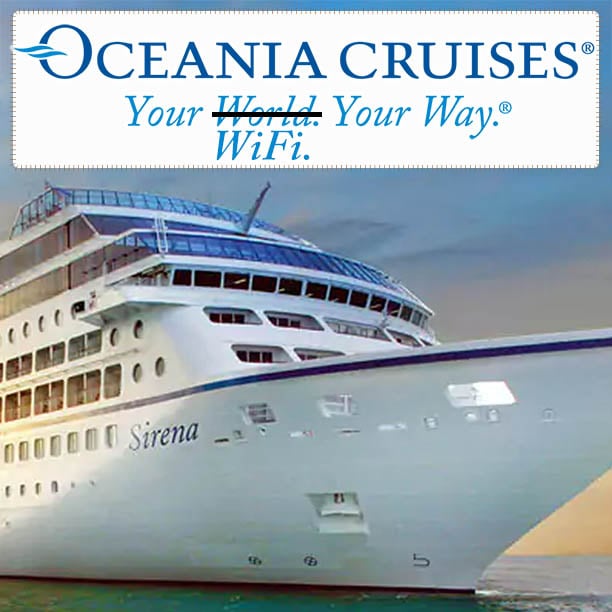 All passengers will soon have complimentary and unlimited access to Wavenet, allowing them to access the internet for basic web-browsing, email, and social media.  Those looking for faster speeds and streaming video can upgrade to Wavenet Prime for $9.99 per guest, per day.  
"With our new Wavenet high-speed internet, our guests and crew can continue to surf, post and stream aboard our ships from anywhere around the globe, just as they would at home," stated Bob Binder, president & CEO of Oceania Cruises.
Wavenet will roll out to all six vessels in Oceania's fleet by the end of April.
Billy's Take
The Norwegian brands are working hard to keep up with the latest technology just like Carnival and Royal Caribbean, in fact, a year ago today, NCL partnered with in-flight entertainment firm Global Eagle to deliver entertainment and managed internet services to their fleet - though it's not yet clear if this is the same technology Oceania will be using (we've reached out). 
It's easy to ask how Motel 6 can offer free WiFi but cruise ship's can't, but technically it's far from being that simple.  It's important however that cruise lines continue to think this way, and ask themselves why they can't provide the same speeds at the same cost common on land (we have it on good authority that a long-time Oceania executive, and awesome father reminded others of this regularly).  This is especially true when looking at upper-premium/light-luxury brands and above where any real cost could be incorporated into the cruise fare without it causing turbulence for anyone - even hotels and motels pay for their connection, the wireless access points, internet security systems, etc. 
Wondering what light-luxury and upper-premium mean? We explain these breakdowns some and help you chose the right line for you.
Internet access is quickly becoming table stakes for cruise lines, and not having fast and affordable access can be a deterrent for some would-be cruisers.  Oh, and we bet the social-sharing of great vacations makes for happy marketing teams, too.
Is internet access and important factor in deciding who to sail with? Comment below, or reach out on Twitter or Facebook