Author: bill September 28, 2016, Updated: December 27, 2019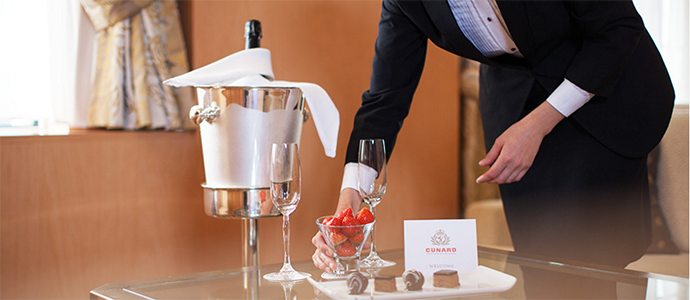 Gratuities, service charges, or tips – no matter what you call them it's hard to know what is appropriate and how to pay – especially on cruises.  Cruise lines have long had crew members who work long and hard hours, thousands of miles from family to make your vacation a great one.  Many of these hard working, dedicated people are compensated primarily with gratuities. 
Twenty years ago it was pretty standard that at the end of your sailing you provided envelopes of cash to certain members of the ship's crew.  Over the years cruise lines have largely streamlined this process by recommending to guests how much to tip various crew members, and now, most cruise lines will even charge these gratuities to your onboard account and distribute them without you worrying about a thing.  It's still important however to know what to expect.

First, know that there are certain people on and off the ship who you may want to tip, but don't get their tips from your auto-gratuities.  For this reason, I'd recommend carrying some singles and maybe fives on your cruise.  Below are just some of the people you may want to tip in this way, and some rough guidelines regarding how much – though know this is very subjective, and of course should be commensurate with the level of service that a given person provided.
Porters: $1-5 per bag
Room service delivery: $2-4 per tray
Bus drivers (for cruise line provided shuttles): $2-3 per person
Child care staff: varies by time utilized, length of sailing, etc
For auto-gratuities, while they vary by cruise line and stateroom type (see chart below), the daily charges are generally broken up between your stateroom attendant and dining room staff.  There is nothing wrong with adding on to the amounts suggested by the cruise line, and in these cases, cash is king.  Don't worry about what currency you have handy either, as most transactions are in US dollars, but crews have simple resources onboard for changing currency and wiring money to family back home.  Another option, on most cruise lines (Costa seems to be the notable exception here), is to adjust the auto-gratuities in the event you felt their service was above and beyond what is expected, but you don't have cash to provide.  Remember too that making sure guest relations or a crew-member's supervisor is aware of his or her efforts is likewise appreciated.
Quick Note: Specialty restaurants, which carry an additional charge, generally include the gratuity.  For this reason, you shouldn't feel compelled to tip on top of the restaurant's charges - though if you find that service was above and beyond what is to be expected, you're of course welcome to offer up something additional for those who helped you.
The chart below explains the auto-gratuities for some of the larger cruise lines, and I worked hard to ensure they're accurate – but understand that these things do change from time to time.  I'll try and keep this page up to date.  In addition to the auto-gratuities, I've also noted the percentage that cruise lines apply to bar tabs, spa treatments, etc.  If you have any doubt if it's customary to tip someone, or if they're tipped out by other means, just ask that person, or someone at guest relations.  I know when I'm on a sailing that there are hundreds of people working harder than I do to make my trip memorable, and I want to make sure they're taken care of.  Additionally, you never know when you'll see the same staff again on a future sailing.
Have questions about tipping?  Did we miss something?  Let us know in the comments!
Chart last updated May 16th, 2019.
Cruise Line

Standard Stateroom

Suite

Automatic Beverage/Spa

Notes

 

Royal Caribbean

$14.50

$17.50

18%

Fares on Australia sailings include gratuities.

Carnival*

$13.99

$15.99

15%

 

Norwegian

$14.50

$17.50

18%

Norwegian Sky and Sun Port Canaveral sailings $19.99/$22.19 - Additional charges on Hawaii sailings

Celebrity

$15.50

$19.00

18%

$16 for concierge and Aqua staterooms

$14.50

$16.00

15%

 

$11.50

$13.50

15%

Grill Accommodations = Suites

Princess

$14.50

$16.50

15%

Mini-Suites $15.50 - Princess Australia does not add gratuities.

$13.50

$13.50

15%

 

 

Included in fare

Included in fare

18%

 

Oceania

$16

$23

18%

 

Regent

Included in fare

Included in fare

none

Additional gratuities can be given to the Crew Welfare Fund at the purser's desk

 

MSC Cruises

$6.25-$12.50

$6.25-$12.50

15%

Varies by itinerary, ship, and time of year.  Gratuities per child are half (or not charged if under 2 years old)
Caribbean sailings are $12.50 per adult per day

Costa

$10.00-16.50

$10.00-16.50

none

Gratuities vary by ship.  Costa notes these charges cannot be altered
Caribbean sailings departing from the US carry a $12.50 charge per person per day

P&O

included in fare

included in fare

none

As of May 2019 P&O no longer adds gratuities

Pullmantur

$12.57-$19.15

$12.57-$19.15

none

Some sailings $88 to $134/person/7 nights. Sailings booked in some countries include service charges in fare.
*These rates effective as of sailings departing Dec 1 2018 for guests who have no prepaid