Submitted by bill on Sun, 10/14/2018 - 23:04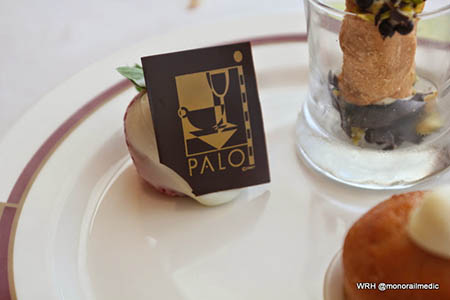 The cruise experience is inextricably tied to dining, but what is specialty dining?  This concept may not be as new as you think, so we dive into what exactly specialty dining is, where it started, and we look at the types of experiences available now, plus some in the near future.
Link Related to This Episode
Celebrity Reflection Live Blog
Episode 271 - Mariner of the Seas listener cruise review
The "Good Old Days" of Cruising Were Nice, but Today's Cruising Is Even Better
Or what type of cruise you take
dining
is a major part of the cruise experience increasingly guests have many options when it comes to shipboard
dining
almost every ship offers
dining
outside of the main
dining
room or buffet at a table service restaurant some may come in extra cost while others are exclusive to suite Yes I'm Rick Ross and I'm Billy Hirsch That's today's episode of the cruise have a podcast specialty dining. You are about to set sail on the cruise have a poet cast and it will be a voyage through the will of ship's pullets and beyond welcome a boat. You might think because we're talking about restaurants and
dining
you'll get an appetizer here but we're going to dive right into the main course of the classic cuisines you'll find on a cruise ship the big three are French Italian and the American steakhouse Norwegian features all three of these They've got the Bistro is a French restaurant as an Italian restaurant and Cagney's is their American steakhouse on Royal Caribbean ships depending on which ship you might find Italian restaurant by the name of Giovanni stable or Jamie's talian for the American steakhouse they've got chops grill celebrity they don't have an Italian restaurant but what they do have are two different kinds of French restaurants one called Merano and another one coming to the celebrity edge called The Ground be strong. Or take house you'll find that they've got the fine cut steak house.
Disney Cruise Line
has a doesn't have all three of these but they've got Remy and Paulo Remy on two of their ships and Paul on all four and they're all fantastic options not quite as cookie cutter with with French and Italian cuisine though Holland America Pinnacle Grill can be found I believe on all the ships in their fleet in Canada let go for Italian as well as some others throughout different ships Princess very famous for Sabatini's Italian then they have the Crown Grill in Stirling Steakhouse. Depending on which ship you're on M.S.E. in new Specifically we're talking about the seaside because we mostly talk about North American lines here. You have butchers cut and French bistro two to name two that fit into those those three. Now Billy do you have any experience or favorites with the ones that we just listed in that kind of round about Big Three. You know I would say. Both Remy Apollo and D.C.L. are pretty fantastic and really stand out even among some of the luxury lines that I've sailed as having just fantastic food and experiences the one that surprised me the most out of those that that we talked about that I've experienced would actually be the Pinnacle Grill on Holland America I don't I don't know steak houses even when I ate steak didn't really excite me that much but wow that place blew me away so I think that might take the cake as partially just because of the surprise factor. Interest and one of my favorites that we mentioned is Jamie is a Thai and I thought that was a fantastic Italian meal. The kind of food I really like it's not real fussy. It was so good that some friends and I ate there on the second night I think of my Harmony hers and we went back a second time to that restaurant it was such a hit with all of us and then I have to second what you said about Paulo been on pollo I guess when we went on the Disney Dream and then the time I went on the
Disney Magic
before that had a meal Apollo that was exceptional both in the food and the service yeah Remy by the way is in my opinion a fantastic food but it's more of an experience than these others than any of these others on any of the lines that we mentioned it's a commitment of time and and maybe maybe in a Durance event in eating as well but quality I do agree with what he said about Jamie's by the way I actually. I believe after
dining
Jaymes on harmony said that that was one of the best meals that I've had on any ship which is not something I expected to say on a roll Caribbean nothing against them but you know there are just a lot of really great options out there. Now looking back on the development of a specialty restaurant what can you tell us about how a specialty dining venue got started and yes and so yeah I love looking at the
history
of all things cruising in ocean liners and it's interesting because traditionally in cruising won't be for cruising you know on ocean liners ocean liners by the way a series of specialty restaurants on celebrity but on ocean liners much like cruising today when people think about
dining
when people thought about
dining
it was that was included that was part of the experience and there were some exceptions relatively early on even though this concept especially
dining
didn't get popular until later so in one thousand thirty six the Queen Mary and then just a couple years later the Queen Elizabeth nine hundred forty had veranda grill and that was an restaurant and then when canard launched another one of the Queens the Q E two in one thousand nine hundred sixty nine Interestingly she attempted to carry on the tradition with a venue called the grill room and it was no charge restaurant and it was from what I can tell it was about seventy five cents per person to dine there. And yet interestingly despite the concept working out in the past with the with ocean liners it didn't seem to resonate with guests in the late sixty's and early seventy's any longer so people just they didn't want to pay that extra buck they thought you know what I paid to be here and remember Q E two at the time was divided into classes so there's already multiple
dining
venues depending on where your statement will get into that so they turn that into the princess grill which they did that when they added some state room so they had to. Whole different bucket not just category of state rooms and in the grill became the princes grill and was then a complimentary venue for persons staying in particular state ribs. Then we didn't see as best as I can recall and find we didn't see a whole lot happening intil intill really you saw N.C.L. with Freestyle Dining and. And ro Caribbean with some of the mega ships you know check out our episode three on mega ships the rise of the mega ship to hear more about that and that's where freestyle you had all these it was all about having options and cruising your way and then with the mega ships Well they had the space to provide even more options so while N.C.L. initially had a couple that Cagney's and a couple other like a French restaurant you know then when you got into larger ships and people really liking that idea of having these additional choices well lines were just able to go crazy with it and of course it was an opportunity to get them some additional revenue even though at the very beginning they actually said that it was largely that the fee was largely to cover
gratuities
. You know when you're talking about freestyle
dining
on Norwegian if you compare the sky and the sun which are both in the same class the Freestyle Dining really came about with the sun on the sky there's like one there's your standard restaurants and then one other restaurant maybe there's a second but on and that's on the sky on the sun there are like eight different restaurants it's really amazing how they work the space differently on the same side show yeah it's a good it's a very good point and I've often wondered why they didn't change that and at the moment I'm wondering why I can remember the name of the French restaurant it's Cagney's and then a French restaurant done on sky there right next to each other but I often wonder why they didn't change it however it makes sense because now Sky alternates between three and four night sailings that. Because. Out of South Florida because they tend to attract a lot of locals they don't expect on board revenue to come from specialty dining as much on those sailings. And it's supposed to be an all inclusive experience so far as beverages are included on Sky so I can see now why they wouldn't necessarily want to go back even though every cruise line loves additional onboard revenue but it's a very good point. Yeah I guess I could see what you're saying with the three and four and I cruises. Less of an opportunity to check out other things people more satisfied by a
dining
in the main
dining
room for the three or four nights that they're on there yet I find myself doing the same thing as an I'm sure you do but what's interesting now is we have outside of those kind of staples that we talked about the time in the steak house and so on there are some new things that we're seeing not just individual restaurants but new patterns I don't know Rick I think you've talked about some of the like the Japanese restaurants Yeah I would consider that like emerging fourth class of fourth type of restaurant the Seems to be really popular across the lines having something that sushi or happen Yaki which is the or maybe they have both. What my mom has said is this is food as entertainment and I have to agree with that way at the you're getting to see the meal prepared sushi you get to see your meal prepared Norwegian offers a top and Yaki Caribbean also offers a sushi to and sometimes a top and yucky depending on the ship celebrity Scott sushi available on a lot of their ships and then I think you've seen on the seat what have you seen on the seaside so in
Seaside
they have so many
dining
venues and especially
dining
venues and actually the only one that I tried was the tepid Yaki restaurant and to be honest I kind of felt like I felt with a number of these venues on ships which is that in Yaki to me it's interesting it is entertainment. As far as food quality I've never had a bad meal at any of these but I go there OK yeah I mean you put so I saw some stuff and it's delicious. So you know it's I've never been blown away by any of these on ships but I'm glad they're there because I like the variety I like the option. In Holland America they have an Asian restaurant on a couple of their ships I believe tamarind which is not does not actually fall into this category of sushi in a Bochy it's Asian fusion and it's something that we see on others Oceana has a register which is a great Asian fusion and I'll tell you I really like tamarind I think it was maybe because it was less risk of seeing gimmicky Maybe that's why I like to food a bit more but that's that's just one category you know we do see some some others as well and that was on the New Amsterdam that you ate on tamarind Yes Yeah correct and it was I think it was our first mill you can check out the live blog over on the on the site and put in the show notes Yeah I recall checking out the when you when I knew that you were going to go on that ship I recall checking out the menu and being pretty impressed with something that's interesting something that is front and something that I might not really have access to on land whereas on land if I want to go to a steakhouse if I want to go to Bochy like a Benihana. That's available to me but tamarind really seem to not fit any mold that I've been to yeah I would agree also they have this is a little bit off topic right across from that they have a bar that is kind of associated with that venue that has the best view of any indoor bar on a cruise ship and nobody ever went there except to take naps because they knew no one else was compete there. Random random trivia about tamarind. Now the next kind of emerging cuisine or I mean this isn't really a cuisine but a food type I think this is more up your alley. And you tell us what's going on there yes so we're seeing a lot of seafood. Restaurants a lot we're seeing maybe a bit of a trend of seafood restaurants. And we've seen them before and I think Cruise Lines are it's interesting I grew up in south Florida. I'm used to as as did you you know seafood is nothing weird but I hear other people I meet other people in all sorts of places and it can be rather polarizing or you know people can be a bit. I don't say fickle about seafood but cruise lines have tried to to implement seafood restaurants before ranging from very casual to very formal
dining
venues and on symphony of the city's brand new ship which will be on in. Thirty something days I think after this recording. They have hooked and that's a that's kind of a somewhat casual specialty seafood restaurant M.S.E. has ocean K. which we didn't get a chance to experience but that's that's a bit more formal. I have a story about hope for it I'm not sure if I've told you this yet some friends of mine went on the Symphony of the Seas back when it was in Europe our guest still is in Europe and they were on the first people to dine at hooked and they ordered the seafood tower there and they said way too much food it's just an abundance maybe an overabundance of food and there were several Caribbean staff people coming around like surveying the diners to see what they thought and apparently that's what Royal Caribbean's going for at hawked is maybe just a little more food than you could really eat interesting I wonder if feedback that they got in other and I can't recall that would be able to tell us Royal Caribbean blog when Roker ministries seafood venues in the past Chris something Crab Shack I wonder if one of the points of feedback that they got was this is great but I feel like I just paid enough charge for a piece of fish or something like that that's interesting Carnival I know has seafood. Back on some of their ships and it's from what I've From what I've seen I've not experienced either yet it seems to be somewhat similar concept to talk to you know something that's yeah you pay a bit of an upsurge But it's it's not a really formal seafood experience. Yet but that is one of the things that I've seen and I think that's coming on the Vista class that's on Vista and Horizon the seafood shack that's something that interests me based on what I've seen about. The surprised I'd be surprised if we didn't see more of these. In the future on an lines trying out seafood and there certainly are some I think all in America even does one night on most sailings in one of their venues that's seafood theme so it be interesting to see but there's there's one other that that's interesting to know you and I for several different reasons that we've seen on ships lately even though I don't eat meat and cinching to me and that is a Brazilian steakhouses. I know you love it the couple of how to love the Brazilian steakhouse I think they're like if you look at Texas to Brazil or kind of place on land that's a pretty steep investment for dinner Granted you can eat as much as you want but the prices are are fairly high I think the Brazilian steakhouse on a cruise ship is a great illustration of the value of specialty dining because the prices tend to be lower than what they would be on land grab you maybe already paid for a meal. But yeah that's one of the things that really attracted me to go into Brazilian steakhouse if you look at my escape blog there are no on Norwegian and I thought that was a terrific meal and I know they're not the only ones who have tried to Brazilian steakhouse onboard. Caribbeans got some big grill and and I think that this is something we may see more partially because. It's hard living in south Florida it's maybe hard for me to feel check the pulse on this but it seems like that type of restaurant is maybe a little more in vogue then then it. Was and it gets to what we're talking about tepid Yaki which is there's an element of entertainment so if you're not for mil year with this which is another big appeal as there are people that find this interesting that can't go depending on where you live you may not be able to go to New Zealand steakhouse on land not the case with a tie in French Mexican steakhouse cetera those are pretty ubiquitous you know in any and he Town USA But so if you've not gone to Brazilian steakhouse generally the way it works they come around with large skewers of different cuts and types of meat and just carve off whatever you want so it's a very different experience from from all these others and I think there's between the scarcity of of people not being able to necessarily experience that on land the value prop because on land tends to be more expensive and the entertainment I'd be surprised if we didn't see more of these and frankly there are a number of specialty dining experiences out there that really don't focus on the I don't say they don't focus on the cuisine but they they aren't about a specific type of cuisine like I know on Norwegian you experience some some dinner shows that were pretty impressive looking. Oh yeah the two Norwegian cruise that I took last December went to the dinner show that was available on each ship on the epic There was a show in what they called the should be able to mount and that was like a Cirque du Soleil kind of experience where there are acrobats in the middle and you're served a fixed menu that was the only thing that I maybe didn't like about it was the menu is fixed everyone's getting the same unless you have an allergy or something like that everyone's getting the same. Meal everyone Urban's are the same appetizer everyone's getting the same entree everyone's getting the same dessert I also got to see a theater show on escape and that was some singers that were singing medleys of. Some classic song and more modern pop song and mash up. But the show that has been going on in the theater on escape varies from sailing to sailing so that is kind of an interesting thing that it's never really the same thing if you go on to have records there that's a cool concept I've not yet experienced anything like that to the best of my recollection. But I look forward to it and in fact we will get to see. This something like this very soon on celebrity edge. What's our countdown on that Rick and I are both going to be sailing on edge so make sure you guys follow along that crews have a dot com We'll be all over social media because edges we're going to be on her on one of her very first sailings but
Eden
is a venue that is it's a multipurpose venue that offers. A show that based on renderings and what they've told us about it seems like something that we're not likely to experience anywhere else. Yeah I'm I really not sure what to say
Eden
is I'm not sure what it's going to be mysterious different I've seen a sample menu and it looks like for every course you've got two choices and it's like a five or six course meal. That one's priced right now and I believe sixty five dollars and I've got that book for the second night of the cruise so I'm very interested in trying that seeing what that's about yeah it looks cool and frankly I think some of the unknown is with regard to the entertainment the entertainment by the way parts of it are happening all around you and then I think other parts of it happen on a stage as you maybe go into a different area for to dessert or I don't know I almost think they're trying to be mysterious about this which is kind of what celebrity has done with a number of entertainment things ever since they started writing their own stage shows a couple years ago very mysterious kind of stuff so it'll be it'll be interesting to see and in addition to that entertainment going on all around. The course is that your serve the food items that you're served are somewhat unique is in innovative as. Well which is another theme that we're seeing in specialty dining especially over the last few years I know ro Caribbean for example has Wonderland and. The I think that's on. Harmony symphony an anthem if I recall there it doesn't seem like they're adding it to any additional shifts this point maybe on spectrum but not exactly in the same way do you know anything about that. Yeah I was surprised to not see it added to her but then again with Mariner being a three night four night sailings Maybe they think. That's maybe more than people would do in that amount of time where is the ship that is on our seven night or more sailings I've dined there on harmony thought it was terrific I'm not sure it has high repeatability but it was a very interesting one meal experience I agree I've told people that it's a for me personally Wonderland is a one and done not in a bad way I wasn't blown away with the food I enjoyed my meal and tasted good but I didn't think it was anything spectacular it was just such a unique experience that I'm glad that I experienced it. This time when we're in symphony in just a little over a month here I'll be going again and that's because. My spouse will be with me and she's not enjoyed it before so I want her to experience it if it wasn't for that I don't think I would do it again but I encourage everyone to do it at least once and don't think I've heard a lot of people apprehensive with these type of experience about oh I think this was going to be weird listen it's subjective but now it may look different than yours too but it's it's true you. Yeah that's one of the things that is central to the Wonderland experience is that the food maybe doesn't look like what you are eating or there's an elaborate presentation to maybe just a two two or three bites of food like one of the desserts they have is called the globe or the world or something like that and it's a. A chocolate ball hollow with something inside and then like a Carmel sauce is poured on top that causes the chocolate to melt. So every courses has some kind of element like that to it and to answer your question about will Wonderland be on the spectrum looking at the deck plans there will be a wonderland but they're adding a tagline with a Chinese chefs name so spectrum is due for the the Asian Australian market and I think they're putting a little bit of a twist on what they've been doing for that market so that will be interesting to see exactly how is one of and different from that for the Asian market I was waiting for you to tell me it's going to be Wonderland but they're going to put it at the pools just try something totally different. It's the same space as far as I can tell but different menu possibly possibly something that. E mentioned the food doesn't necessarily look like it tastes with with Wonderland and on celebrity you and you've got to enjoy Q Zeen which seems similar and yet different and tell me if I'm because I've not yet experienced using From what I saw it seems like maybe Deconstruction is more of a thing in queue scene then it just in looking different. I'm not sure deconstruction would be the right word I would say whimsy So instead of having a plate of sushi you get like a stand where the sushi has been turned into a lollipop So every piece of sushi is on a stick or other than flat on a plate they don't have one that's called like favorites that is brought out and something that is a cross between maybe a briefcase or a drawer set up right and then you get two three bites of something in each slot in this drawer so it's not the presentation is whimsical OK there's not. Not fantasy which is what wonder like Wonderland is that interesting as you're describing that this would be I'm sure the first of many crews have been Mitch Hedberg references I couldn't help but think which had heard talk about many bars having items that you couldn't possibly replace like Coke in a glass harmonica. So keep in keeping with celebrity for a moment there is something that I don't remember I think you're going to experience this before I am maybe on edge Yeah I've I've got this this petite chef
dining
experience booked for the third night. Careers and this is another one of the food is entertainment fact this is maybe the most food as entertainment bang I have seen it yet they've partnered with a company called Skull mapping where they'll do some projections onto the table and a cartoon chef will paint or somehow prepare on a blank plate what you are about to be served and then at the conclusion of the painting you will get that plate served to you. That as much as I can tell from having seen it yet this goes with the celebrity mystery stuff again excited to see it looking at some of the other stuff school mapping has done some art things like augmented reality art installations and such really cool stuff so we'll see stay tuned because we've got lots of edge stuff coming up so yeah they all about that as soon as we figure out what it is. Right I'm not exactly sure what I'll be doing when I'm there but I'm really excited to check it out and see what they have to put in front of me they're going to bring that. To the Q. scenes on the millennium and souls discussion as they go through the celebrity revolution edges not going to have accusing so that one is going to be the ground be strong. And I think if you book the presidential suite then you get you get the. Experience right in your state room they bring you an augmented reality dinner experience no that's not a thing now OK I've been told it's not a thing at all. I wouldn't be surprised if your pan that kind of money for a presidential suite I think you should get a lot I agree. So rounding out the innovative
dining
food Republic is a venue on N.C.L. that I did not get to try out when I was on board and I was kind of bummed because it looks interesting but were you able to check that out you know when I was on the escape and you can read a little bit about this in the live blog that I did there I was able to go to food Republic it's a lot of it's like a topless restaurant so everything's small plates and the ordering is done on an i Pad so you could order as you want or you could put in your full order and then just see the order that things are brought out the U.N.. Some hits some misses but they're nothing is a lot of one thing so you can try a lot that one. Yeah I would say worth a shot but not everything is a hit on the menu that's the nice thing about small plates. So in a so that's the we talked about some of the more innovative spaces another and there's there's certainly crossover with a lot of these on the Venn diagram of specialty dining venues but celebrity chefs have been used I mean let's be honest by marketing teams for cruise lines right to create restaurants create venues that they can get some attention and kind of some immediate clout if you have a good celebrity chef name to attach not that the chefs aren't involved with creating these things and the results can. Can be impressive I also say that and I've seen this happen on multiple lines owned by multiple companies in multiple parts of the market often the celebrity chef deals start out with the celebrity chef they get traction with a
dining
venue and then they cruise lines go we don't really need to renew that expensive contract with. With somebody but it's it's still it's something's been happening for many years and both Rick and I were speaking about Jamie's Italian and that's by Jamie Oliver again one of the best meals I've had on a ship and I think Rick said the same. So that you know the varied agree it's even if you were to take that association away wouldn't change now that's OK You know even if they were to take that association away I don't suspect that the contract stipulates they have to make the food not as good so OK with me. Well we'll see I would say if you look at Jamie Jamie style and it definitely has that guy's signature on it from the uniforms to the decor to the food I have no doubt he was involved in every step of that yeah there's even a story line about the furniture in there and how it something about. Mothers or grandmother's kitchen I don't remember somebody will correct me and really it's podcast that crews have a duck. Yes Sure send us send us an e-mail on Norwegians breakaway class they've partnered with a variety of celebrity chefs and this is the kind of relationship I thought was interesting depending on which it is in the same space they may have a different celebrity chef restaurant on the escape that I went on It's. Is the kind of sit down restaurant and then they have a topless bar next door that's called Pete Rose and that's by Jose Garces this was an exceptional meal I had a really good time there really good dinner really good dessert I was very happy with that on another ship I think it may be either the getaway or the breakaway. Geoffrey Zakarian who's really well known for his seafood dishes and it's a more seafood restaurant. Yeah and di. The celebrity chef doesn't inherently mean that there's a really high end venue you can be casual
dining
So Carnival for. Sample has Guys Burgers which is consistently in guest surveys one of the most loved venues on their ships and that's why when when Carnival did their friendship two point zero renovations they added Guys Burgers by Guy Fieri to a number if not most of their ships actually and and now I think they're actually I think Guy Fieri was Guy Fieri involved with the barbecue venue and vist as well yes yeah that was something that we didn't put in our notes here but yeah he is also working with the barbecue mayor flavor town of what you might think of him. And his cuisine it is a hit with the public people love the burgers and they love the barbecue joint and frankly it well I have not eaten there again I don't generally eat meat I'll try stuff but. I was really excited by seeing that venue on Vista because. I have not really ever been impressed by a barbecue on a ship or on an island for cruise line it all seems very generic and mass produced I was looking at what they were doing and some of the options that they had it's so. I'm going to remember the name of this venue as soon as we stopped recording I'm sure but very cool on Vista so he's involved with that on the opposite end of the Guy Fieri spectrum however. There are some some the news that even have. Michelin rated chefs so we talked about D.C.L. and Remy is their highest end venue I think and I don't know if the prices increase but used to be like seventy five dollars a person for dinner there and that that didn't even include the wine pairing worth every dime really great experience but they actually HAVE TO prefix menus there and one menu was done by shift Scott Hall from Victorian Alpert's which is a very nice and high end restaurant in wild. New world and in the other is chef. Rick pronounce it wrong. From a restaurant that I can bring out in French. But let me call him hang on. And it it's rare that we could ever call for assistance pronouncing a restaurant name but this would be a good time. It's also our no love them all yeah we'll go with that all right from a a a restaurant in France that actually has two Michelin stars so that's that's not nothing in the world of. High end
dining
and kind of foodies that that's not nothing so we expect we'll see more of these the celebrity chefs again it's for the marketing teams alone it's great and it they get to springboard with a fantastically created menu a lot of the time so it's a pretty cool thing and with which chefs it's. Speaking of chefs I'm just trying to build a segue where there really isn't one here watch me force this a lot of a lot of ships will have a chef's table venue. And this may not be in a restaurant with a celebrity chef Chef or it might be and this can be just a dedicated table in a restaurant like I think one fifty Central Park if I recall and Royal Caribbean has this or it can be a completely separate venue there's a chef's table on Vista which if you look at the deck plans if someone has ever found it let me know because it seems that it doesn't have a door based on the Declan's I was unable to find it. I wondered I've seen that on a couple of different type one so I wonder if like they really take you through the kitchen maybe to go sit in this room I know that in some ships they actually do so I suspect in the case of Vista that's exactly it so they just don't you know it's not a public door so they don't show it but that can be an interesting way to have a unique experience especially if some of them have a very limited number of seats so you can book a group you know if you're traveling with. You know more than just a couple people you can try and book this for your entire group can be a really neat and special experience there have you ever done something like this a stable on a cruise ship. I have no I have not I've I've seen it done I'm right yeah not not that I recall I'd be receptive to it. And maybe I don't know maybe we'll see if we can get that on a future sailing we just got to find some people to go yes so that I don't want to have to talk to strangers Rick. I understand how your belly I didn't talk to someone on the
Mariner of the Seas
when I was recently on it and he he typically sells Carnival and he said that the Carnival ships table is hands down best meal he's ever had on a ship I think he said the price when he did it was eighty five dollars or something like that and he so the number of courses was around twelve to fifteen. So that is a large investment in labor to put out back kind of thing for just a handful of like maybe eight to twelve people who had that many courses I'm not sure my brain is able to properly divide up how much I should be eating with each course of that I don't just explode by Core seven. I don't like like violence or something like that evil that has to stop me from feeling miserable at the end around me once but yes. Maybe it's because I was leaning over others who are next to me when we. Was that the brunch when we were on the Disney Dream back and I don't know was that twenty fifteen or twenty four I don't brunch in Remy but it was dinner were one of the couple times we did it I really really went overboard I just remember getting the cheese course and. Suddenly reconsidering faith. It was a rough time but it put a great experience. Where you know one of the chefs tables experience of the. You mentioned it was one fifty Central Park and that's that's a restaurant that I'd say is hard to categorize and there are a few others that I would say are our specialty restaurants but they're not the big three they're not French talian steakhouse they're not a Brazilian steakhouse and one fifty Central Park would be I guess kind of like an American cosmopolitan kind of a restaurant you might maybe find in Manhattan. Maybe near Central Park maybe near Central or is in the Central Park venue they were very I guess of the neighborhood Thank you that's what they call it the neighborhood on the way scholarships. Have you dined there. I did not dine there but a certain friend of mine who shall remain unnamed may have batted her eyes and slipped a twenty dollar bill to someone to get dessert there one time to take away which is not really something that you can do and I had some of the dessert and that was delightful. I've been. I've been tongue lashed by several people for not trying one fifty Central Park so there are a lot of people say it is just a fantastic venue so I think that'll be on the agenda. I have dined there I dined there on the harmony of the Seas when I went for the other three people I was with very much what they were looking for from a. I'd call it fussy. I appreciate that chefs can cut carrots into perfect cubes but that does not mean a lot to me. That I felt like our waiter I think I made a joke and our waiter just kind of like looked at me and nodded. Yes. That that's the specialty cocktail that they offer at the beginning of the meal which is some kind of like cucumber cosmopolitan or something like that that was outstanding and yeah dessert also outstanding the meal in between a touch fussy. Interesting so another Royal Caribbean specialty venue very different than one fifty Central Park is Suborder and they actually never heard of this before what is suborn I've never heard of some never ever I've never heard our friend Matt mention this it is a Mexican venue that I personally really enjoy however in we're going to get into this in a moment it used to be on some ships all the cart and others there was a cover and then it went to cover charge on all ships and I actually really liked it was all a cart because they had a lot of smaller appetizers things that it was really great to go and just grab something and I've found the value prop pretty fantastic but I enjoy it and it is actually not on symphony so so be weird for me and in a month. Yeah I think instead of Suborder there they put playmakers in what was that space or something like that and then they're going to have some kind of fresh Max on the on an upper deck Yeah and they've. Been has experimented with a number of different Mexican venues before readers Cantina now fresh mix and and support so looking forward to seeing how that works out you know they're always tweaking and changing and changing that up another they kind of doesn't maybe fit really intent of these these paradigms you talked about food Republic. Earlier seems like what's unique there is just you can get a wide variety because they're small plates and maybe how you order it is kind of unique experience and then be hard to categorize the cuisine as being any particular kind of cuisine if there's I mean there is like a pumpkin butternut squash ravioli but also a. A tuna tart our pizza now I guess both of those kind of sound Italian but then there were also tons of things that were not remotely a tally and it was very much an international. International Food Court everything thrown into one bucket I get the idea that that's kind of what they're. Going for two is to represent a lot of different cuisines and one. Food for public so in addition you have something we keep talking about edge because you know what there's a lot of exciting stuff the rooftop garden grill an edge and this is a network you're on reflection about what a year and change ago which is a soul ship. And reflection are all the sources class ships have the lawn club Well the long clubs this grassy area that was neat and on different ships they used for different they put different venues next to it but I don't know that it was. I don't know that there was a lot of utility to it so on edge they have this rooftop garden grill and it looks well like a rooftop and there are actual plants all around something that you don't see a whole lot on ships now ask me about the cuisine there I actually you know what as it seemed like it was kind of casual fare but maybe maybe in an upscale way does that seem right to you yeah there is going to be barbecue on the menu and I think that is really how they're that's how they're framing it but there were also some flatbreads some other general appetizers. I'm curious to see how this venue plays out because the cover charge for this one is forty five dollars and the cover charges on celebrity are steeper than one other lines. But I declined booking this one because I really didn't see getting the value out of the forty five dollars based on the menu I think to not have another option that was complimentary with a totally different menu than what is given in the other
dining
rooms would have been a better way to go we may see that in the future Yeah I'm interested to see what they do with the space during non meal times because the venue looks really cool but I remember I think you were actually over at cruise have at headquarters and were both looking at the menu and I looked at the menu and. I don't see the value here and others may and that's great I hope others do but I was more interested in the venue than the food so we'll see is that area accessible will they have you know oftentimes complimentary breakfast or things like that in these venues Well I think you are merging the rooftop garden grill with the whole rooftop garden area and those are two separate things there in the same place but there will be an area accessible that is not the restaurant so we'll be able to go up there and hang out without going to the restaurant who we're going to hang out and it fences could not keep us from hanging out but. Yeah I just meant you know if like said if they end up maybe serving you know breakfast there whether it's complementary or you know all of her pastries or something like How do you how do you lie such a cool space. Like that you want to use every inch of it even though there's other parts of the rooftop it's speculative and it may very well be that celebrity doesn't know at this point yet that's the thing this whole edge concept is so totally know that this may be an instance of throwing something at the wall to see if it sticks and my suspicion is that and you at that point I don't think that's going to stick it doesn't for me I'm excited about a lot of things on edge eating at that restaurant is not one of them fair enough so. Price point we should probably get into something that applies to really all of these because it's part of what frequently though not necessarily defines specialty dining and that is you've got to pony up some cash for some of these and it can work in a number of different ways and you know in the case of rooftop garden grill He said It's forty five dollars a cover but it's not always a cover is it. No one on Norwegian and I was surprised to find this when I sailed on the escape the different specialty restaurants have different pricing structures so if you want to die in alla cart the French and Italian restaurant are priced all the cart whereas the top and Yaki. I think Cagney's and the Brazilian steakhouse No those are priced with a cover charge it's seems like for the most part there are cover charges across cruise lines for these though it's not unusual at this point to see these these all occurred offerings and what we've seen in both specialty venues and even the main
dining
rooms now is that there are some specific items that may come in additional additional charge so maybe you paid your thirty dollars cover for a particular venue but if you want this particular cut of meat maybe it's a couple dollars more for it's a complimentary venue but if you want this if you want to lobster it's a couple dollars more so there can be that kind of hybrid as well and regardless of what type of venue there there are some lines offering packages that will help you manage and potentially. Reduce the cost of putting on where you choose to dine and
drink packages
people talk about those all the time but specialty dining packages that's becoming a bigger and bigger thing Caribbean N.C.L. especially a did you do one of these on N.C.O.. I've done a special
dining
package on both Royal Caribbean and on the escape that was my meter on the desk to tell us all about it OK. Well since Royal Caribbean's mostly. Flat rate covered charges I thought it worked better they are on Norwegian. Is all a cart food or public is all a cart. So I was never really sure if I should use the special
dining
plan or if I should maybe pay that one all a cart and or out of out of pocket rather and then save the plan for another time sometimes the special
dining
package will pay for the entire cover charge sometimes it pays for part of the cover charge and then there's something you have to pay out of pocket on top and then on some other occasions and I know this is how the broke the Royal Caribbean
dining
package works at a restaurant like to sue me where. Where that is priced I'll cart you get a food allowance like you're able to spend thirty dollars or something like that or thirty five and you've you spent less than that on the
dining
package itself. Yet there's a level of strategy that could certainly go into that in some cases which I don't know if most people want that out of their cruise vacation but you know for some people these are just making it easier and there can be considerable savings depending on where you end up
dining
with these with these specialty packages. I will say that one thing that is interesting difference between Caribbean and Norwegian is the
dining
package on Norwegian does cover that up an Iraqi restaurant the
dining
package general Caribbean does not cover their tempting ocular. Interesting not even to discount anything. I've I've heard stories of people being allowed to use it when the ship was maybe not so full or the temple Yaki was not so popular but according to the fine print. Now it Roker been
dining
package doesn't work at the top in Yaki it's interesting I wonder if it. Purely speculative I'm wondering if you know there are only so many seats around a you know to buy cheap table girl thingy. You know if maybe that has something to do with it that's interesting yeah I would say it's probably the math of if you could get people to pay full price why not but if you're not going to be able to get someone to pay full price for that seat get it giving someone that soon a discount is better than not having someone sit there at all and we do see some lines more than others Royal Caribbean being an extreme example of this giving a lot of leeway to the on board revenue management team and restaurant managers to adjust bend rules as as they see fit he depending on demand for particular venue want to particular night or a given sailing so it may just come into play there. There and now we've talked about a lot of the restaurants that are available to everybody and anybody can go there just make a reservation but some cruise lines have
dining
rooms that are for specific types of I guess specific classes of room or suites. Yeah and this is something that's been around for a long time but where you might be familiar with it now would be blue Limon a yacht club coastal kitchen. It's becoming more and more popular now that you have this ship on a ship thing happening on so many lines and the sea and Norwegian have really driven that experience but you have it on others as well you know I mention celebrity row Caribbean for example where if you're booked in. Suites are certain categories of cabins or maybe venues that are complementary to you but I personally still consider them specialty because it's not one you can still go to the main
dining
room this is just a place that you have the option of going to and you have that option because of where you book so there is that there is a barrier of sorts that that you are able to overcome sometimes at barriers paying someone in this case the very well paid but in a different way and and this as I mentioned it's been around for a long time canard and even you go back to white star you go back to. Ocean liner companies from for many many years ago they had classes and there was a first class
dining
room and he tourist class
dining
room and a steerage
dining
hall canards still does this with the grill restaurants and a Queen's grill Princess grill and then they have Mauritania pertaining to the different restaurants and it it's an interesting thing with with can already know I'm not sure how flexible they are with this these days but traditionally you could always go you could ask him if there was space you could go down but not up which is again why it makes me think kind of specialty dining in that way there are there are others and I don't know Rick if you've run into any of these where it's not about paying extra It's not about what state room you've booked in. There are specialty dining restaurants and they simply limit how frequently you can go because everyone wants to go because they're great have you have you seen these before. Seeing what you've got written down here I have not experienced something like that exactly but the Shanghai restaurant on the Norwegian Epic that was reservation ole had a different diet different menu from the main
dining
room so maybe you could consider that a capacity limited specialty dining venue. One of the observations that one of my table mates made when we were in Shanghai was that. There were still empty seats in the restaurant even though they were turning people away so that may have been more of a limitation of what the kitchen could turn out for that night rather than the number of people that could be seated there but in either case there was definitely mentation we stopped by one night and asked if we could get seated that night told by the major day that no that that night was full but she could make us a reservation for the next night Interesting I didn't realize they did it that way so same same parent company not not related I'm sure but Oceana does this with their specialty restaurants where Regine your jocks polo grill and to SCADA. There's no charge any guests can dine in those venues However you're limited you're only guaranteed a certain number of nights so for example if it's a ten day cruise you might be guaranteed one visit in each of those or I don't remember exactly how the policies work however if you if you're in a penthouse suite they might guarantee you two nights and if there's space absolutely let you in more but they want to make sure that because these these restaurants are very desirable that everyone has an opportunity to go at least once so it's an interesting way of handling it in fact when Queen Mary two Q M two came out a number of years ago Todd English would talk about celebrity chef restaurants taught English at a restaurant on board come to and it was. There was no up charge for it however it was incredibly popular so eventually because they didn't even have the capacity do necessarily guarantee everyone a spot they ended up charging they started charging a cover just to control the capacity or control the flow and make use of the restaurant wasn't overwhelmed and that's an interesting. It's an interesting way to handle that challenge. Hearing you say that makes me wonder if maybe that's celebrities thinking with the rooftop garden grill like. The forty five dollars price point is somewhat dissuading to people that would want to eat there and so maybe I think I saw on the floor plan there are only sixty four seats in the restaurant so yeah that may be a reason that they want the the cover charge is so high it's a good point and makes me this is so speculative but I'm going to say it anyway makes me wonder if they'd apply like a variable rate like what Tolan's do and in some places express lanes. Because you're right it is not a large venue and if they can get money and control the crowds Well you know in a way everyone wins so beyond these you know talking about some of these restaurants and Galliano we've gone on for a long time Sep So it's definitely going long but beyond the the individual restaurants of which we've only mentioned a small portion frankly and there are simply more every time a ship is referred to or built there are some other considerations so one of them being Rick you've mentioned where did you say you had a really great drink was it one fifty Central Park Yes Yes That was where I had the fantastic cocktail the beginning of the mail so a lot of these specialty venues have especially
dining
restaurants have really great bars and some exclusive cocktails sometimes that other bars not only is not on the menu but they don't even have the ingredients let them be as specific spirits or garnishes or whatever the case maybe they just can't make them in other places but what's really neat is more time more often than not you can go to these bars that these specialty dining venues have or aura or extra extra tariff restaurants but I don't know which. Which out of the pond you're listening to us on and you can just head to the bar that's really cool because wonderland for example I like the drinks there more than I like the food and that's a very popular bar. And I think not a lot of people would know walking by Wonderland that you can at all take the harmony as an example it's tools of holes the bar is right when you walk in and then there's a staircase you go down to eat in the
dining
room but you can walk into the bar and sit at the bar there they have by eight ten bar stools there have a drink so that that is worth checking out if you decide you don't want to go to the specialty restaurant but they may have a menu drink menu that you're interested in and remember on the epic the prime meridian bar or maybe this is the escape the prime meridian bar between the Cagney steak house and what our nose Brazilian steakhouse drink menu from both restaurants available at that prime meridian bar yeah D.C.L. and funny enough unless I'm remembering it wrong is it also called the meridian bar and you know that was called a ratings you have between Follow me and same thing they did some exclusive cocktails to the specialty restaurants that you can't get at the Meridian bar which is a great bar and has I don't know if they still have it they had a strawberry vodka martini thing that sound it had like all sonic vinegar in it sounded like full. So yeah definitely check out how good it gives you the opportunity to go and explore the venue you know maybe check out the menu as you're shipping a drink and I'm not saying that I would depend on the debt I would expect this to happen but you never know maybe you get it invite they say you know what I tell you what if you come by later you know you and your gas can come for the price of one scene that type of thing happens now it never hurts to gab a little but. Another way that you can get maybe a lower price is to check out the specially venue for lunch that I remember at Jamie's Italian and see days they were open for lunch and I think there were. Maybe one or two entree items that were unavailable but if you want that meat plank or that veggie plank or any of the appetizers Those are all there. One of the items that is missing from the lunch menu is the Lambs go to data which is my go to dish at Jamie's Italian so check that out compare make sure if what's offered for lunch is what you want you might be able to get it for ten twenty bucks or less yeah and similarly embarkation day is very frequently the least busy time for specialty restaurants on on any cruise ship so sometimes there are deals sometimes after advertised for we can get the same meal at a lower price other times just asking you walk by and there's nobody there see what happens always worth a shot maybe maybe they throw a drink in or something so you can always ask about that type of thing and make sure if you if you've been on the line before whatever cruise lines so you're part of their loyalty program or if you maybe got some perks from your travel agent or is there some other incentive from the cruise line to make sure you know about those remember those take note of those because often. In fact more and more cruise lines will add these incentives to try and route people get people to try certain specialty dining restaurants so that they go back and so that they recommend them to friends so for example right now. I know some of our friends over it and the I they have had a deal where if you booked certain balcony rooms you've got like I think Johnny Rockets or something else and that's that's not an uncommon thing but what is really really common more than any of these perks whether it's through loyalty or through a travel agent or whatever is that people forget to use them so I want to and I've done that before I'm guilty of it so make sure that you remember that take advantage call you know make reservation when you get on board if you do have one of these Because no reason not to try to specialty restaurant especially if it's complimentary in this particular case I think coming to the end of our discussion of specialty restaurants if you're interested in hearing our reading rather our reviews of any substantial restaurants we've dined at we mention them on our live blog of the seaside the escape the reflection check out our live blog for those assessments I guess of the specialty restaurants and then Bill you've got a article on the good old days. Yes So in addition to where you can find out currently in recently the specialty dining venues we've enjoyed because pretty much I think any time that either of us going to cruise we least check out you know one specialty venue so in addition to those live ones I've got an article on the good old days of cruising and it really calls into question it's easy for myself or for others maybe on certain Cruise websites that are that have names that are alliterations. That they talk about all the way things used to be and in that article actually begin say you know what actually sure some things we might miss but we have a pretty good now and specialty dining is a huge part of that my mind because it represents options not nickel and dime ing in my mind it represents being given additional options that we never had so I check out the good old days of cruising articles Well we'll link to some of those
live blogs
as well as the good old days of cruising and other things we've talked about in in the show notes. Also while we're wrapping things up I'd like to give thanks to Robert last off Chris K. farm day and Brandon No one for leaving us reviews on i Tunes if you get a chance we're Garbus of what platform you listen to us on go ahead and check out our link for the our i Tunes show and leave us a review there if you just want to leave us a few stars maybe five would be great and if you want to write something that be even better Also this week you can check me out on Episode two seventy one of the Royal Caribbean blog podcast I was interviewed by Matt about my recent
Mariner of the Seas
solo cruise and so you can check out his site Royal Caribbean blog. For that pod cast you can also check out our site Cruise habit dot com for a review of the activities I did on that cruise I did the Sunset Harbor cruise in
Nassau
and then a try dive on board
Mariner of the Seas
which is where I got to play around with some scuba equipment. All good stuff and I will tell you between that podcast and those articles I really want to go book Mariner now which is a problem because there are so many cruises I want to book so definitely go check those out and and let us know what you'd like to hear in the future we appreciate everyone sticking with us for no this one went long but specialty dining is a big topic so I'm glad glad we got to talk about I'm glad I had Rick here because he speaks about the Singapore eloquently than I do just food good. And also just in closing if you have any comments you want to write to us suggestions for topics any questions that you have Should us an email to podcast at cruise habit dot com and we'll try to get that on a future episode thanks for listening. This is. From Orlando friends of. All the guys on Twitter Instagram. That's crazy. Enough to talk real soon.