Author: bill November 9, 2018, Updated: November 10, 2018
Virgin Voyages has announced more details about their first ship, Scarlet Lady, and this time, it's all about dining.  Guests, err, "sailors" on the adults-only line will have over 20 choices when it comes to picking a place to eat, and there's something you probably won't guess about many of these spots.  Like some lite-luxury and luxury lines, Virgin Voyages has opted to forgo the practice of specialty dining venues coming at an up-charge, and instead, will be including all dining within the cruise fare.  That means all the interesting things we discuss below are included in your cruise fare.  As always, be sure to check out Billy's Take after getting all the details.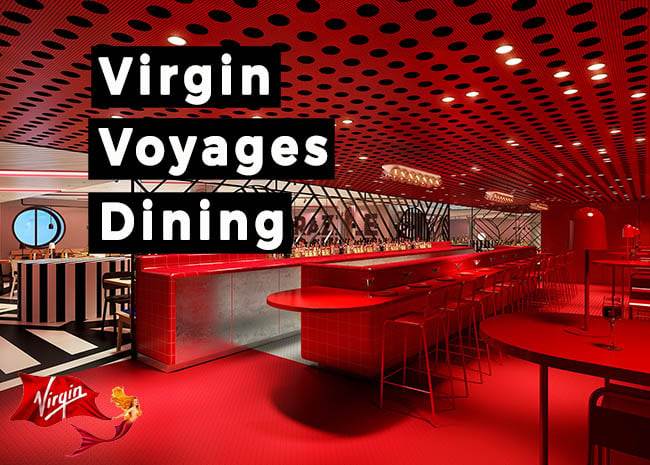 "We want our eateries to delight and ignite serendipitous experiences for our sailors, so have set out on a mission to capture the spirit of dining in the best cities of the world and bring it to sea," said Tom McAlpin, president and CEO for Virgin Voyages. "Because food is the fuel for our bodies and souls, and we're Virgin Voyages, naturally it all had to be included within your ticket price."
The Virgin Voyages Rebellious Luxe experience is rooted in the modern romance of sailing: a thoroughly new take on the formal grandeur and opulence of the ocean liner heyday when ships were at the forefront of both technology and luxury. Virgin Voyages will offer sailors a uniquely elevated and boutique Adult-by-Design experience for the 18+ traveler.  
One complimentary venue you won't find onboard is a buffet.  This somewhat iconic quality of most cruise ships is being passed over in favor of numerous other dining venues in an effort to curb food waste.  
"There's a Virgin twist on everything you'll see aboard the Scarlet Lady, which means there will be no stuffy formalities, boring buffets and no main dining rooms. Sailors are not going to want to leave our ship after they experience how we've designed our restaurants and tasted the dishes we are going to be serving up in 2020," said Sir Richard Branson, founder of the Virgin Group.
Restaurants on Scarlet Lady
Virgin Voyages will bring dining experiences to sea that seem to be more similar to what we expect on land.  In addition to ditching the conventional buffet venue, there will be no main dining room or formal evenings.  Further, all venues will be open-seating, meaning there are no assigned tables or dining times.  The line has also alluded to later restaurant hours to allow for greater flexibility.
AvroKO Hospitality Group, AvroKO's strategy arm, Brand Bureau (BB), and Michelin-starred chef Brad Farmerie are all working together on the dining offerings on Scarlet Lady.  BB has taken the reigns in creating the entire on-board food and beverage experience, taking the project on as if planning a city full of options rather than a ship.  Chef Brad Farmerie of AvroKO Hospitality Group was brought in to help develop the culinary programming strategy and identify culinary experts in the cuisine types that will be offered across the various menus.  
"When working with the Virgin Voyages team, we were inspired by some of the best dining spots around the world but also had to gaze into what the future of dining would look like to bring the most alluring restaurant concepts to sea," said Executive Chef Brad Farmerie from AvroKO Hospitality Group. "Each restaurant will not only serve delicious food, they will also have a unique vibe and energy to them to satiate sailor's hunger for excitement and restoration while on vacation."
Continuing to break paradigms, sailors will have the option of dining at a table or, at most venues, the bar.  Each restaurant will be lead by a dedicated chef with a commitment to a "made-to-order philosophy around food."
WAKE
Occupying 5,866 square feet at the aft of the ship and designed by Roman and Williams, Wake offers sailors a view of the ship's wake as they serve a "theatrical take on steak and seafood."  Wake promises to be the most glamorous restaurant on the ship featuring a grand staircase, a raw bar (inspired by the bow of a speedboat), as well as classic dishes from ship and shore, a table-side cocktail cart and a sommelier-led Magnum program.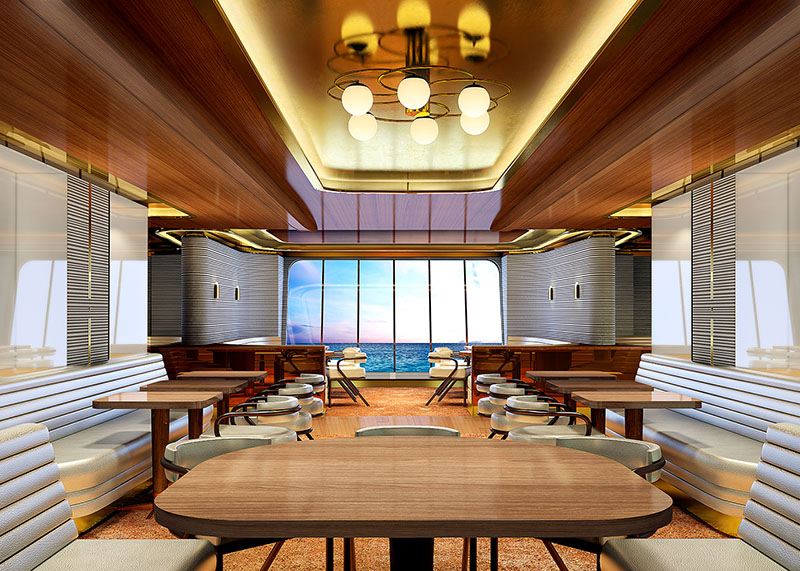 RAZZLE DAZZLE
In WWI, ships sometimes had black and white camouflage of sharply angled shapes known as "razzle dazzle."  Concrete Amsterdam designed this venue with an interior that calls on that maritime history.  Serving creative twists on vegetarian fare and a juice bar, Razzle Dazzle, "delivers a healthy dose of nice with just the right amount of wrong" according to Virgin Voyages.  On the "nice" menu you'll find plant-based vegetarian and vegan dishes including the recently popular Impossible Burger.  Don't worry though, as friends with differing diets can coexist in harmony thanks to the "naughty" menu, with meat "add-ons" along with spirits that can be added to smoothies.
Razzle Dazzle also features brunch, but with a twist: Drag Brunch.  Sailors are treated to a performance by the Scarlet Lady's resident drag performer and friends. What's brunch without bottomless drag-inspired cocktails?  That's yet another option, including the "Yasss Queen" and the Razzle Dizzle, a CBD infused cocktail.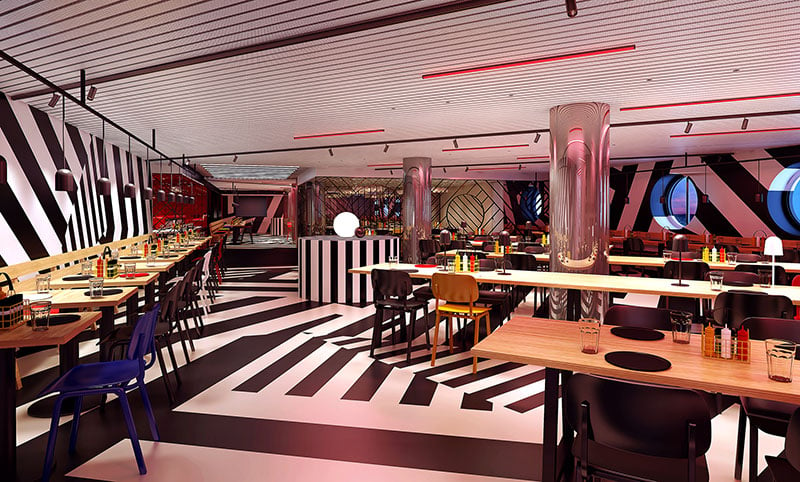 THE TEST KITCHEN
Cooking lessons at sea aren't new, but inspired by Escoffier's Ma Cuisine, this laboratory-like venue is part cooking school and part restaurant, providing an atmosphere that is educational, experiential, and social.  Menus are presented in the form of an ingredient list to sailors who will learn how the chef combines the flavors throughout the course of the meal.  From cooking classes to mixology school plus coffee labs, this is not your standard cooking demo.  There will even be "late-night lock-ins," where sailors will raid the chef's fridge for a midnight feast.​​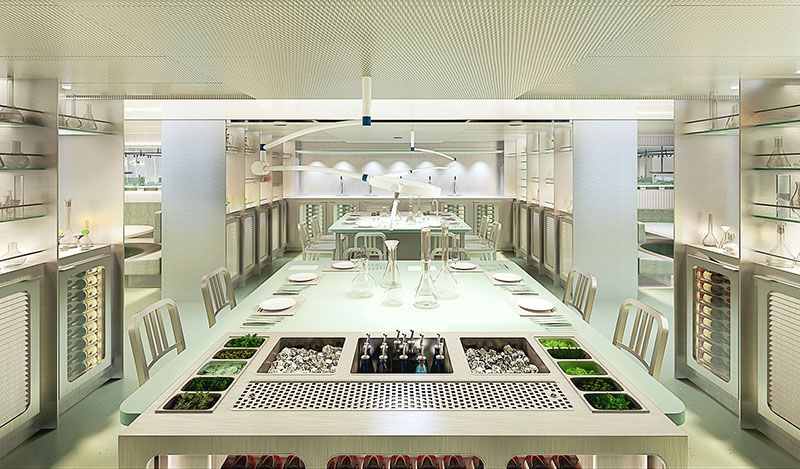 GEONBAE​
Korean BBQ continues to become more and more popular, and that's what's in store at Geonbae, the Korean equivalent of saying, "bottoms up."  Designed by Soft Room and hosted by the loudest servers at sea, each meal starts with a complimentary round of soju.  Lively Korean drinking games continue through the evening. An engaging dining experience, Geonbae features flameless grills built into each table and invites sailors to literally play with their food as they cook their perfect BBQ.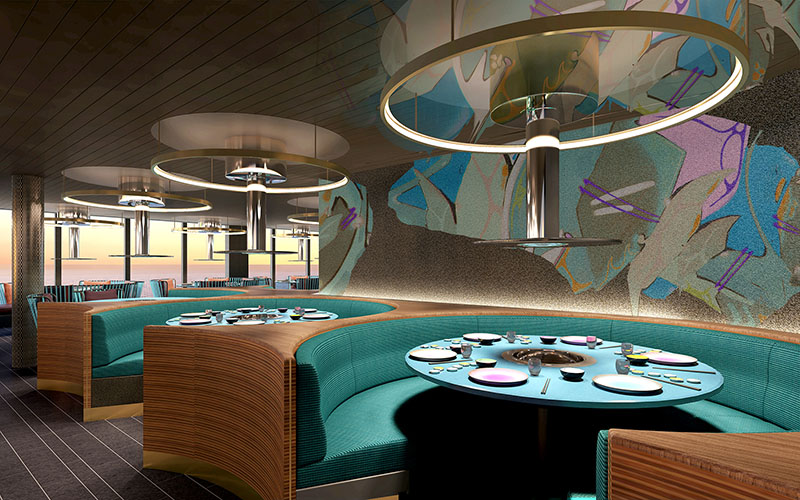 PINK AGAVE
Tom Dixon designed Pink Agave to take sailors to the streets of Mexico City by use of immersive void lighting.  This is the place for authentic Mexican flavors including tlayudas, memelas, sopes, tortas, esquites, and tamales. Pink Agave's dishes can be paired with a cocktail from the Scarlet Lady's collection of mezcals, or signature Agua Fresca cocktails. This lively shared plate restaurant experience also features a live DJ to bring sailors' meals into the late-night hours.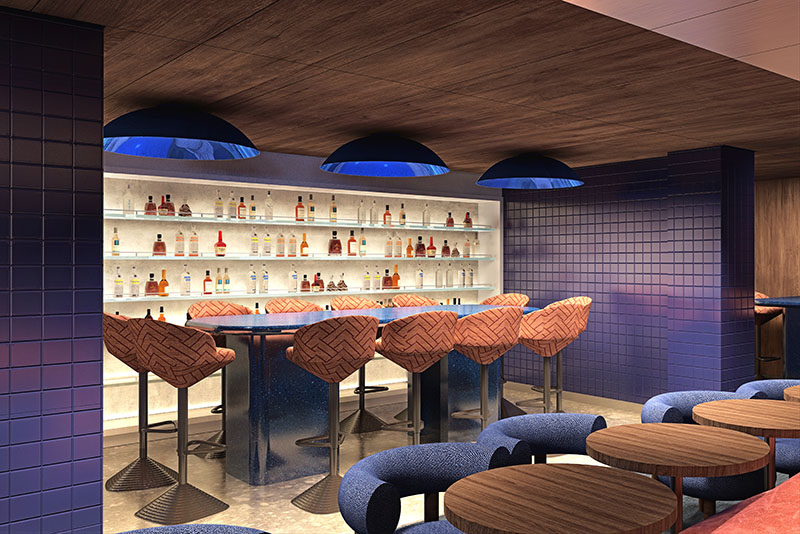 EXTRA VIRGIN
Extra Virgin is a trattoria with regionally-inspired and approachable food, including handmade fresh pasta made daily.  Meals start with shared antipasti followed by Italian favorites.  Get in the mood with selections of amari and digestivi and traditional Italian aperitifs. Wine is always on the menu, but will feature an infographic system to help sailors better understand Italian wines so they can find the perfect bottle for their meal.  The bar will also feature a Coravin allowing sailors to taste rare Italian wines by the glass.  Extra Virgin will offer an Aperitivo hour each day with drink specials and small plates.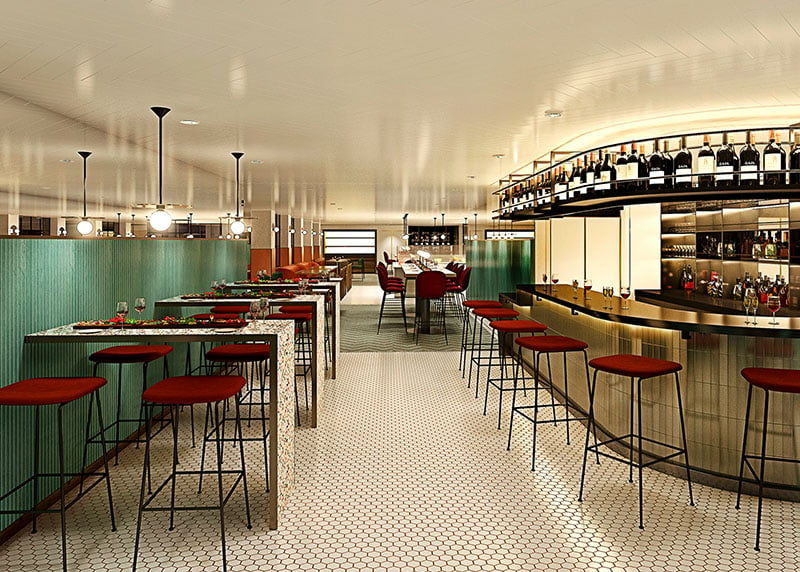 DOCK
The dock is a social spot on deck 7 aft and is a beach club-inspired space designed by Roman and Williams. Carts of Mediterranean small plates, salads, dips, and mezzes provide for perfect grazing.  Flame-grilled-to-order skewers provide filling hot options in case you're looking for something more substantial.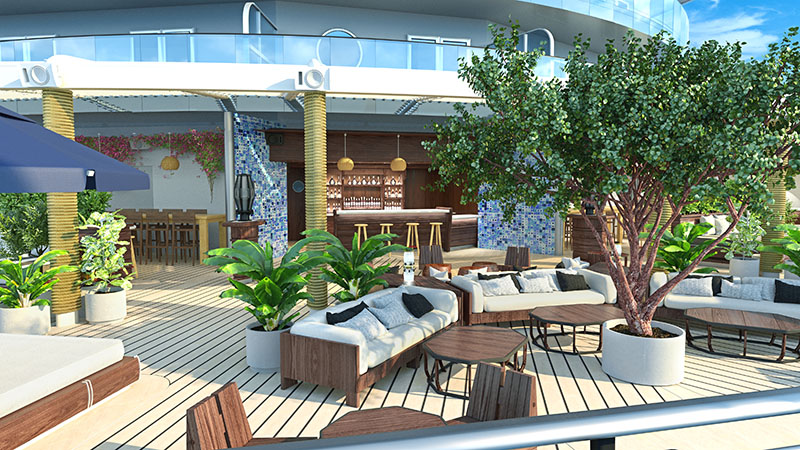 THE GALLEY
This food hall allows for a sampling of a variety of restaurant offerings and will be the main space for the quick and casual meals throughout the day.  With more than eight shops and food carts, each offers a unique concept with signature dishes that changes to suit the time of day. The Galley's concepts include a bakery, pastry shop, a panini shop, a burger grill, a taco shack, a sushi bar with bento boxes, a noodle bar, a soup and salad stand, and a 24-hour American diner.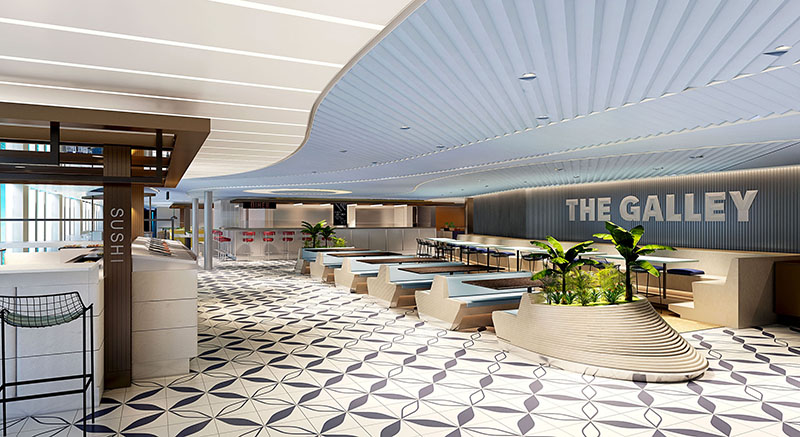 THE PIZZA PLACE
The Pizza Place delivers the quick, easy and deliciously satisfying meal – but it won't deliver premade pizza under warmers.  Sailors choose from the menu or design their very own pizza.  Beach club-inspired design with white and pastel colored furniture hues joins navy striped accent pillows and hammocks for lounging.  This casual spot is open by day and also at night for when you need to find something after you've found all the bars.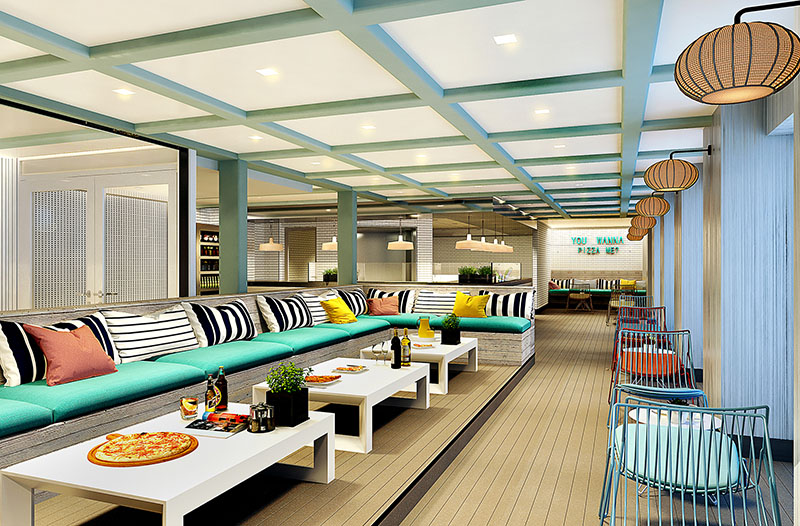 Billy's Take
Roughly 71% of the earth's surface is covered by water, and this sea-faring experience Virgin Voyages promises to offer up seems to be very much inspired by the way some people like to dine on the other 29% of the globe.  For each dining venue revealed, we can identify the non-cruise trend that Branson's line is playing to, and it confirms to us exactly who they're catering to.  Virgin keeps claiming they're not trapping their experience by cruising paradigms, and we've written in some other coverage of the not-yet-sailing line that sometimes, despite appealing ideas, this has seemed the case in name only.  When it comes to dining however it looks like they'll very much deliver on a unique experience.
It's easy for some to look to the lack of specialty dining surcharges as being a real game-changer, but this is nothing new in the lite-luxury and luxury parts of the cruise market.  As to the lack of a buffet?  While that seems different, The Galley looks to offer a multitude of different cuisines in one casual spot, but without the conventional form factor (and hopefully less waste) than at a buffet.  We'll see if this is an example of "different in name only" or something truly unique.  What is unique though is the idea that Scarlet Lady will features dining options that are not checking off boxes, but instead catering to some very real trends that we've seen, especially among their target demo.  Few examples are as clear as the drag brunch at Razzle Dazzle (or the tattoo parlor for that matter), but even their approach the The Pizza Place seems smart - bringing the success of shore-side spots like Blaze to the high seas. 
All of this comes together and leads us to conclude that Virgin Voyages is looking to cater to the affluent 30-something or 40-something who wants a family-free/child-free cruise, but isn't looking for the small ship, quiet experience offered by lines like Oceania, or more appropriately Viking, who has seen great success with younger-than-expected crowds.  All of this continues to lead us to expect a price point somewhat similar to those lines, something we observed just in looking at passenger:space and passenger:crew ratios in some of our earlier coverage of Virgin Voyages.
We're obviously excited to see more of any new cruise line, but more than ever, we're starting to see a company shape up with a brand identity that is more than trademark colors and a promise for something different.