Author: bill January 11, 2022, Updated: January 30, 2022
An early morning trip to our favorite beach resort, naps, a great show in Apex's ultra high-tech theater, and a unique dining experience that I've never been able to try it myself - until now.  To say that we packed a lot in today would be quite an understatement.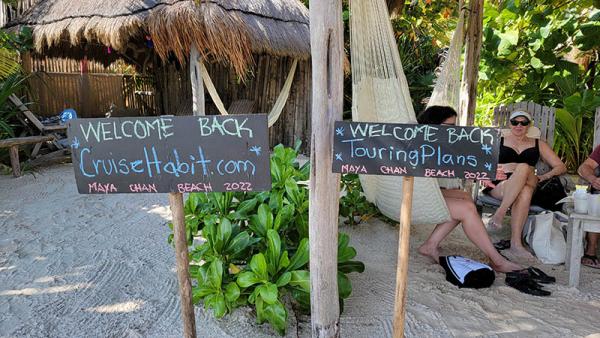 A Very Early Start
I don't do mornings - well, not usually.  Funny enough, though, on this, the very first CruiseHabit Group Cruise, we found ourselves waking up early enough to disembark at 8:30am.  This was, in no small part, thanks to our Retreat Host, who brought Larissa and I espresso and pastries to get us going.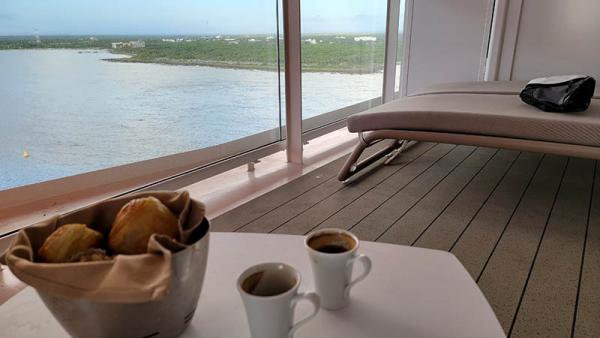 The early start did give us a nice morning view of the area, which is when I realized we'd docked at the closest slip to shore, a welcome treat.  It turned out later, we were actually the only ship in port for the day.  I'm also including, somewhat randomly, a photo of Larissa's nails with Costa Maya in the background, because when else do I get to show off photos of nautical-themed nails?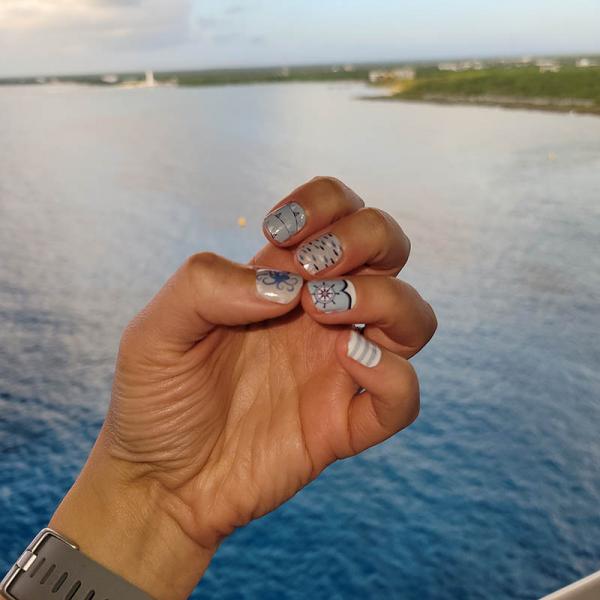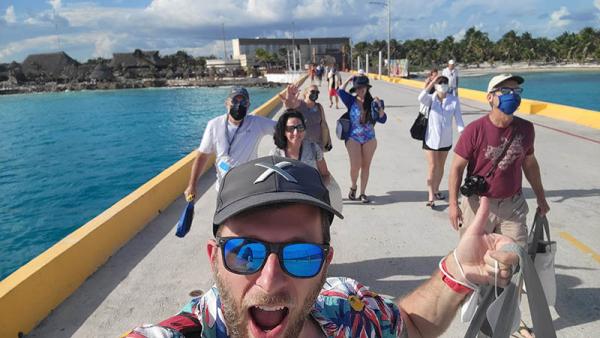 Maya Chan for All
As one of the treats for everyone who joined us on the CruiseHabit Group Cruise, we took everyone to Maya Chan Beach Resort (big thanks to our friends, travel agents, and partners at TouringPlans Travel).  Almost every time we visit Costa Maya we spend the day here.  This is a day-resort run by and for cruisers.  The family that owns it wanted to open a place they'd like to visit when cruising.  The result is a peaceful oasis with wonderful food and drinks, comfy places to lounge, and more.  If you want to learn all about Maya Chan, check out this video tour we recently posted on YouTube.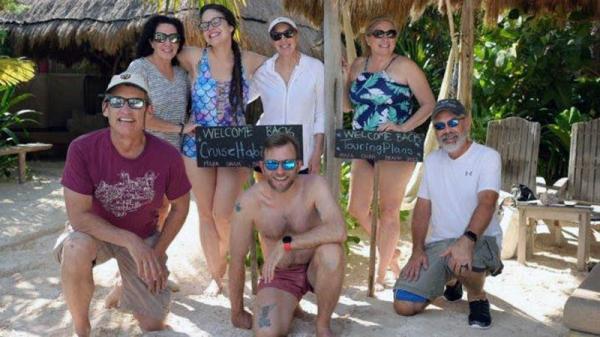 One nice thing about coming here with friends, is that if some in the group want to nap on a daybed (or a floating platform in the ocean), they can.  Want to sample several wonderful tequilas?  Great.  How about taking out a kayak?  That's an option too.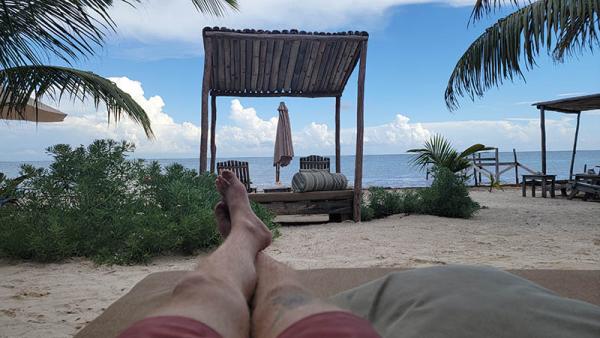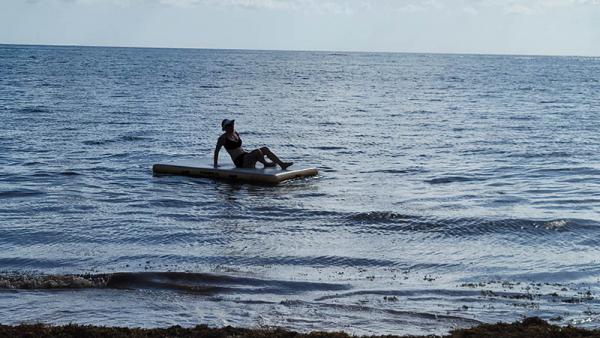 In fact, I did something I've never done in all my visits, and I took out one of the glass bottom kayaks.  I'd actually never kayaked before, but found this really easy.  Close to shore there's not much to see through the clear bottom, but if you paddle out a way it's neat.  Leonardo from Maya Chan gave me tips on the direction in which to start and the currents, which was helpful in not accidentally visiting Costa Rica.  Yes, I did go out farther than this picture of my "sand paddling" would suggest.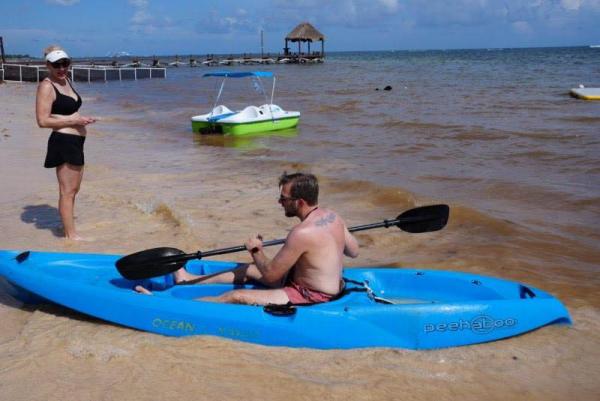 We all enjoyed the day, with a floating meetup, tequila shots, sitting around, naps, and just enjoying each others' company.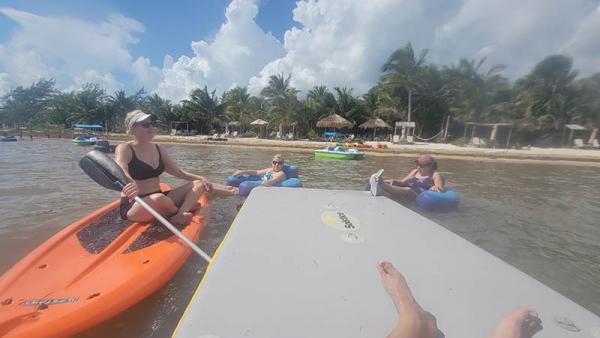 Oh, and I got kisses from Stella again, the adorable cat that hangs out by the bar.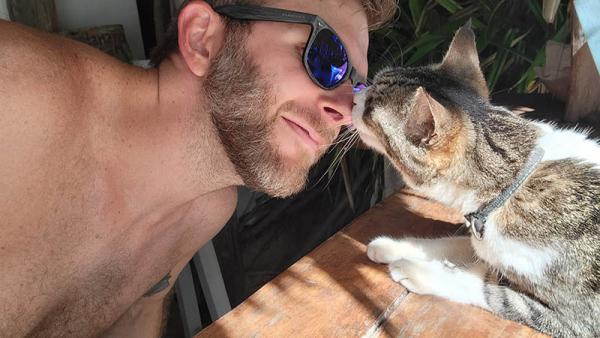 Eventually it was time to head back in a nice air-conditioned van.  We did make a quick pit-stop for macarons on the way.  You can get these at the chocolate shop in the Costa Maya port facility, and they're pretty great.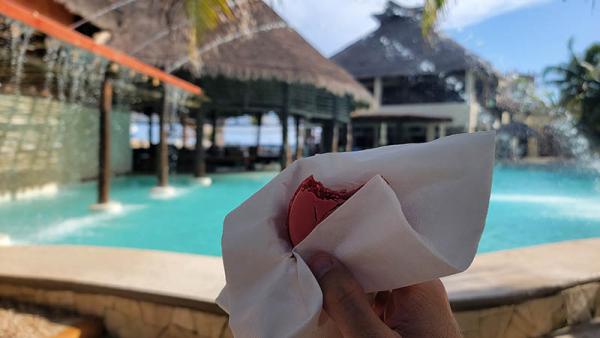 Naptime on Apex
After a wonderful day of sun, fun, and tequila, I needed a nap.  I went to The Retreat Pool for a quick dip and then passed out on a daybed for a bit, before, much like a cat, relocating to a different spot to take another nap.  The second nap was on the lounger on our verandah, with the sun getting low in the sky ahead of me.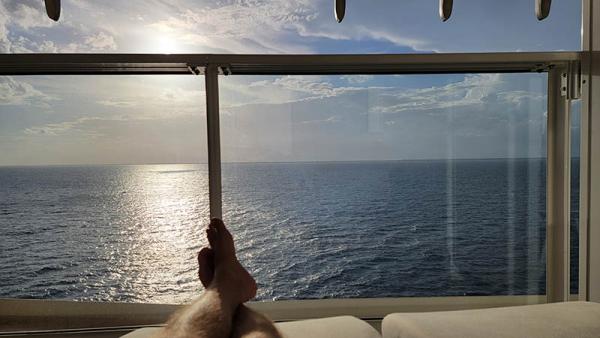 Dinner on the Edge 
No, not from the b-side of Aerosmith's 'Get a Grip' album, but, a really special dining experience on The Magic Carpet.  Once a sailing, there is a unique opportunity to dine on the cantilevered tangerine platform on the side of Celebrity Apex.  This happens with the platform all the way on deck 14, and with the sunset creating a wonderful atmosphere.  The name comes from the experience taking place on the edge of the ship, but also because it first appeared on sister ship Celebrity Edge.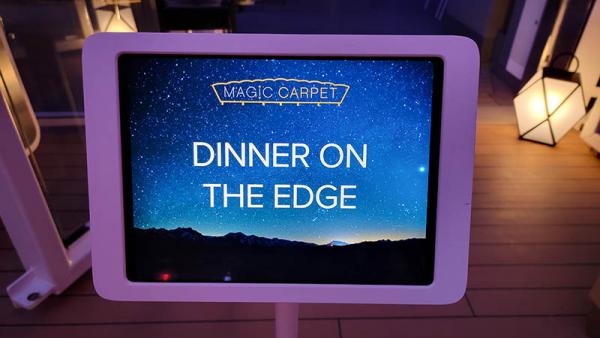 The meal isn't a cheap one, to be honest.  At $125 per person it's just $10 less than the Chef's Table offering, but I thought it was worth every penny.  It's a prix fixe menu with shared plates and seafood towers.  There are lobster tails, crab claws, shrimp, oysters, steak, sea bass, charcuterie boards, veggies, and more - along with a great set of desserts.  It was a bit overwhelming in fact, but it was all so fresh and expertly prepared, that all of us overindulged a bit.
Despite quite a few sailings on Celebrity Edge, this was my first time experiencing this, because it books up quickly, isn't always offered, and can be cancelled depending on the weather.  I was so glad I got to experience this, and with wonderful company, too.  Another unexpected perk of cruising with the group!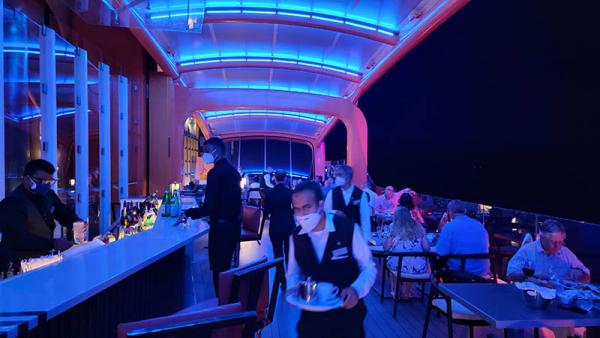 Tonight's Show: Crystallize 
The Celebrity Apex Theater is a large room with a curved thrust stage (one which juts out into the audience) and vibrant curved LED panels made up of 17 million pixels and reaching 110 feet across.  For some scenes, there is also a translucent, 360-degree circular scrim that is painted with laser projectors to create wrap-around imagery.  This, combined with many moving parts from top to bottom, is without question, the most impressive theater I've seen anywhere.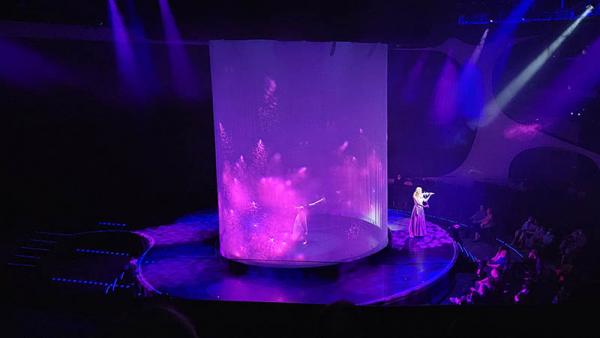 The show we enjoyed there this evening is called Crystalilze.  Describing these shows can be tricky, so I'll share Celebrity's teaser:
"Get ready for a multi-sensory spectacle like you've never experienced before, as we explore the light that burns within us all. Electrifying pop violin music and mesmerizing choreography and aerial acrobatics set the rhythm for a high-energy light show, featuring groundbreaking special effects that will take your breath away."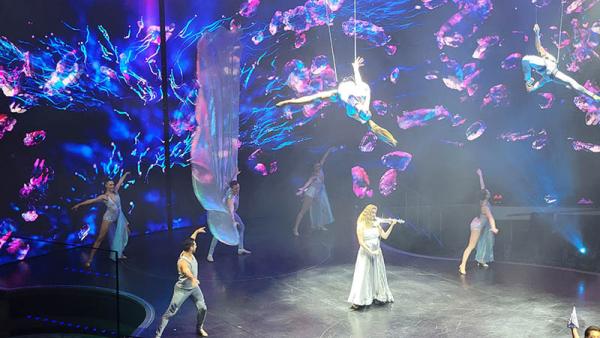 All of the music, including powerful vocals, is all performed live, with the band behind the back wall, sometimes exposed as panels move away.  One of the featured performances is a violin player, which may sound sleepy, but she absolutely rocked the house.  Along with her were acrobats, dancers, and aerialists.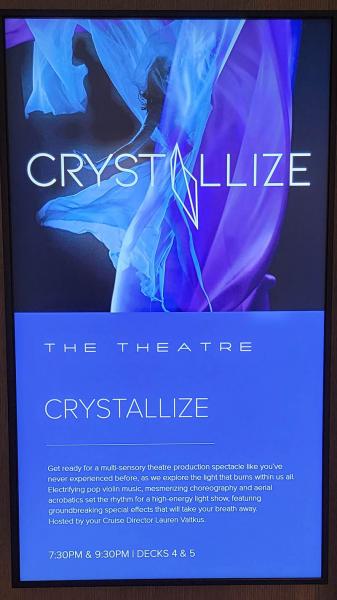 Celebrity's theatrical performances can be a bit avant garde compared to other lines, but they consistently show off impressively talented folks in productions that clearly involve a lot of hard work and planning from not only those on stage, but the tech teams.  
Early to Rise, Early to Bed
Because we woke up extraordinarily early (for us) and then had such a busy day, there was little hope of venturing out after the show to enjoy the other entertainment on this wonderful ship. I did have to head out on deck to see once again how nicely this ship shows at night.  As I've written before, it's clear Celebrity designed their Edge series ships with the night in mind.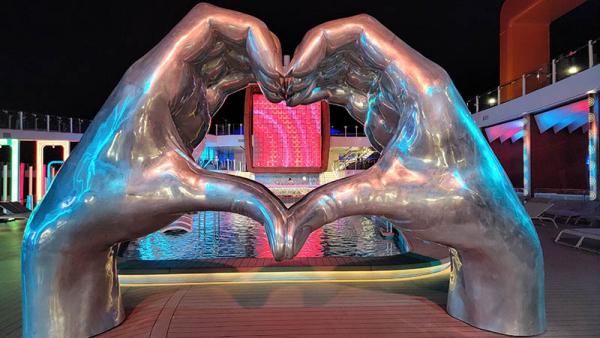 As I write this, we've already sealed the hatch to the room, and are ready to turn in.  Tomorrow we're in Belize, and I've absolutely no idea what we're going to see and do there, but I feel like there is still much of the ship I'd like to enjoy, so I'm not sure how ambitious we'll end up being.  As long as we can enjoy this wonderful ship, and some more time with our friends, I'm sure it'll be a great day.