Author: Bill January 14, 2022, Updated: January 30, 2022
Waking up with the sea moving by outside our window, knowing we had nothing to do but could enjoy everything we wanted, was a great way to start the day.  Those who haven't cruised cannot fathom the relaxation that is a sea day, and that makes me sad.  We got an early start to embrace the day, but did it turn out to be needed for what was ahead?
A Grand Breakfast
If I could change one thing about Celebrity, it would be how early they wrap up breakfast in the dining rooms.  On past trips we found breakfast in Luminae to be really special, but it's only served until 9:00am on port days, and 9:30am on sea days.  On our sixth day on Apex, we woke up early enough to enjoy it once again.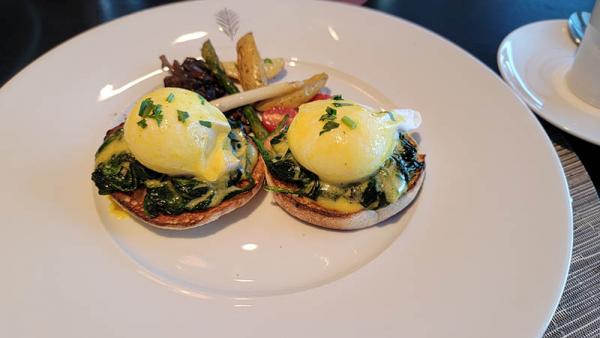 Some of the options on the menu look a bit pedestrian, like French toast, or eggs florentine, but the execution and service is second to none. A great example of this is the side of mushrooms, which aren't just marinated baby-bellas, but a variety of different mushrooms which are rich and flavorful.  I had the aforementioned dishes, as well as some oatmeal and drank what I believe amounts a "vat of coffee."  Actually, the cup was quite small, but refills were plentiful.  
Rain to the Left of Me, Sunshine to the Right
I wanted to embrace the sunshine up on deck today, and had visions of lying down in one of the floating loungers on the resort deck.  After putting on my bathing suit I got out of the elevator on deck 14, walked into the Solarium…and heard rain.  How?  It was sunny on our verandah.  We were riding the line and on one side it was raining, and on the other side it wasn't. 
I headed into Eden to wait out the rain, much like yesterday.  It's not a bad place to be, ever.  I managed to catch a glimpse of the gentleman who cares for the live plants.  He went one by one with a large water canister on wheels, and not only watered, but adjusted how things were potted, and made sure they looked healthy and well.  I asked him about the mossy-looking plants lining parts of the walls, and he said those don't actually need to be watered, they get enough from the air.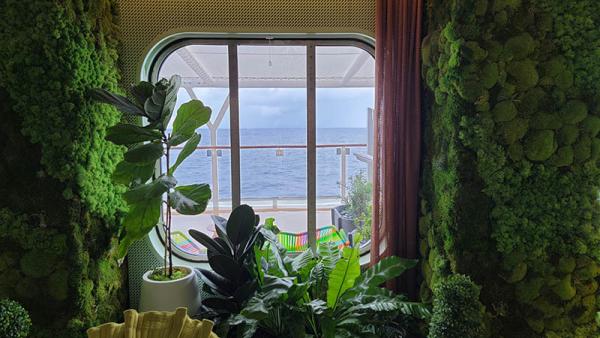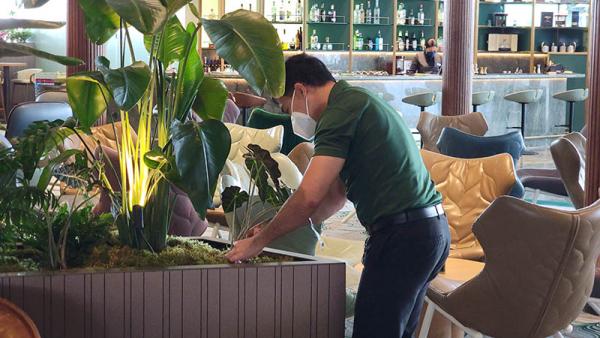 A Magic Carpet Kinda Day
During sea days, Magic Carpet is usually on deck 14 or 15 and, without being too windy, has great airflow, keeping things comfortable.  It seems like when we're on Edge series ships, we end up spending the majority of one whole day relaxing out there.  On this trip, however, we've really embraced it.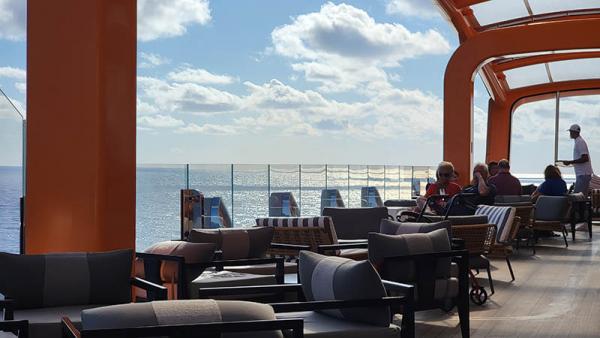 If you can get one of the large couches at either end, do try them out.  They're comfy, have great views, and can accommodate a large party.  On the flip side, there plenty of other seats, so don't be that guy who hogs one of the few couches just for himself.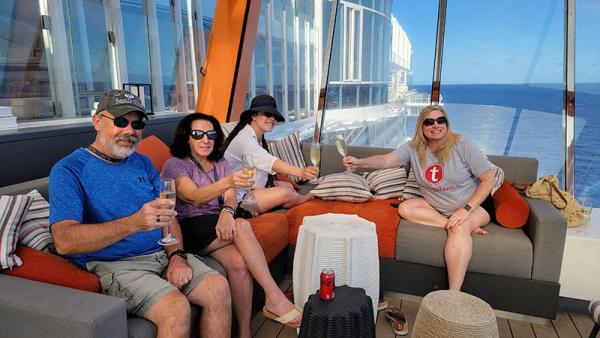 The Best Desserts on Celebrity
There are so many great places to get food on this ship, but I often find that some of the best desserts on any Celebrity ship are actually at Cafe al Bacio.  That's the onboard coffee shop, which on Apex is located on deck 4 in the Grand Plaza.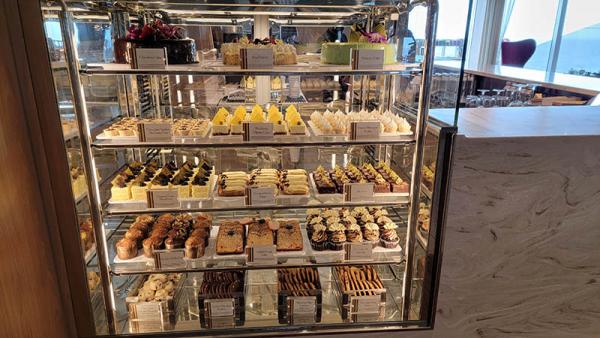 There is a display case with treats that they change throughout the day, so anytime you walk by, see if there is something of interest to you.  
Aptly Named Bar
Before dinner we headed to the Sunset Bar for a quick drink with friends, and as we were sailing east, this aft-bar was very aptly named for today.  We got to see amazing colors over the ship's wake.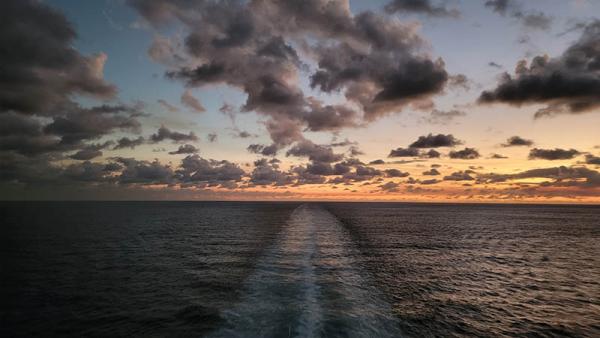 Le Petite Chef & Family
Several Celebrity ships have a special dining experience either in Qsine or, on Edge and Apex, Le Grand Bistro.  The experience is referred to as Le Petite Chef, but the specific version on Apex is Le Petite Chef & Family.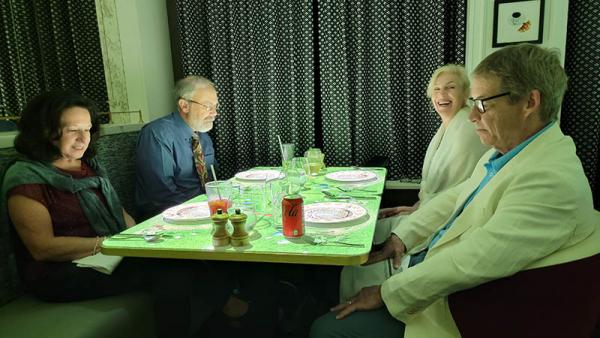 Guests enjoy a prix fixe (but customizable) menu of four courses while watching a show projected in vivid colors across the table and even your plate.  A young chef becomes engaged to his spouse, raises a family, and sees the seasons, and seasons of life, change, while preparing and virtually plating your meals.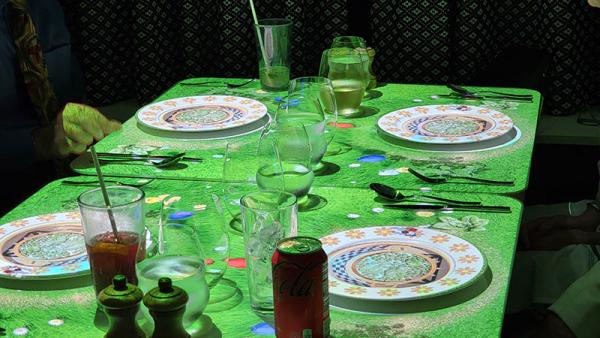 The technology involved is remarkable, and the folks at Skull Mapping put together a show that is more than just novel, it triggers emotion, and is just corny enough to be fun, while not seeming childish.  This version of the show is different from other Celebrity ships, so I'll be posting a video of it in the future. If you've tried this experience before, do try it on Apex for the new show, and honestly, better food than I'd had during other Le Petite Chef performances on past cruises.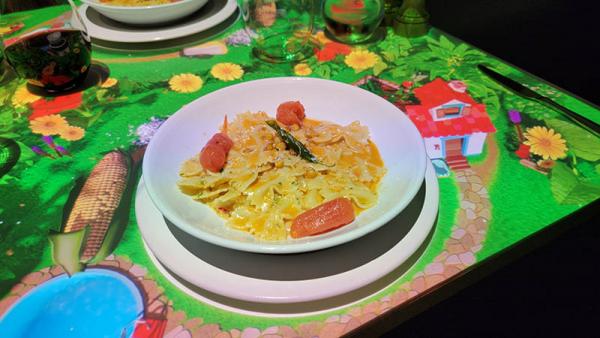 Night of Enchantment
After dinner we headed to Eden to secure a table and seats front and center for Night of Enchantment.  The original shows in Eden on Edge were much different than what is onboard now, but tonight's show had some of the audience interaction, performances happening all around the space, and aerial and acrobatics acts which were some of the keys to great past experiences in this venue.  
So many performers came together to make this show great (including one of the original Edenists that opened Eden on Edge in 2018!).  There were singers from the Eden cast as well as TJ from Soundtrack (a band on Apex), and specialists from all of the shows.  In this way it was truly the best of what this ship had to offer in terms of performers.  In fact, it was so lovely to watch that we had no idea there were actually two performers out, and the show had to be completely re-blocked earlier this week.  I just wish we caught more performances in Eden this week, and can't wait to come back on board again for more.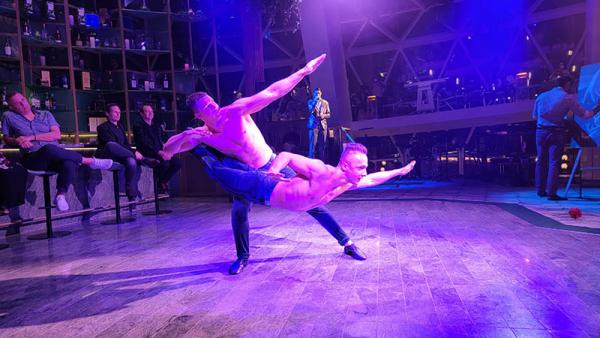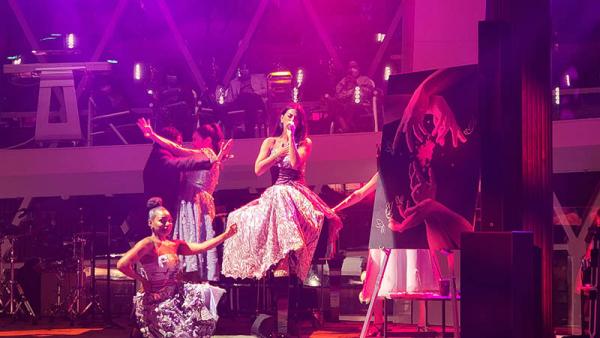 Tomorrow: Nassau, Bahamas
Tomorrow we're scheduled to be in Nassau.  New health and safety regulations have meant that some ships have had to skip ports, but things are looking good, and we're excited to hit some of our favorite spots, including one place just for hot sauce!  Stay tuned :-)
Stray Observation