Author: bill January 13, 2022, Updated: January 30, 2022
Cozumel Mexico is a port with a lot to offer - more than most cruisers realize.  That was our stop today on our Celebrity Apex cruise, and we took the CruiseHabit group on a rather unconventional tour before enjoying a wonderful meal, show, and conversation back on the ship.
Does This Breakfast Make You Feel Elite?
Celebrity has a light breakfast for members (Elite level and higher) of the Captain's Club, their loyalty program.  On Edge series ships it's held at the Le Grand Bistro, a French restaurant in the Grand Plaza.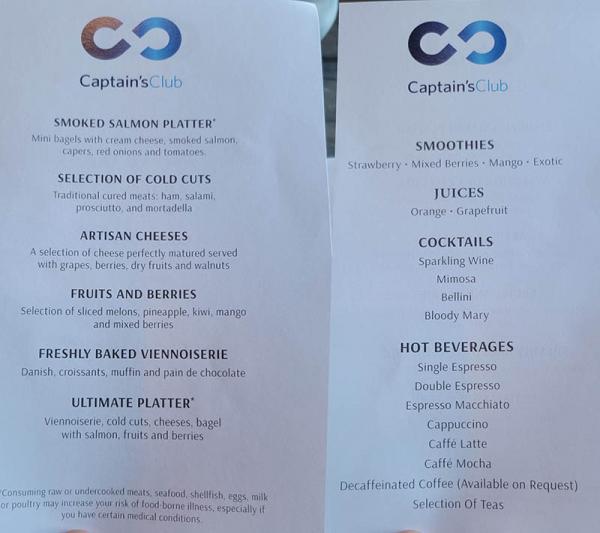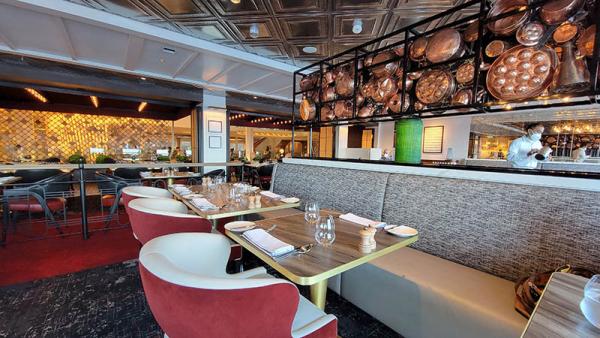 It is really an extended coffee, in that there are complimentary specialty coffees, and then a small food menu of cold items.  I was expecting to be underwhelmed because it wasn't a full breakfast, but the great views and relaxing atmosphere made it a refreshing change.  I also love that this goes on until 10:00am, where other breakfast options, other than Oceanview Cafe, end at 9:00am.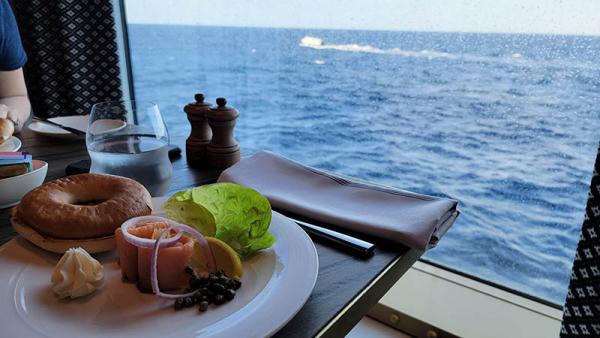 Weather Watching @ Eden Cafe
Our plan was to go ashore after breakfast, but the skies were angry, and a downpour commenced.  Weather forecasts indicated this would stop in 30 minutes, so we went to Eden Cafe for lunch.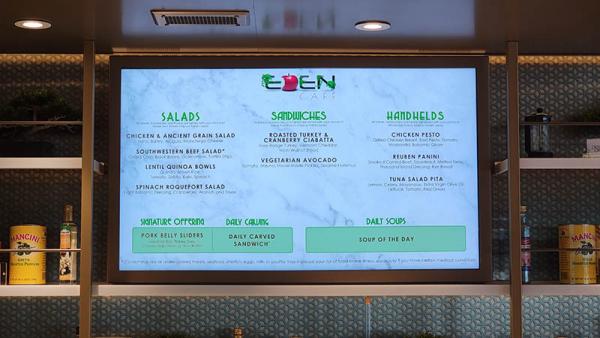 Eden Cafe offers sandwiches, soup, salads, and a nice dessert selection, along with specialty coffees.  Food is complimentary, generally pretty good.  I usually enjoy eating here for the outdoor seating as well as the food, but the rain kept us dining in Eden watching the rain pelt the panoramic windows until the weather cleared so we could go ashore.
Billy's Weird Cozumel Tour
Today I looked out our window seeing Cozumel, and then watched Disney Wonder pull in next to us.  This was strange because Celebrity usually docks at the International Cruise Terminal in Coz, but Disney usually docks at Punta Langosta - so one of us was in a different spot, and it was us.  I didn't mind this change, which put us closer to where I thought we might venture.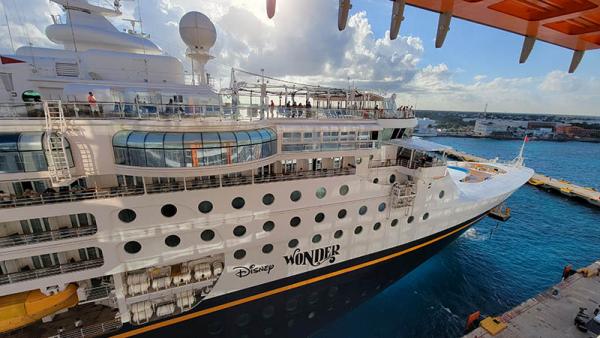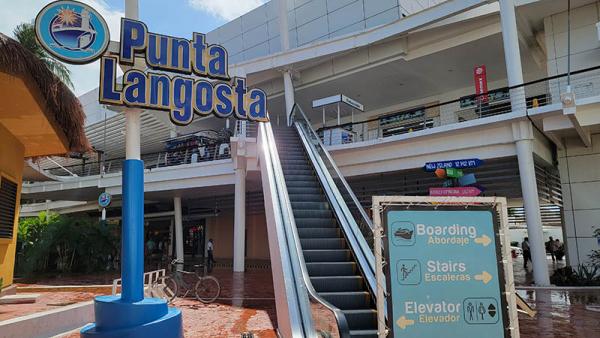 Disembarking as a group, we started walking to Parque Benito Juarez, a beautiful square with touristy shops by day and community events at night.  It was about 4/10th of a mile, which was easy in the pleasant weather after the rain came through.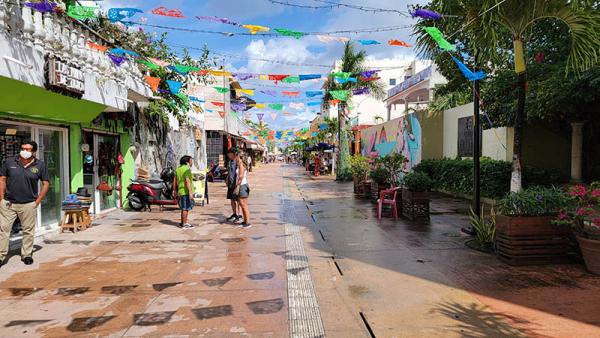 Our first stop, once at the square, was Coz Coffee.  This place has great food, and their coffee is grown locally, and roasted on site.  I almost never go to Cozumel without stopping here.  Silly fact: I came here for years, speaking horrible Spanish to the owners, before one day finding out they're from a little Mexican village called, "St Louis, Missouri."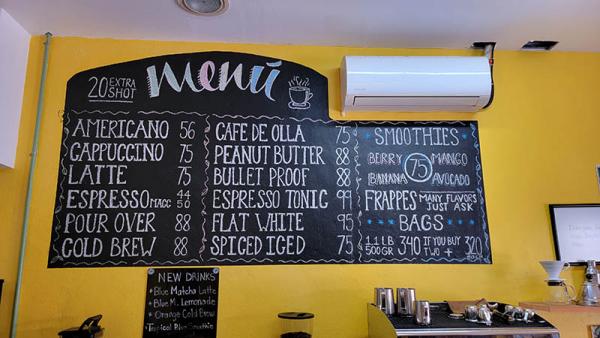 The next stop was another few blocks south to El Palomar.  This is a restaurant near the end of the touristy madness (madness you should avoid, there is so much to love in Coz, with hard-working private business owners).  The building itself is white with dark wood shutters, and inside it feels like places we visited in Cuba.  Well-ventilated with large openings facing the sea.  We had some snacks and a few rounds of drinks while enjoying time with Mike, Chris, Kym, and Craig, friends traveling with the CruiseHabit Group Cruise.  
Our bellies full, we then got a cab - actually two - to a grocery store.  Initially I stopped an SUV that said it could carry six, but the driver explained that due to COVID regulations they could only take five.  We split up in two cabs and were off to La Mega, a grocery store with so much more than groceries.  Need a washing machine, clothes, onions, a motorcycle?  They've got you covered.  Why did we stop here?  Larissa and I initially discovered this stop (and nearby Chedraui, equally as awesome) because we go to grocery stores in every country we visit.  It's a free way to see how the locals live, and you can often get some unique items for very little money.  In this case, we came to buy some liquor and tortilla chips.  Liquor prices here are much better than in those touristy shops by the port.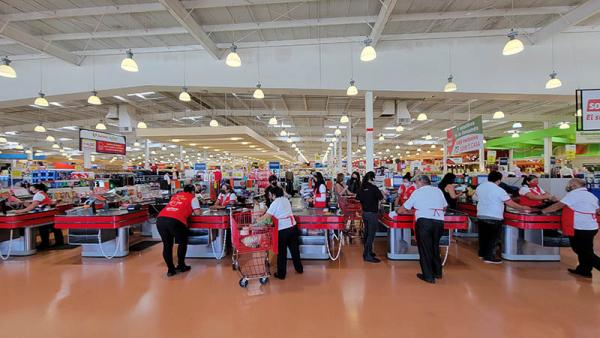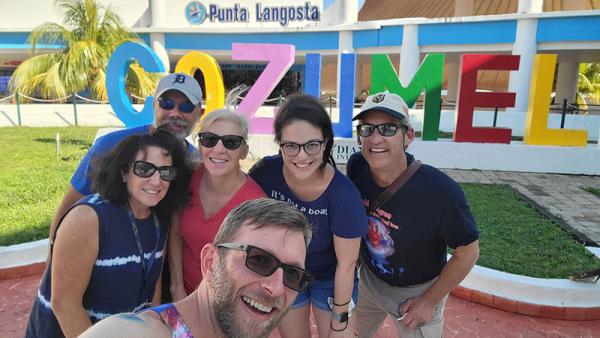 Eventually we returned back to Apex, and found immediate reprieve from the heat as security and boarding procedures were in the lovely Destination Gateway, with space, and friendly staff handing out infused waters and cold towels.  This well-thought out space is part of Celebrity's effort to make the end-to-end cruise experience comfortable, so you don't have to wait in crowded halls for security, sweat on the gangway, or just in general, spend time in less-than-beautiful parts of the ship.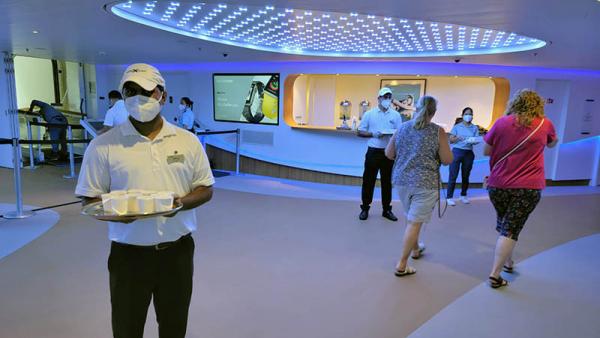 Hanging Out on the Roof[top Garden]
After a short dip in The Resort Deck's pool, we went to deck 15 - the top deck, where you'll find the Rooftop Garden.  This is an open deck with a small band stage, a big screen (for movies, sports, or just pretty visuals), and wonderfully comfortable seating.  There are live plants set around the outdoor couches, adding to the atmosphere.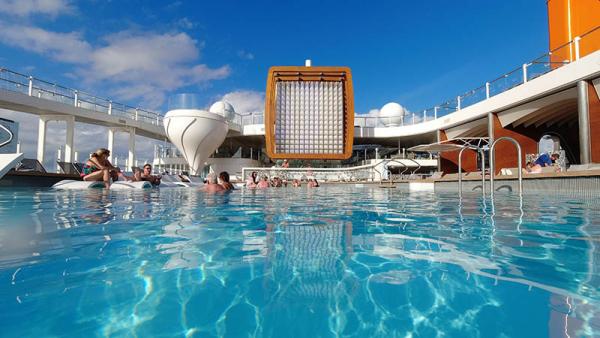 What makes this area special to me, though, is that it is a half deck above its surroundings, so you can see the ocean and notice little else of the ship (aside from the nearby funnel), making it indeed feel like a rooftop lounge.  
Luminae
I don't get how people think they'll be bored on a cruise.  We really wanted to have dinner at Luminae, the suite restaurant with menu items from Daniel Boulud, as we've had all our dinners at specialty restaurants so far.  We had to balance that with our efforts to see several shows tonight.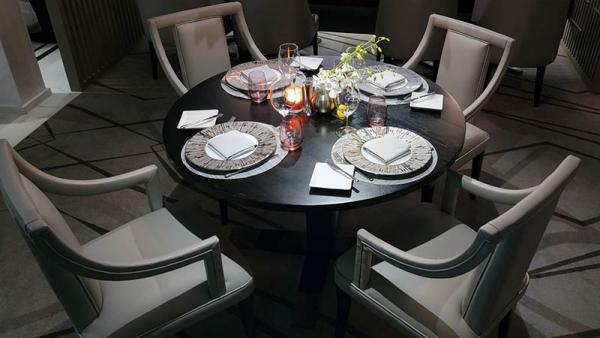 Luminae is a small restaurant with modern decor and absolutely impeccable service.  Entering, we asked, similar to last night, if we could accelerate our meal to make it to a show.  They said it'd be no problem and we then had what was not only an enjoyable meal, but one where each course came within a minute of finishing the one before.  Honestly, everything I had was excellent, no caveats.  I had a raspberry pistachio dessert that I'd ordered on a past sailing, and now that I'm writing this, I wish I could have it as a midnight snack.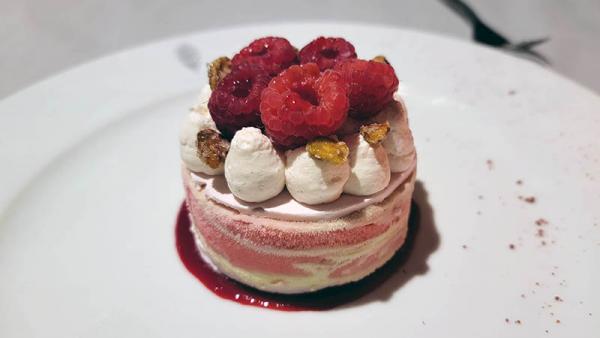 Tree of Life
The theater show this evening was called Tree of Life, and featured a series of modern songs performed by a large cast.  The show demonstrates the passing of time by adjusting the 17 million pixels of the wrap-around screen to show day turning to night, and winter to spring.  In the center of the stage was a two ton tree with 2834 LED leaves, which changed colors.  The roof was also adorned with color-changing lights.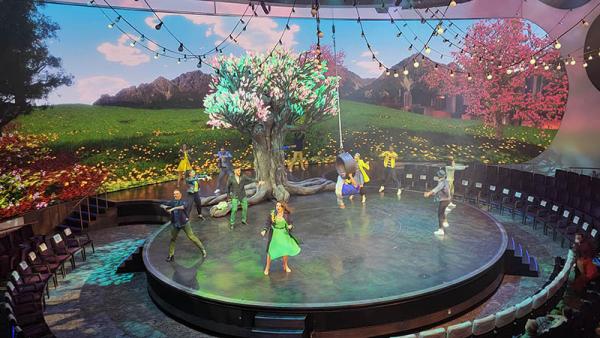 Throughout the performance, we got to watch the dancers and acrobats do what they do best.  This format of entertainment could easily be seen as a "playlist show," but the technology in the theater really complemented the talents of those on stage.  I did think that this show in particular would have a more noticeable storyline than some others, like Edge's Hot Summer Night's Dream, but it did not.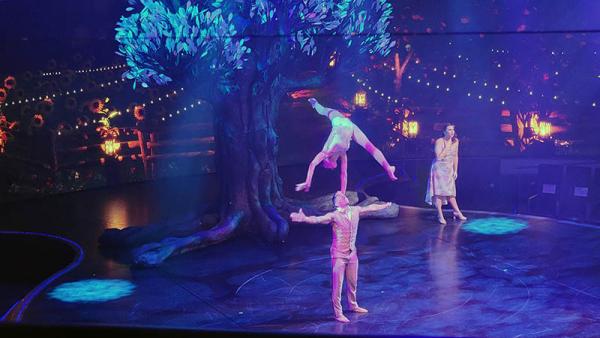 Post-Show Fun
We'd had dinner earlier than usual in order to catch the show, so we found ourselves with some time left to relax with friends.  Heading to Eden, we found Kasia, an extraordinary violinist who is featured in several shows, putting on a performance for "Night of Adrenaline" in Eden.  This was a very high-energy set of pop-songs that she played masterfully.  Imagining a classical or slow performance of a violinist in a lounge?  This was a great departure from that.
Once the show wrapped up, our group went back to the Martini Bar in the Grand Plaza.  We've spent more time there on this trip than on past Edge series cruises, which I'm sure Larissa likes.  I enjoy that there is so often live music playing, and the bartenders are all fantastically entertaining.  Several in our group opted to have the "Coconut Cream-tini," which is a white drink with a coconut flavor and served in a martini glass.  It's lighter and less sweet than most expected, and a nice end-of-evening drink.  If you like martinis, it's worth committing to working your way through their menu here.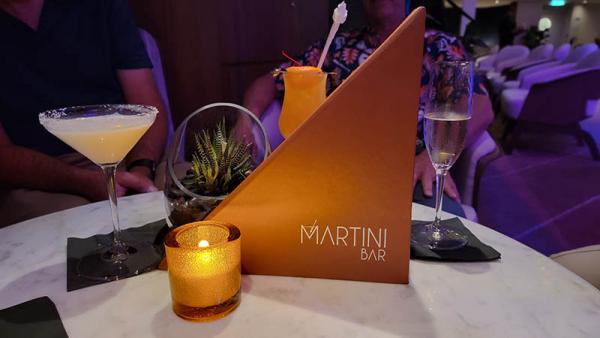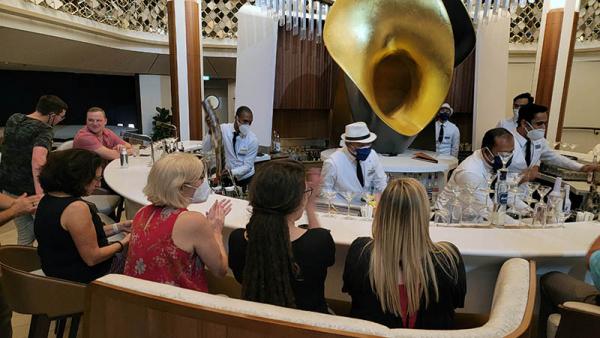 Sea Day Ahead
Tomorrow is a sea day, and the "oh no, the cruise is nearing its end" feeling is starting to kick in, so while we have no specific plans except for the "Le Petite Chef"
dining
experience, I'm sure we'll aim to pack the day with activities...or fall asleep on deck.