Author: Bill November 27, 2019, Updated: September 1, 2021
You don't know how a car drives until you've had it on the highway and in the rain.  You don't know how a cruise ship handles crowds until you're hanging out on a sea day.  While Celebrity generally shines bright on sea days, there was a different feeling on this sailing, but it didn't slow us down one bit.
A Serene Start
Last night I committed to trying breakfast at Eden Café this morning, as I don't think we'd made that happen yet on Edge.  The Eden Café is open for breakfast on sea days and lunch all days.  Located in the back corner of Eden, the menu is a small sort of tasty and complimentary items.  Specialty coffees are also available.  We arrived to enjoy some of the fare (and coffee…always coffee) and sat by a window with a lovely view of the sparkling ocean.  I kept my meal light so I could exercise before noon.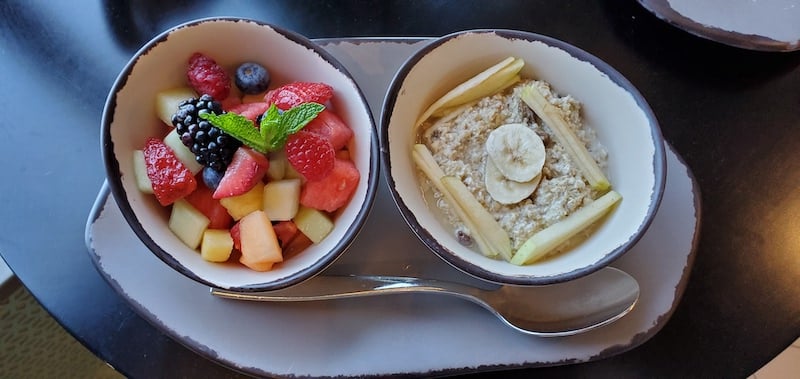 After eating I needed to do a little bit of work, and the outside seating area at Eden Café was just perfect.  It's actually the aft-starboard section of the promenade deck, but you're unlikely to stumble upon it, making it all the more peaceful a spot.  I could get used to this office space.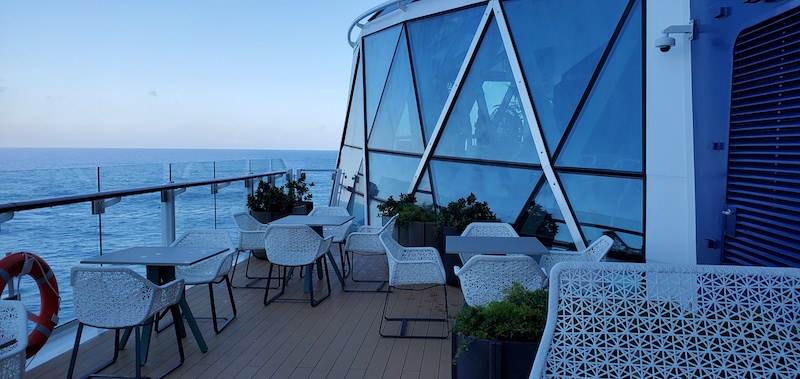 The Gym on Celebrity Edge
I was one of the few people working out before muster on the first day, but since today is a sea day, and fellow guests have had enough time to really gorge, the gym was a popular place at around 11:00am today.  Like most newer ships, the gym is clean and modern.  Unlike most other ship gyms it's sort of crescent shaped, which at first, makes it seem much smaller than it really is.
There are a couple ways to enter to deck 15 facility, but the easiest to find path is by way of the spa on deck 14.  From the spa you take a winding staircase up one deck and find not only the day's class schedules on a TV, but two iPads where you can sign up for said classes.  In fact, on this morning, Larissa signed up for Barre classes while I put in some time that involved sweating and contemplating life decisions, such as drink packages.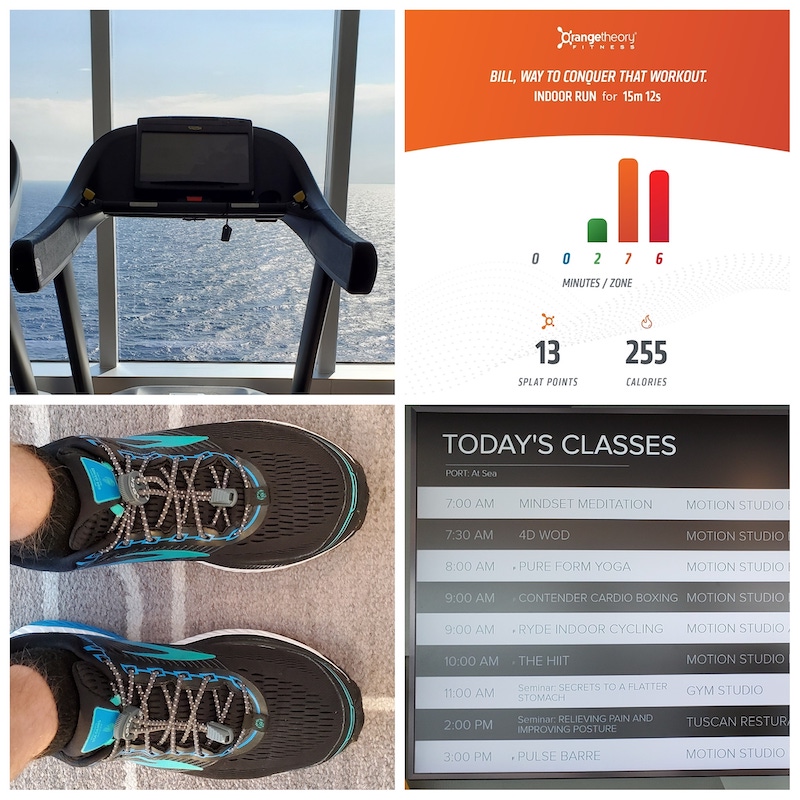 Like a Disney World Attraction Exiting to a Gift Shop (The Spa Café)
Walking out of the gym after a nice workout, I realized I was on a cruise ship and hadn't eaten in minutes…so naturally I had a sudden desire to reconcile this.  Luckily, just steps away from the spa and fitness area is the Solarium, and there you'll find the Spa Café, which serves somewhat healthier fare in small plates.  There is also a smoothie bar, which has a variety of options, all of which are covered by the Premium Drink Package (which we have).  A short snack later and I found Larissa…who was ready to eat.
Eden Café, Round 2
Eden Café has lighter fare for lunch, and since I'd just snacked we opted to have lunch there.  I did notice the menu changed a bit since last time we were on Edge, but we had a mix of soup and salad that was actually quite good and unique from what we've found elsewhere on the ship.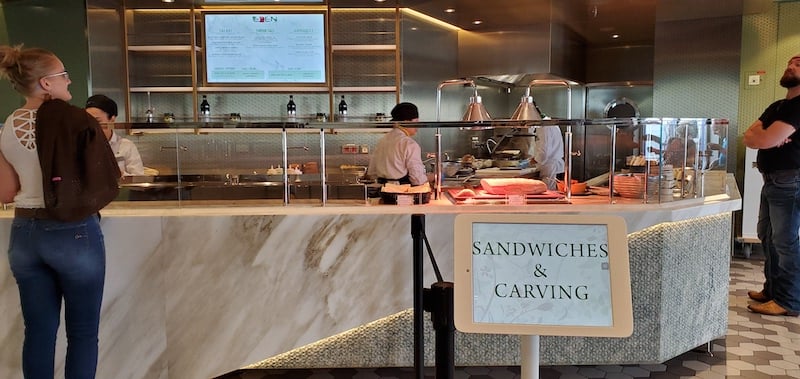 So Many Places to Lounge
The weather was gorgeous, so fit and full I figured it was time to take in a bit of the outdoors and see how things looked with a ship full of folks all wanting some precious deck space.  On past Edge sailings the pool deck was busy, but perfectly manageable and didn't feel crowded.  With many more families on this week (because of the Thanksgiving holiday in the US), it was a rather different scene today.  The area immediately around the pool was very popular, but if you were looking to a little piece of Edge to call your own, there were still plenty of options.  Loungers sit all along the deck midship between the pool area and Rooftop Garden, near the martini glass hot tubs, in and around the Solarium, etc.  Even at its peak on sea day, with a sailing full of families, a group of four (likely more) could quite easily find loungers next to each other in the sun or the shade.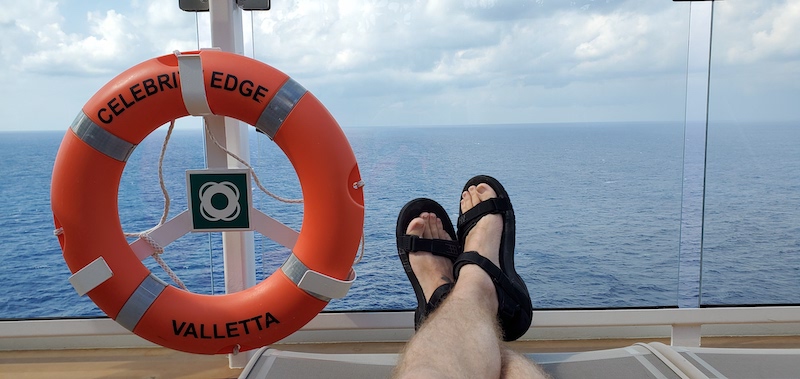 Loungers continue all the way aft on deck 15 to the Sunset Bar, a beloved venue on Solstice class ships, though quite a bit different on Edge.  While this bar can be very hot and sunny, the angle of the sun on this visit was perfect, and we enjoyed some Champagne while chatting with other guests, remaining quite comfortable.  When the weather is nice it's a great place to enjoy that classic view of the ship's wake.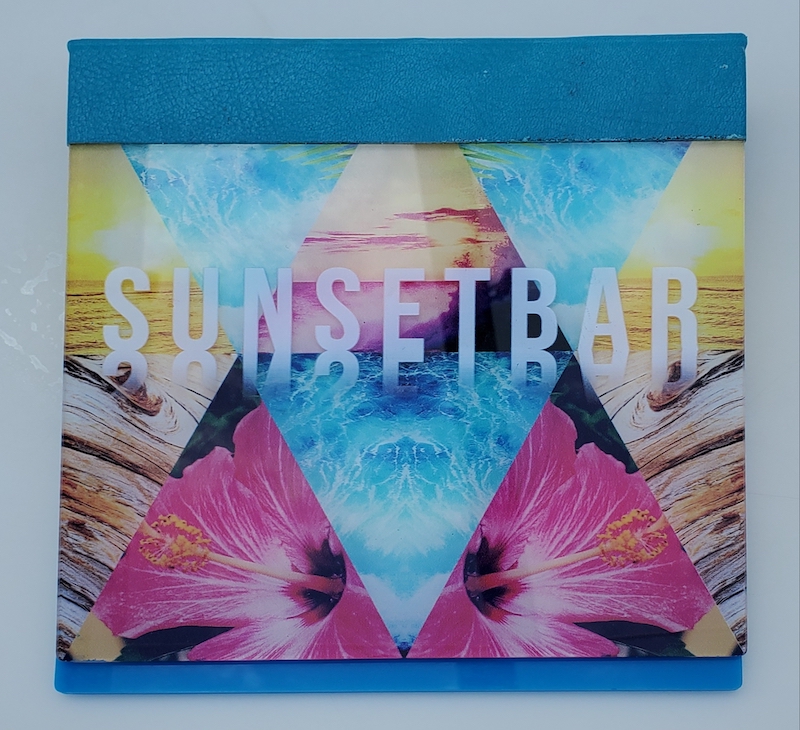 Trivia…So I Heard
Around this time I'd intended to check out some trivia.  Interestingly, on Edge you play trivia by opening up the browser on your phone and going to a specific address.  A system keeps track of what answers are given by who, and how quickly, and scores the game accordingly, with the results displayed on a larger screen. 
Today this took place in Eden (and maybe another venue actually) but despite my best intentions, lounging and being lazy got the best of me and I didn't catch it.  I do like the way it works and they've got a variety of topics mentioned in the app/Celebrity Today (the printed daily schedule), so perhaps I'll actually make it later in the cruise.
Standards in our Standby
The Shaun Brown Band has a theme to each set they plan, and this afternoon they were playing jazz standards, which Larissa really enjoys, and this time it was in Eden.  With large windows and a shape that's conducive for both socialization and entertainment, I can see why Two70, a similarly shaped venue on Quantum Class ships, is so popular.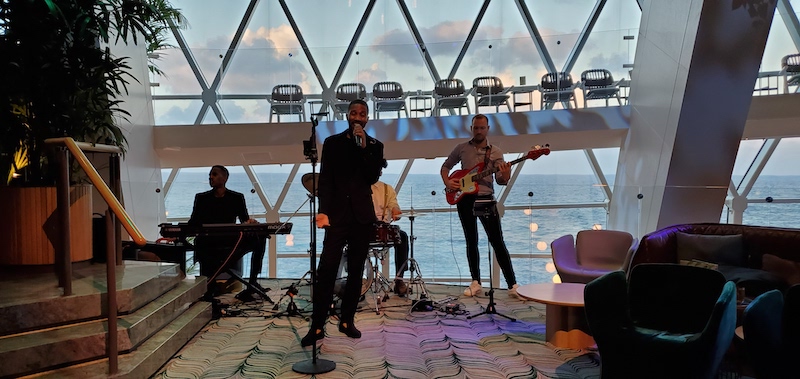 A Hot Summer Night's Dream
This evening's theatrical performance was called A Hot Summer Night's Dream, which abbreviates the story line of A Midsummer Night's Dream (my favorite Shakespeare show) with dance, acrobatics, and variations of popular modern songs.
We watched this in January and were delighted to enjoy it again.  The lighting alone lures me in, aided by the high-tech theater on Edge.  The performers keep things interesting by contorting, spinning, and performing aerial acts that leave your mouth agape. 
Be sure to catch this show when you're onboard (and you should absolutely book Edge – she has so much to offer!) and sit anywhere!  Why?  One of the coolest things about this theater isn't just the tech, but the fact that there's not a bad seat in the house.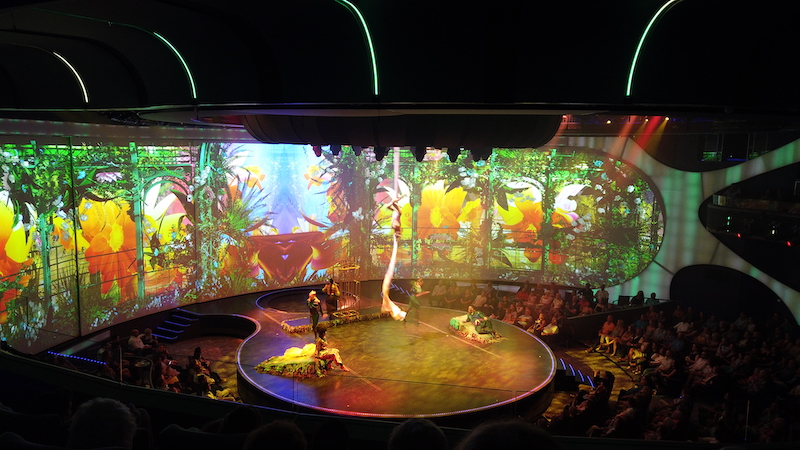 Three Square Meal…in Eden
We didn't plan it this way, but for dinner we opted to head to the Eden Restaurant.  Yes, we managed to eat breakfast, lunch, and dinner in Eden.
Eden Restaurant is a specialty restaurant and costs $55 per person.  For that price you really do get an experience rather than just a meal – but this time, it's not a compromise.  I've found on both land and sea, that usually when you enjoy a "dinner show", you're there for the novelty, and the food is rarely too impressive.  Not so in Eden Restaurant.
The dining room is on the level below Eden Lounge, and some of the show elements happen above you (visibly based on the layout), while other times performers are right by your table!  There are also screens to see parts of the show (if you go during Revelation) that are otherwise out of view.  Additionally, you can watch the chefs preparing meals in the open kitchen.  Seated near the landing of the stairs coming down from the lounge, adjacent to the kitchen, we had an interesting perspective with the aerial acts loading right next to us.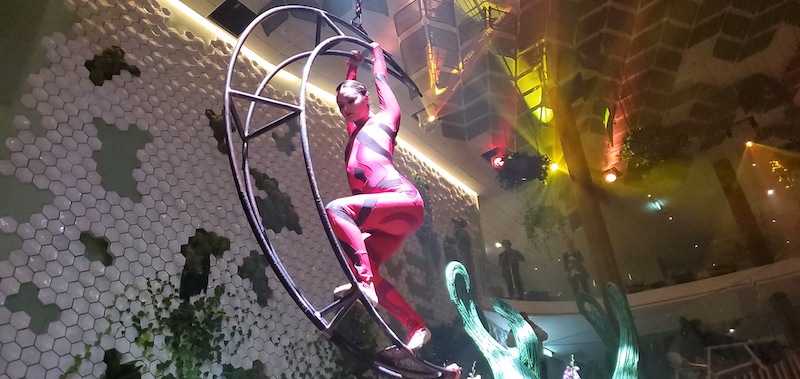 Our server, Shakeel, was the same gentleman that helped us on our previous Edge cruise.  We requested him as he was so pleasant, helpful, and charming that we'd actually talked about in over the last year.  He remembered what adjustments had been made to the vegetarian options on the multi-course menu and offered up some additional suggestions.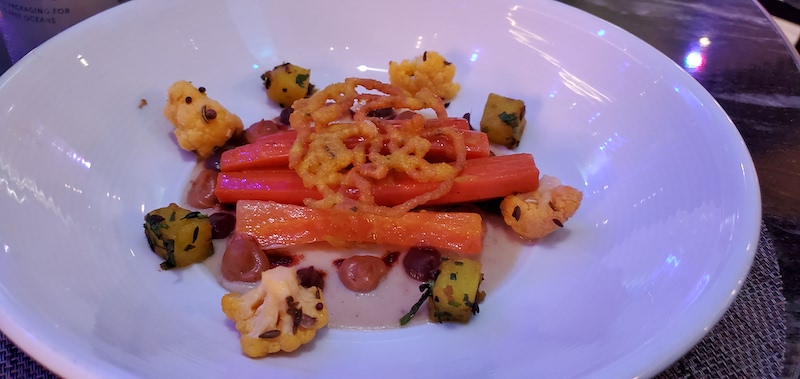 The quality of the food was fantastic, often putting together flavor combinations that wouldn't have seemed appealing to me but worked fantastically together.  The highlight was Namaste, a new dish since our previous visit. It combined a variety of mild but flavorful Indian spices with a light and creamy sauce and perfectly cooked veggies (and shrimp, unless ordering without it like we did).  Shakeel saw we enjoyed it so much that he brought us a second round of this dish, making this what felt like a 93 course meal.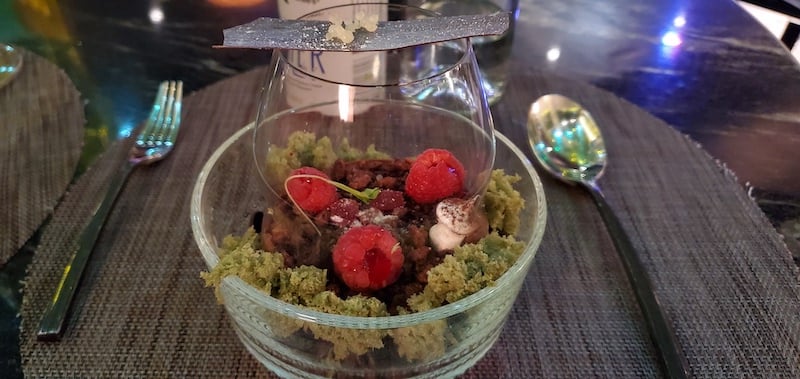 Our dinner concluded just as Revelation was ending, and Florencia Horita, who we enjoyed on embarkation day, began playing guitar and singing at Eden.  She has a sound that matches Edge perfectly - so soothing.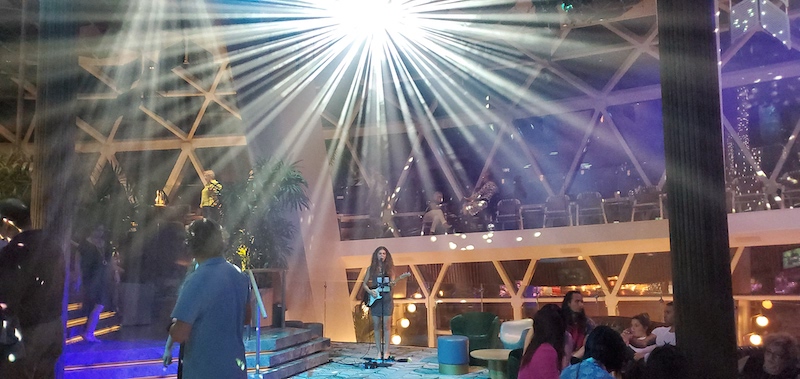 Costa Maya – A Mystery Destination
Tomorrow we're in Costa Maya Mexico.  We were here a year ago (nearly to the day) on the RoyalCaribbeanBlog.com group cruise aboard Symphony of the Seas.  At the time we visited Maya Chan, a great beach resort run by American expats, and it was VERY tempting to go back.  It was like you were at the home of a family member (one of the ones you actually like), and the service was top notch.
We're not planning on going back tomorrow only because we're a bit non-committal, wanting flexibility.  I have a hunch however that we'll end up thinking that we should have gone back, as it was wonderful.
Day 1 - Embarkation Day
Day 2 - Key West
Day 3 - At Sea
Day 4 – Costa Maya, MX
Day 5 – Cozumel, MX
Day 6 - Grand Cayman
Day 7 - Sea Day