Author: Bill November 29, 2019, Updated: September 1, 2021
Sometimes we travel to explore and see new things, other times we travel to return to what is familiar and comfortable.  When the places that are familiar and comfortable are also beautiful, it's all the better – and that's what made this stop great.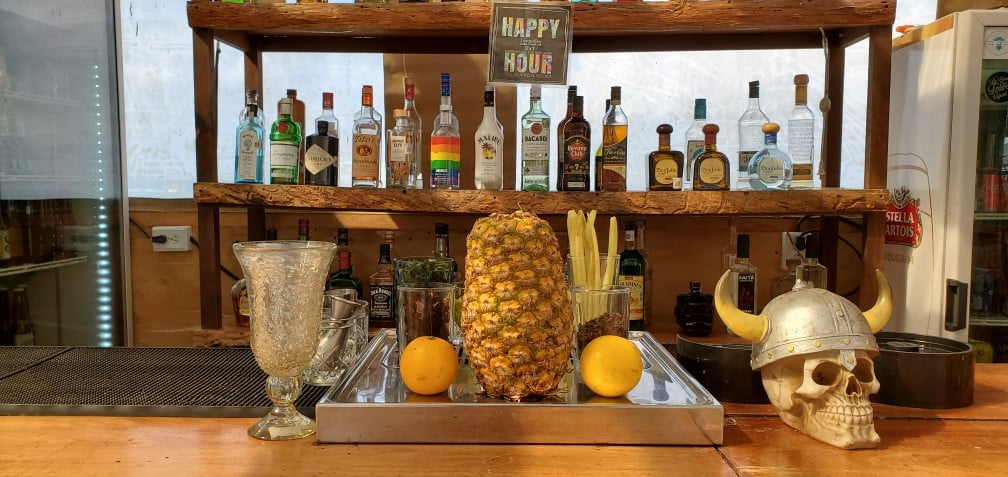 Islandview Café
Oceanview Café may be the name of the buffet venue onboard, but waking up today we headed straight there to get breakfast and enjoy a view of Cozumel – one of our favorite spots in the Caribbean.  If you've cruised before, you'll know omelet and other "custom egg" stations can be busy in the morning, but on Edge they have several stations where you can order an omelet, poached egg, salmon benedict, etc, and the turnaround is quick.  This was a delicious option, though it was actually our first time having breakfast here on this cruise – unusual for us.
Eggs, beans, veggies, and a chocolate croissant now powering my morning (along with a quart of espresso from Il Secundo Bacio, the coffee bar in Oceanview), we headed to the stateroom to get ready to disembark.
Ship Swap
When we first looked out of our window today we saw Club Med 2 docked next to us.  This 15k GT sailing cruise ship is one of the largest of its type, and a treat to see up close.  Like some Windstar ships, her sails are completely computerized.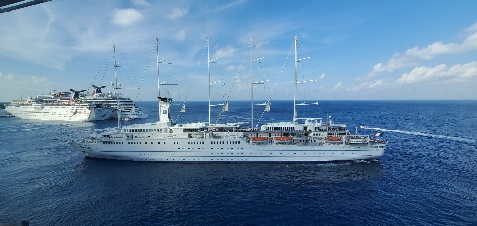 During breakfast though, she sailed away (we thought) and Independence of the Seas, a Royal Caribbean ship, took her place.  This was exciting as our friend Nick was on Indy, and we'll be sailing her in the comings months as well.
Heading Ashore
Royal Caribbean and Celebrity ships generally dock at the International Cruise Terminal, one of three in Cozumel.  When you disembark you're lead through an outdoor shopping areas, restaurants, etc.  Keep going though, as Coz has much to offer just outside those gates. 
Unlike yesterday's stop in Costa Maya, for a number of reasons, this port area wasn't crowded at all.  In fact, despite seven ships being in Coz today, it was quite calm.  We shared the island city with Carnival's Horizon, Vista, and Fantasy, Royal Caribbean's Independence of the Seas, Norwegian's Escape and Breakaway (who tendered, which is unusual), and Club Med 2.  It turns out, that when Club Med 2 made room for Indy, she simply anchored a few hundred meters away.
Because these ships were spread across several different port areas on the island, things were pretty calm.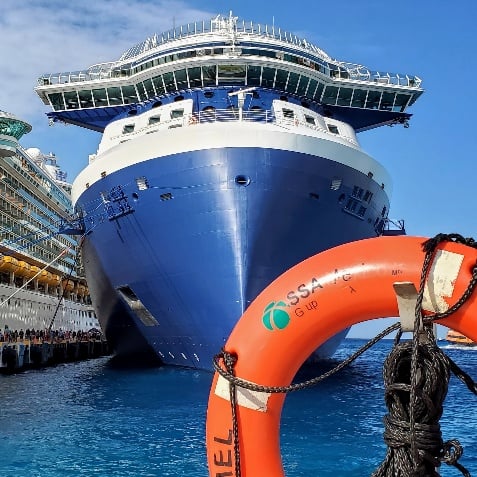 Two Great Spots Near Port
We enjoyed two different spots in Coz today, and they're both great options for a relaxing and inexpensive hangout when in town.  There are absolutely prettier places, more remote experiences, higher energy activities, etc in Coz.  The advantage of today's stops though were that they're just a ten minute walk from the port, and offer quality and convenience. 
Sharky's Pub in Cozumel
In the past we visited a place call The Pub Cozumel, located just a couple blocks from Parque Benito Juarez.  A nice expat couple ran a fine pub with good food and company.  Not long ago though they closed their doors and re-opened as Sharky's Pub, co-located with Villa Blanca hotel.  The new location is right at the hotel pool, and is open seven days a week.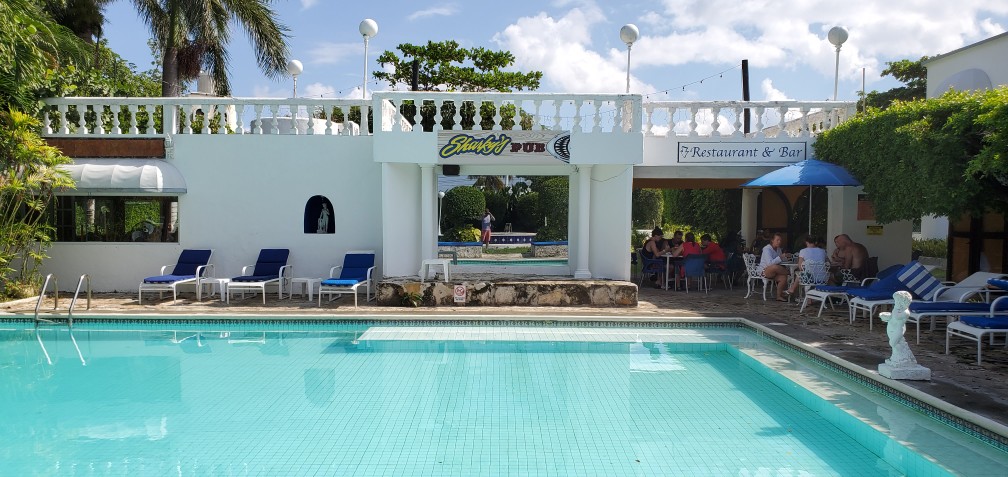 We enjoyed the company of Chris, the owner, and Nick, who as mentioned, was in town as he is sailing on Independence.  Their cool beer, great margaritas, and quality food are just as they were at the old location, which we're happy about.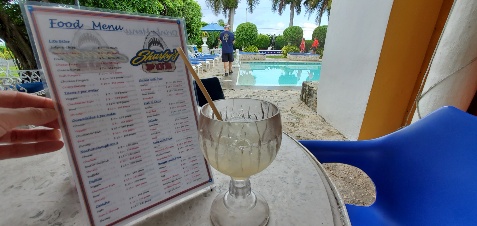 Turquoise Beach Club
Just across from Sharky's is a place called Turquoise Beach Bar.  The upstairs has ample seating with a beautiful view of the water.  They offer quality craft cocktails and a full menu.  There is a bar below as well, plus loungers, a small plunge pool, an area of sandy beach, and a dock leading out several hundred feed.  Oh, and there is a pig.  He hangs out there too, and seems pretty friendly.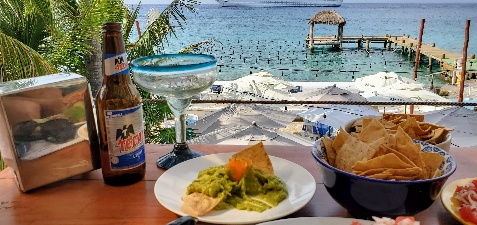 We spent most of the time upstairs, sometimes sitting on rope swings, which chatting and enjoying the view.  We also ordered some snacks and drinks, which were large and reasonably priced.
Another Nap?  Yes, Another Nap.
All aboard was 3:30pm, as we have to make it to Grand Cayman in the morning, which isn't too close.  We got back just before that and took a badly needed shower.  As is cruise tradition though, daytime showers are always followed by naps.
Waking up with the sun still up was a relief, and meant there was still plenty of time to enjoy the day onboard.  It's Thanksgiving in the US, and as most of the guests on this sailing are American, it seems many are looking forward to a traditional Thanksgiving meal onboard.
I got dressed and headed for an afternoon espresso in Café al Bacio, where the sunset was stunning.  With my coffee and a coconut macaroon (because the café desserts are not to be missed) I darted to Eden to get another glimpse of the late afternoon colors from the panoramic windows stretching several decks and over 270 degrees.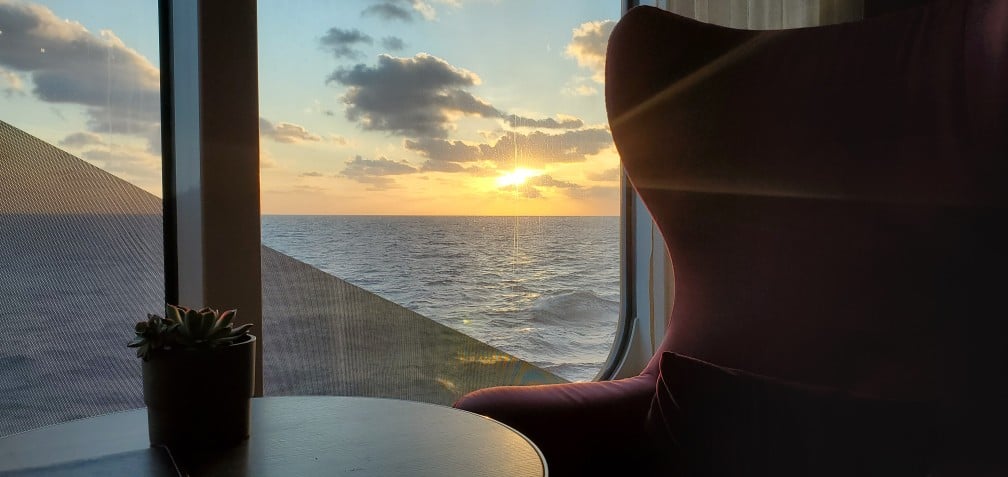 Making Our Rounds for Dinner
Tonight we opted to go to Cosmopolitan Restaurant, as we want to try out each of the complimentary venues.  As it is Thanksgiving, somewhat traditional fare was included as an option on the menu.  I opted to have, among other things, a vegetable soup that was remarkably flavorful - not something usually said about vegetable soup.  For dessert we had carrot cake and pumpkin pie, proving that vegetables can make awesome desserts...along with a ton of sugar of course.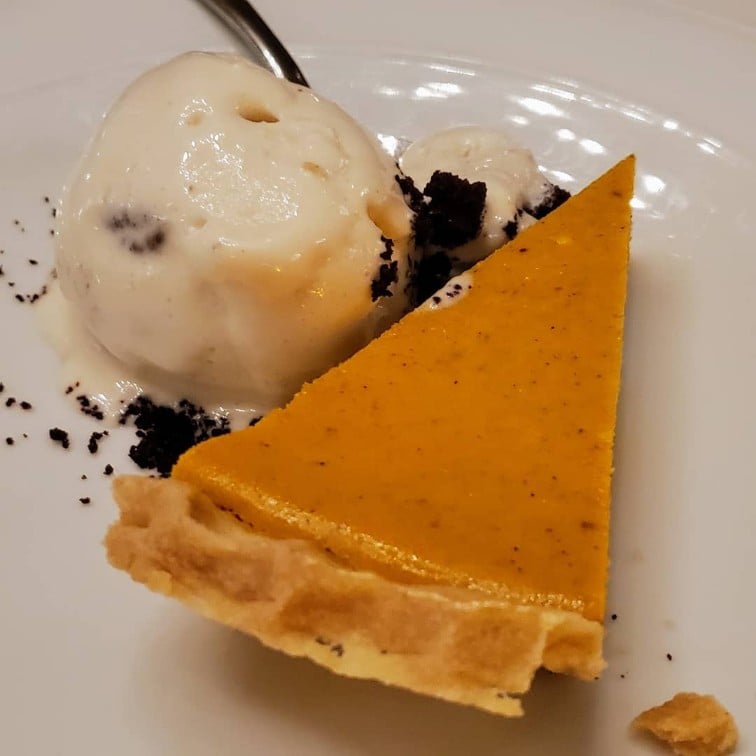 Hype in Celebrity Theater
On our past Edge sailings, the stand-out theatrical performance was Hype.  Describing it doesn't do it justice, as it's really just a mash-up of pop-songs from several decades, but the energy level is like nothing else at sea.  The Celebrity Edge Ensemble plays live music to accompany the vocalists and dance teams, making even the slowest moments of the show still rather riveting.  Risers with lighting sat on the stage and added physical depth, along with beautiful lighting coming from all sides, and of course the high-contract, high-definition wrap-around screen in the theater.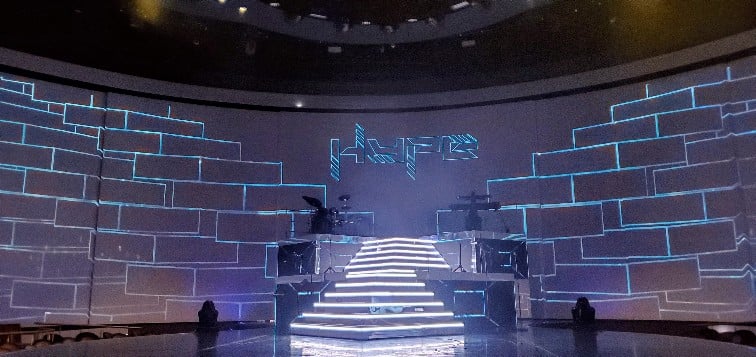 When we'd seen the show in the past it was billed as Hype with Marcus Terell - the head performer.  This time the sort of performers was different.  They were all incredibly talented, though I'll admit that the three main singers weren't as well matched to each others vocal styles, but I don't know that I'd even have this observation if I'd not seen the show before.
Either way, make sure you catch Hype on Celebrity Edge - it's an impressive performance, and you'll feel like you got a workout just watching how much energy these talented folks expend in 45 minutes.
One Final Revelation
Following Hype we darted to Eden to catch this sailing's final performance of Revelation, the main event in Eden.  This was around our seventh time seeing the show and it was again great.  This week we noticed from day to day the characters really coming into their own (this is their first week as a group).  Perhaps most impressive this evening was watching Kronos do one-arm spinning hand-stands on a pole.  While this move is jaw-dropping each time, tonight there has been quite a bit of churn in the sea and some winds that are causing a good amount of movement on the ship, but it didn't seem to phase Kronos (played by Joel Herzfeld).  Chatting with the Edenists afterward (and having been pulled up several times into the performance) it is clear they really enjoy the space and the dynamic nature of the performance.  It was sad knowing tonight was the last time we'd see this for some time.
Edge Launches Ahead
Tomorrow we're in Grand Cayman, and odd as it may sound, we're looking very forward to tendering.  Edge has a rather unique way of handing tender service, which we'll share tomorrow so long as the weather cooperates.  As such, despite really wanting to check out the colorful party up on deck tonight, it's time to turn in so that can enjoy our final port of call on this cruise.
Stray Observations
Holiday decorations are up in many parts of the ship, and follow the "Modern Luxury" style and feel of the ship.  The big tree is in Grand Plaza is often lit with interesting colors, and this shot shows a "Snowflake Martini" made at the Martini Bar just feet away.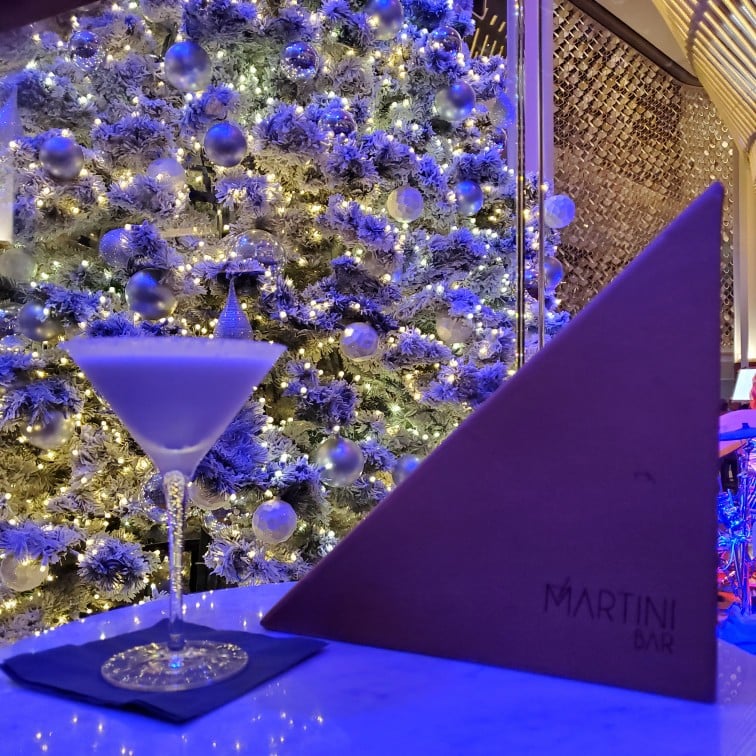 Nick's room was directly across from ours the way we'd docked in Cozumel, which made for some fun photos.  He caught a beautiful shot of Edge sailing away as well.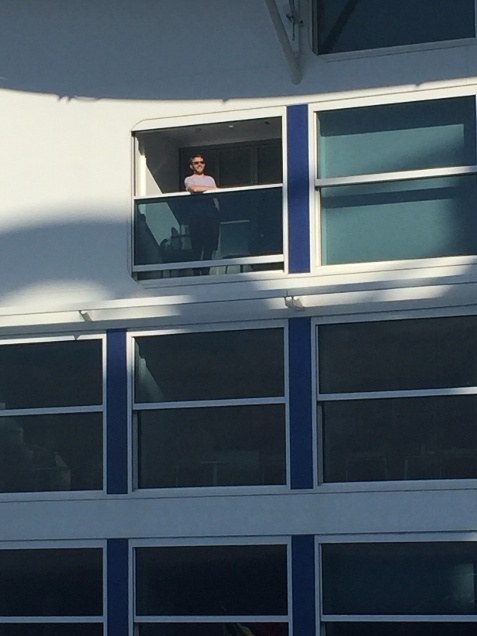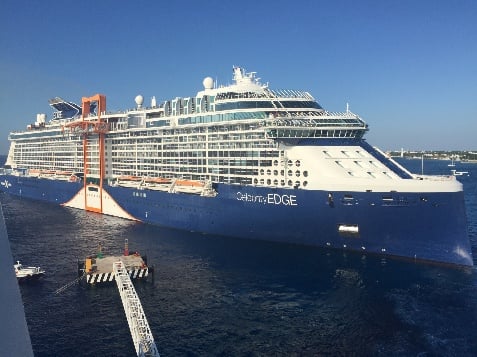 Day 1 - Embarkation Day
Day 2 - Key West
Day 3 - At Sea
Day 4 – Costa Maya, MX
Day 5 – Cozumel, MX
Day 6 - Grand Cayman
Day 7 - Sea Day