Author: Bill November 25, 2019, Updated: September 1, 2021
Today kicked off the first day of our third cruise on Celebrity Edge.  We don't often repeat ships so quickly, and while ship preference depends on circumstance and is highly subjective, you can absolutely take this as a sign of how much we enjoyed our past Edge experiences.  From the moment we booked this sailing though, we looked very forward to seeing what was different – an interesting game anytime you see a new class of ship from her very first sailings through to a more refined experience.
Arriving in Port Everglades
Our sailing today departed from Terminal 25 in Port Everglades, a terminal purpose-built for Celebrity Edge.  It's a beautiful building, but the funny part is that the embarkation process is so smooth that we've spent minimal time there out of the four times leaving from the new facility.  Arriving at around 10:45am, we boarded by 11:00am.
How to Board Early with Celebrity
If you're cruising from Terminal 25, there is a trick that Celebrity doesn't really explain, and it will take your boarding experience from efficient and pleasant to lightning fast.  The key is that while lines generally let you check in online, and you can absolutely do that with Edge, Equinox, etc, if you check in using the Celebrity App (photo, passport info, everything), you'll get an "Expedited Arrival" pass on your digital boarding doc, and you'll be allowed right into the short line for immediate boarding, regardless of being in a suite, having top-tier loyalty status, etc.
Right to the Room
After stepping on the ship (and somehow passing up the complimentary bubbly being handed out), we went directly to our room.  Technically the rooms aren't ready until 1:30pm or so, but now on most Celebrity sailings, it seems you can go right to your room, grab your SeaPass card, and enter a clean room to drop off your bags.  The stateroom attendant will circle back shortly and drop off any personalized docs, loyalty gifts, and leave finishing touches.  This is great, as I often have gear I don't want to check – but also don't feel like schlepping around for a couple hours.
A Light Lunch and… Gym Visit??
It's fair to say that as we're creatures of habit, and I am fortunate enough to cruise a lot, my day one blogs may not have much variety.  Today however, I deviated from my plan.  After dropping off our bags we went to Oceanview Café, Celebrity's buffet venue.  I've said it before, but save for small-ship lines, Edge has the BEST buffet area on any ship we've sailed.  It's well laid out, has great food, is pretty, has ample seating, etc.
Instead of gorging, I ate very lightly, as I had a plan in mind…and it was to not vomit on deck 15 forward.
Running with a Friendly View
After a light meal, I changed clothes and went to the gym to run and lift some weights.  We recently moved, and I had a cold a week or two ago, so my exercise regimen has suffered.  The Edge gym, like many ships is all the way forward on an upper deck, and offers great views of…well, Port Everglades.  I was working out before muster.  Weird!
Funny enough, my friend Eric had just boarded Holland America Line's Nieuw Amsterdam (a ship we sailed this very week two years ago) and she was right in front of us.  My running view was of the front of Nieuw Amsterdam, and while I love Edge, I'll admit I though about hw great it'd be to teleport a few hundred meters away to the Crow's Nest and toast Eric and his girlfriend to a fantastic vacation ahead.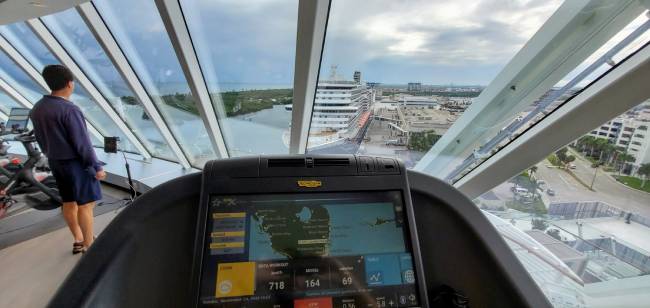 In case you're wondering, I was indeed the only person working out at this hour – but many people passed by, presumably looking for where to enter the embarkation day spa raffle.
After a remarkably fast shower and then muster (might I say, I'm pretty well done with the "wash your hands" and "secret agent" videos between Celebrity and Royal Caribbean sailings – first world problems, I know), it was time to head outside for sail-away. 
Rooftop Garden & Magic Carpet Sail-Away
Those familiar with Solstice class ships know of the Lawn Club, which we enjoyed on Equinox just a couple months ago.  Rooftop Garden is Edge's answer to this open-air space.  Featuring a stage, a screen, comfy seating, roaming waiters, a specialty restaurant, and great views – it's a great spot to hang out.  The nearest bar is the aft-facing Sunset Bar, but it can be packed, and the serenity found at Rooftop Garden, with its real plants, slightly elevated view, and relaxing music (thanks today to Florencia Horita) is just bliss for us.  We sat on a couch, and were in heaven.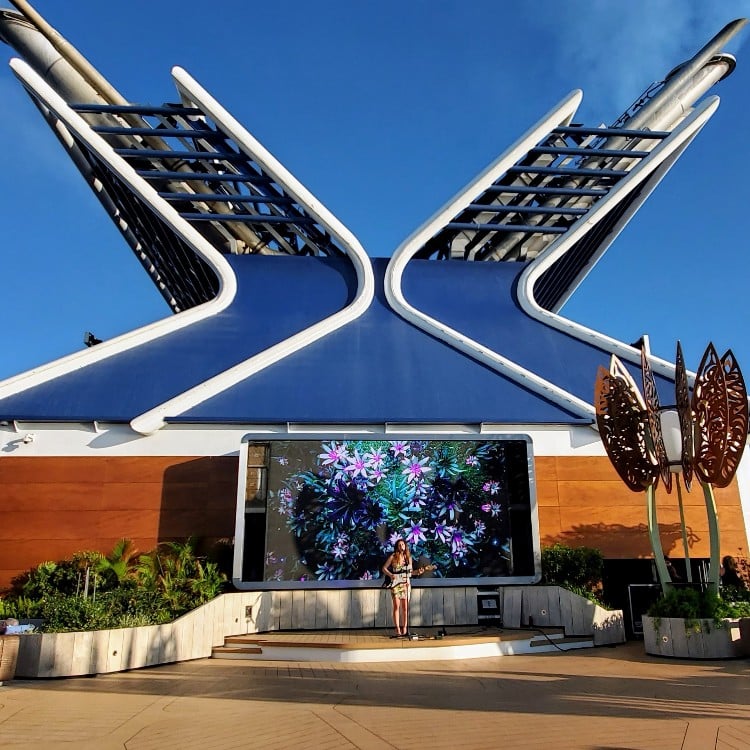 After Florencia's set we headed to the Magic Carpet, the orange venue cantilevered on the side of Edge.  Some call it gimmicky, and it is – but it's really great too. We sat out over the water, 150 feet up, and enjoyed Champagne and an amazing view.  Know those times all is well with the world?  This was one of them.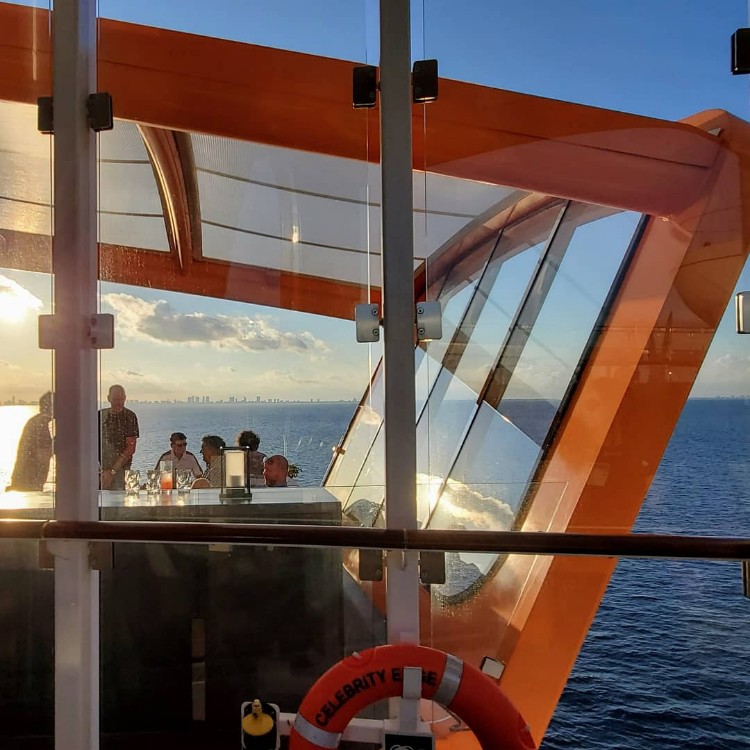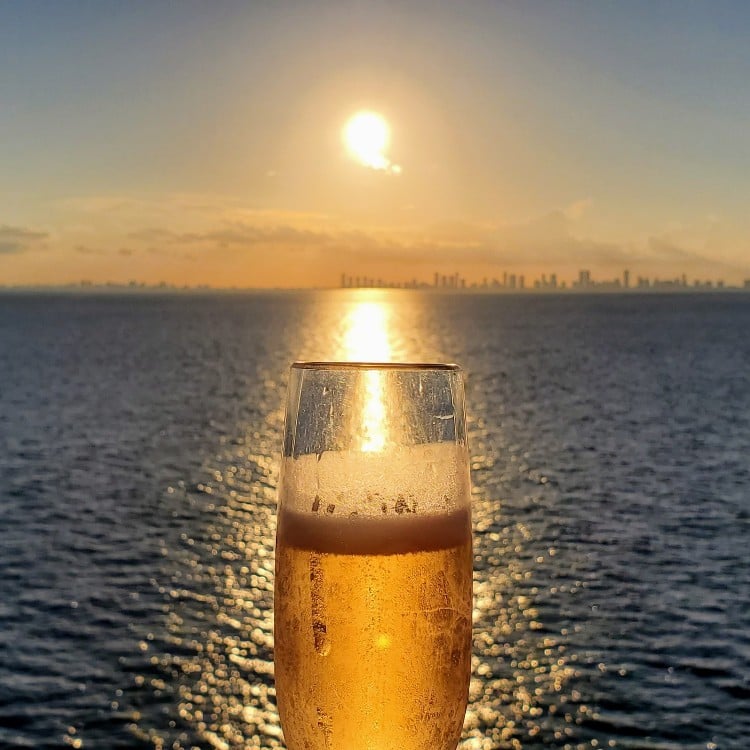 Billy's Graceland…Eden
If you've ever for a moment searched any word in our podcast feed, YouTube channel, or website, it's hard to miss that we LOVE Eden.  Eden is a multipurpose venue, performance art space, bar, lounge, restaurant, and more, located deck five aft.  We'll over more of it through the cruise, but just know for now that this was our favorite place on our first Edge sailings, and returning truly felt like home. 
The cocktails in Eden, while usually costing a couple dollars more than the $15 limit on the Premium Drink Package, are quite good, and the overall feeling is grand.  We miss Rovena, Niksha, and Marius from Eden Bar on our past sailings (it seems we missed Rovena by a month both here and on Equinox), but the staff on this sailing is equally friendly and apt (looking at you Desiree from Brazil!).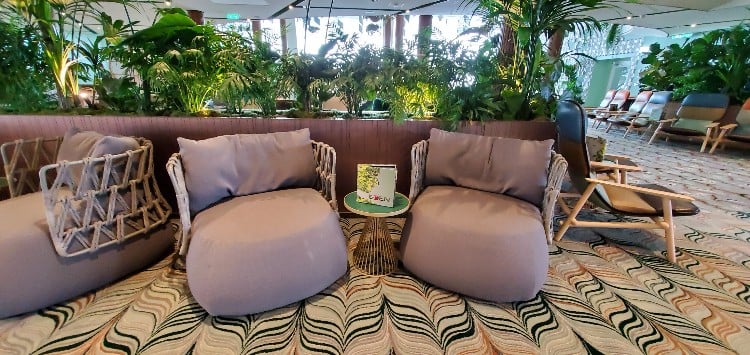 After a few drinks we knew we'd be back in the evening.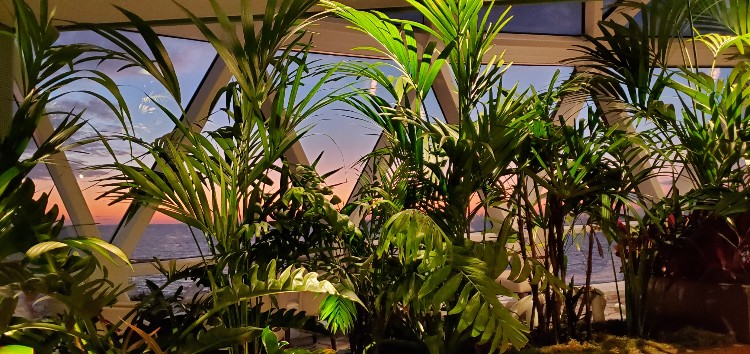 Colors of Life in the Edge Theater
I'm bad at superlatives, but the two ships that offered us the best stage shows (subjective of course) have been Edge and MSC Seaside.  Tonight, we headed to the 270 degree high-tech theater to check out Colors of Life.  The soundtrack, for those looking for a new take on 80's pop hits, was fun, and the performers were good.  Still, it didn't "wow" us like other shows on Edge, perhaps in part because there wasn't a live band on stage the whole time.  We'll see how the other shows shape up.  The talent and space is there, so we're optimistic.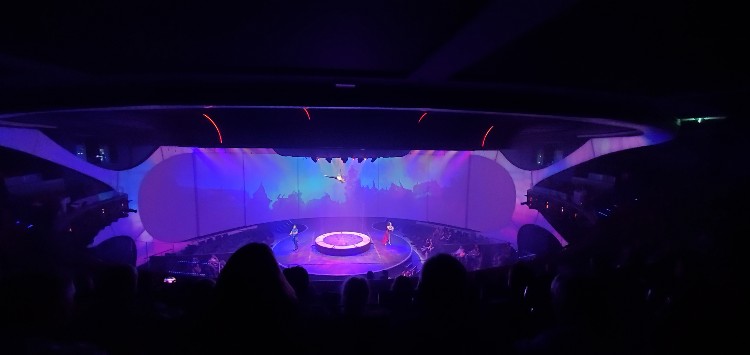 Dinner in Cyprus
Edge has four main dining rooms, and regardless of your dining schedule, you have the flexibility to try them all.  Unlike some other ships, the restaurants really are unique in décor and cuisine – even feature their own signature cocktails. 
Cyprus offer Mediterranean fare, and the standout dish to me, was one I'd had here before: a feta and beat salad.  The cheese is salty, but it comes together nicely, and I may have it again this sailing.  Like other Celebrity ships, the meal is accompanied by three different bread "dips" which change each night and make foil-wrapped butter pads seem cliché.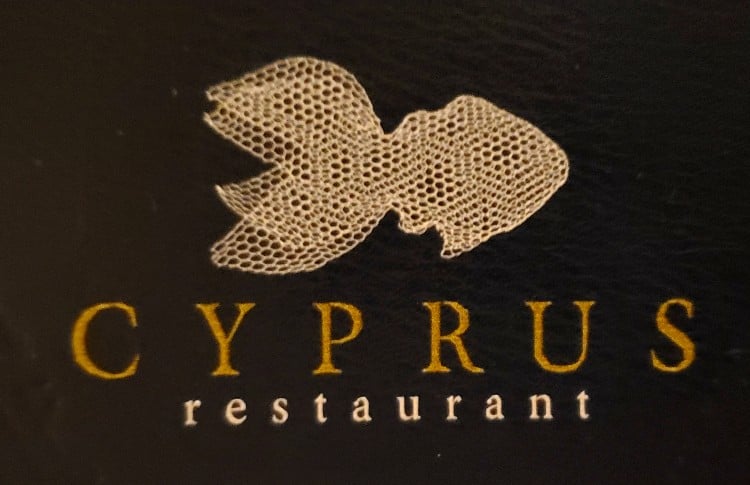 The meal was great and confirmed once again that while this ship has nice specialty dining options, the MDRs really do a nice job that doesn't make us long for other options.
Back to Eden for Revelation
As mentioned, we'll talk about Eden more (and you can find past posts, videos, etc of Eden here), but I'll say for now that we went back for tonight's show.  It is performance art, theater, and truly immersive experience.  Some find it odd, we find it enchanting. 
I'd heard that the show had been "toned down" since earlier this year, as it "creeped out" some guests – something I don't understand, but I do want everyone to feel welcome.  We watched from beginning to end, and while the very human side of me says, "change bad!" we still really enjoyed.  Tonight's cast was totally different from those we'd seen in the past, except for Carly (her real name – I forget her Edenist name), and I must say they did a great job casting people with slightly different and unique strengths, but who were still true to the characters in the cast as originally created and envisioned.  It was delightful (and a tad oddly emotional) to see Carly again, and as she did her first lap out in character, we locked eyes and Larissa and I knew she remember the weirdos who went every single night when she first started.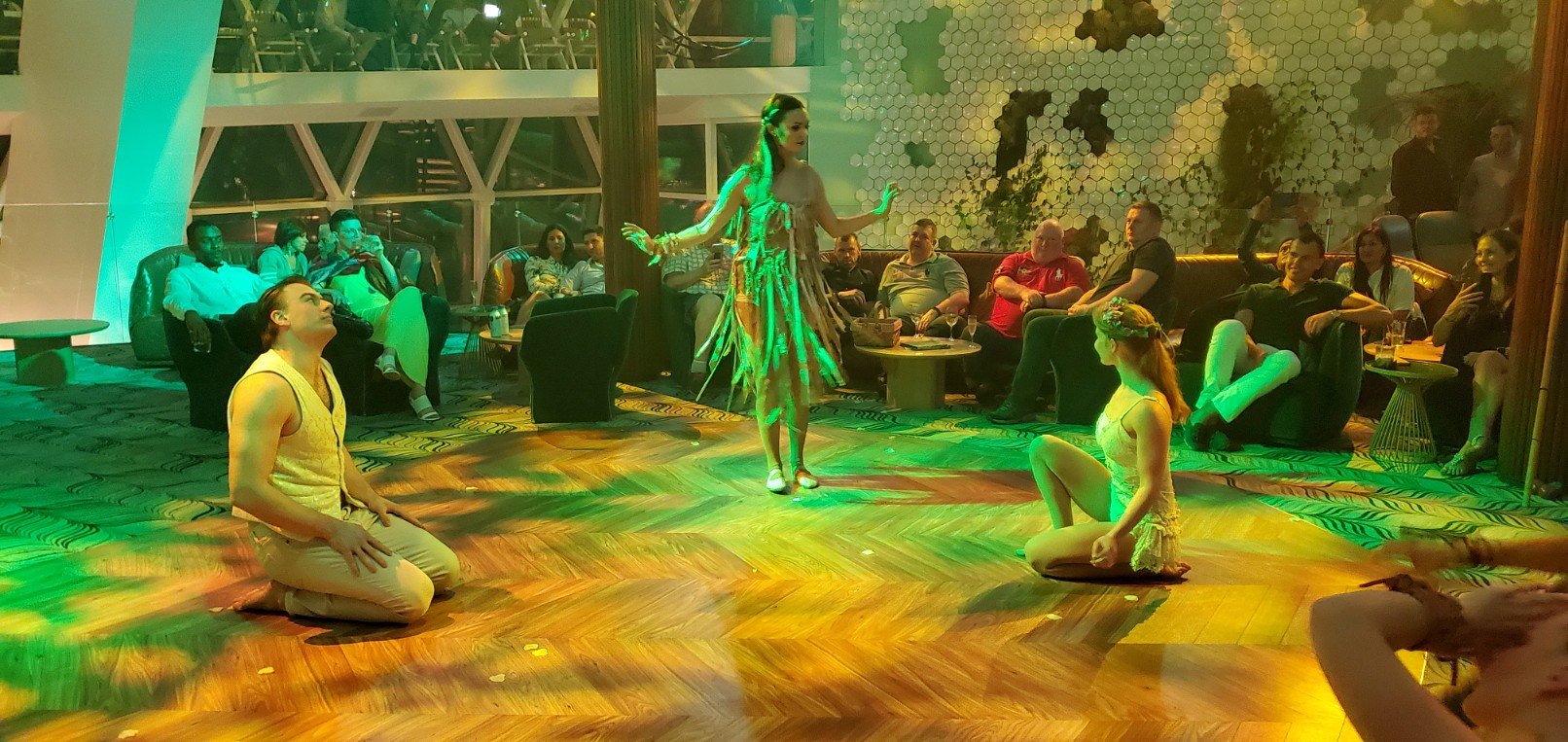 Again, we'll go more into the show and venue later, but it was a grand evening, and we loved participating the show, then chatting with the performers after.  I know this sounds sappy, but it felt like we were back in our place.
Tomorrow: Key West
Tomorrow we arrive in Key West at 7:30am.  Ric and I did one of the first episodes of the CruiseHabit Podcast all about Key West, and it's a great cruise destination.  Still, we love Edge, and we're in Key West a lot, so while we expect to disembark, we don't have any big plans.  Do make sure to check out the podcast episode to get some tips on what to do when you visit.
Day 1 - Embarkation Day
Day 2 - Key West
Day 3 - At Sea
Day 4 – Costa Maya, MX
Day 5 – Cozumel, MX
Day 6 - Grand Cayman
Day 7 - Sea Day