Author: bill December 3, 2019, Updated: September 1, 2021
Since I was a kid I've found the final day of any cruise to be depressing, and while I've become better at this, I suspect it's like dividing a prime number: I'll never reach zero.  The good news is that the final day of our Celebrity Edge sailing was gorgeous, and I don't think we could have spent it any better than we did.  While relaxing, we also managed to check off a few items we'd neglected thus far into the sailing.  One of them you'll see, seems to have been word play.
Strawberry Waffle Alarm Clock
We woke up bright and early (it was indeed bright, and to me, 8:30am is very early) to the call that breakfast was on it's way.  Moments later, I was feverishly drinking coffee with the logic that the more awake I could be, the more I'd be able to enjoy the day.  Reflectively, I may still be working on this "relaxing" thing.  Either way, two cruises in and I regret not previously taking advantage of room service in the morning (until Equinox back in September).  I should note here that we had hot breakfast as a concierge perk, but on our recent Holland America sailing, I think this is a standard offering.
A Sad Sign for Happy Times
Leaving the stateroom and starting my day, I wandered down the hall to take in all I could.  I've said it before, but for us, this ship feels like home.  I love the peaceful music that plays in the halls, and even the signage that looks lee industrious than some ships.  You may be reading this and not like Edge, your favorite ship may be the one I enjoy the least - but quite often when we must put into words what makes us like one experience over another, some factors involve subtleties that sound funny when mentioned allowed - like the signs on this ship.
Oh no, it's the last day and I just read this sign! "...welcome home..."  I'm not crying, you're crying.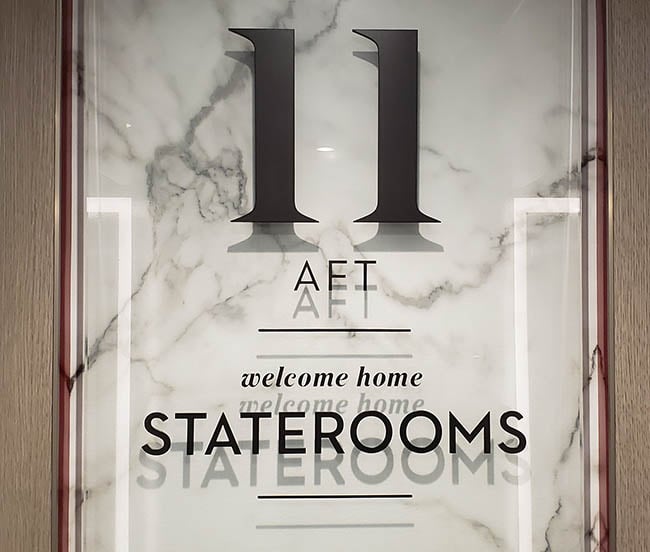 Nooks, Crannies, and Origami
I'm often asked about finding quiet spots on ships with so many people.  I can honestly say that it's easy to find quiet spots on almost any ship - whether a 20kGT luxury vessel with just one hundred passengers, the 225kGT Oasis of the Seas, or in this case, the 130kGT Celebrity Edge.  What's nice is on some ships, you can find quiet spots not just in otherwise closed venues, or less picturesque spots, but in useful and pretty spaces.  Walking to Eden, I took the long was as I entered, and sat for a few minutes on a bit comfy couch in the top section of the port-side forward corner.  You could easily have a group of 20 in this space, chatting and relaxing, and seeing almost no one but the occasional walker, or of course, a bar waiter.  Still it has natural light from multiple angles, neat views, live plants, movable tables and more.  Tonight will be my 17th night on Celebrity Edge, and until now, I'd not sat here and enjoyed this spot.  There are so many others I still need to enjoy.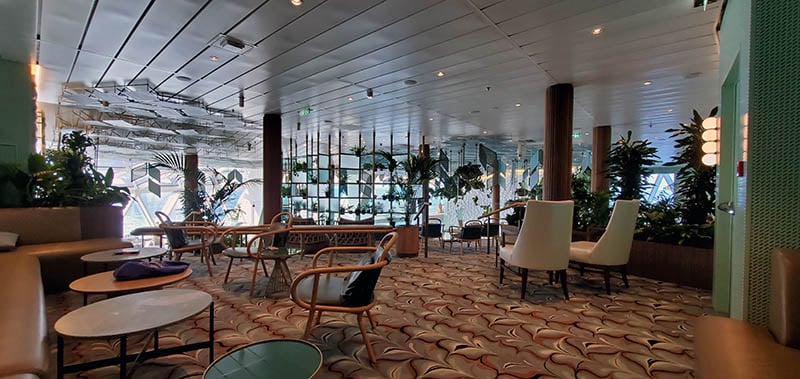 Downstairs, Larissa was near the bar folding paper.  It seems she opted to enjoy an origami class that took place at another semi-hidden seating area in Eden.  The event was popular, judging by the fact I'd seen it on the schedule other days, and today there were easily 15 guests in attendance.  I should have taken a photo, but was too focused on Larissa becoming frustrated with her folding, so I leaned over and gently reminder her, "I think this is supposed to be relaxing."  
We didn't do nearly the number of activities that we thought we would on this cruise, so if you want to see what was available, check out all of this cruise's issues of Celebrity Today, the daily schedule provided to guests.
Eden is a perfect place for origami by the way - looking around you can see so many neat examples of how different shapes lay over each other in interesting ways.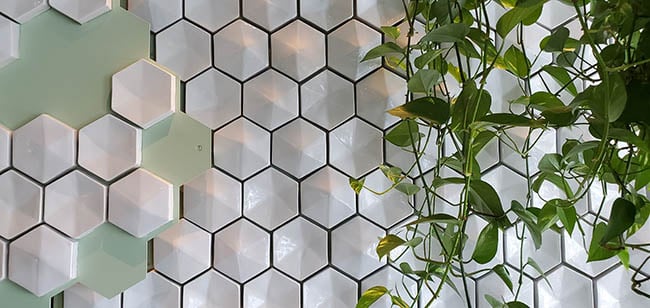 Two Lunches (diddley dee dee dee...)
A stroll out on deck, as Larissa finished bashing her fist into a folded mound of paper, resembling the aftermath of a drunken monopoly game origami, and I realized two things.  First, it's a gorgeous day and we should be outside.  Second, it's been many minutes since I ate, and that needed to be remedied.  As such, we grabbed a salad and some soup at Eden Cafe.  I also had one of the best chocolate chip cookies I'd had in a while (and I'm a bit of a connoisseur here) - I should have brought an extra suitcase just to bring some of them back.  Not only did we enjoy our meal, but wow did it come with a great view.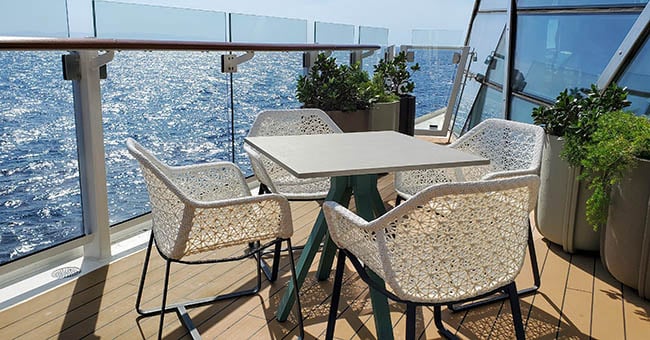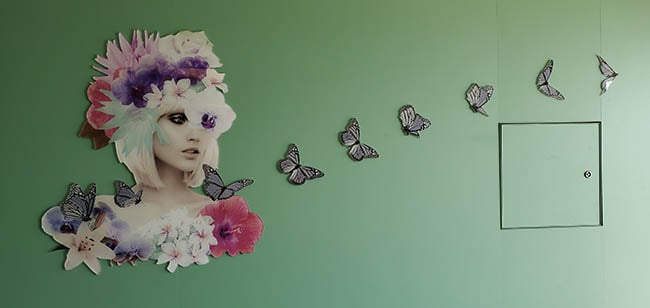 It's a good thing we ate light and sensibly, because continuing our walk outside we eventually found ourselves on deck and though, "Ya know what's nice?  Oceanview Cafe."  So, round two for lunch it was.  The buffet always features a selection of Indian curries (I'm a big fan), but today there were even more!  I counted five vegetarian curries (a couple of them were vegan as well), plus some with meat and fish.  Oceanview on Edge has the widest variety of foods of any buffet I've seen on a ship, and that includes desserts.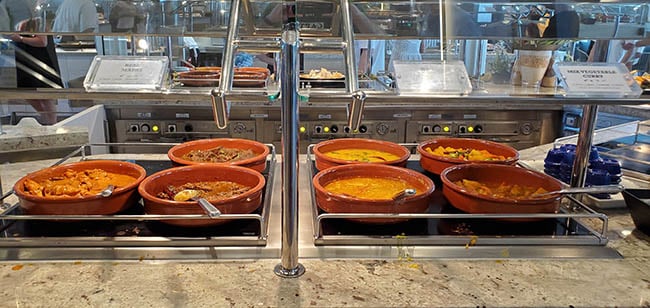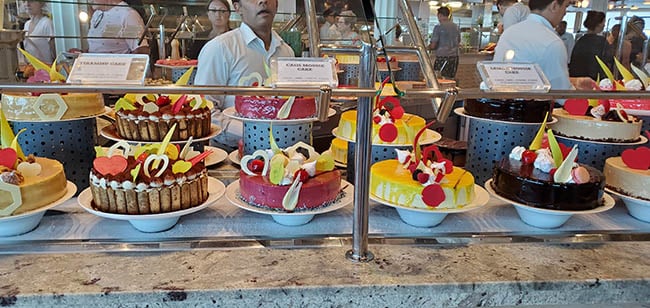 You Don't Know What We Can Find On a Magic Carpet Ride
Continuing our walk, I was surprised to see that despite a gorgeous sea day, there were few people at the Magic Carpet, which was sitting at deck 16.  There is usually room to sit, but not like this.  We grabbed some premium seats and Henry, one of the bartenders we met last year, brought us drinks. For the next several hours we sat here just relaxing and enjoying the views.  Sitting cantilevered over the water is really a unique experience.  I'm not talking the walkways or slides over water on some ships - which are definitely neat.  This is a whole lounge over the water, with unobstructed views on three sides.  Looking toward the ship you can even see over much of it and catch the water and horizon on the other side, since deck 16 on this part of the ship is really just a walkway around the resort deck (15).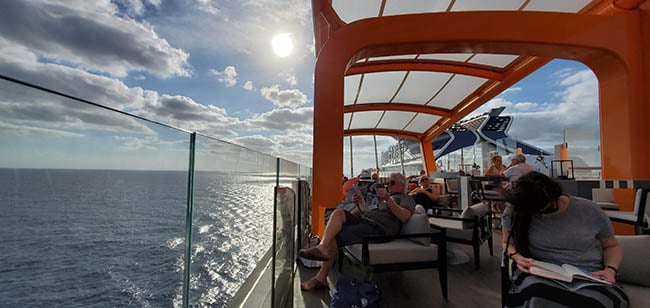 The pool deck by the way, was popular, but not as much as I'd have expected.  Overall it was much busier at the pool than on past Edge sailings, but that's to be expected, as there are more families with kids on Thanksgiving sailings.  Still there was plenty of space all around.  There was an officers vs guests pool volleyball game today, which made me wonder if the officers play rock-paper-scissors to see who plays this, and whether the players are those win or those who lose.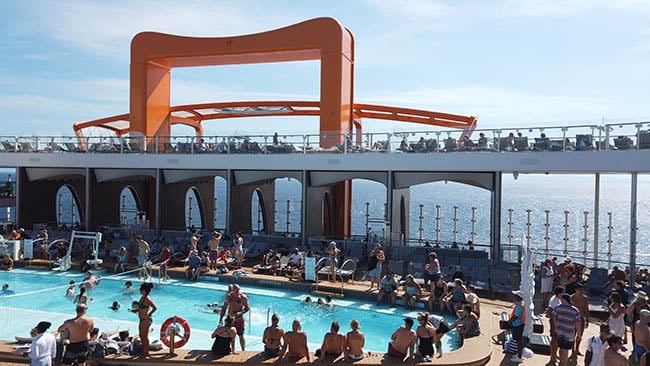 Changing and the Dreaded Packing
Back in our stateroom there were canapes waiting for us.  More...food.  Also waiting was my shirt.  Yesterday I realized the shirt I'd planned to wear this evening needed to be pressed.  I've discussed how overvalued loyalty programs are, but that's not to say that when perks are helpful you shouldn't take them.  As such, before dinner last night I left my shirt in a laundry bag, marked a ticket indicating it needed to be pressed, and wrote, "loyalty" on the paper, indicating I wasn't paying, instead using a Captain's Club benefit.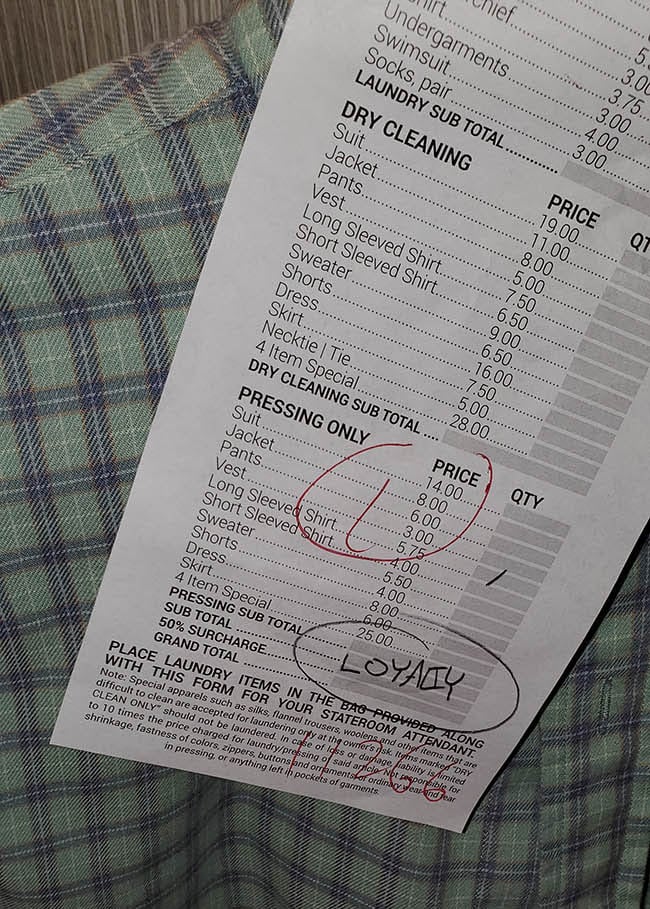 Dressed for the evening, the rest of the clothes (except those for disembarkation) were stuffed into the suitcases, bags tagged, and left out in the hall.  This is always a sad moment.  I wasn't proud that I was the first in our hall to put the bags out either.  I said to Larissa, "wouldn't it be awesome if this was one of those times we got days confused and we still have time left in the cruise!?"  It wasn't one of those times.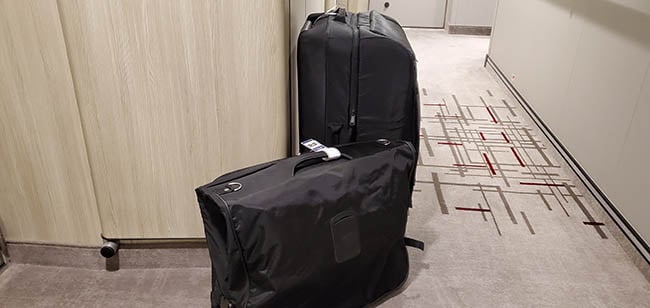 We Forgot about Raw on 5!
While not quite ready for dinner we did realize that we'd failed to try Raw on 5, Edge's sushi and seafood restaurant.  We're mostly vegetarian, but on cruises we have sushi at times, and this was one of those times.  So late in the cruise though I was worried that there'd be no space.  Luckily we arrived and explained we just wanted a snack, so we'd not be long, and we were seated right away.  The menu appears to be similar to Sushi on 5, which we enjoyed on Equinox - though they were out of fresh (real) wasabi.  This is an a la carte specialty venue, with prices that are are reasonable, but you can certainly rack up quite a bill.  They have some interesting signature cocktails here as well.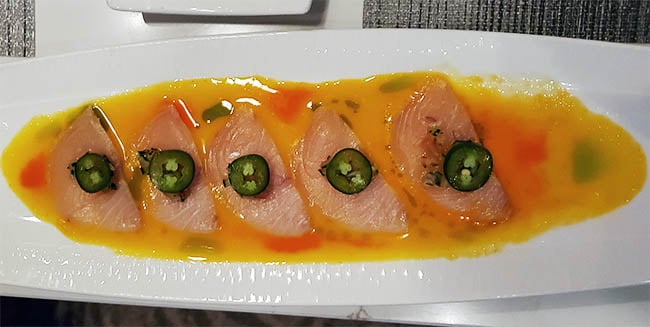 After eating we got up and I noticed, another semi-hidden spot.  There are some high-top and standard tables off to the side that overlook the Grand Plaza, and I might just try and sit there next time.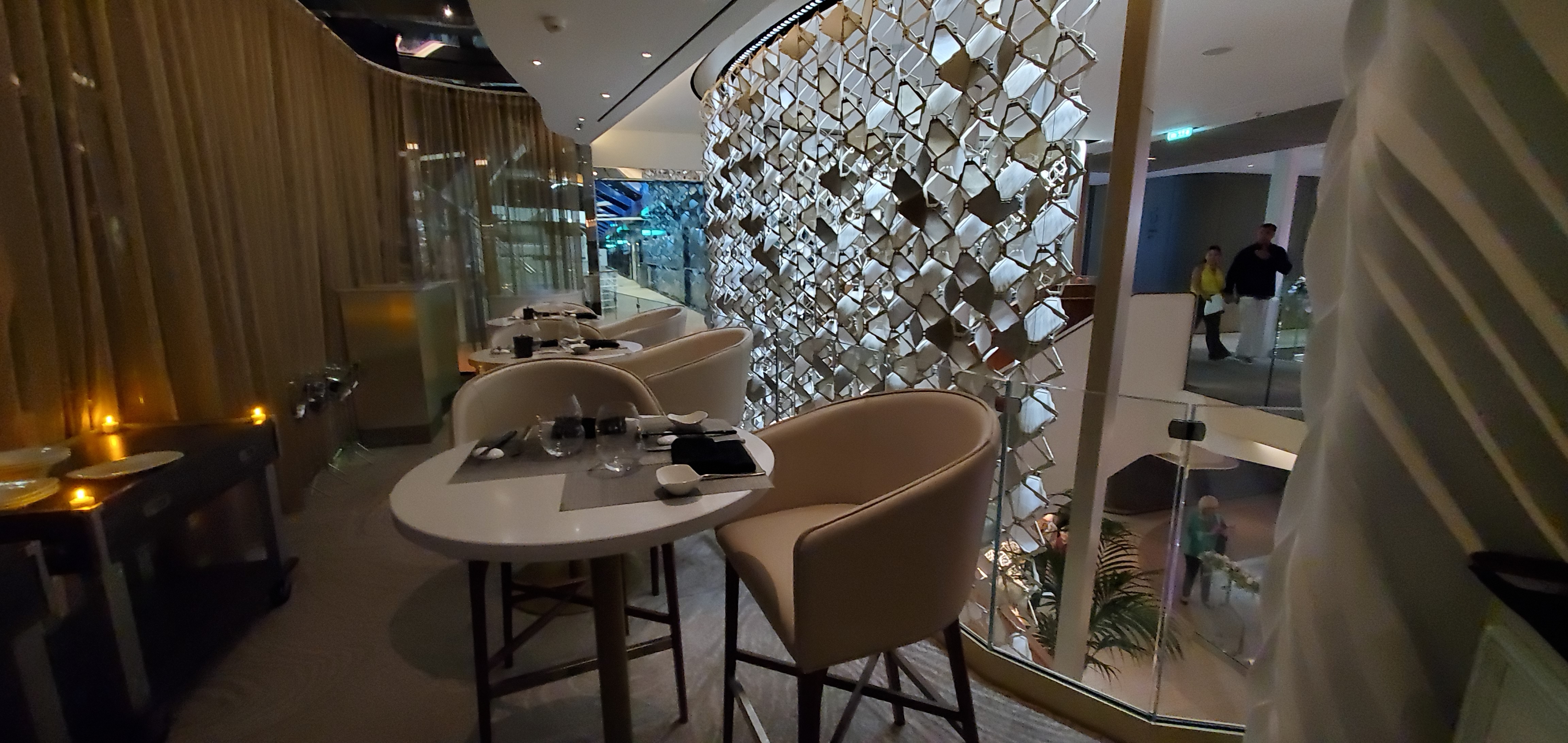 Dinner at Oceaview, Because We Were Near the Edge of the Cruise
For dinner (alright, our second dinner) we really wanted to enjoy one of the four main dining rooms on Edge, but while their service has been plenty quick, we wanted to maximize the time we had left, so we went back to Oceanview.  Tonight's big station was Mediterranean dips, though I'm sure they had a better name on the sign.  There were many types of tabouleh, hummus, baba ganoush, etc.  Despite our last dinner there on the ship, we'd be back before breakfast.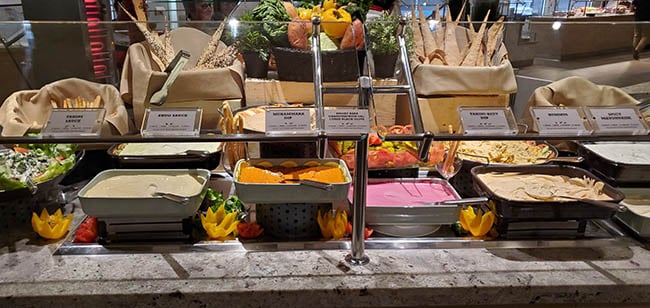 Edenist in the Raw
On our first sailings we'd befriended some of the performers from Eden, and did the same this time.  We admired their work and I think word got around that we'd seen Revelation and their pop-ups multiple times.  For our final evening onboard, there was no showing of Revelation, but after the pop-ups were done, we spent some time relaxing and just chatting with several of the Edensists (and other performers from Edge).  They were all delightful folks, and getting to know them was wonderful.   Eventually we migrated to Grand Plaza to see Sean Brown (another performer's) final show, as he was to disembark in the morning, and everyone wanted to come out.  I actually caught part of an impromptu duet that took place, and everyone really seemed to be having a good time, which make me all the more sad to leave. Check out the below video of the talented Sean Brown and Kailyn Toussaint.
[I also took a fun selfie with some of these awesome people, but it's disappeared into the digital ether - else I'd put it right here.]
Once the performance was over there was as solid consensus that some of us should check out Oceanview and get something to absorb all of the...fun.  It turns out we came full circle our last evening, enjoying some of our favorite spots on Edge with some of the people we'd been enjoying the whole week long. Next year, 2020, already has a number of cruises on our schedules, but if we can make it back to this ship again soon, you'll bet that we'll look forward to seeing some of these talented folks again, on the Magic Carpet, in Eden, at the Martini Bar, and of course, at Oceanview Cafe.
Day 1 - Embarkation Day
Day 2 - Key West
Day 3 - At Sea
Day 4 – Costa Maya, MX
Day 5 – Cozumel, MX
Day 6 - Grand Cayman
Day 7 - Sea Day