Author: Bill September 1, 2019, Updated: September 1, 2021
Sea days are, to us, meant for relaxation, and that's exactly what we did with our first full day on Celebrity Equinox.  While relaxing though, we managed to check out glass blowing at the lawn club, lay down and enjoy the serenity of the Solarium, try out a specialty restaurant, and more!
Starting the Day Off Right with In Room Breakfast
If you read yesterday's live blog we ended with a cliffhanger (not just for readers, but for ourselves): Would we be able to be up in time for breakfast in the stateroom?  Well, I'm happy to say that we made it.  One of the perks of Concierge class on Celebrity is availability of a full breakfast (including omelets, pancakes, etc), delivered to your room in the morning at no additional charge.  Last night, just before 2:00am, we placed our order card on the door, and at 9:00a we got a call letting us know that breakfast was on the way.  I love that they called, as I'd originally set my alarm for 9:00 so I'd be ready for the 9:00 to 9:30 delivery window.
Just a few minutes after the call, a gentleman arrived with our breakfast of various eggs, potatoes, pancakes, fruit, coffee, and more.  It worked out nicely, and while we're not in a suite, we still had plenty of room for the two of us to enjoy our meal.  The only thing that could have been a bit better (but I totally understand why it's done this way), is that each item was plated separately.  In other words, two eggs over-medium, a piece of toast, and has browns?  That's three plates.  This gets to be a bit much, but I'm sure it speeds up their processing time and ultimately, we just consolidated some things without much hassle.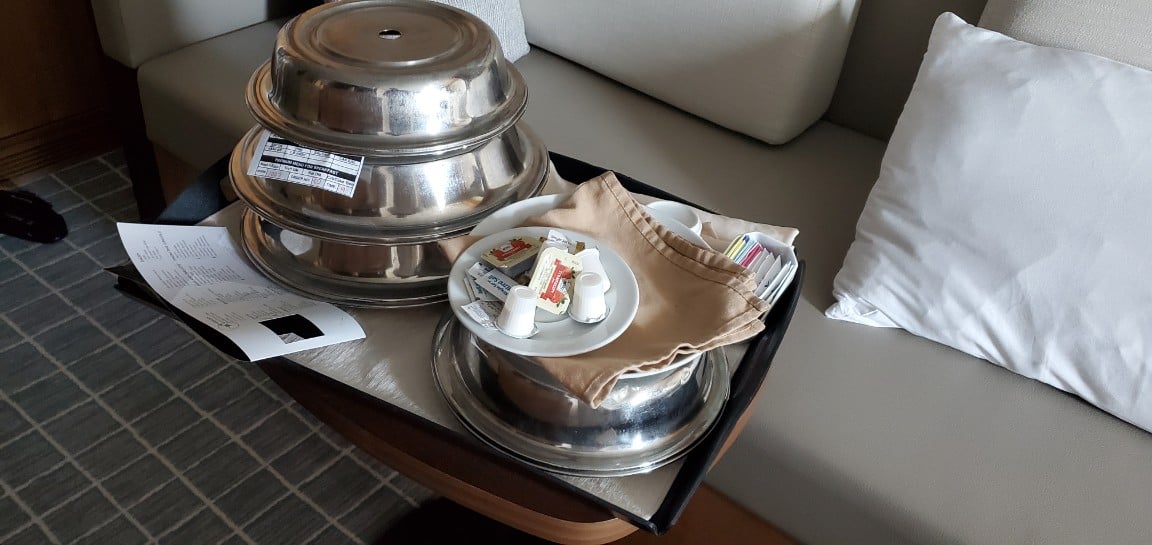 We're Up Early!  Time to Lay Down at the Solarium
Heading up two decks we found the solarium to be popular, yet with plenty of available loungers.  We secured two near a window and laid down.  Larissa read, while I relaxed and people-watched.  This was, without question, the most comfortable enclosed solarium on any Celebrity or Royal Caribbean ship we've been on (enclosed, so not counting Oasis class ships here).  Why?  It wasn't stuffy or overly humid like you're in an indoor hotel pool area.  The temperature was perfect (if not a little on the cool side when in total shade), and the beds/loungers were likewise helpful in aiding our much-needed rest…after getting out of bed.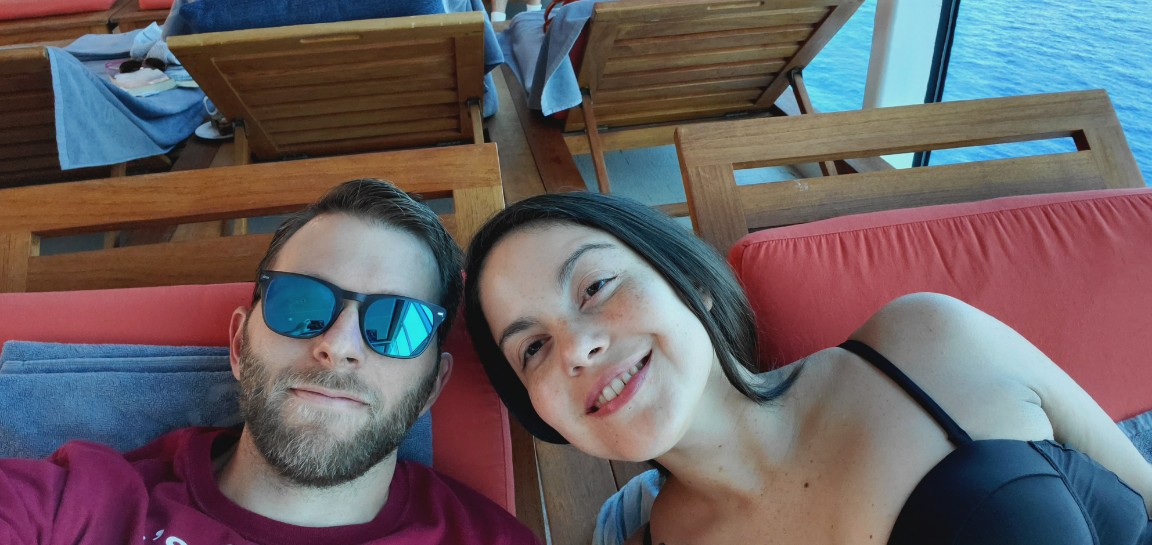 Celebrity Equinox's Gym
I don't always work out on cruises, but I try to on sailings of a week or longer, and after lounging for a bit I went for a run in the onboard gym.  Like the Solarium, it was well-used, but not at all crowded.  The treadmills were far fancier than necessary (with many touchscreen features that required an internet connection that they didn't have), but worked just fine.  I then used some free weights before finishing up my short (~40 minute) workout.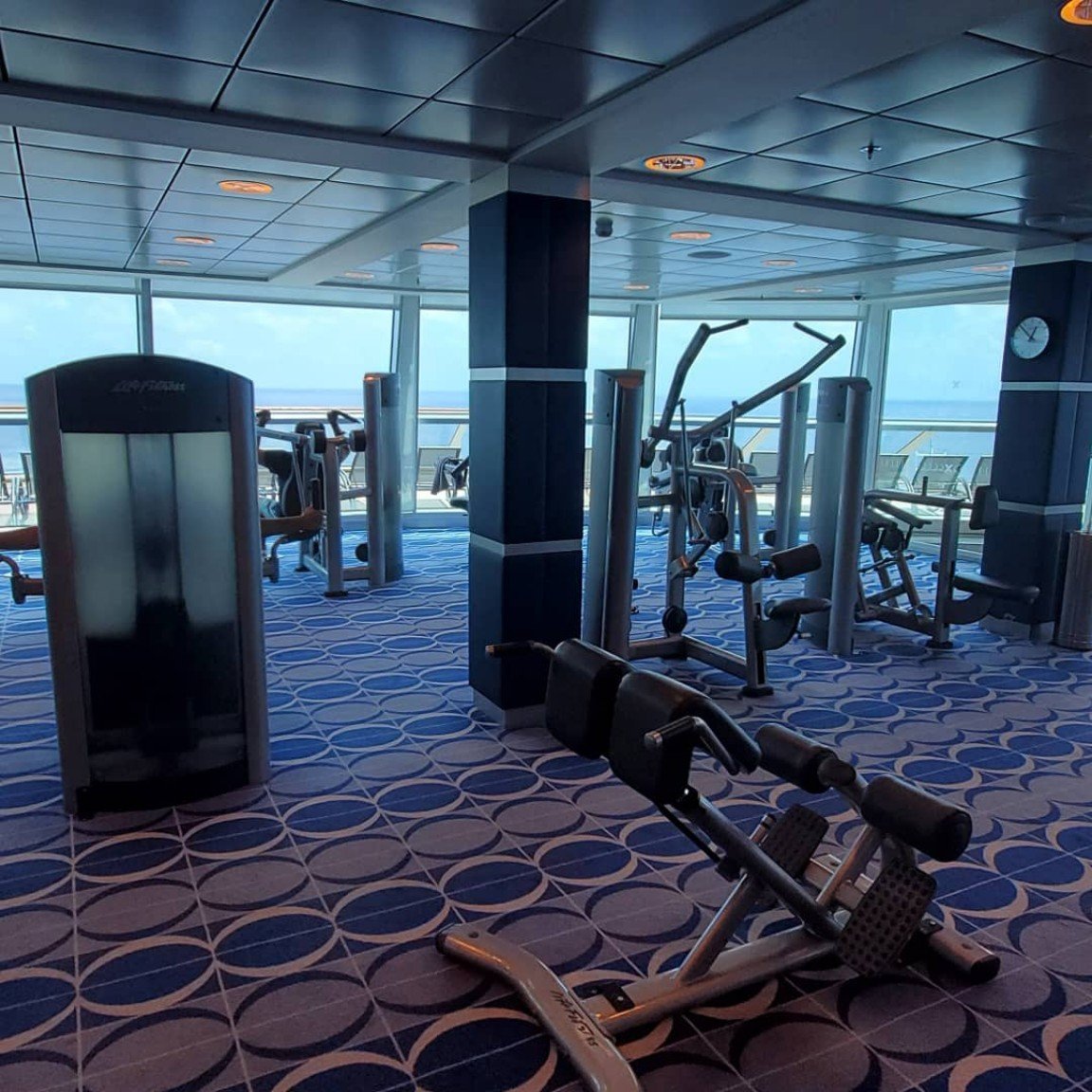 The gym is all the way forward just below the Sky Lounge, and offers beautiful views.  When done working out though, I recommend first, taking a walk out onto the small open deck that stretches across the forward windows to get some relief from the nice breeze, and then head inside to get a cool towel.  As we've found on other Celebrity ships, there is a small glass-faced refrigerator with ice-cold towels that feel great.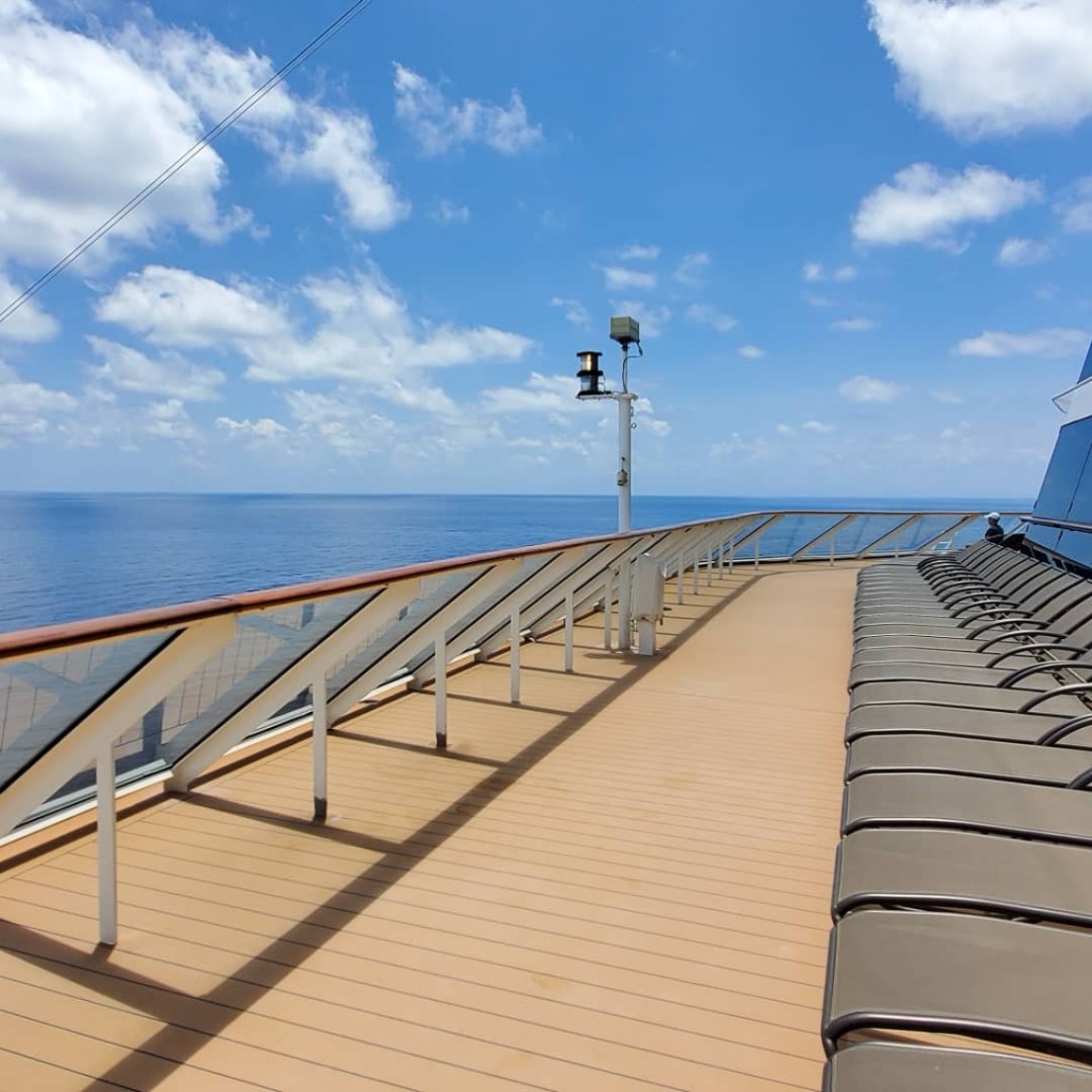 Sushi on 5
On land, we're vegetarians.  At sea however, I sometimes turn into a "sushiterian" – yeah, we're making that a thing.  A sea day post-workout sushi meal seemed a great idea.  Sushi on Five can be found on most Celebrity ships (if not all?) and is located near the atrium on Equinox.  They offer reasonably priced a la carte sushi and related options.  We ordered several rolls, some appetizers, and fresh wasabi prepared table-side.  If you're not familiar with that last part, the wasabi you usually get in restaurants is a horseradish paste died green.  It isn't bad (I love it), but real wasabi has a nicer flavor, though it's not as hot.  To make it, they take the wasabi root (which isn't cheap), and grate it to a paste with a special tool (traditionally sharkskin is used).  This was a nice touch, and a $10 add on – though you don't get much for that price.  It's still reasonable given what this can cost on land.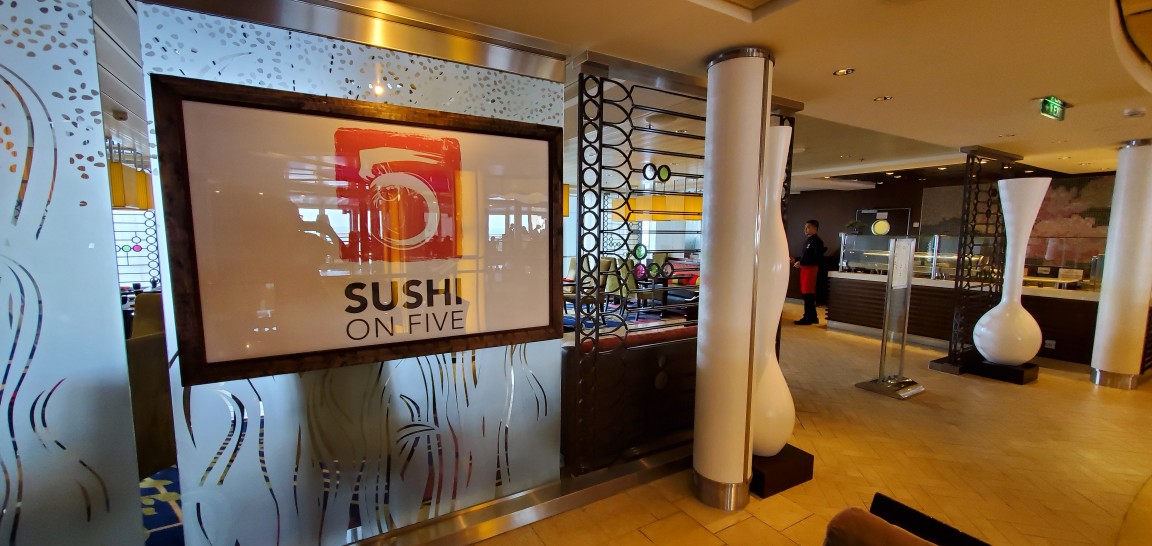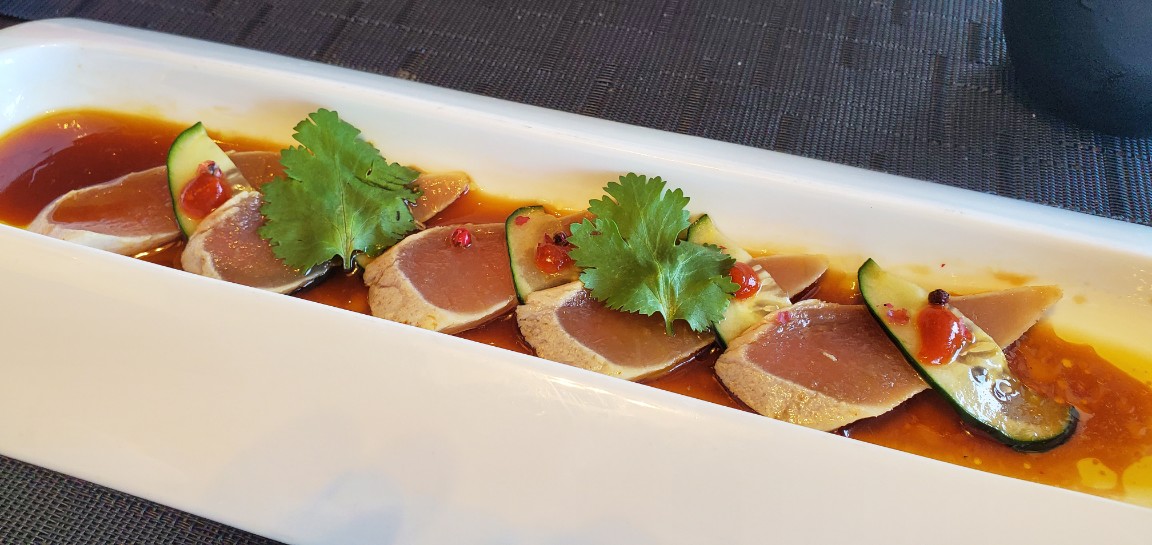 Al of our dishes were excellent, and Larissa tried one of their signature cocktails and some sake.  We also had some mochi ice cream for dessert.  In the end, it was a great lunch, and I felt like it was perfectly timed for us.  I'd rate this, strictly in terms of quality, as one of the better sushi restaurants I've been to on a ship.
Dessert Two…Billy Zero
Walking across the deck five atrium from Sushi on 5 to Café al Baccio for some espresso, I couldn't help but get a piece of raspberry cake they had in the display case.  Café al Baccio is the signature café on Celebrity ships, and in addition to coffee, they have a wide variety of complimentary pastries (and occasionally other snacks).  Consistently on Celebrity, some of the best desserts I have are at the café, and I've yet to sail a cruise line with desserts of this quality available outside of any restaurant.  In fact, it's become something I miss when not on Celebrity.
Glass Blowing at the Lawn Club
Soltice class ships have an area up top called the Lawn Club, which is an area with three sizable sections of real (and very well kept) grass.  This is something unique to this class of ships, and it's all the more remarkable when you see it, as it must be quite challenging to keep in good order.  Guests can lay in the grass and enjoy movies or concerts on a big screen in the area, or watch glass blowing demonstrations at the glass blowing theater by Hollywood Hot Glass - a South Florida business.  Anyone can watch (and it is impressive to see), or you can pay to have a one-on-one class where you actually make your own glass piece, which you can take home after a 12 hour cool down period.
The Lawn Club concept was a lot neater than I'd expected, but given the amount of work it must be to keep things up, I'm not shocked they don't feature this on more ships.  While it's on the high seas though, I'd like to see more done with it - and maybe we will during the rest of our cruise.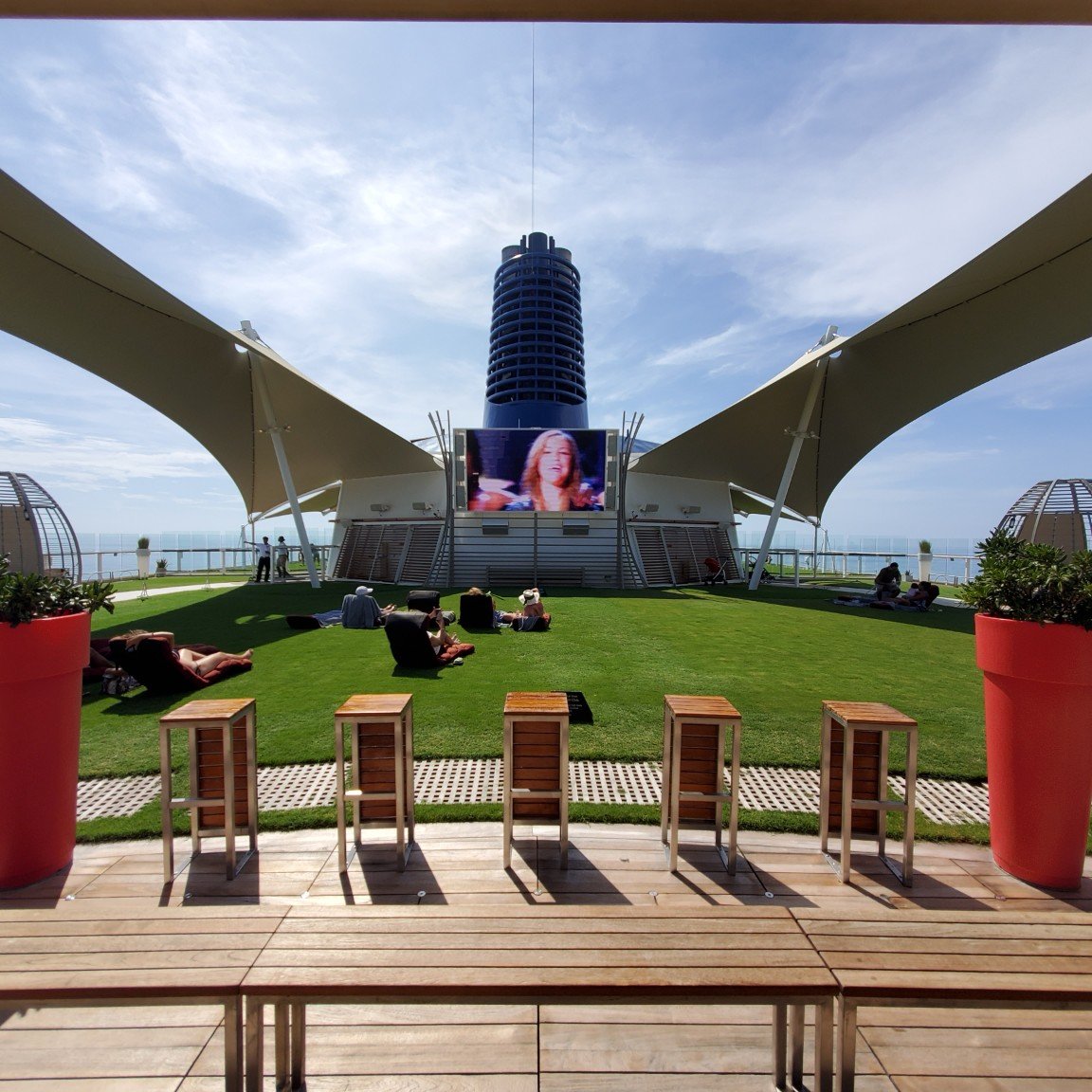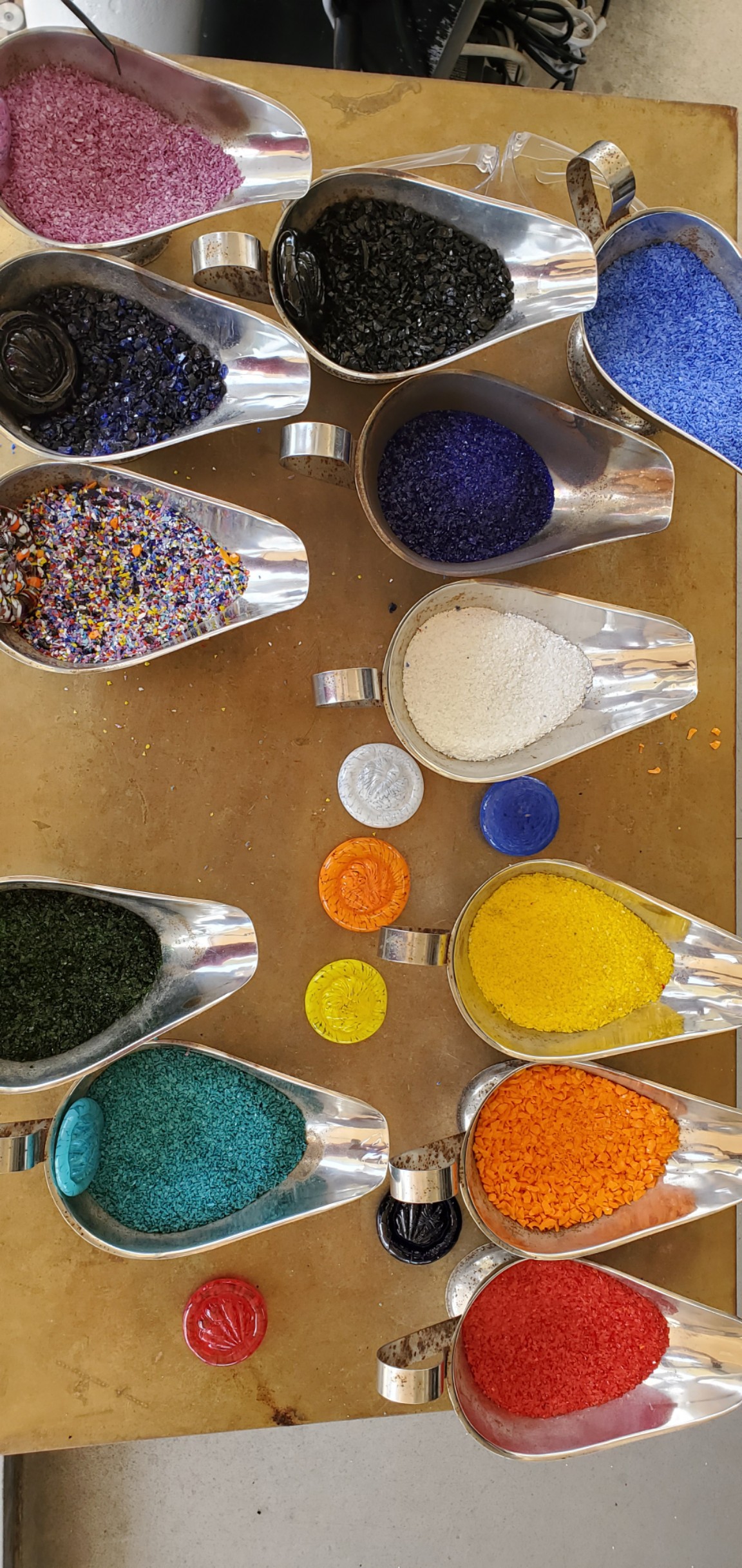 "Topper" in the Equinox Theater
Topper is a show about a gentleman in a hat who looks a bit like a cross between Johnny Depp's portrayals of the Mad Hatter and Charlie Bucket.  He seems to have a giant magical hat, in which he keeps a number of singing and dancer characters.  They're locked in as he doesn't want them to escape as he fears being alone.
Visually the show was spectacular, and the music is a multi-decade set of toe-tapping pop hits.  The talented cast however didn't often seem well matched to their strong suits.  I really enjoyed watching and listening (plus the acrobatics were impressive), but at every turn I kept thinking that if the talent was better matched to the roles, the energy would have been higher.  This just means that I saw an entertaining show that makes me excited to see the same cast in a different show.  It would have also been nice for some live music to have come into play, but I'm not sure there is space.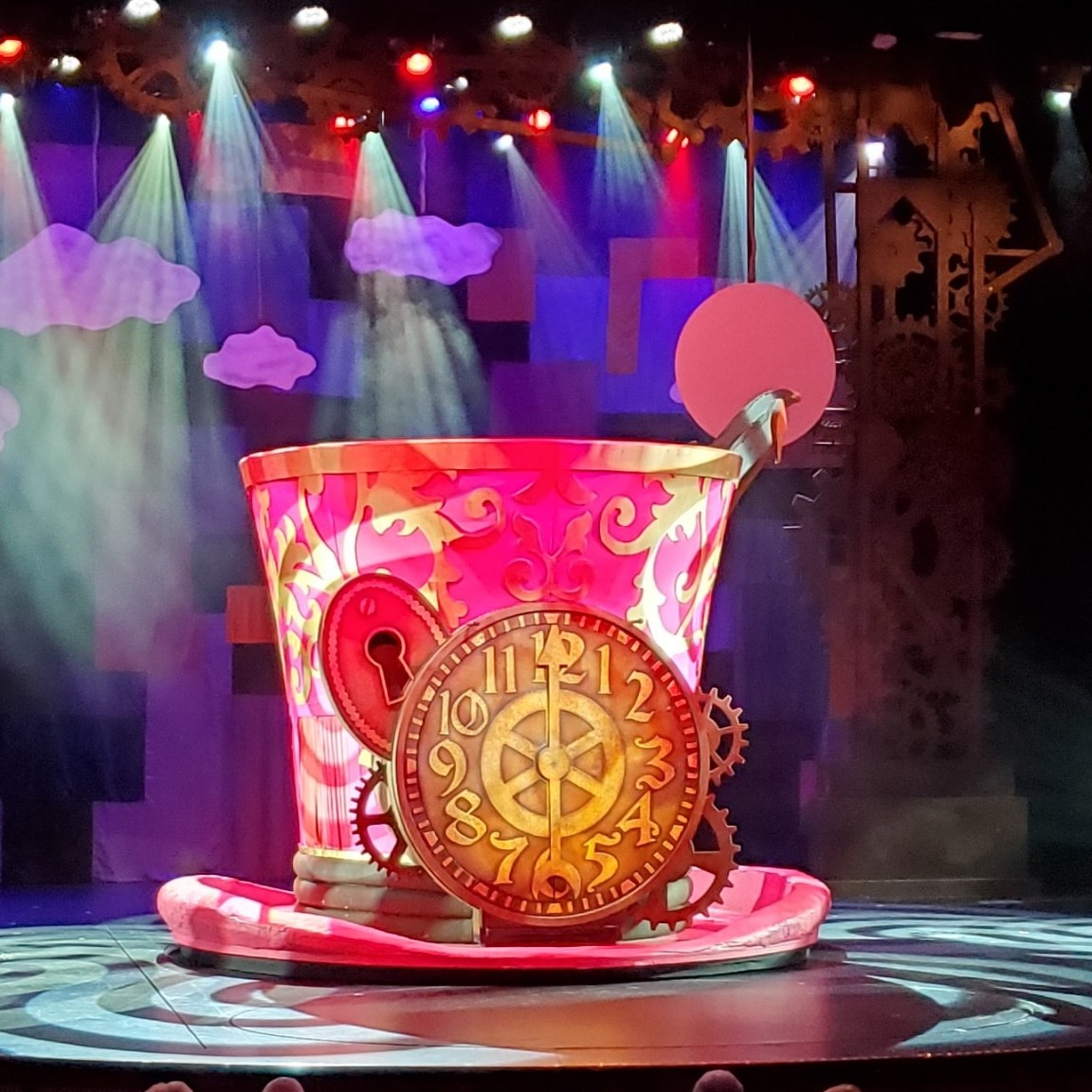 The theater itself has good sight lines (though there are several dreaded columns, which means some seats are almost useless), and the stage felt small compared to the high-tech and VERY wide stages we saw recently on Holland America Line's Nieuw Statendam and Celebrity Edge.  What was nice about this though is that the steeper rise to the two decks of seating meant most seats in Equinox Theater were much closer to the action than on those other ships.  Despite these differences, there were still advanced pulley systems and parts of the stage that sunk down and rose back to change scenery and perspectives. 
Dinner at Oceanview Café
After the show we were on the fence about going to the main dining room vs taking it easy and enjoying Oceanview Café, Celebrity's buffet venue.  Since we didn't have breakfast or lunch there today (which we usually would have done), and many from the theater were heading to the dining room, Oceanview it was.  There was a good variety, including a station of various meats on a stick, which seemed popular with officers and guests.  I opted for an odd but delightful variety of foods, and then tried out the custom stir fry station.  I'm often reluctant to get stir fry, as it can be far too salty, but in this case,  it was great.  I put whatever I wanted onto a plate, told the chef how I wanted it prepared (noodles, how spicy, etc), and two minutes later it was back in my hands.
World Class Bar: World Class Cocktails
When we sailed Edge earlier in the year we found all the bartenders in Eden were tenured at World Class Bar on Solstice class ships.  As I sit here now, the bar is located near the shops on deck five, and while small, has ample seating.  This is where the competition winners from bartending competitions are put, and these guys know their spirits and cocktails.  I learned more about bitters twenty minutes ago than I ever thought I'd know.  Fun tip: put some bitters on your hands, rub them together, and them smell your hands to get the aroma of a given mixture.  They're a tincture of sorts, so your hands won't be sticky after – they'll just smell awesome.
In addition to a signature cocktail menu, they've got several Islay scotches, which frequent readers know, is "my jam", as the kids say.  While sipping one of said spirits, a couple came up and struck up a conversation, and mentioned, without my prompting, how bizarre the upsell attempts were yesterday (see my day one live blog post).  One of the women ordered an old fashioned, which seems to be very en vogue on this ship.  It's also one of the signature drinks at Craft Social, the beer-centric bar one floor down.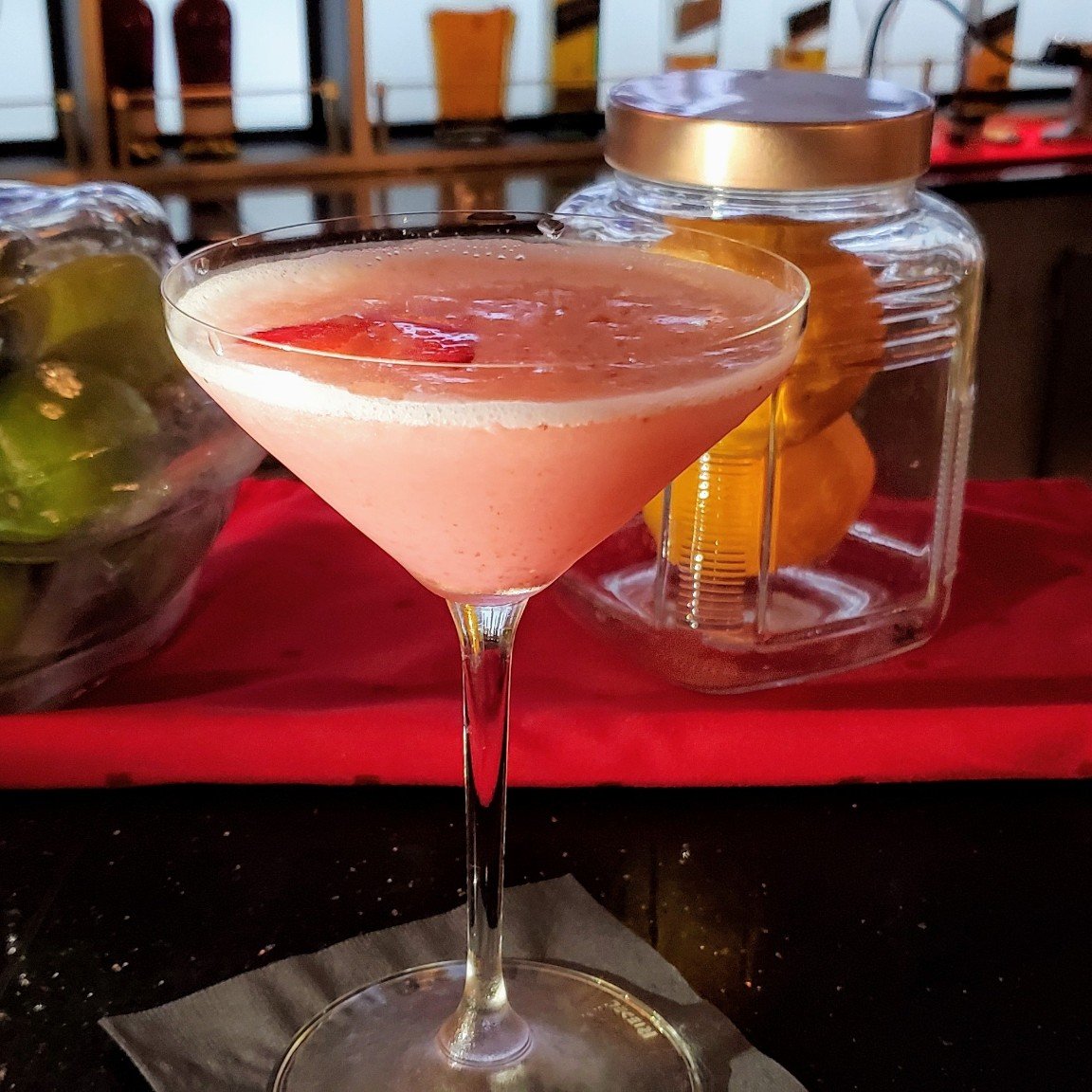 Tomorrow's Saint is John
Tomorrow at 3:30pm we arrive at our first port of call, San Juan, Puerto Rico.  This is the second or third time we'll be in San Juan at night, which has advantages as disadvantages.  As we tend to roam the old city, and it's cooler at night, this may work nicely for us.  We'd kicked around the idea of visiting the bioluminescent bay, but it's a bit of a hike from the port and I'm tempted to do this sometime when we sail out of San Juan - something we've not yet done, but would like to at some point.  
In case anyone is wondering, yes, San Juan was recently hit by Hurricane Dorian, but it was a category one (weakest category hurricane), and reports are that while there was some flooding, the city didn't have significant damages.
Be sure to follow along on Instagram, Facebook, and Twitter.
Celebrity Equinox Live Blog – Day 1 Embarkation
Equinox Live Blog – Day 2 – Sea Day
Celebrity Equinox Live Blog Day 3 - San Juan, Puerto Rico
Celebrity Equinox Live Blog - Day 4 St Thomas
Celebrity Equinox Live Blog - Day 5 Tortola, BVI
Celebrity Equinox Live Blog - Day 6 - Sea Day 
Celebrity Equinox Live Blog - Day 7 - Sea Day/Freeport