Author: Bill September 5, 2019, Updated: September 1, 2021
Vacation often requires tuning in a balance between doing everything, and relaxing, which may mean doing nothing.  Today we continued striking what has been to me, a good balance, but it meant the day went in an unexpected way – but turned out great.  Our time on shore in Tortola, the evening's show, and dinner all came together nicely.
Two Attempts at Waking Up
We scheduled room service breakfast for 8:30 to 9:00 and it arrived promptly at 8:30. This was actually a bit later than the last couple of days, but we needed to catch up on sleep…so it seems.  After eating breakfast and having a bit of coffee, we laid back down and napped for another hour or so.  We then leisurely got ready to head ashore – but our Tortola agenda was blank.
Spontaneous Tortola
Originally the plan in Tortola was to visit Jost Van Dyke, another island in the British Virgin Islands.  The problem is that the excursion started entirely too early, and we'd not planned far enough ahead to work out a good alternative.  Starting the day off late, and without a tour booked, I'd largely resigned myself to short walk through town and nothing more. 
At an information booth as the port I saw some island tours, and one of them was two hours around Tortola by car, without beach time (we weren't looking for any), for $20 per person.  Despite it being late in the morning, when we headed to the taxi stand (which seemed to be the staging area of sorts for these tours), they assured us they'd have enough people in just a few minutes.  Following a brief wait (during which I sought an ATM, realizing I'd left most of my cash in the room safe) we were off with around a dozen of us.
The car/truck was a full-ton frame truck with bench seating in an open air (but covered) back – typical of many tour busses in the islands.  Our driver/guide, Courtney, said he'd lived in Tortola his whole life, and I'd guess him to be in his early fifties.
As we headed from the port up roads that never ceased to be steep, winding, and just wide enough for a child's tricycle, Courtney pointed out some landmarks, explained the history of the BVIs, recent events, and more.  It was quite hard to hear him while we were on the move, but it worked as he generally stopped for anything particularly noteworthy.  We pulled over a number of times to take phots and learn more about the area.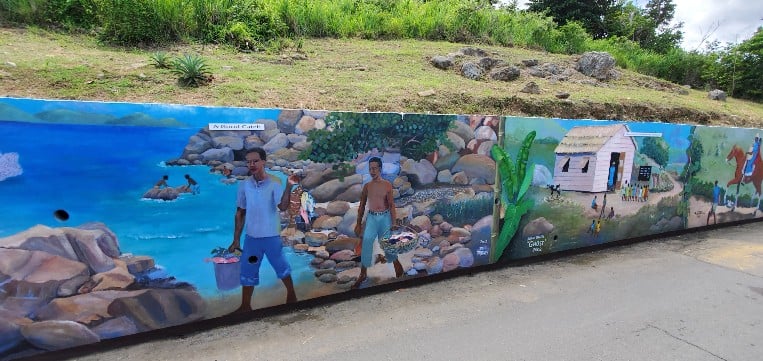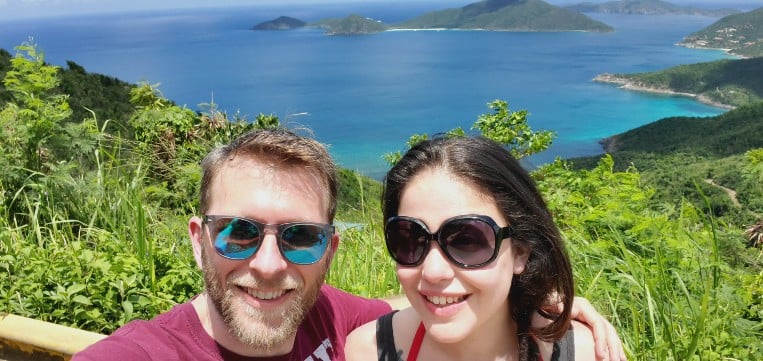 Our journey took us near the highest point on the island (around 1700ft), and on both he Caribbean and Atlantic sides.  The views were absolutely spectacular – perhaps some of the prettiest vistas I've take in anywhere in the Caribbean.  In addition to stopping for pretty views, we stopped a couple of times at small shops where drinks could be purchased, people could use the restroom, etc.  While the driver clearly knew the shop owners, there was zero pressure, and they were actually fantastic spots for a break.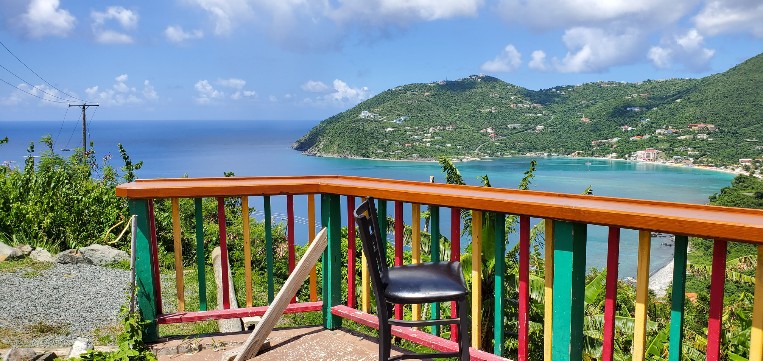 Additionally, we made a fifteen-minute stop at a local rum distiller, Callwood, which had been operating for generations.  Once again, there was no pressure, but we tried four rums for $1, and wound up buying a small bottle for $12.  The one we decided on was VERY sweet, but we fully expect to use it on pancakes, or perhaps rum cake.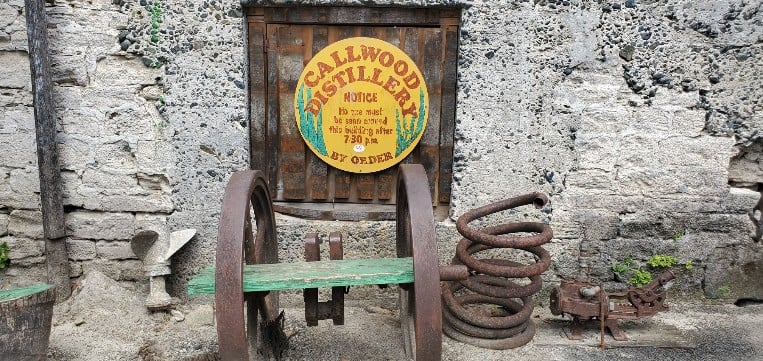 The final stop before returning to the ship was at Cane Garden Bay, a section of beach with some small hotels and rental homes, restaurants, etc – but definitely toned down compared to what might come to mind when picturing such a spot.  It was a beautiful stretch, and a place I could definitely see the appeal in staying at for a couple of days.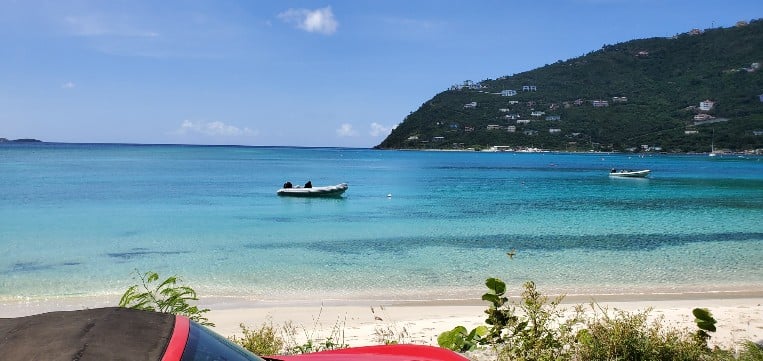 In the end, the tour was actually closer to three hours, but I should mention that at the start, the driver asked what time we wanted to be back at the ship – ensuring a safe margin.  As I've discussed when going over the benefits of sponsored vs third party excursions (both have their merits), that a timely arrival was absolutely critical, but he also wanted to make sure we could see and learn as much as possible.
A Quick Bit at Mast Grill
Back on the ship, we had plans for sail-away, but desperately needed lunch.  The odd hour (3:00pm or so) meant that the Mast Grill was our best option.  This poolside spot has burgers, hotdogs, fries, and toppings. 
While I like the topping options, I've got to say the quality was a bit disappointing.  I've long had low expectations for spots like this, but Oceania and Holland America Line have shown me that these spots can be done really well, offering appetizing options rather than a spot you go to when you say, "I guess I'll just get a burger".
Sail-Away from the Bow/Helipad
Like on most ships (though not all), the bow of the ship is off-limits to guests.  In this case though, concierge guests were invited to enjoy sail-away from this space all the way forward on deck six.  Champagne, water, and cool towels were provided as guests mingled with officers and staff.  It was sweltering at first, but once we were underway there was. Nice breeze.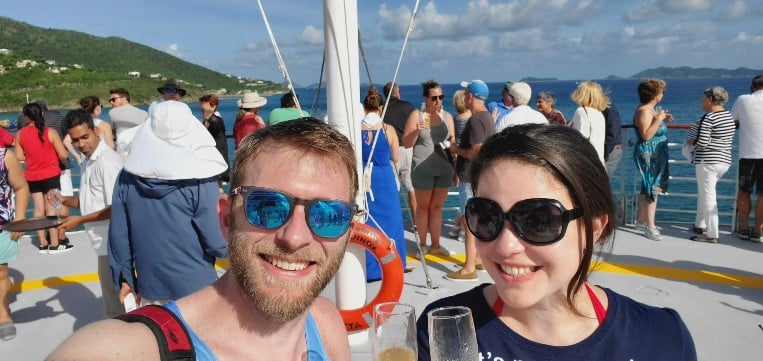 This perspective and experience would be welcome in any port, but I think it's particularly great in the Virgin Islands and other dense and mountainous archipelagos, as there are beautiful natural sites in every direction you look – and it lasts for quite some time after pulling away from the dock.
I did quick videos on both Periscope and Facebook during this sail-away, so head over there and check it out and try and spot people acting out the "king of the world" scene in the background.
From Day to Night
At this point in the day I desperately needed a shower, which worked out nicely since I could then get ready for dinner, entertainment, etc.  Once I was deloused and changed I also went for some espresso, and, if your following along with our cruise, you probably guessed, cake.  Today I went for a baked cheesecake with fudge chunks.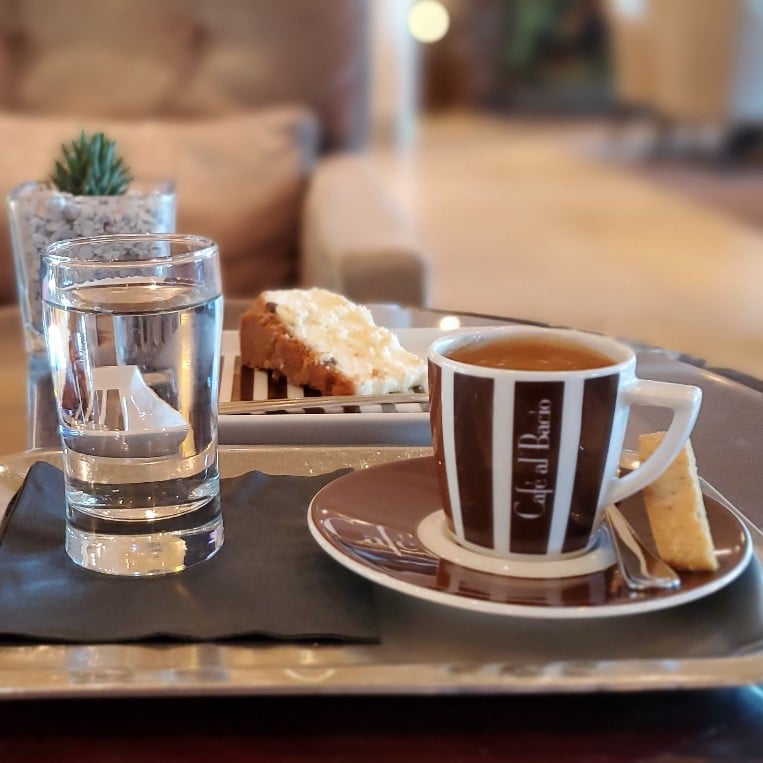 During this time, I think I recorded a time-lapse of the sun setting from our balcony, but I know realize my camera is still out there, and I'll have a fun surprise seeing what I captured, hopefully before our November cruise ("Why is my memory card full?").
Jesse Hamilton – Come Croon with Me
In the Equinox Theater tonight, was a singer that just boarded the ship today.  The cruise director sang his praises last night (no pun intended), and mentioned his credentials on and off Broadway, including a six-year run as Scar in the Lion King.
This show was a compilation of multiple genres of music, and this guy has an amazing voice, which seems as comfortable belting disco as it is singing the standards.  Beyond his impressive vocal talents, he is a fantastic showman, interacting with the audience, keeping the energy up, and ensuring everyone was having a good time.
While I was apprehensive at first about dedicating 45 minutes to a single singer (and the onboard orchestra – all of which seem quite talented too), in the end I felt it was a really jaw-dropping performance that was more than worth my time.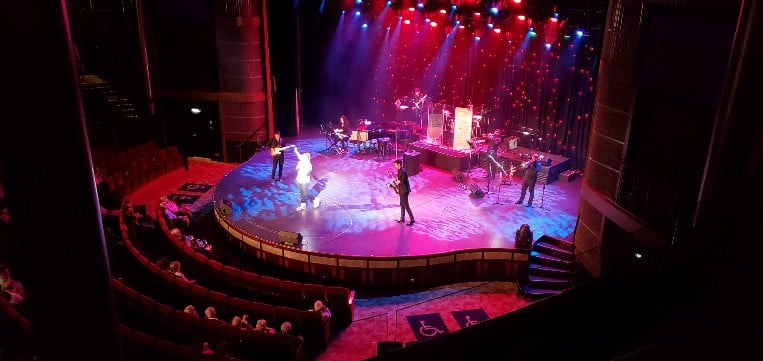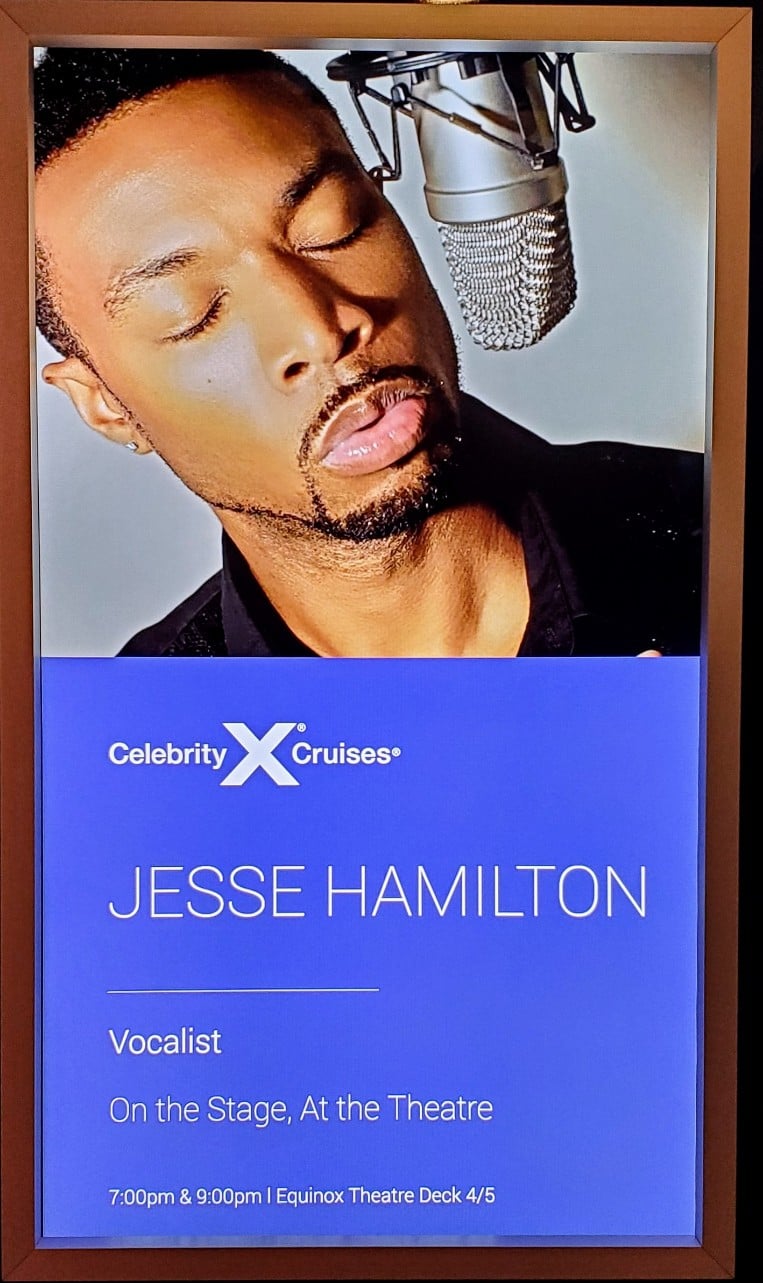 Qsine – Featuring La Petite Chef
Qsine has been on some Celebrity ships for some time, and was a specialty restaurant with n experience in a similar vein to Wonderland on sister company Royal Caribbean.  Recently though, as part of Celebrity Revolution, they partnered with several companies to provide an animated dinner show that takes place on your table (and plate), and that experience is now found in Qsine.
Check out Ric's Summary of La Petite Chef and Friends on Celebrity Edge
If you've heard about La Petite Chef and Friends in Le Grand Bistro on Celebrity Edge, this is very similar, though the story line is different.  I found the story line to be more robust and fun (a cooking competition between different chefs) in La Petite Chef and Friends, but I think if I'd not seen that before I'd not have felt that La Petite Chef as it is found on ships other than Edge, is lacking in any way.
The menu is fixed, and I can't speak to the food, as the vegetarian menu was completely different than the standard menu (which is surf and turf).  For us though, and in both of our La Petite Chef experiences, it was not about the food (which we found to be okay), but the show and experience.  It's something so different that I really do think that despite the $55/person cost, everyone should try it once, and I look forward to them coming up with additional variants as time goes on.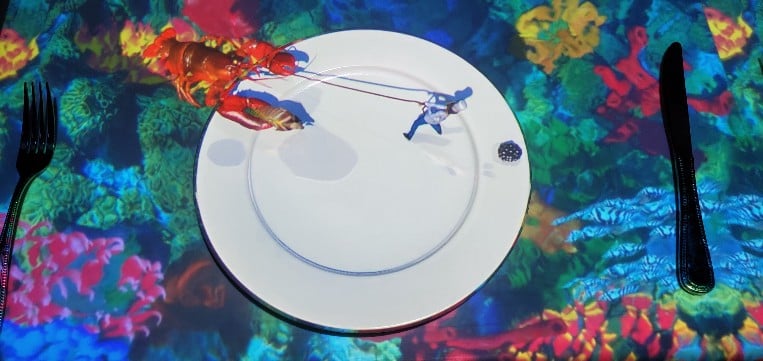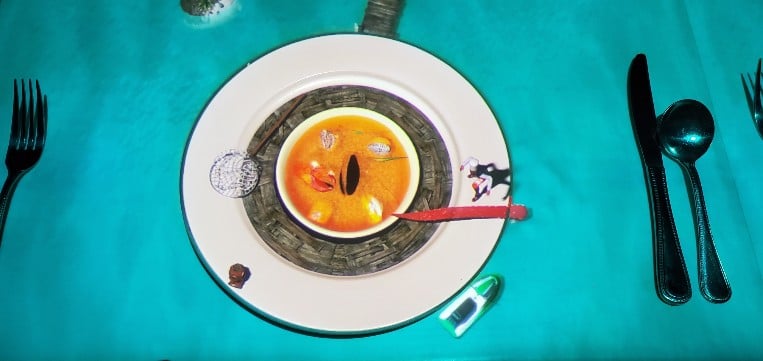 Things I Like More Than Visiting Great Ports: Sea Days
I welcome exploring new places all over the world (including your back yard), but man do I like sea days, especially on ships offering as much as Equinox.  Yesterday we did Broadway Trivia, which I forgot to mention in the blog (just know that while we did well, we'd have done WAY better if Marissa was here).  Larissa did live band karaoke, and more.  Tomorrow being a sea day means the schedule (easily visible and savable via the Celebrity app) is packed with things to do, and if we can get up in time, a backstage theater tour is one thing we're looking forward to – but I'm sure many more things will come up.
A Note About the Celebrity App
The Celebrity app allows guests to read through the daily events (and save items to their calendar), making dining reservations, check folios, book excursions, and more.  It also has a chat function that allows you to chat with new friends and old, as long as you're connected to the onboard WiFi.  On revolutionized ships (like this one), you can unlock your stateroom door, and on Edge you can control your stateroom lights, A/C, TV, and blackout shades.  The app and it's use are complimentary – you don't need to purchase internet access to use it.  It is also worth noting that the Celebrity and Royal Caribbean apps are identical, except one has Celebrity logos, and the other – well, you get the point.
Want lots more photos and info from this and other cruises?  Follow us on Instagram and like us on Facebook!
Celebrity Equinox Live Blog – Day 1 Embarkation
Equinox Live Blog – Day 2 – Sea Day
Celebrity Equinox Live Blog Day 3 - San Juan, Puerto Rico
Celebrity Equinox Live Blog - Day 4 St Thomas
Celebrity Equinox Live Blog - Day 5 Tortola, BVI
Celebrity Equinox Live Blog - Day 6 - Sea Day 
Celebrity Equinox Live Blog - Day 7 - Sea Day/Freeport