Author: bill April 30, 2017, Updated: January 12, 2019
Frequent readers may have heard me gushing about Oceania before, a cruise line that, while not inexpensive, offers a tremendous value and a cruising experience that will leave most thinking they've reached the proverbial top of the mountain.  One of their ships that we've been lucky enough to sail on is Oceania Regatta, and recently, we went back on board for a brief visit.  Let's look at a little Oceania history, the ship's amenities, and wrap it up by discussing the combination of factors that put the 30k gross ton Oceania Regatta on Billy's list of favorite ships.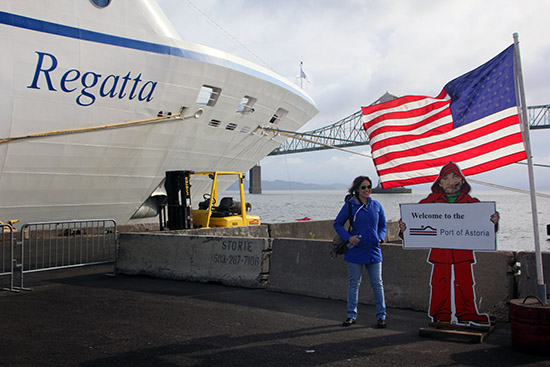 A Brief Explanation of Oceania History & R Class Ships
Oceania Cruises is an upper-premium/lite-luxury line founded in 2002 by Joe Waters and Frank Del Rio, who is now the CEO of Norwegian Cruise Holdings (which includes NCL, Regent, and Oceania).  Del Rio was previously Vice President at Renaissance Cruises, which filed for bankruptcy in 2001.  When that happened, several of their "R Class" ships were sold to a company known as CruiseInvest, and subsequently operated by Oceania Cruises, with others going to Pullmantur, Princess, Swan Hellenic, and Delphin Seereisen.  The first R Class ship to sail for Oceania?  The Regatta (though at first, she was called Insignia - which is now a different R Class Oceania vessel).
As a line Oceania offers an experience that we believe most guests think out of reach, available only on the likes of Silversea or Regent (a sister company to Oceania, by the way).  There is a lot about the experience on Oceania that is subjective or difficult to quantify, but there are some numbers we can put up.  Let's compare passenger-space and passenger crew ratios between Harmony of the Seas and the Oceania Regatta:
Harmony of the Seas: 2.38 passengers per crew member, 41.4 gross tons of ship per passenger
Oceania Regatta: 1.77 passengers per crew member, 45.3 gross tons per passenger
The above numbers mean that Oceania offers more space and more service for each and every guest, and trust us, it shows across the entire Oceania fleet with their "anticipatory service".  Now, let's take a look at the first ship in Oceania's fleet, which to me, might still be the best - of course we always welcome more testing. :-)
Dining
Every cruise line talks about their dining as if it's the greatest food ever prepared - and there are many great options for dining at sea.  Oceania however indeed delivers some of the greatest meals around.  In fact, Jason Leppert of Popular Cruising said last year of the Oceania Riviera that they serve what is, "...collectively, the best food [he's] ever enjoyed on a cruise ship."  Having dined in every venue Oceania has to offer on their R and O class ships, we would tend to agree.
Regatta's Grand Dining Room is a beautiful and open space - just one deck, as remember, this is a much smaller ship than what you see with contemporary lines.  The styling of the space is not what you'll see on a contemporary line, though it's not meant to mimic the feel of great ocean liners, which sometimes leaves other ships feeling a bit gaudy.  
Sample Grand Dining Room Dinner Menu
Sample Grand Dining Room Dessert Menu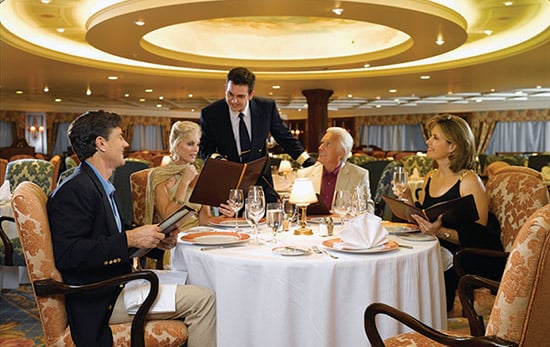 The food itself, as mentioned, has yet to disappoint.  On my recent visit I sampled a number of items, including several vegan selections, as Oceania recently released over 250 vegan options and raw vegan smoothie bars, which you can read more about in our recent post.  Dining with several new friends the hit, pictured below, was the Den Miso Glazed Seabass, wrapped and cooked in hoba leaf and severed with steamed basmati rice.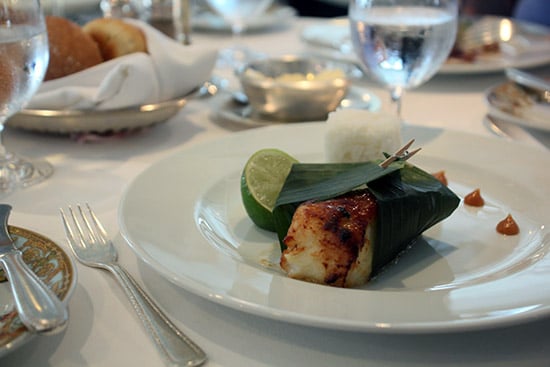 For dessert Regatta's dining staff, which is incredibly friendly and accommodating yet nearly transparent in that you never feel bothered, served up Papuan Chocolate Volcano with a passion fruit heart and caramel lava.  I have a major sweet-tooth, but still find that some deserts rely too heavily on simply being sweet without regard to flavor and texture.  Not this time.  If the dessert, pictured below, was not so delicate, I'd have asked to take another one with me.  The Combination of the light cake, creamy passion fruit, and rich caramel left me wishing only that this pyramid was life-sized.
In addition to the Grand Dining Room, Regatta offers​ Polo Grill & Toscana, specialty dining venues found on all of Oceania's R Class ships, though there are a few changes and additions on Sirena.   It should be noted that these restaurants are complimentary, carrying no additional cost.  The only restriction is how many times per sailing you can dine there, to ensure everyone is accommodated.  That in mind, you can always ask, and will be welcomed as long as there is space.
Located high on deck 10 aft, these venues sit next to each other (attached by an inconspicuous path, in fact), one starboard, one port.  This means they both offer views of the sea out of large windows.  Polo Grill (starboard side) specializes in steaks but has a variety of options.  The dark decor does feel more like an exclusive club than a dining room on a ship, and the walls are adorned with black and white photos of the Hollywood elite of a bygone era.  
Sample Polo Grill Dessert Menu
Polo Grill Scotch & Whiskey Menu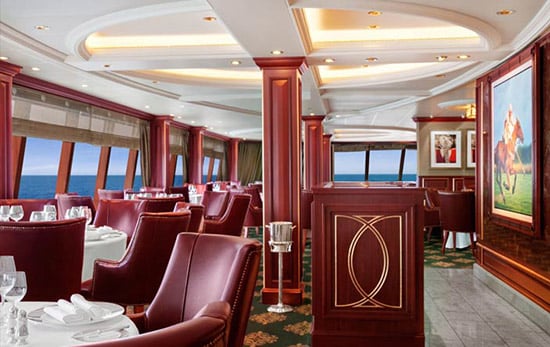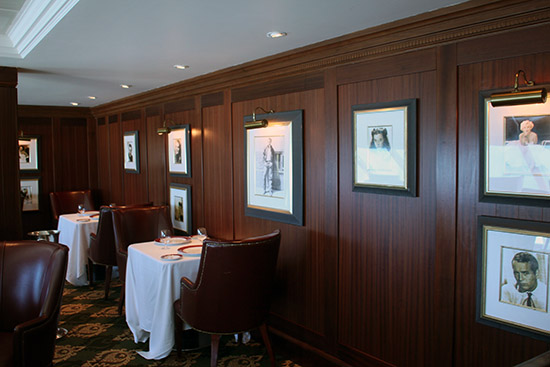 This is also where, two years ago, we shared a fantastic shot as we sailed through the Inside Passage of Alaska, a shot we wanted to recreate on our visit, but found the view of PortMiami to be sub-par in comparison to Alaska, to say the least.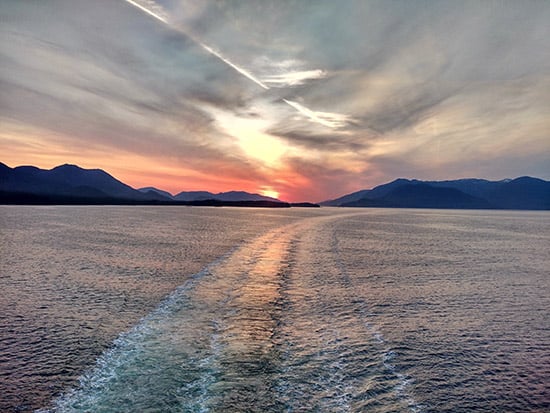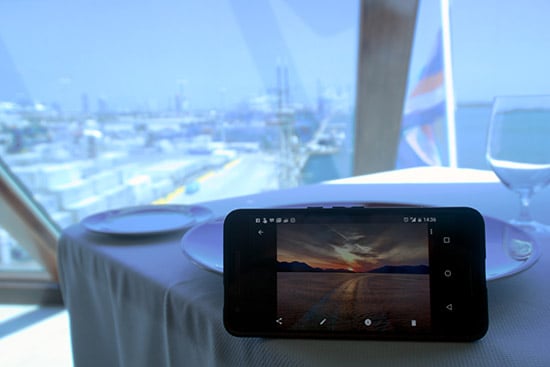 Each of the two specialty venues feature a small lounge (which we like, but have never had to use as we've not been asked to wait for a table on Oceania) as well as a bar.  The Polo Grill bar is a fantastic place for a good scotch - though is there really a bad place?  We've got a few photos below, but more of Polo Grill (and other areas) can be found in gallery at the bottom of this page.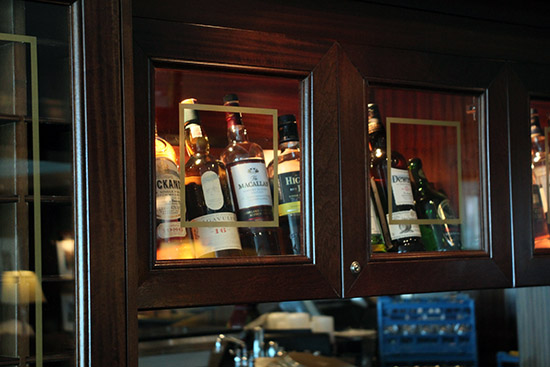 Toscana sits opposite Polo Grill on the port side and is decorated in much lighter colors.  Offering authentic Italian cuisine, Oceania says their menu started with recipes borrowed from Italian crew-members' families, a tradition which caries on to this day.  We personally find Italian food to be something that many places do an okay job of, but Toscana is impressive; great food and service comes together to offer an experience, not just a meal.  In fact, every meal in Toscana starts with selecting your olive oil and balsamic vinegar from a cart with over a dozen options.  Anyone who thought that all olive oil was "mostly the same" should experience at least a few of the options - our favorite is Ardoino Fructus, a pepper infused oil, from Italy of course.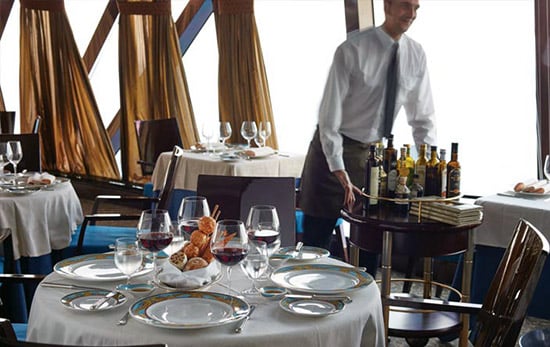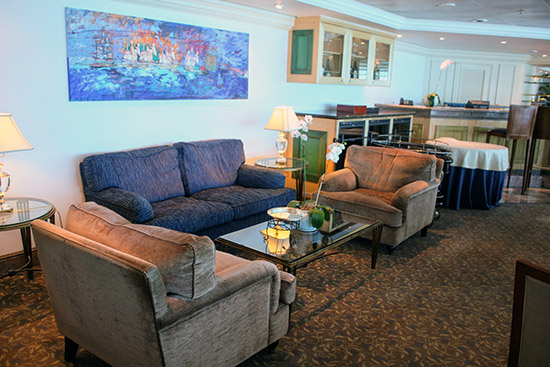 While all Oceania sailings have a dress code of "country-club casual", you still want someplace you can show up after a swim, or casually serve yourself.  For these times Regatta offers a buffet venue and a pool grill - both found on deck 11, aft of the pool area.
Don't let Terrace Cafe fool you. This spot is one of the least "styled" onboard Regatta, though still quite pretty, and we love what they did with the outdoor seating area several years ago.  It's understated looks hide not a typical ship buffet offering, but cuisine that has, each and every time, exceeded what you'll find on many ships in the specialty dining venues.  Many items are cooked to order, and when items pre-prepared they're only made in small batches - everything is fresh.  Each meal carries a theme, but the variety is great.  Carving stations, salads, amazing soups (seriously, only the QE2 Queen's and Princess Grille offered competitive soups), and rich deserts - nothing feels banquet hall about this dining experience.  While dining in Terrace Cafe you'll also find the service equals that of other dining venues on the ship - with plenty of staff ready to tend to your every need.  This is just one of the advantages of being on a ship with not only a high standard for service, but an unusually high passenger to staff ratio.
Sample Terrace Cafe Lunch Menu
Sample Terrace Cafe Dinner Menu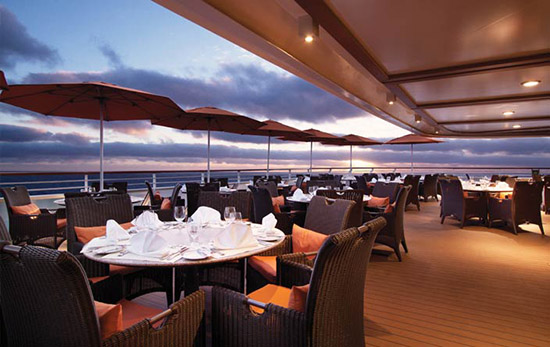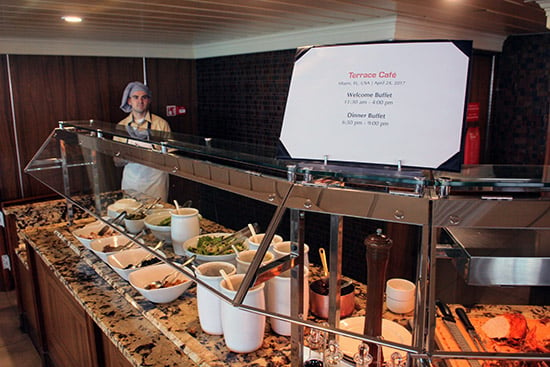 We don't usually consider ourselves "hamburger and hotdog" people, but stepping over to Waves Grill, just feet away from the pool you'll find an experience far from just "hamburgers and hotdogs".  They offer a menu of grill items, ranging from your average burger and fries to The Maguro, a soy and ginger marinated cut of ahi tuna, seared rare with wasabi-garlic mayonnaise.  The Maguro, in case you're wondering, is the best thing we've ever had that's come off a pool grill.  They even serve up surf & turf, with grilled lobster medallions, filet minion, and truffle fries.  In addition to the grill items, there is a small buffet area with fantastic fresh fruits and vegetables, salads, and sides.  Need something sweet?  The venue has it's own ice-cream and gelato area, serving up great shakes, in addition to other dessert options.  Of course through all these great options, the same fantastic service follows you - no need to compromise on experience just because you're not in a dining room.  This fantastic spot for something quick and easy is during the day, though we've seen it open for breakfast as well, and is certainly not a family-party cruise pool grill.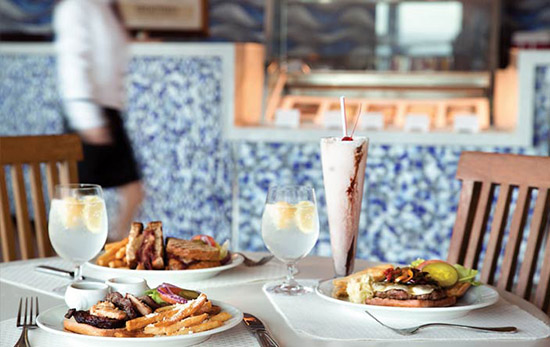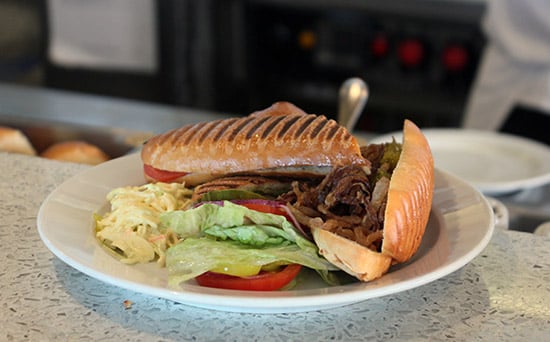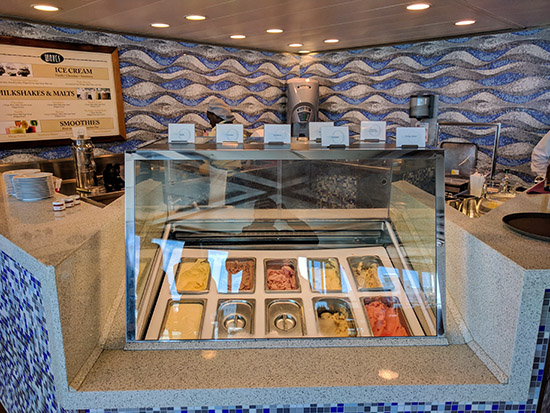 Lounges & Public Spaces
Like any ship, Regatta has a number places to relax or take in a performance.  From a quartet above guest services and adjacent to the shops in the quaint two deck atrium, to Horizon's lounge, the decor in many of these spaces will impress guests not because it stands out, but because of how elegant yet comfortable the decor makes the spaces feel.  What one quickly takes notice of is that none of the spaces are terribly large - they don't need to be, yet you never feel crowded.  This is probably helped by having so many little nooks in which to relax or socialize.  Even the casino (where smoking is *not* permitted) has an intimate seating area that we've found quite relaxing on multiple occasions.  There isn't a bad looking place on this beautiful ship, and you can check the gallery at the bottom of the page for more (and higher resolution) photos, but we did want to point out a few areas that stand out.
As soon as you board Regatta you enter the atrium at the Grand Staircase, which doesn't need to span seven stories like some ships, and sits by Guest Services, Destination Services, leading to the shops above, onboard sales desk, and a small balcony where a quartet and sometimes a pianist set a relaxing tone.
Regatta's library, with forward facing windows, is a fantastic spot to borrow a book and kick back, but the ceiling in this room is what we love.  Recently, Billy's father may have caught a short nap while looking up at this on Regatta's sister ship, the Sirena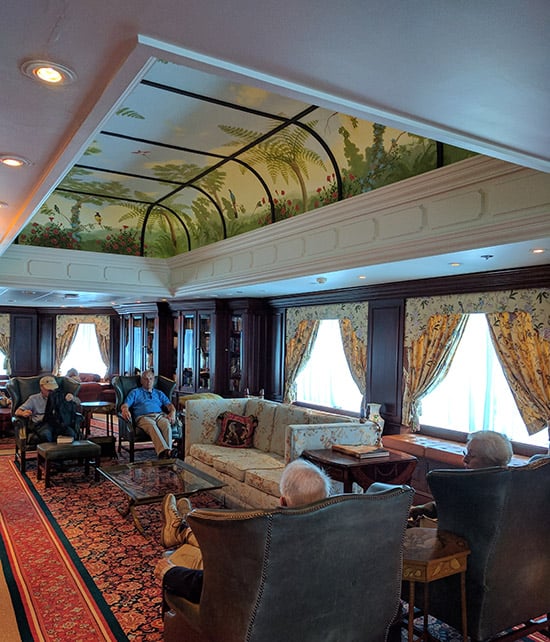 Where is this elegant refreshment station?  Perhaps near a lounge, or waiting to enter a dining room?  No - this is in Regatta's Spa and gym area.  No detail is overlooked in any space.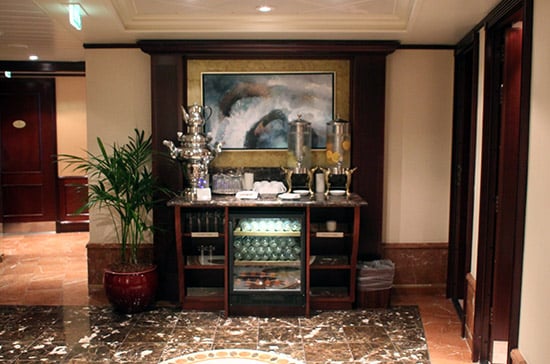 Even the stairs have incredible art and style, each landing with a theme.  This landing of course features prints by the great Pablo Picasso.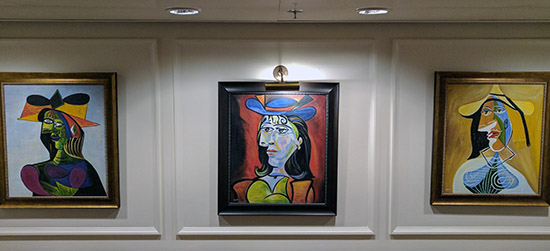 We aren't gamblers, but as mentioned, Oceania does not allow smoking in the casino (in fact, they've got among the most restrictive smoking policies of all cruise lines), so this means we can enjoy Martinis, the casino bar specializing in - well, martinis.  The bar has comfortable seating, and a lounge just steps away has a very "living room" feel, with an interesting combination of decor we'd say is somewhere between "old country home" and "elegant hotel".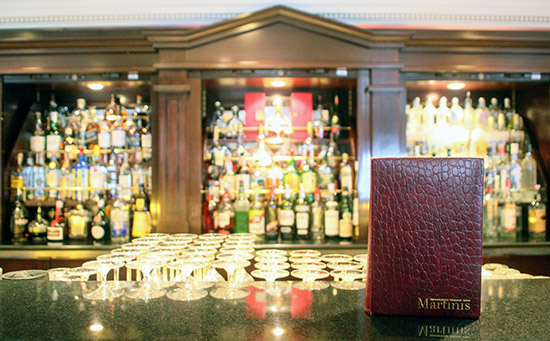 Baristas is Regatta's coffee bar, serving excellent quality coffee drinks, all of which are complimentary (unless they include liquor).  The venue is conveniently located just forward of the Grand Dining Room, so you can easily stop by before or after a meal.  While it is not a full service bar, we did find that after asking nicely, they were glad to keep our favorite scotch here as we became frequent visitors.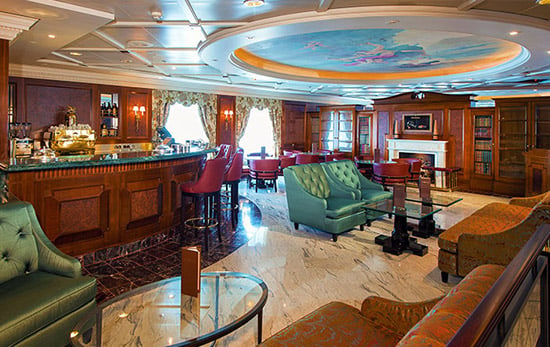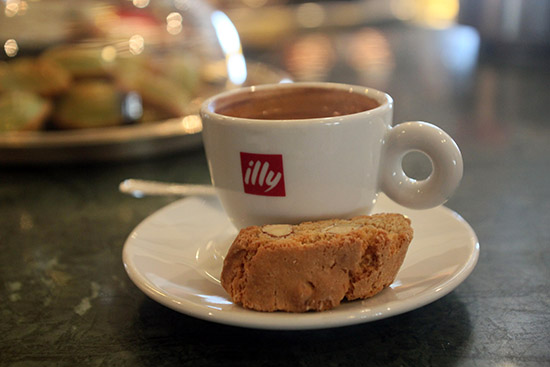 Every ship should have an observation lounge, and on Regatta this is Horizons, located forward on deck 10.  Often a quiet place to relax, the last place to close shop at night, and sometimes featuring live music, this is where we spent most of our "non-eating" time.  Actually, we had some nice snacks here as well, as this is also where afternoon tea is served, which is a real treat with white-gloved servers offering up tea, sandwiches, and more dessert than any human should have access to.  The views here are terrific by day, as the company is at night.  More than once we noticed that the staff was happy to keep the bar open as long as there were passengers enjoying the space, even into the early hours.  One of our favorite features however, which we wish more lines would replicate, is the smoking area.  As mentioned, there are limited smoking areas on Regatta, and Horizons has the only indoor place to smoke, yet doesn't disturb non-smokers.  How?  The smoking area is enclosed in glass on the starboard side near the entrance.  We were disappointed however to find that the beautiful brass telescope no longer sits near Horizon's large windows - it was an eye-catching piece, but also quite functional.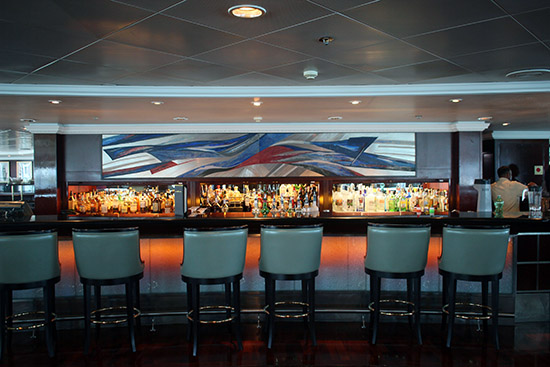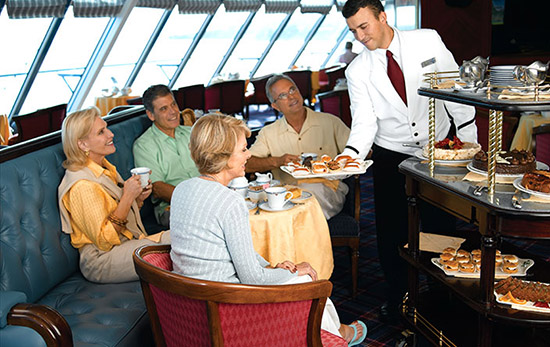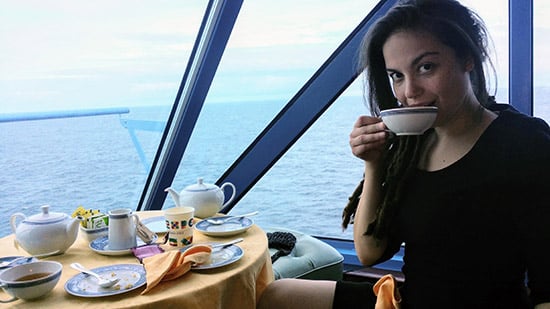 The pool deck is not large, but you'll not likely have trouble finding a lounger as there simply aren't that many people onboard, and many of Oceania's itineraries are port intensive.  In addition to conventional loungers (which are cushioned) there are large "deck beds" with enough space for a couple to comfortably spread out.  We found these a nice place to rest in the sun on mild afternoons on our Alaska sailing.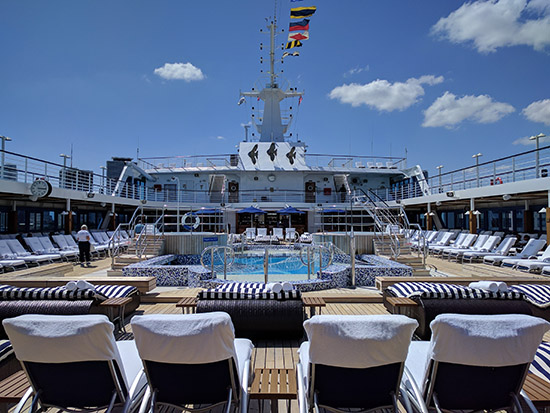 Staterooms
The majority of Regatta's staterooms are 216 square-foot with private teak verandahs and comfortable love seats inside.  All staterooms have Oceania's famous (and trust me, among those who have experienced them, this is more than a marketing line) Prestige Tranquility Beds - the finest mattresses we've slept on, made all the nicer by the 1,000 thread-count linens.  There is a mini-bar that is constantly stocked with refreshments, free of charge, soft robes, 24 hour room service, and Bulgari amenities.  The photos below are both of Penthouse Suites, though it should be noted that the second is actually from sister ship Sirena, hence my father's legs on the right side of the photo.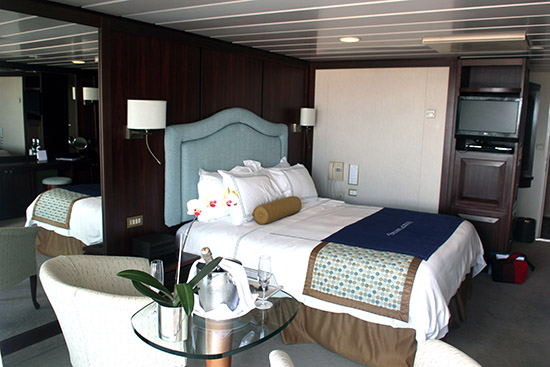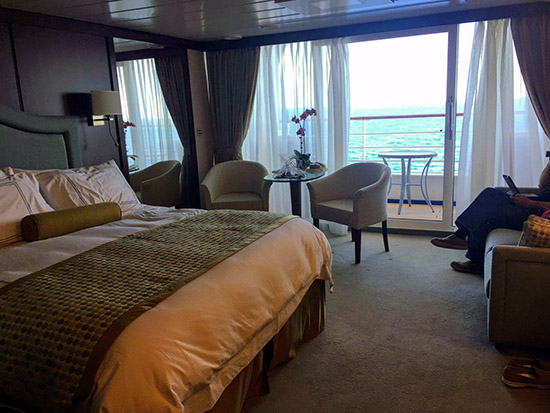 The restrooms are well appointed, though not as plush as those in staterooms on the newer O Class ships, Marina and Riviera, where granite countertops, deluge shower heads, and tons of space are the norm.  We did notice however, that the Penthouse restrooms are a bit nicer (which one would expect), as shown below.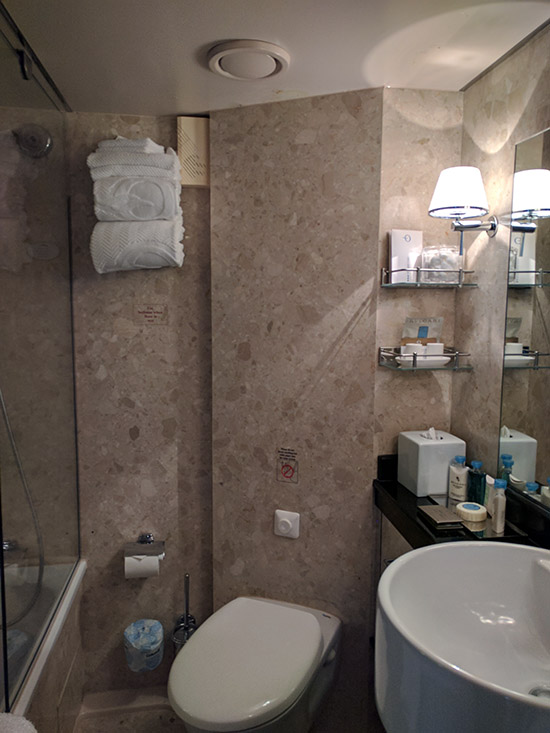 When we sailed on Regatta a couple years ago we were lucky enough to enjoy a Verandah Concierge Suite.  These rooms aren't any larger than a standard verandah room, but bring along some nice extra benefits, such as priority embarkation, extra access to Polo and Toscana, and exclusive access to a forward spa deck that has incredible views.
Click on the Facebook post below to scan around and checkout the view from the spa deck, a perspective most passengers don't get whether they have access or not, as it's quite hidden.
Wrap Up
Some ships we remember for their style and amenities, others we remember for the experiences we had onboard.  The Oceania Regatta is a ship that stands out in both categories, and getting to visit her in South Florida was like going home again.  It's where Larissa & I spent our (very late) honeymoon, sailing to Alaska and Canada for the first time, and it's the most relaxing and wonderful time we've spent together.  Such a trip would make for special memories and soft-spots no matter what hotel, cruise ship, or city one is in, but when it's a ship this special it's worth sharing the story.  We often preach that there are no "better" or "worse" ships or cruises, just different, but of course we have our preferences.  On a trip where we're looking for nothing but quiet relaxation and pampering, it's hard to imagine a better fit than the Regatta.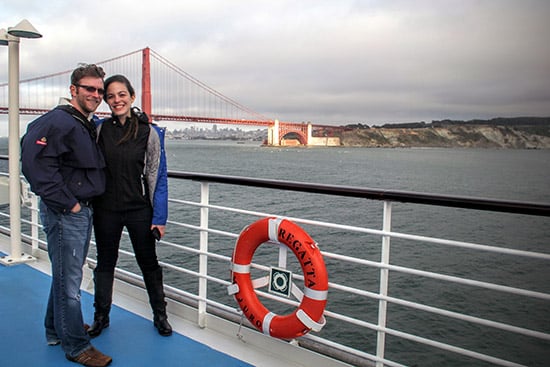 Have you sailed an R Class ship with Oceania?  Does this style of cruise interest you?  Reach out on Twitter or Facebook, or comment below!