Author: Bill September 4, 2019, Updated: July 28, 2021
We got an early start in St Thomas for an excursion with a view, then enjoyed perfect weather back on Celebrity Equinox, seeing talented performers in the theater, and we feel like we're starting to get into our stride on this ship.
Getting Used to Room Service Breakfast
On the first morning of the cruise we tried out the full breakfast room service menu made available to concierge guests, and this may have actually become something that nudges us toward booking concierge again in the future.  It's not the food itself – as the breakfast items are simple and adequate, but nothing to write home about.  Instead, it's as if we have a tiered wakeup call, with the crescendo coming in the form of a stranger bringing food and hot coffee into our room as my hair looks its scariest. Enjoying this saves time, and afforded me the chance to see officers berthing Equinox.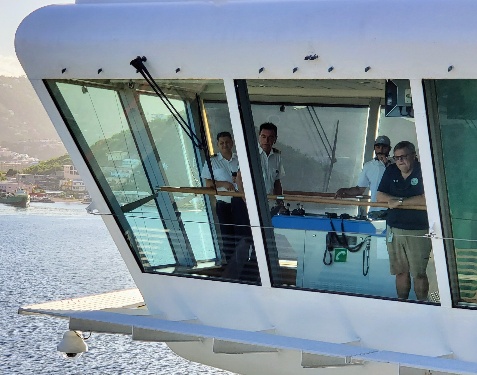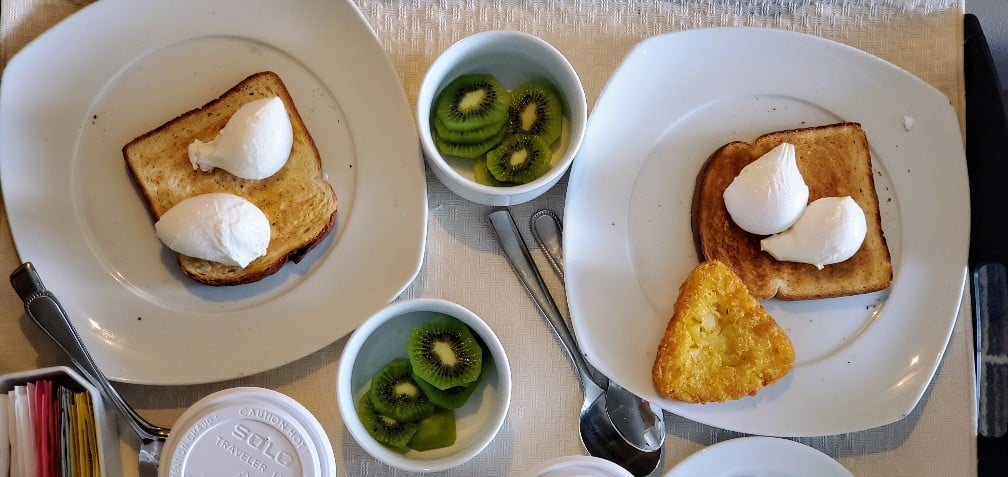 Panoramic St Thomas Excursion
It's been a long time since I was in St Thomas, and when I was a kid my parents frequently took me to Megan's Bay – what is often referred to as one of the most beautiful beaches in the world.  That statement is no exaggeration.  Larissa and I don't do a lot of beach stuff though, so we opted to get a general tour of the island that wouldn't take too long, thinking that we might, after the tour, head back to someplace we wanted to see more of (or, this might inform a future visit).
The tour started just a couple hundred feet from the gangway, and our guide Kelvin had us board an open-air bus before he started narrating our journey higher and higher along the island's steep roads.  Our first stop (longer than a minute or two) was at the highest point in St Thomas, from which you can see amazing homes, Megan's Bay, and, in the not-that-far distance, Jost Van Dyke, Tortola, Necker Island, and many others.
One interesting thing was that we picked up two guests from MSC Seaside that had missed their ride down from this point.  It was nice that the driver accommodated them, even having one of them ride up front in the cab to ensure everyone had space.  I don't know how easy it is to get a cab from a spot 45 mins up a mountain on a relatively small island, but I'm guessing the Uber app wouldn't have helped this couple.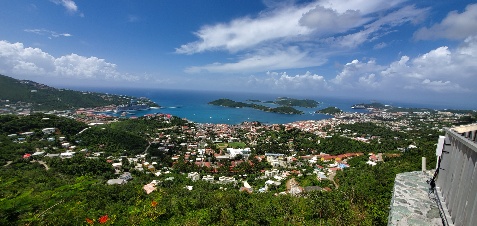 We made other stops along the way down, mostly for scenic outlooks, but a few stops where Kelvin pointed out points of interest, including where several islands had their mountains carved away by the government to make the local airport safer.  This may seem extreme, but Charlotte Amelie is the capital of the US Virgin Islands (and located on the island of St Thomas), so while the island isn't conducive to large airports, it's the main way in and out – and after a tragic incident a number of years ago, this change was a welcome one.  We also stopped at one outlook that had some local vendors, and I noticed Kelvin speaking Spanish with one of the vendors.  This was notable because while I understand their proximity to Puerto Rico influences language, I'd not remembered hearing people with such distinctive USVI accents speaking Spanish – it was neat.
There were two optional ending points for the tour.  The first was downtown Charlotte Amelie, where there is shopping, dining, and a pretty boardwalk.  If I recall from years ago, there is also a monument of sorts to the Danes (as the US bought the islands from Denmark just over 100 years ago).  As I type this though, I now wonder if that monument is in St Croix, another one of the USVIs).  If you wanted to get off in the town, you could end you tour there and take a cab back to the ship ($4 per person), or walk (about 15 minutes, or 300 deaths based on the afternoon heat).  We opted to stay on, despite actually really wanting to walk around or head to Megan's Bay – but it was very warm and we needed a nap.
Ain't No Nap Like a Cruise Ship Nap
Once back on Celebrity Equinox we showered off (the first of, and I wish I was lying, three showers today), and then took a nap.  The nap felt almost as good as that feeling you get you first enter your stateroom at the beginning of a cruise – it was glorious, and necessary so we could enjoy the rest of the day.  I did set an alarm, because waking up days later in Ft Lauderdale, or just missing lunch, wasn't ideal.
Lunch and a Walk
We had lunch at Oceanview Café, though I came close to trying out the Mast Grille (just above the pool).  I must say this was so far, the best meal we had in Oceanview on Equinox.  The whole ship had an Italian theme (including the music up on deck), and this was highlighted in the cuisine at the buffet.  There were aranchini, burrata, and bruscetta stations (what?!), a number of Italian desserts, and non-Italian options as well.  I got an assortment of things, including an egg-salad sandwich.  I'm glad I did the sandwich, as I only discovered toward the end of the one of our recent Celebrity sailings that this was an option.  You head to the station with the various breads and salads, and just tell the what type of sandwich you want, what you want on top, etc, and It's yours.
The Café al Baccio Rule
I drink a lot of espresso during the day.  Along with water and scotch, it's one of the three liquids I truly need to survive.  The problem is that because the baked good at Café al Baccio are so great (on every Celebrity ship I've sailed so far), I am no longer capable of having espresso onboard without having cake or a pastry. 
So, just three minutes after polishing off several Italian desserts at Oceanview, I found myself having a double espresso and a giant slice of coconut cake.  This leads me to my next move.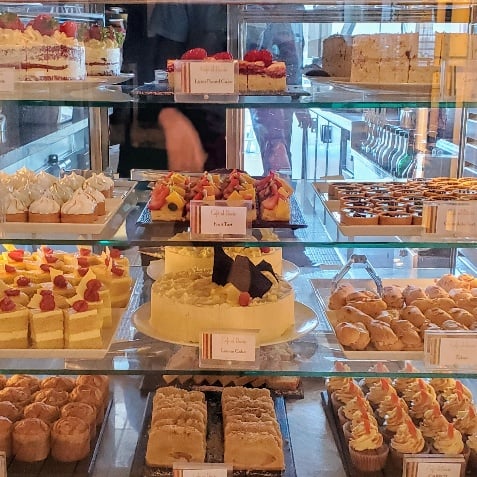 A Walk…To the Gym!
Larissa and I strolled the promenade on deck five, which does *not* circumvent the ship, but does offer nice views and comfy chairs, etc.  On this walk we looked at the port area and identified the bar that we'd be sitting at if with our friends Annette and Tracy (Annette is, by the way, an awesome travel agent and human being).  It's funny how cruising puts you into certain routines, which are anything but routine.
From the promenade we made our way to the Sunset Bar and Larissa tried a Veuve Clicquot cocktail, which she asked for without sugar.  The bartender was friendly and kept asking me what he could make for me, but I needed to make up for bad habits.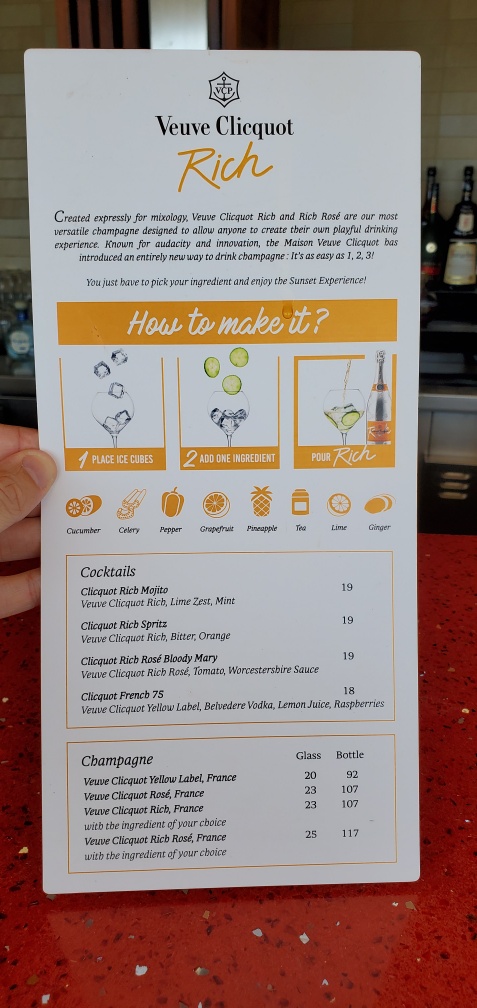 After changing clothes, I headed to the gym and ran a couple miles, but I confess, they were HARD miles, and I didn't do any more exercise after that.  The gym wasn't nearly as busy this time, as many folks were still ashore.  I did however get one of those lovely cold towels after my run, and then headed off for shower number two (for those keeping track of my hygiene habits).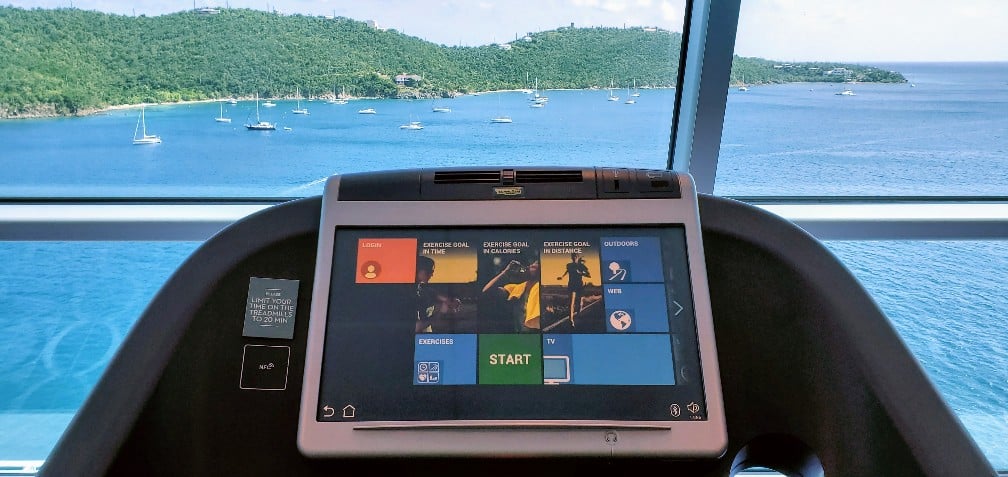 Equinox's Golden Hours
As we sailed away I hopped on Facebook Live to talk ship with some of you once again.  As we negotiated our way out of Charlotte Amelie Harbor, the sun set behind parts of the ship, and made for great views at the Lawn Club and deck 14 (the second level of the pool deck).  I've realized that different ships have different "peak times" in terms of beauty, and for Equinox, noon and just before sunset are the most magical times up on deck.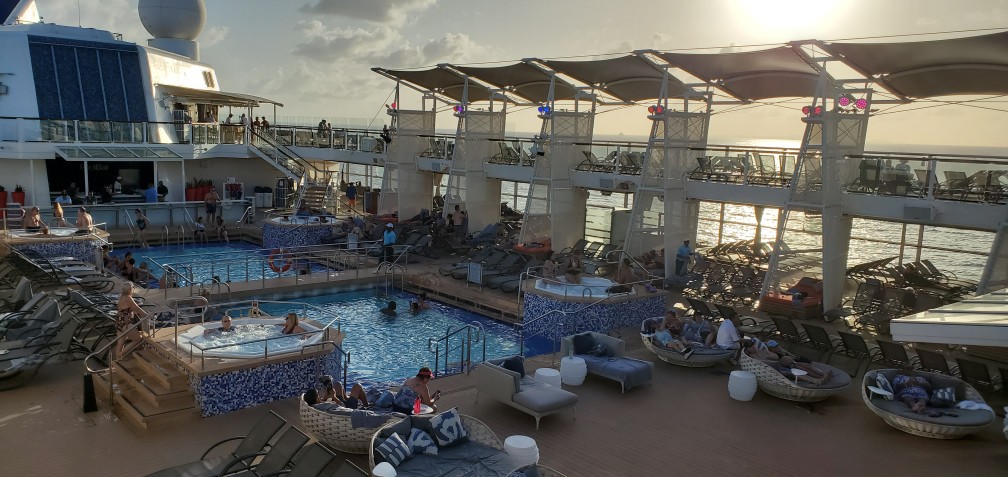 Elysium in Equinox Theater
We weren't huge fans of Topper the second night, mostly because the performers didn't seem well matched to their roles.  This left us excited to see what the cast could do under different circumstances.  Tonight's show, Elysium, is, by their own description, "A journey to find the rightful rulers of a land called Elysium." 
The show itself, like others that seem popular on some ships now, involved carefully orchestrated choreography, interesting costuming, and a plot-line that seems unnecessary.  I'm perfectly content seeing talented people doing their thing without a pseudo-plot, but I didn't find that aspect distracting either – so it worked nicely for me.  What stood out tonight was that the performers REALLY got to play off their strengths.  The singing parts and overall character traits worked well with their unique performance styles, and I was delighted to see this.
The short version is that you can see talented singers, dancers, and acrobats doing what they do best, accented by neat costuming and lighting.  This show was a "difference maker" for me after Topper.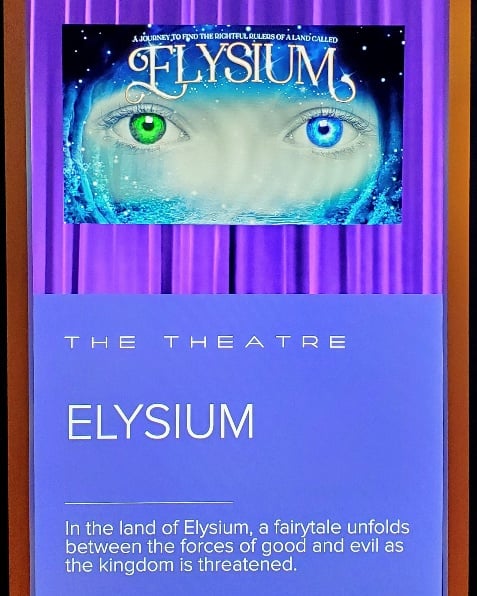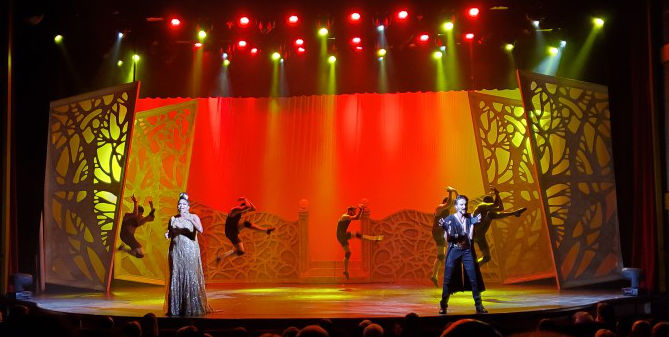 World Class Bar Got the World's Attention
We've enjoyed Islay scotches and craft cocktails at World Class Bar each day, but until today it was quite quiet.  Tonight, that place was hopping!  Maybe it was the live Latin music in the nearby atrium or maybe guests just figured out this was a great place.
In addition to the drinks, the bar staff here continues to stand out, and I only wish the scenery was better, but that may be because I feel spoiled by Eden on Edge and Crow's Nest on Holland America Line ships.
Main Dining Room and Live Karaoke
For dinner we wanted to head to Qsine to experience La Petite Chef on Equinox, but it was full.  We contacted the concierge to see when we could get in and he managed to work out our attendance tomorrow night, which was also showing as fully booked.
Out digital dining pushed forward one night, we opted to go to the main dining room for the second time.  The food and service was very good, and we were again given a separate vegetarian menu (in addition to the veggie options available on tonight's menu).  It's worth noting that on Celebrity, the vegetarian menu (which you have to ask for), changes each night.  My meal concluded with a tiramisu that was just the right size, and tasted very good. 
During our meal I mentioned live-band karaoke in the Sky Lounge, and Larissa was ready to sprint right then and there.  As soon as we finished we stopped quickly at the stateroom and then went to the Sky Lounge where we found several people singing karaoke who were all quite good – in fact twice I couldn't tell who was the guest and who was the host (there to sing in the event someone needs some help). 
Sitting in the Sky Lounge though, I realize I need to come here for some event during the day, as it's such a gorgeous space, but seems much more popular at night, when you can't appreciate the 270 degrees of views offered by the ~15 foot tall floor to ceiling windows.
Tomorrow in Tortola – By Sea, but in the Air
We dock early tomorrow in Tortola (in the British Virgin Islands).  We were here a few months back and went to the Baths at Virgin Gorda, so this time we expected to go to Jost Van Dyke.  The problem is excursions (and non-Celebrity ferry service) start at 7:30am or so, and that is frankly just too early for us to want to enjoy on vacation, especially after several busy days.  I think the plan is to make sure we get adequate (nut not excessive) sleep, and then see what the day brings. 
Celebrity Equinox Live Blog – Day 1 Embarkation
Equinox Live Blog – Day 2 – Sea Day
Celebrity Equinox Live Blog Day 3 - San Juan, Puerto Rico
Celebrity Equinox Live Blog - Day 4 St Thomas
Celebrity Equinox Live Blog - Day 5 Tortola, BVI
Celebrity Equinox Live Blog - Day 6 - Sea Day 
Celebrity Equinox Live Blog - Day 7 - Sea Day/Freeport