Author: Bill
As I write this, I look back 24 hours ago to putting up hurricane shutters in the pouring rain, and expecting that sea water and wind my render everything at home nothing but a big cleanup of a past chapter. Now, my worries are lessened, I'm enjoying a nice cruise, and watching people laugh and smile in a silent disco at sea.
We booked a seven night cruise on Celebrity Equinox months ago, but with Hurricane Dorian approaching, and CruiseHabit world headquarters (our home) being in the path, the days leading up to this sailing were a bit different, so, this will serve as both the day one live blog and preamble. In recent days the fate of our embarkation was uncertain, but we found out yesterday that we'd be sailing as scheduled, despite the hurricane, and leaving an hour early.
Why This Sailing
In the past couple of years we've found that Celebrity is a good "middle ground" line for us. HAL serves up great music, Oceania amazing cuisine, Royal Caribbean group fun, etc – but Celebrity has been a nice fit for Larissa and I wanting a get-away. After sailing Edge twice already, and having sailed Millennium and Century class Celebrity ships in the past, it was time to try out a Solstice class ship – Equinox.
We don't know what to expect from this class of ship, but we're confident we'll have a good time no matter what. We'll be sailing a seven night Eastern Caribbean itinerary to San Juan, St Thomas, Tortola, and then Nassau before coming back to Ft Lauderdale. It's been a while since I've visited St Thomas, we've got more to see in Tortola, and San Juan is always a good time. For Nassau, we may try something new(ish) as well.
Embarkation with Expedited Arrival
Instructions received yesterday informed us that we should arrive an hour earlier than scheduled so that the ship could sail at 2:30pm from Port Everglades, instead o 3:30pm as scheduled. While we usually Uber to the port, we drove (to take advantage of the port's garage protecting our car from Hurricane Dorian), and arrived at around 10:30am. Many others arrived very early.
Want information and tips on cruising during hurricane season, and updates on sailings impacted by hurricanes? We've got you covered.
Entering Terminal 25 it was clear that some chose to show up more than an hour early, but to the let of a rather large crowd was a line just for those with Expedited Arrival. This is a feature found on some Celebrity and Royal Caribbean sailings, where checking in via their app ahead of time (including submitting a photo), allows guests to walk right up to the gangway (after a quick security screening). This turned out to be handy, and we were on the ship in less than twenty minutes (it'd have been quicker if not for the trek from the garage).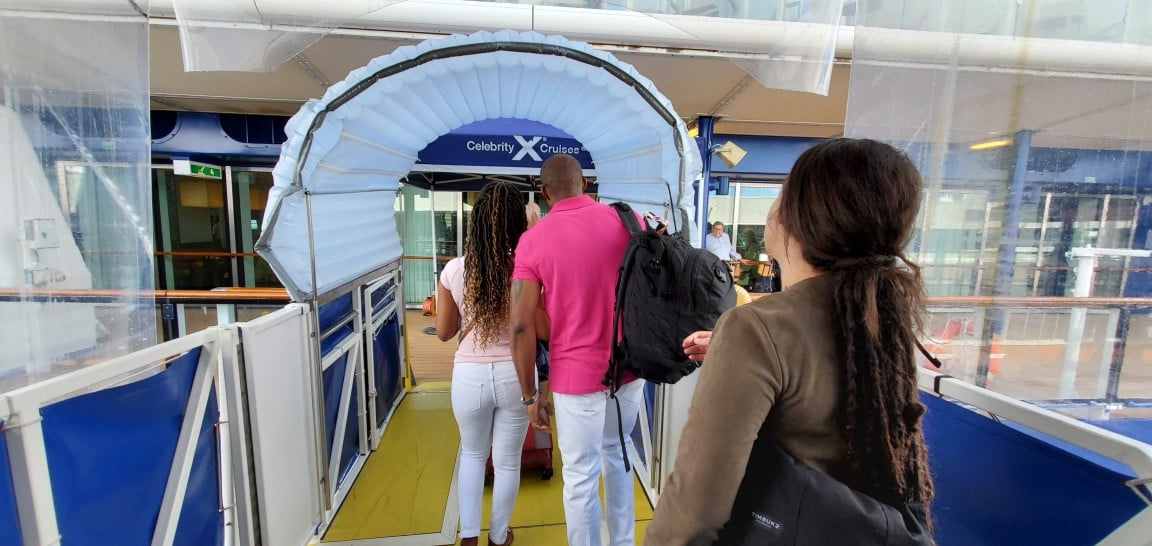 Lunch and Exploration
We headed straight to our staterooms to drop off our bags. Despite it being early, rooms were largely prepared, but not completely. This is something Celebrity now does so guests can drop of bags, but then leave the rooms while turnover continues and rooms are completely ready by 1:00pm. With the bags in the room we were free to get lunch…but it was only 11:15 or so! We usually eat much later, but having skipped breakfast we headed off to the Oceanview Café for a buffet that included many great options, including some nice Indian dishes. After lunch we walked around the ship, met some new friends and a podcast listener (hey Meredith, Rob, and Ashley!), and sat out by the Sunset Bar (all the way aft up top) for a drink and then hit up Craft Local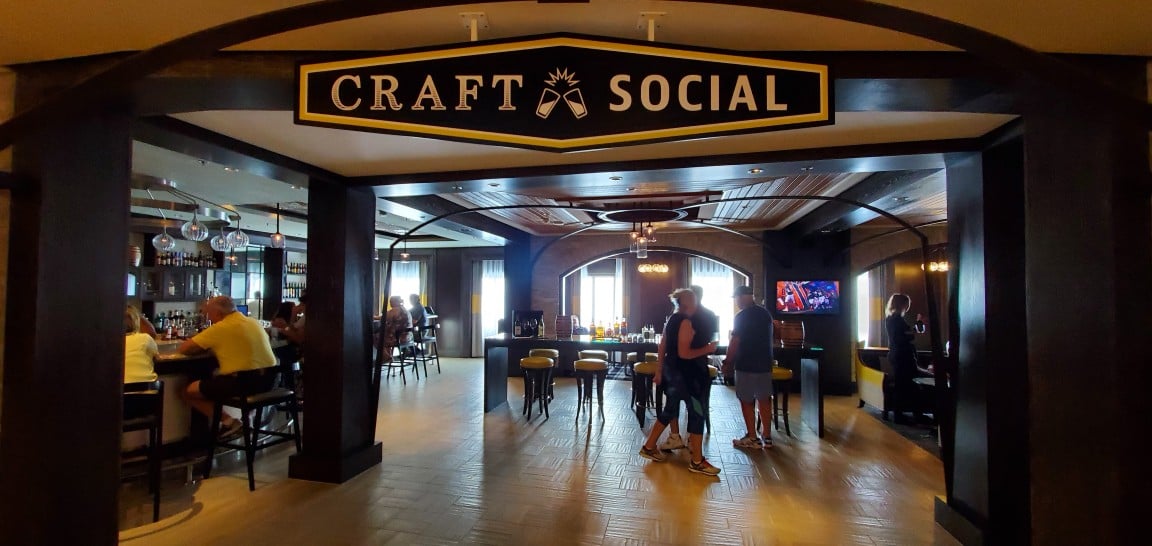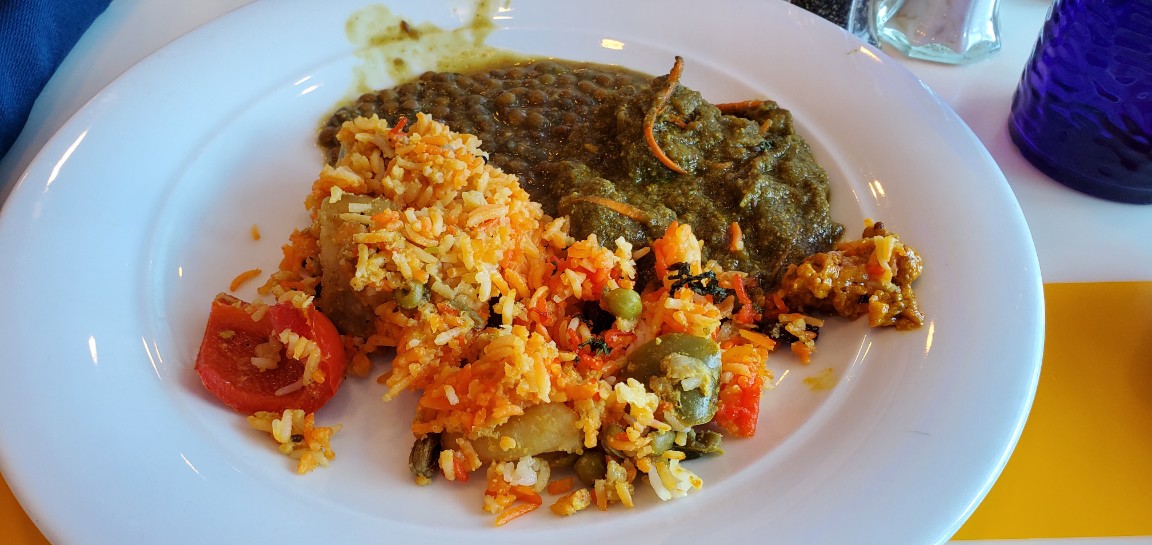 During this process we noticed a couple things:
There was a bit more of a push for the drink and dining packages. Almost like what we've found on recent Royal Caribbean sailings. I suspect the storm had many canceling at the last minute, resulting in an expected hit to onboard revenue and this push (but that's just a guess).
The Carnival Magic was docked behind us, and they had quite the embarkation queue. I've nothing against Carnival – they offer a great product (albeit it quite different from Celebrity), but the hot and sunny line I saw folks waiting in didn't make the prospect of being on that ship an appealing one.
After our walk and drink we noticed in the Celebrity app that there was a ship tour starting soon at the Excursion Desk. We've not done one of these since a Disney sailing over five years ago and thought it'd be a neat way to learn about Celebrity Equinox.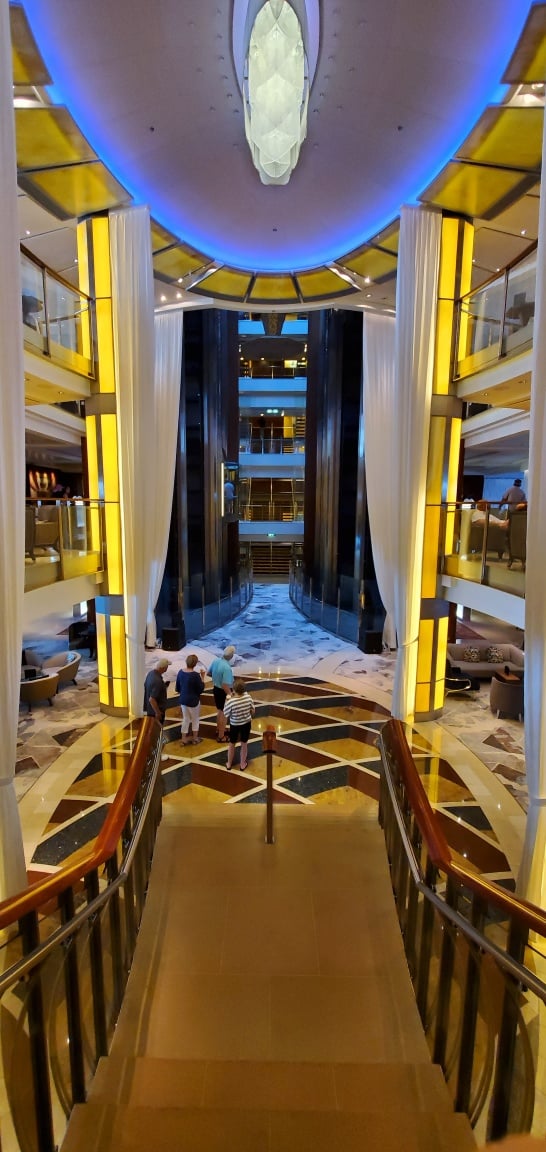 The tour was well-attended by guests, and Hilda from the Excursions team was the guide. She was perfectly pleasant and helpful, and noted they recently added a portable amplifier so she could be heard better. That said, the tour itself wasn't bad, but it's not something I'll repeat. I was hoping for some interesting tips, neat facts, etc. Instead, we walked around the ship while she explained what each room was, how the spa, casino, theater, etc all worked. I can see this being really helpful to people new to cruising, and maybe just new to Celebrity, but it wasn't the most exciting part of our day. On the upside, we met Casey and Caesar, a couple from California, and ended up spending the rest of the day with them. They seem fun, and if they really care, they'll read this (just kidding, they don't have Xcelerate – Celebrity's internet connection).
Dinner – Celebrity Showing Their Flexibility
After a badly needed shower (hurricane prep and embarkation in high humidity is never fun) we took showers and then opted to head to the main dining room this for dinner. Select dining (aka anytime, aka open seating) was full when we booked, and we got wait-listed when we boarded. We wanted to have dinner tonight with our new friends from California, and they had select, so after a simple request and a five minute wait, we were sat on the fourth deck of the dining room at a four-top just for us.
Dinner was perfectly satisfactory in terms of food, and I have zero complaint about the attentive service. It's hard not to compare everything to our two Edge sailings earlier this year though, and their overall dining experience (in their multiple dining rooms with different menus), was so far, superior. Again, no complaints, but so far Edge has the win here. We had a nice meal, nice chat, and realized that after four hours of sleep last night that I was not in for one of my typical 1:30am evenings.
Since we're comparing to Celebrity Edge, check out our live blog and other coverage from that brand new ship!
Silent Disco
The group wanted to check out the silent disco in Quasar, the night club on Equinox. I'm not a dancer at all – and I usually don't like night clubs. On Edge though I'd discovered the nice thing about a silent disco is that I could make it as loud or as quiet as I wanted. Not shouting for a drink was kind of awesome.
We walked to deck four forward and found that the party spilled out into the public space outside of Quasar as well – this event is VERY popular. If you're not familiar, in a silent disco, you wear wireless headphones that have several selectable channels of audio. Everyone else is doing the same – but there is no ambient music. This means many people might be singing and dancing to music that you're not. It also means that if you're not wearing headphones, you can quietly enjoy some people-watching.
I am wearing headphones right now, but the volume is way down. The headphones look the same as the ones on Edge, but these don't seem to fit as well. What is my take-away? My head is getting bigger. So that's neat.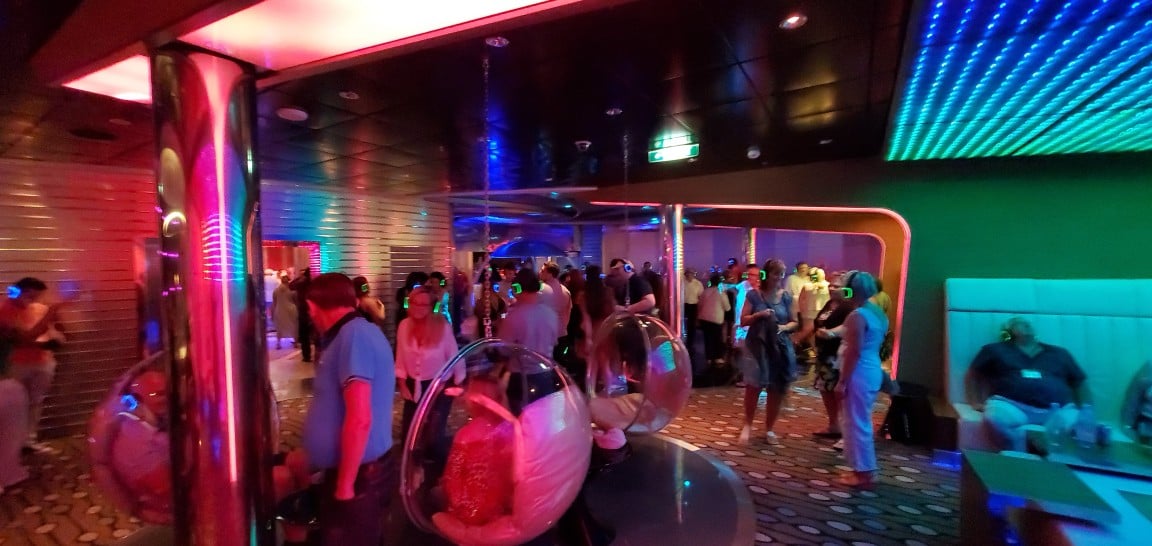 Tomorrow: The Beauty of Sea Days
Tomorrow we're at sea all day, and relaxation is on the agenda. I like to try and predict what I am doing, partially so friends can read this and then make fun of me when I fail at my plans. ::cough:: Matt from RoyalCaribbeanBlog.com ::cough::
We have a concierge balcony stateroom – our first concierge stateroom on Celebrity. We'll cover this more later, but one perk is that you can get a much more robust breakfast delivered to your room in the morning (not just a continental breakfast like in most cases). We're going to try this for the morning, but the hard part is that when I first wake up, I have the coherent thoughts of Jim Ignatowski after a bender and a carnival ride. This may traumatize the person delivering breakfast, or we may sleep through it.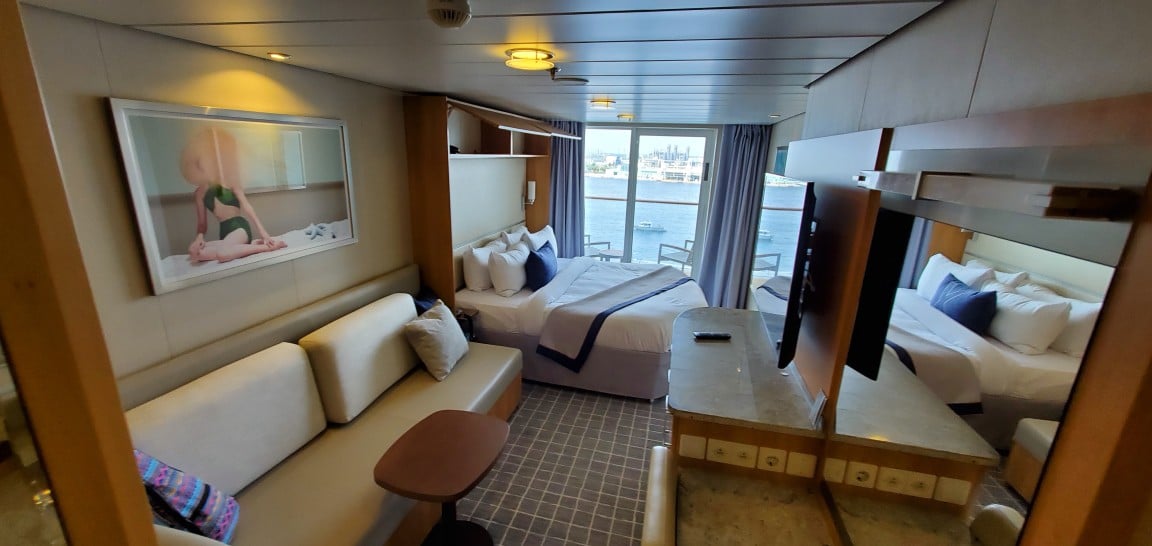 Aside from breakfast, it's an open book. We have honestly planned nothing and we're stoked for that. Why? Because Hurricane Dorian is now scheduled to mostly miss our home (our thoughts are with those in the path – having been through some terrible storms, it's scary), we're in for a nice night's rest, and a then a great day at sea on a beautiful ship. Life is has turned around nicely in the past day.
Wrap Up
It's been an awesome day so far, and if you want to follow along, ask questions about Celebrity Equinox, or cruising in general, follow along on Instagram, Facebook, and Twitter.
Celebrity Equinox Live Blog – Day 1 Embarkation
Equinox Live Blog – Day 2 – Sea Day
Celebrity Equinox Live Blog Day 3 - San Juan, Puerto Rico
Celebrity Equinox Live Blog - Day 4 St Thomas
Celebrity Equinox Live Blog - Day 5 Tortola, BVI
Celebrity Equinox Live Blog - Day 6 - Sea Day
Celebrity Equinox Live Blog - Day 7 - Sea Day/Freeport