Author: Bill September 7, 2019, Updated: September 1, 2021
On the last day of a cruise I often feel stuck - unable to commit to any plans because some part of my brain dedicates too much thought to wondering how I could just stay on the ship for one more cruise.  On this cruise though, while I certainly didn't want it to end, the day also carried a very different tone as we sat off the coast of hurricane ravaged Freeport.  Still we were able to enjoy our day, lay out in the sun shade, and take the in the final hours of our vacation.
Sunrise Cocktails in Oceanview Cafe
Something interesting that Celebrity offers is "Sunrise Cocktails" (including "zero proof" options).  Available in the Oceanview Cafe, these seemed aimed at those eating breakfast, as they're breakfast-themed drinks.  This isn't generally something I embrace, but Larissa has tried a few of the juices and occasionally has a Bloody Mary, and I think the option is a neat one.  I would like however if Oceanview Cafe tables has the buttons to summon wait-staff like we've seen on MSC Seaside and HAL Nieuw Statendam.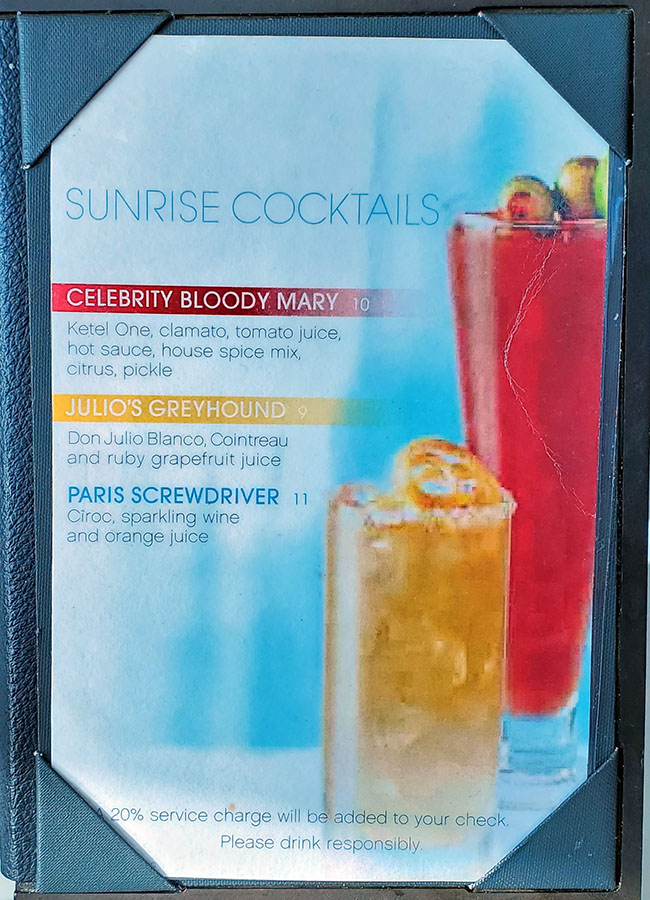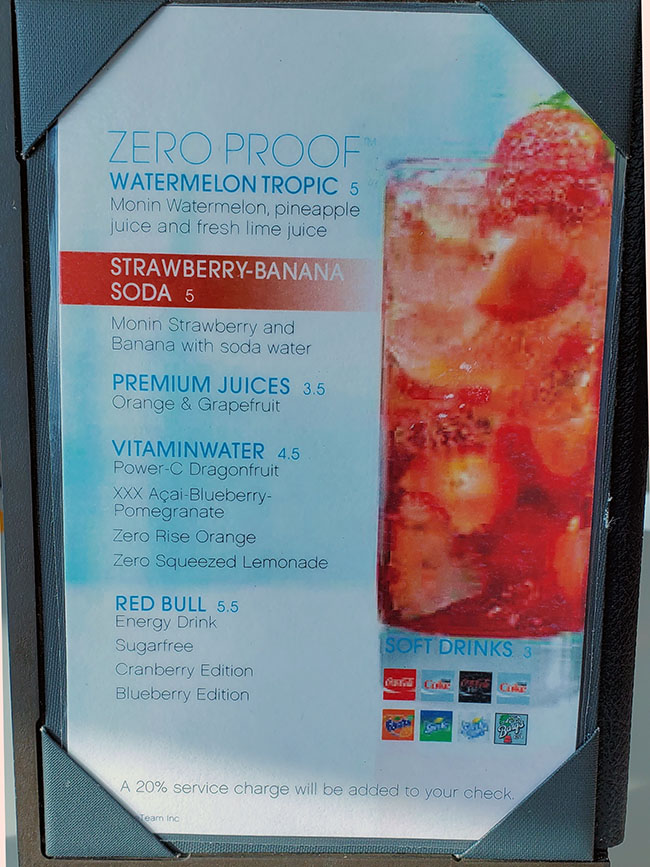 Packing Ba- Wait...Is that a helicopter?
After breakfast Larissa went to to the Solarium (at this point, I suspect she's changing her middle name to 'Solarium') and I went to the room to start packing our bags.  While packing, the captain came on for an early announcement and explained that while we were still an hour or more away from Freeport, we'd be stopping briefly to allow the US Coast Guard to come pick up a sick passenger to be evacuated to Miami.  Over 27 million people cruised last year, and that means that a number of people get sick, injured, etc.  I don't usually highlight these evacuations, as it represents someone else having a VERY bad day.  I mention it today because it did offer, for me, an amazing view.  Our stateroom is located just two rooms aft of the bridge wing (on the same deck).  Because the helicopter was going to be hovering just above the helipad on the bow, I got to see the aircraft come in across the bow and directly forward of the bridge wings...and our balcony.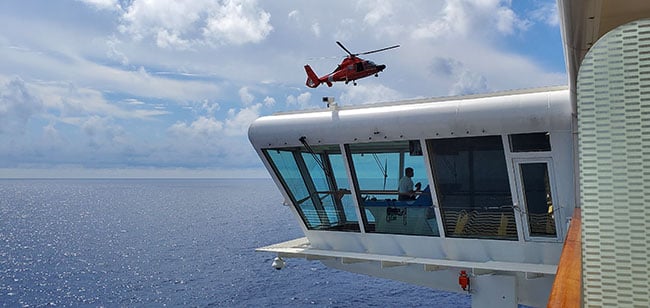 I used this opportunity to check out the binoculars in the stateroom, scanned the horizon like I knew what I was looking for, and presumably, was laughed at my the bridge officers.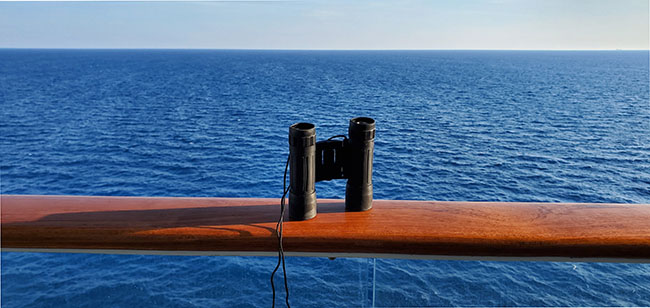 Dropping off Supplies in Freeport 
As explained yesterday, we were supposed to be in Nassau today, but instead diverted to Freeport in order to drop off food, medical supplies, and other goods to those impacted by Hurricane Dorian.  The operation involved the help of the entire crew, some guests, tugs and tenders from Freeport, and others, and lasted more than four hours because Equinox is too large to dock in Freeport, so everything had to be shuttled and hand-loaded.  I realize there is a lot of interest in this, and I was lucky enough to get some additional information from Celebrity Equinox senior officers, and you can check out a video all about the operation by by clicking here.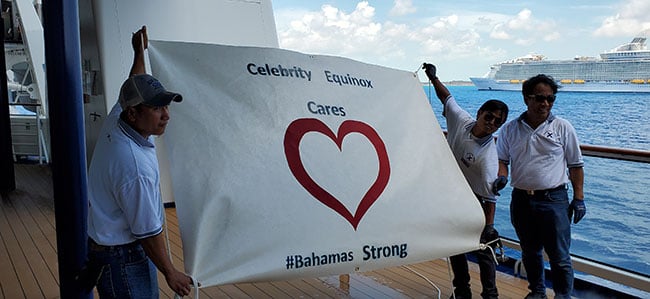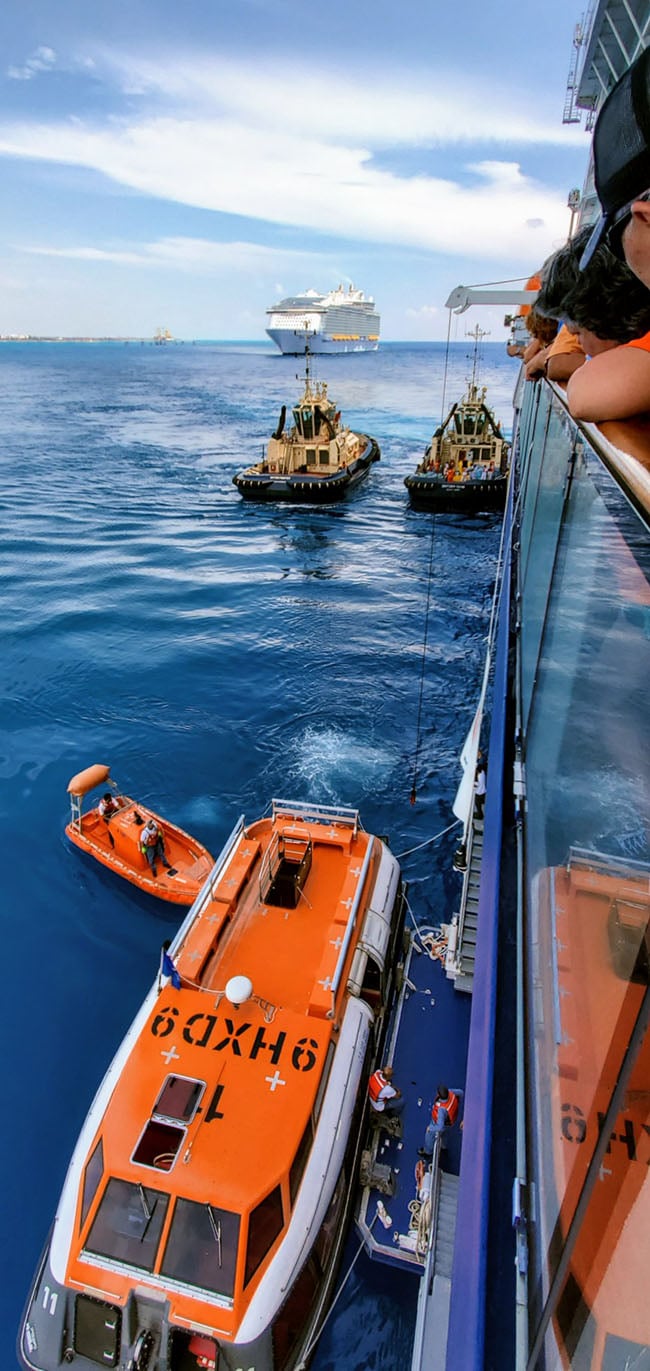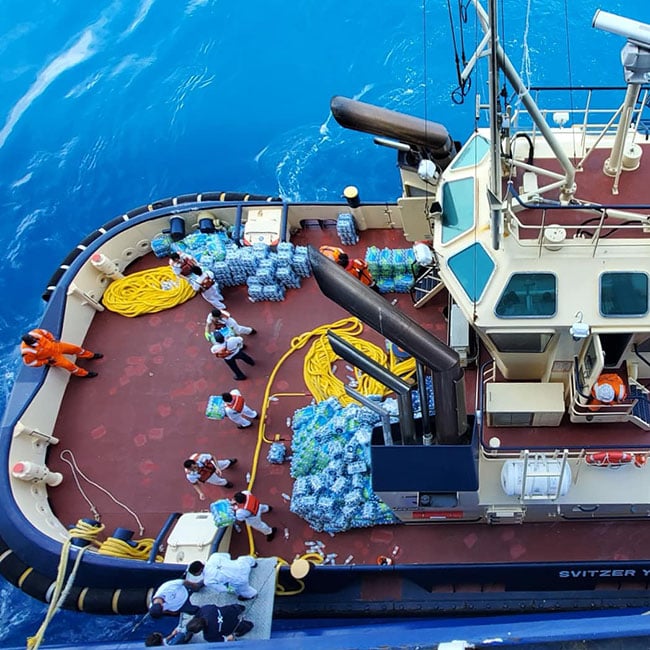 Want to help?
Royal Caribbean Cruise Line Ltd (parent company to Celebrity and Royal Caribbean International) is working with local organizations and giving $1 million to help.  If you want to help with a financial contribution, they'll match your donation dollar for dollar.  You can read more from RCCL below, and then click the link to help.
To make sure our donations go where they can do the most good, we are collaborating with the Bahamian government and our non-profit partner, the Pan American Development Foundation (PADF), and a network of Bahamian charities and other local organizations, including the Bahamas Feeding Network.
We are loading all kinds of goods onto our ships— generators, water, cleaning supplies, clean sheets, towels, and more—for direct delivery to the Bahamas. The trained employee volunteers we call the GO Team are on their way to assist with relief efforts. And we're taking special care of coworkers and their families who were affected by the storm. And we're matching every dollar of guest and employee donations to PADF so they can help our friends as well. 
 Equinox Has a Lovely Pool Deck, But the Lawn Club is Lovely
On every cruise I notice there is a place that we end up gravitating to.  On Edge, it was Eden, on Nieuw Amsterdam it was the Piano Bar, etc.  I don't know that it was as clear on this cruise, but we interestingly ended up spending a ton of time at the Solarium and the Lawn Club.  Generally we don't spend a ton of time outdoors on Caribbean sailings (we live in South Florida, hot is a daily annoyance rather than a novelty).  Despite this, the Lawn Club is just such a unique space that we ended up laying or sitting in that area at some point every day.  It doesn't tend to get too crowded, it's not loud, there is a bar nearby (though I'd like to see servers coming by sometime), and it has a lot of shade.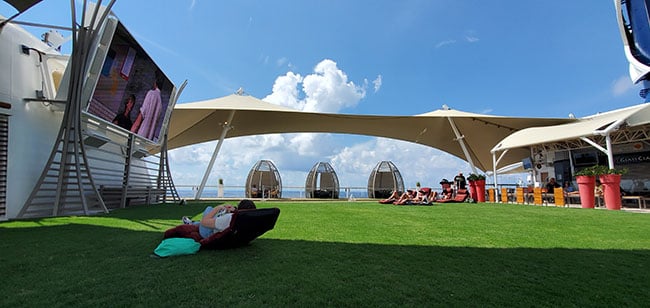 While visiting there today we ended up watching Dirty Dancing (rather passively).  I may have dozed off a tiny bit, and then took a walk to check out the pool deck, and went all the way forward on deck 15, in front of Club X (the kids area).  There is a sun deck with a great view of the bow, and it's probably a nice place to hang out provided you don't need shade.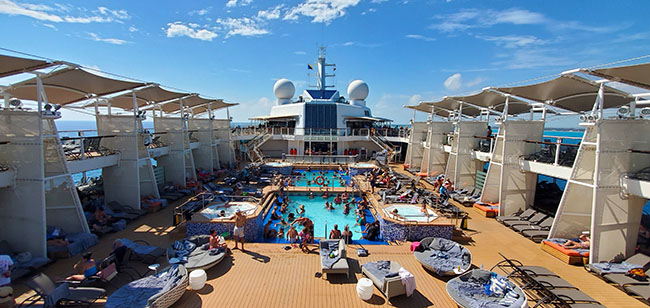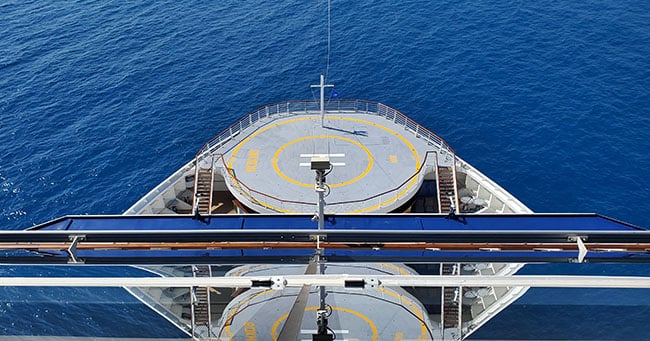 In Praise of Celebrity Main Dining Experience
We have Select Dining, which means within a broad window, we can show up to the Silhouette Dining Room on Equinox whenever we want and get seated.  Tonight though we decided to dine with some friends that had fixed seating, so we went to the Select Dining hostess and explained what we wanted to do.  Within two minutes we had a table for the four of us, were presented with menus, etc.  The meal was good, though unremarkable, adn the company better.  At the end though - this is what I loved: We got up and we left.  The awkward envelope with service charges is long gone from most lines, and I love that.  (If you have questions about services charges/tipping, we've got you covered.)  What else?  No loud napkin twirling and cheering for the staff.  The hard working staff deserves recognition, but I don't love it when lines make such a loud spectacle of dining.  All of our meals were peaceful, with good food and fantastic service.  I applause the Equinox dining staff on their hard work (and flexibility).   
Finishing Out the Cruise at Our Indoor Home Base - the World Class Bar 
Lately I've tried to get a good night's rest the last night instead of staying out late.  This cruise I did not succeed at that goal, instead opting to chat with new friends at the World Class Bar.  In fact, one of the nice folks we were having some peaty scotches with will be back on in November on the same sailing we may book.  If we could do this cruise all over again, we would, so perhaps we'll see him, and Jay (the bartender at this bar) in just a few months.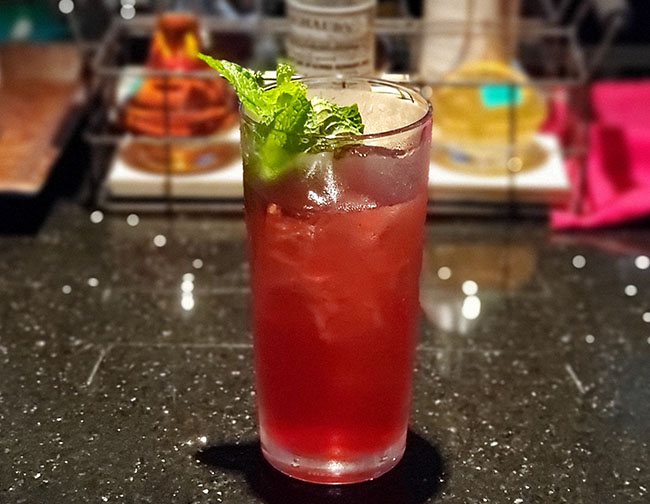 Celebrity Equinox Live Blog – Day 1 Embarkation
Equinox Live Blog – Day 2 – Sea Day
Celebrity Equinox Live Blog Day 3 - San Juan, Puerto Rico
Celebrity Equinox Live Blog - Day 4 St Thomas
Celebrity Equinox Live Blog - Day 5 Tortola, BVI
Celebrity Equinox Live Blog - Day 6 - Sea Day 
Celebrity Equinox Live Blog - Day 7 - Sea Day/Freeport