Submitted by

Bill

on Sun, 07/08/2018 - 00:21
Waking up knowing I'm going on a cruise that day always feels great. Interestingly, knowing the ship wasn't scheduled to set sail until 7:00pm made things feel a bit less rushed, even though 4:00pm sailings out of South Florida give us plenty of time to get to the ship ahead of schedule. We had some breakfast, double-checked our packing list (we don't need a repeat of this day) and got into a Lyft to head to the port around 1:00pm.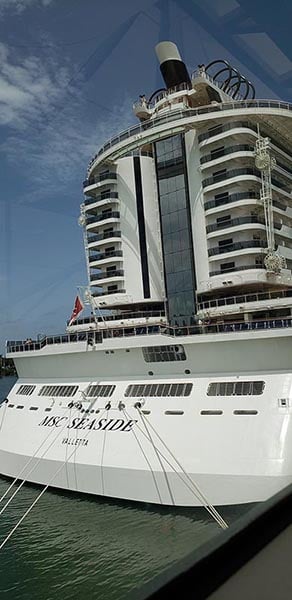 Arrival & Check-In
Arriving at the port we had about a ten minute wait in security (not bad, and made slightly longer by some "picked the wrong line at the grocery store" bad-luck. After that we were off to check-in. Interestingly, there is only expedited/priority check-in for those in the Yatch Club (suites) and those with the highest loyalty tier. Usually this wouldn't be a big deal, but it was quite busy. I'm used to arriving to the port at 10:00 or 11:00am, so perhaps I just got there at a bad time, but while the process itself was incredibly smooth, the total time to get from curb to ship was about an hour.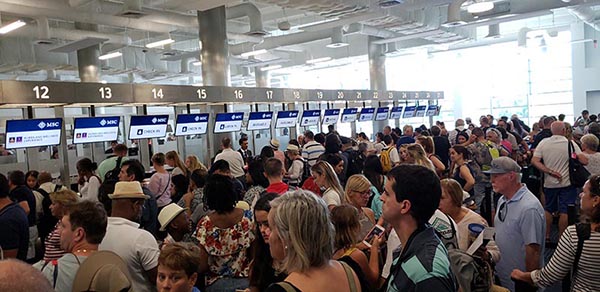 Our Stateroom
We originally booked an ocean-view guarantee, as an inside wasn't much less, and a verandah was quite a bit more. We book guarantees often and haven't ever really regretted it - this time though it worked out far better than just a lack of regret. We were upgraded from an ocean view to an ocean view verandah/balcony stateroom on deck 10. The room is well laid out and has adequate storage, though less than some other modern ships. The decor is nice and overall I 'm quite pleased with our accommodations.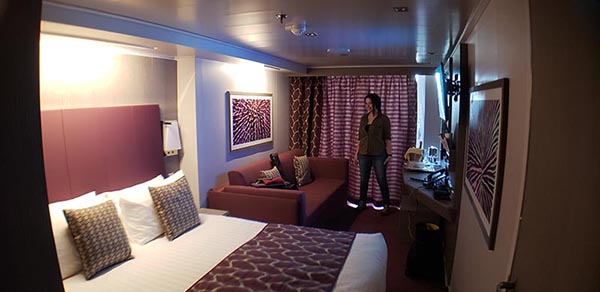 Like other ships, you have to put your room key into a slot to turn on power. Unlike other ships you need some sort of RFID card (not just anything that will trip a switch). When you do this, the lights come right on and a small light outside the room indicates to the crew that the room is occupied. Further, it seems they can set an alert to see when someone arrives. I suspect this because two minutes after entering, I got a call welcoming me and asking if a some complimentary petit fours and moscato.
Muster Drill
As cruisers know, on the first day you must attend a muster drill, and the time is usually on the schedule you're presented upon check-in. Oddly, I couldn't find the time anywhere, but on TV they said you could find it in the app - cool! Unfortunately, I couldn't find this info. We unpacked a few items and decided we'd get a bite and ask someone. On the way we found out that the drill was in just 15 minutes - giving us just enough time for a brief snack at the Marketplace Cafe.

We downed a quick snack and in no time the alarm sounded. Many others seemed caught somewhat off-guard, so while in most cases guests are in position before muster, this didn't seem the case today. The orhganization of muster was overall quite good, and the instructions were given in six languages - it's just unfortunate that it took so long to get everyone in position, likely because of the time not being well-known.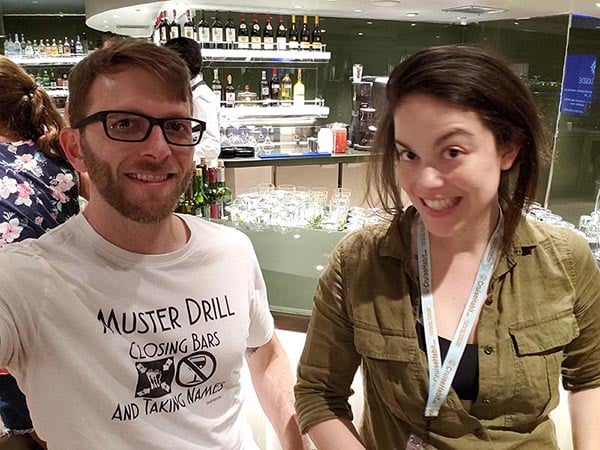 While at muster (which was indoors, at least for us), a fellow passenger asked me if she could take a picture of my shirt - this is usually the only time I'm popular.
Sail-Away
When we finally set sail it was a really beautiful sight with the sun setting behind downtown Miami. We broadcasted and chatted with many of you from aft of decks 16 and 17. The ship is true to its name and offers many fantastic views of the sea from the inside and the outside. This is noticeable in many ways, including at sail-away when guests all rush to the rails and crowd the decks – we were still able to find places without an issue.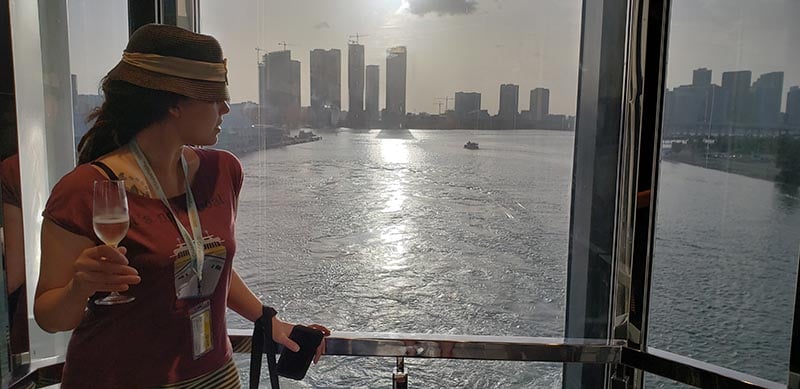 Dinner Time
We'd requested late seating on this sailing, but were initially assigned early seating. After a quick chat with someone at Ipanema (one of the main dining rooms) we were switched to My Time dining, which was fine by us. Arriving at around 8:00pm we waited in line for less than five minutes before being seated. Most of that wait was because a group of 16 people wanted to be seated together. If you're traveling in a large group, please work this out with the crew and don't just show up expecting a table for 16 - you'd not expect this to be easily accommodated on land, and a ship is no different in this way.
We enjoyed dinner quite a bit - the same with our brief lunch that we had moments before muster. So far in fact, all the food we've had was quite good. Service was friendly, though not as "over the top" friendly as I sometimes find on North American lines. This isn't a good or bad thing - just different. There were no drawn-out pleasantries, but the wait staff was nice, friendly, and helpful. Service was far slower and less "on top of you" than you might find on a North American line (or on land), but similar to what we find in many shore-side restaurants in Europe. I can see where some guests may not love this - but we're fine with it.
Portions were smaller than often found in the US, but this assisted our self-control - and you can always just ask for more! Dessert may have been the highlight - but not because our meals weren't great overall. We often find ships serving overly sweet items, depending on sugar like some chefs depend on butter. My chocolate cake (it had a fancier name, which I didn't note) and Larissa's cheesecake over fruits (again, fancier name omitted for simplicity) were flavorful and sweet, but didn't leave us feeling like our teeth would fall out. The dentist-inducing intake was left to the limoncello we had with dessert.
A Short Evening of Exploring
We're looking forward to some of the stage shows on Seaside, but with all the madness of embarkation day there was simply no time. Further, Larissa just flew in from Finland last night, so she was tired. We walked around and tried to catch all the lounges we hadn't yet seen. The variety of live music is really great - though I'd have liked classic rock in the venue with 50's-era cars, The Garage Club (instead of...something involving a DJ).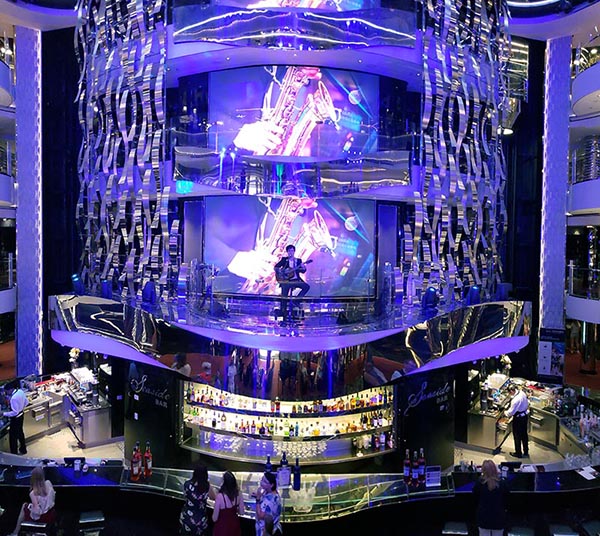 I was so proud of myself for not over-eating at dinner that we stopped by the Marketplace Buffet again to get another slice of pizza and a light-chocolate tart. After that we headed back to the room to unwind, and now I'm in The Haven, one of the lounges with live music (and our muster station).
Tips or questions? Comment below, or reach out on Twitter of Facebook.
MSC Seaside Live Blog Preamble
MSC Seaside Live Blog Embarkation, Day 1
MSC Seaside Live Blog Sea Day, Day 2
MSC Seaside Live Blog Sea Day, Day 3
MSC Seaside Live Blog St Martin/Sint Maarten, Day 4
MSC Seaside Live Blog San Juan, Day 5
MSC Seaside Live Blog Sea Day, Day 6