Submitted by

Bill

on Sat, 08/11/2018 - 10:47
If you've been keeping up with my Seaside sailing in somewhat real-time, you'll note this day was initially left off and is coming to you almost a month late. Read more about the delay and what we missed the last month here.
This morning we woke up to the last day with that terrible feeling of it being our last day of the cruise, but a beautiful last day in Nassau and a great way to sunset our very first (but certainly not last) cruise with MSC. This will prove to be a somewhat short post, partially because we really took it easy and did "more of the same", taking in another round of what we enjoyed most about MSC. Also though, we were lucky enough to tour and enjoy MSC's Yacht Club today, learning about all it has to offer guests in this exclusive suite area. MSC was one of the lines integral in creating the "ship in a ship" experience, and we want to talk all about that...in a future article. While this leaves a bit of a gap in our final day's post, we hope you see it more of a teaser, and we're really excited to share photos and information about Seaside's Yacht Club in an upcoming post. Still we managed to enjoy a nearly empty-ship, take in more impressive entertainment, and say goodbye to new friends on this, the last day of our first MSC cruise.
Breakfast With a View of Nassau
Arriving at Nassau today at 8:00am, we tried to get up earlier enough to take in the beautiful weather before it got warm, and eventually made it to breakfast around 10:00am. I know I've harped on it already, but I'll say it again: this ship lives up to her name. Even just heading to breakfast this morning we got to enjoy views of Nassau and fantastic natural light, courtesy of fantastic design of Seaside's venues. While a bit too warm for us to want to sit outside, as you can see the views are great from either side of the glass, and in some ways it feels like many parts of the ship, including the Biscayne Bay Restaurant, we designed to air-condition the outdoors, rather than keep guests inside. We enjoyed a simple breakfast, including a perfectly-poached apple, and discussed our plans for the day.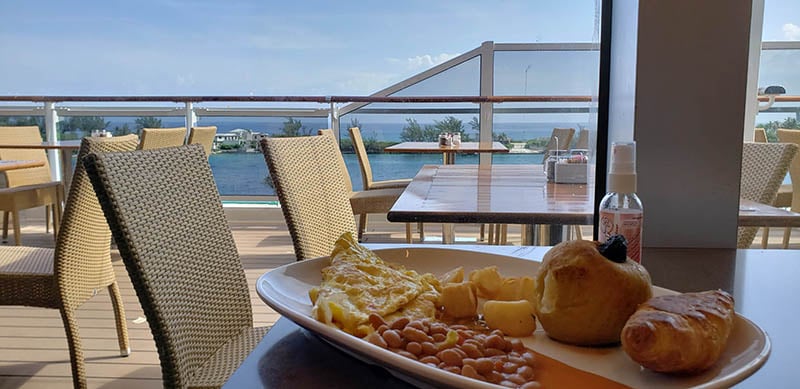 Enjoying a Nearly Empty Ship
You may have heard others say to stay on the ship while in Nassau because they think the port doesn't have much to offer, is dangerous, etc. While I'll agree that Nassau isn't the most exciting port in the Caribbean, there is lots to do in this city - but much of it seems to go unmentioned. You have several resorts at which you can purchase a day pass (such as the British Colonial Hilton), there is a pirate museum, John Watling's Rum Distillery, Pirate Republic Brewery, Junkanoo Beach, the Queen's Staircase, and so much more. Remember that you don't have to book a shore excursion for any of these things - there are many good reasons to book through the line, and other great reasons to look at other options.
All of that in mind, on this particular trip we didn't go ashore in Nassau. Sure, we've been there scores of times, but we often do tour the city. Today however we wanted to soak in the last hours of this ship, and, as mentioned, we had a date with folks at the Yacht Club which we needed to schedule around. As we strolled around the ship it was interesting to see the open spaces onboard with so much daylight and so few passengers. Sure, the layout of this ship is such that it seems there is always a place to sit and relax, even during the busiest of times, but looking out at the Miami Beach Pool, you could see that pretty much any deck chair you wanted could be yours - even some of the incredible looking (and very coveted) day-beds right at the pool's edge. The zip line was also opened, and I kind of wish we'd taken another ride, but it was fun to see others enjoying it while hearing the nearly maniacal laughter of children and adults alike as they soar above the deck in the middle of a blue sky in Nassau's harbor.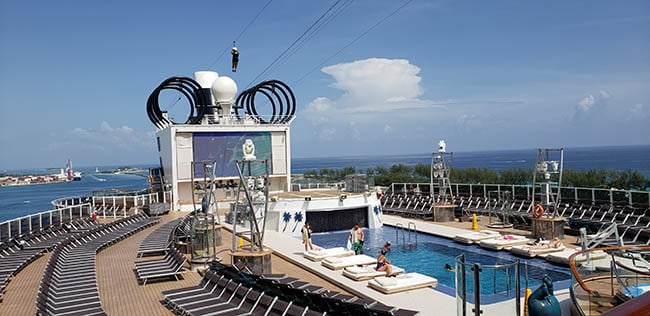 I'm not often a fan of the large glitzy atriums of modern ships, where the lighting and such makes me feel like I'm in a cheesy Vegas hotel. This is just a preference thing, and other's may love that ambiance. On Seaside though it was always neat to see what was happening in the atrium, whether a DJ, live band on one of the balconies, or just a pianist quietly playing on the lower deck, easily mistaken for a talented guest just toying around. Regardless of the happenings, the large multi-level displays have impressive videos of waterfalls, to digital visualizations that sync with the music. One thing that I wanted to do for this live blog (and failed at) is capture a wide variety of these displays, but I did capture a quick shot of one we passed today.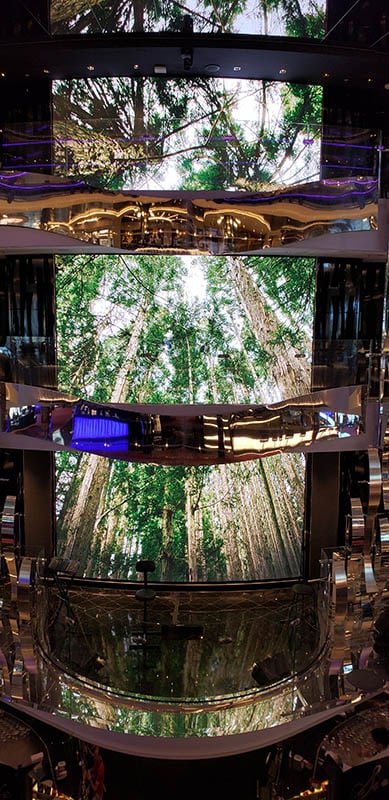 Yacht Club Teaser Time
As mentioned, we got to tour and enjoy the Yacht Club today. We weren't booked in Yacht Club, but were invited to tour the area with several incredibly friendly staff, including the officer in charge of this area. Look for an upcoming post about this, but just know this: if you book Yacht Club accommodations on the MSC Seaside, you have the option to stay in that area pretty much your whole cruise. Dining venues, bars, lounges, and more all exists for those with butler service, and a staff ready to make sure you're catered to. On Seaside, these areas also have, in my opinion, the best views on the ship.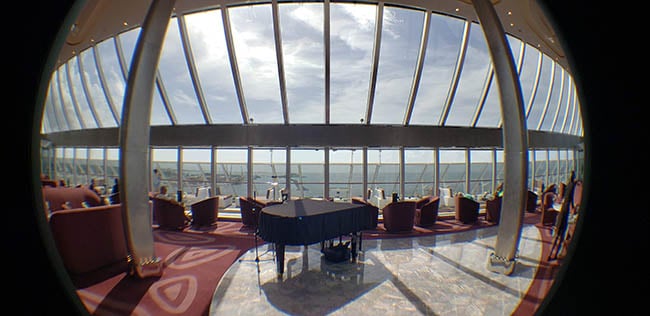 Sunset on MSC Seaside
After heading bac to the non-Yacht Club sections of the ship we noticed that while guests were back onboard (we hope, since we'd already left port), it was still pretty quiet around the ship as guests showered and started packing for our return. While enjoying some music and a drink in Seaview Lounge (where we've enjoyed Bourbon Quartet most evenings) we noticed that there were some birds pacing the ship. Usually this happens when you've just left a port, or are soon approaching. When it happens in the evening of your last cruise you know you're not far from home.

We headed up to our room so I could set up the the GoPro on my balcony (check this mount out if you want to easily get some great footage on your next cruise) and enjoyed the stillness of the sea as we watched the birds continue to fly around us. We'll soon have this and other time-lapse footage up on our YouTube channel - subscribe so you're notified when we add these videos, plus others with tips, news, and more.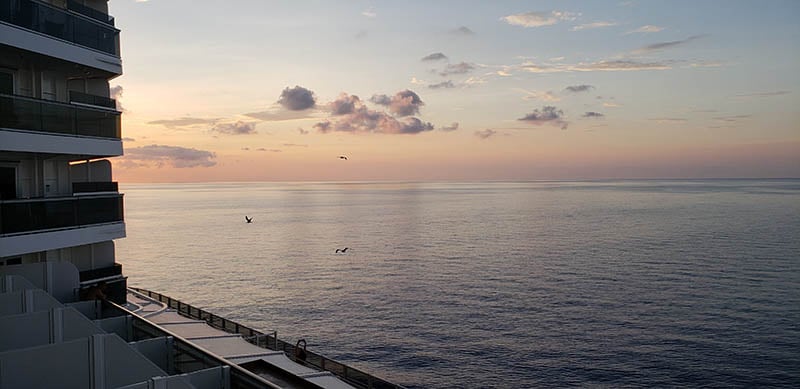 After this we headed back down stairs for a walk before the evening's show, and caught the amazing colors you can only find on a ship.
The Final Theatre Show - Peter Punk
This evening's performance, the final on our cruise, was called Peter Punk. The show is billed as, " A swashbuckling adventure, featuring some larger than life characters inspired by the Peter Pan stories." Similar to the other shows, the theme of the show wasn't really the point - though the set design and costuming was reasonably consistent to the Pan theme compared to some other evenings. Not surprisingly, many of the acts were from past shows were brought back (in new form of course) for the final performance, and this didn't make it any less impressive. In fact, the shorter run times of these shows, combined with the incredible talent meant we were absolutely ready to see more of what they had to offer. The lighting was good for all the shows, but perhaps particularly captivating for this one, and the speed at which one of the performers mastered a series of hoops (far beyond any hoola-hoop routine I've ever seen) was made more impressive by some of these visual effects. At the end the performers all returned to the stage, along with the cruise director and the captain, doing the normal, "thanks for coming" routine - but this cruise it really was more meaningful to see all the folks on stage, as there was no "second best" in this group. I still think Dream, the performance we enjoyed on day two of the cruise, was the most impressive, but like the cast all stood out - there was no bad show.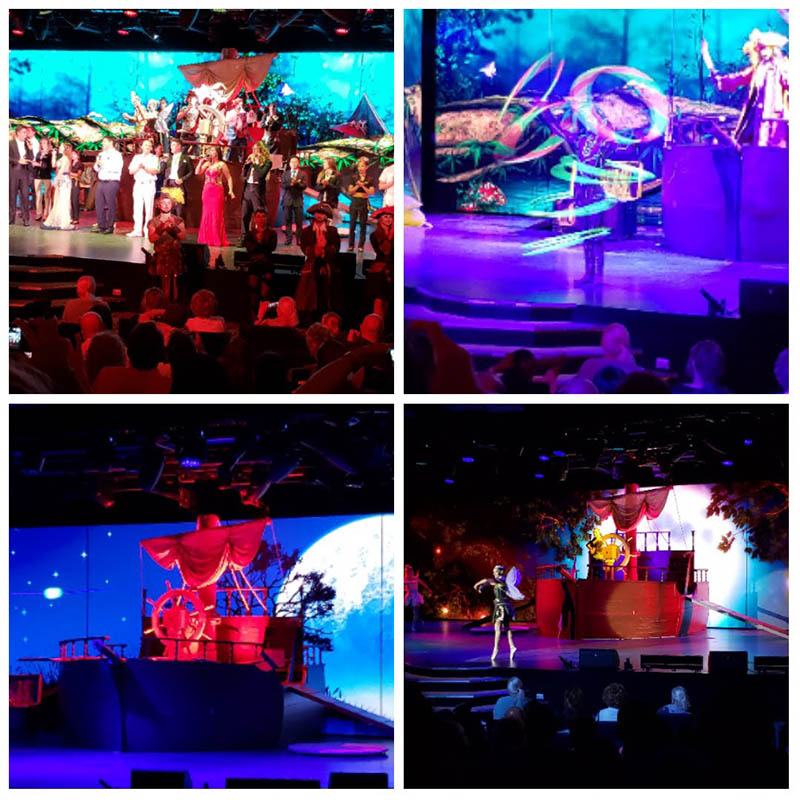 Saying Goodbye to New Friends
Heading back to the Seaview Lounge we enjoyed more music from the talented Bourbon Quartet. It was a pleasure not only getting to enjoy their musical performances each evening (in a venue with awesome bar-staff by the way), but also getting to meet the band and chat with them. Mauro, Ivan, Roasario, and Giada. Only two of them (Mauro, the bassist, and Roasario, the pianist) were acquainted prior to playing together for the first time on Seaside just a couple weeks before our sailing, but these fokls made great music together. With every song they played we knew that it was a big step closer to our evening, and our cruise, coming to an end. Finally the set finished and we grabbed a drink with the band at the Sports Bar across from Seaview Lounge. After exchanging information and hugs, we parted ways. I sincerely hope we can spend some time together while their in Miami some time, or perhaps while we're cruising with them again.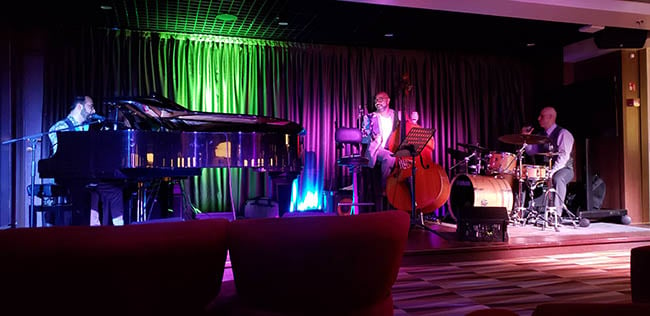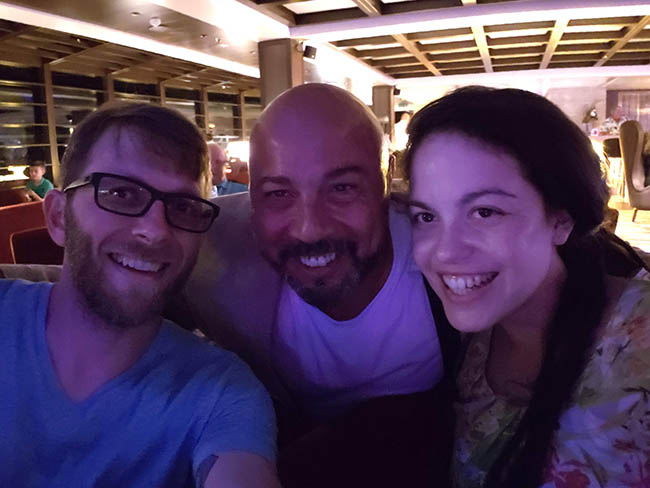 Wrapping it Up
The last day of a cruise always stinks. Since I was a child I've never been good at putting aside the idea that my trip is coming to an end, but I do get a little bit better at coping each time. Frankly though, while MSC Seaside has so much to offer, I felt we covered a good bit of ground on this trip, and have a new appreciation for a line we'd only ever heard of. Sure, we didn't try out Asian Market Kitchen, Ocean Cay or some of the other specialty dining venues, and we missed an evening show or two as well - but those things and others are just more reasons to come back. It's hard from one single cruise to get an idea of something that has so much to offer - not just as a ship, but as an experience, but overall, the impression we did get, was a positive one. I hope that we at least shared enough about the experience to help you decide if MSC Seaside is a good fit for you, it was certainly a great fit for us on this trip.
We're always happy to answer questions about MSC Seaside or anything else in the world of cruising. You can comment below, or reach out on Twitter or Facebook.