Author: Bill July 9, 2018, Updated: November 20, 2020
Our first full day on Seaside was exactly the pace I enjoy: relaxed.  Between the two of us, a long week of moving and a week of international travel meant we took things easy today, but still feel we took in a lot of what Seaside has to offer (as well as a nap).  We enjoyed meals, some sun, entertainment, and the best stage show I've seen at sea.
Breakfast in Marketplace Buffet
We didn't leave the stateroom until about 9:45 (we're generally late to rise), and the main dining room only serves until 9:30, so we headed to Marketplace Buffet.  The fare was largely what one would expect from ship breakfasts, which to me, is generally unexciting yet satisfying.  I had an omelet, some veggies, a cinnamon roll (awesome), and importantly, espresso.  I also had something they called a veggie frittata, but it's the size of a small shot glass and was very overcooked.  After eating I found a larger egg station as well as more sweet options - you really need to circle this buffet venue to catch it all.
More Exploring
Embarkation day is hard to grasp flow, and sea days really show whether a ship handled crowds well.  Overall, I'd say Seaside does this quite well considering the passenger:space ratios.  It's certainly more crowded than Celebrity, Princess, or HAL, but similar to what you'd find on Royal Caribbean. 
While the main pool area looked crowded, the somewhat chopped layout (that sounds bad, but really it works well) of the ship makes for many shaded areas with views on Seaside, so finding a spot is hardly a problem unless you're quite picky.  We grabbed some gelato (covered by the drink package) as we watched the many people enjoying the sun and water.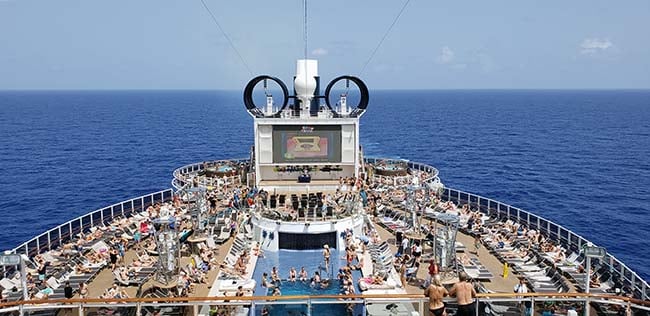 The Forest Aquaventure area is where you'll find kids (and some adults, all seem welcome) playing around with water-effects, squirt guns, etc.  Above it is a very small ropes course type thing.  Several of the water slides also exit this area.  We headed here initially because the zip line loads just above it, but while scheduled to be open, work was being done and it was unfortunately closed all day.  The area is overall incredibly popular - but handles it well.  The Jungle Pool area is just next to this, and has a retractable top (unusual for ships designed for the Caribbean).  The Jungle Pool area seems to attract families rather than mostly kids - and it's really neat looking, so I expect to spend some time there and share pics soon.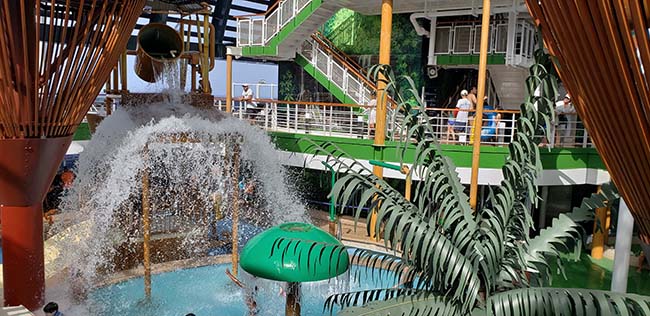 After the zip line mission was a bust we headed to the Seaview Bar in the atrium to enjoy a cocktail, live piano, and some people-watching.  The atrium on Seaside is four floors, has multiple ways of providing entertainment, several bars, the French restaurant, and of course, MSC's signature Swarovski crystal staircases.  I've never really enjoyed an atrium the way I do on this ship.  If you'd describe it to me, I'd think it a big gaudy, but it's quite pretty and well executed, save for the congestion that occurs when there is a line at guest services.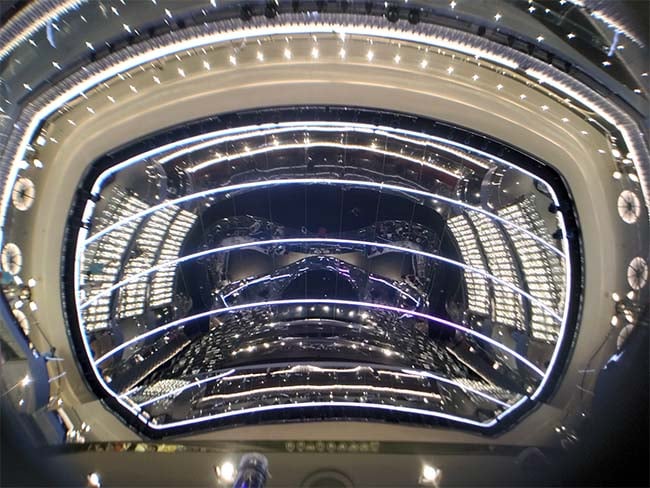 Lunch in MSC Seaside's Main Dining Room: Seashore Restaurant
For lunch we opted for the dining room.  I noticed tables are laid out slightly more closely than some Americans may be accustomed to, but it was no bother.  We were seated right away and had a nice lunch.  We are both vegetarian (though on occasion we'll experiment if something is particularly strange/unique) and found today's menu only had a single veggie main course.  I almost asked to see if we could work something out (as it was similar to what I had last night), but I enjoyed what I ordered and don't regret my choice.  We skipped dessert in favor of heading to Vechi Chocolate.  Great decision.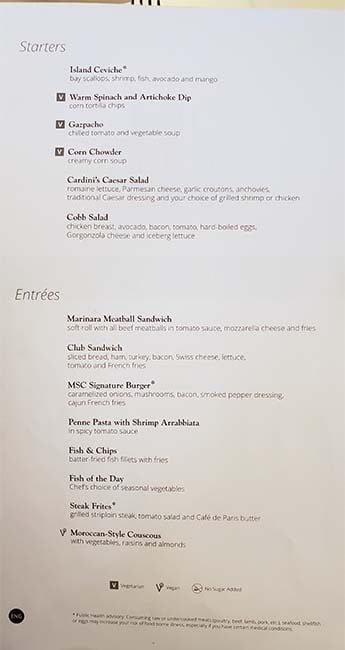 Venchi
If you are placing bets as to where we take in the most calories, the smart money is on Venchi.  I had an espresso with some sort of melted chocolate , and Larissa enjoyed prosecco with floating chocolate caviar.  Bother drinks were incredible, came with Venchi chocolates, and were covered by the deluxe drink package.  We will end up trying just about everything here.  In addition to counter service - they even have wait staff that will walk up, take your order, and bring you chocolate.  This chocoholic is sold.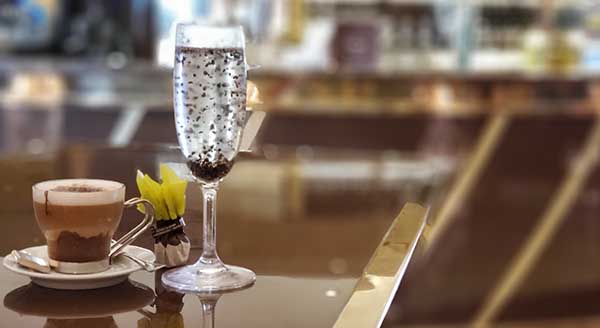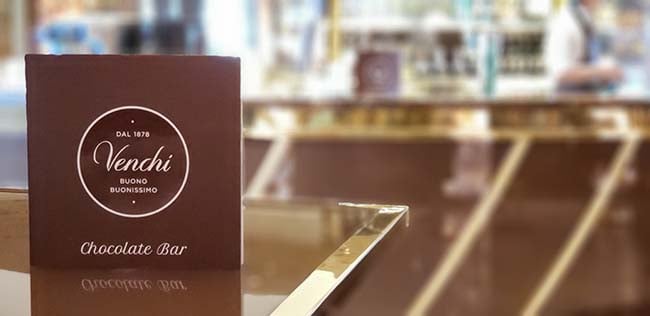 Naps and the Best Show We've Seen at Sea
 After the exhausting day we had (you can tell, right?) it was time for a nap.  We woke up, showered, and took a walk before head to The Dream in the Metropolitan Theater.  The theater itself is smaller than you'd expect, though there are three shows each evening rather than two, and the stage itself is larger than normal.  With the lights on the lines look too clean to be a theater, but as it dims the space looks great - and offers good visibility. 
The show featured some music from various musicals and other performances, but performed in very different styles.  Surrealism  is the theme - if there is one at all.  Costuming is over the top at times, and the transitions between performances don't seem to be understandable, yet work perfectly.  From fringed cowboy getups, to sexy bellhops (just trust me), a mime, various dancers, an incredible hula-hoop routine, and a four-wheel skating routine that left me scared a talented woman would be shot into the tenth row from perpetual motion - it was stunning.  I honestly caught my mouth agape several times.  Nothing I can write here will do it justice, and it's honestly not for everyone - but the performers were simply stunning.  I'll admit a couple of the dance routines were  tad out of sync, but individually, these were very talented dancers (and singers, etc).  I'll share what I told Larissa: Before the show I was showering, and thought, "so far, I'd sail MSC again as it's been great so far, but there are many great lines, so no rush."  After the show I thought, "I can't wait to sail MSC again just to see new shows when they come out, or shows on other ships."
Frequent readers and viewers know I avoid superlatives, so please take what I say as my having a very strong opinion about what I saw.  I can't wait for more shows this week.
Dinner and More Entertainment
Before dinner we saw a small "preview" of a Gatsby performance in the atrium.  Talented folks, and neat costuming (which Larissa was able to somewhat match up with, despite not knowing about this in advance), but the music wasn't period at all - a bit disappointing.
We enjoyed dinner (tonight was "elegant night" for what it's worth) in the main dining room and despite having "my time" dining, had the same wait staff.  They seem to try and make this happen when possible, which I like.  Our servers seems a bit more at ease tonight, which was nice.  That said, it still wasn't as warm as what you see on more typical North American lines, and I honestly prefer this - though your mileage and opinion may vary.  Dinner was very good, and I ordered several appetizers in addition to my main course.  For dessert I had a no-sugar added option, in the anticipate of more visits to Venchi, which happened right after dinner.
Next we went to see the main Gatsby lounge.  It too was a bit disappointing, as the modern music just didn't fit the theme of the evening.  Many guests researched better than I (yes, I see the irony) and dressed well for the event.  There was even a contest to see who dressed the part best.  That show is now over and I'm sitting just outside listening to a band perform in that same lounge (Haven Lounge).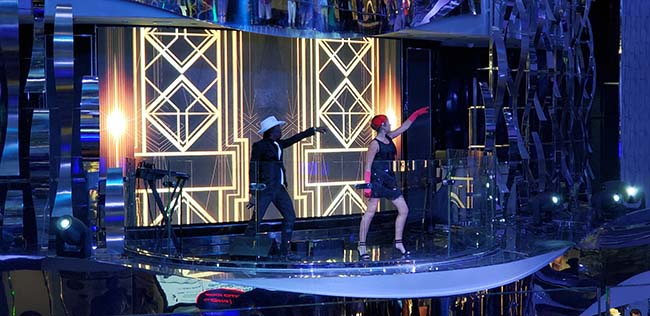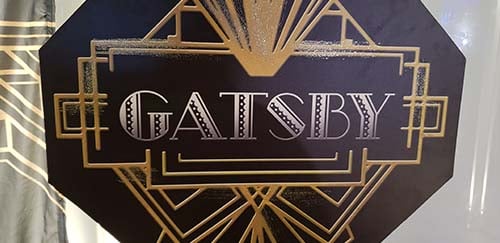 Tomorrow - Adventure Fun!
Tomorrow is another sea day, and since we're rested up the plan is to hit the zip line (assuming it's open), the crazy-looking water slides, and maybe even get some sun (safely, with the help of reef-safe sunscreen).  We'll also be booking an excursion for St Maarten tomorrow, we're just deciding between two we've narrowed down.
Stray Observations
Turnover service in the rooms is more than adequate.  You won't however find towel animals (thus far at least).  In fact, a stray hanger was even left on our bed with some beach towels. This is fine with us, but is another example of where things are just a bit different on MSC.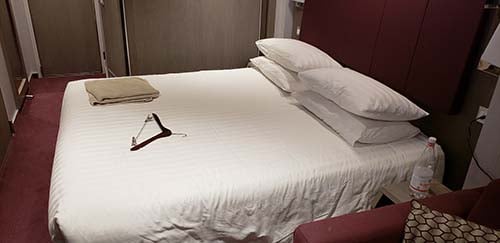 The deluxe drink package includes items in your mini bar.  There isn't too much there, but it's nice to know that if I really want something (even just a bottle of water), it's there, and you won't find yourself paying $7 or struggling to quickly replace something before they find you took it.  You know, like coke...in a glass harmonica.  Random reference.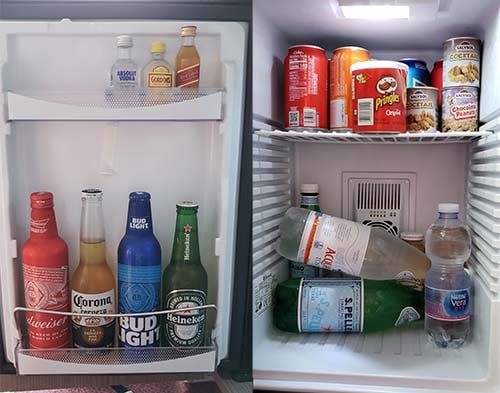 Our room is on deck ten, and the rooms just below have extended balconies which we can see onto quite easily.  Further, the deck extends out from there on the deck below.  This means that you look out at a great angle to see the sea.  It's still a beautiful view, but something you should understand, especially if booking the aft-half of the ship on a deck lower than ~14.  It's nice, but still not as cool as a Jerel-facing balcony.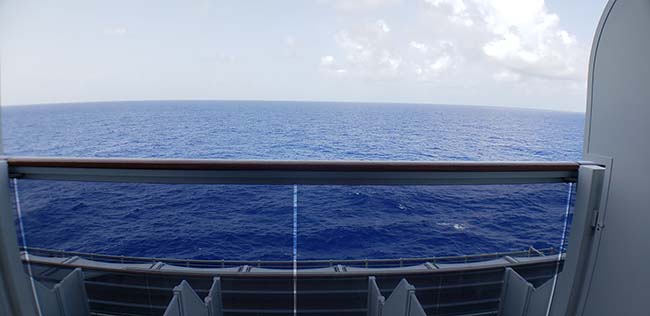 We love how easy it is to get good espresso on this ship.  Often it's just one or two spots with espresso machines.  On this ship every bar has quality espresso at the ready.  
Thinking of sailing MSC?  What do you do on sea days?  Comment below, or reach out on Twitter of Facebook.
MSC Seaside Live Blog Preamble
MSC Seaside Live Blog Embarkation, Day 1
MSC Seaside Live Blog Sea Day, Day 2
MSC Seaside Live Blog Sea Day, Day 3
MSC Seaside Live Blog St Martin/Sint Maarten, Day 4
MSC Seaside Live Blog San Juan, Day 5
MSC Seaside Live Blog Sea Day, Day 6