Author: Bill July 10, 2018, Updated: March 19, 2021
Today we arrived in Philipsburg, which is a city on the island of Saint Martin, and a destination I've not visited in around fifteen years.  There are two parts of this beautiful and politically unique island: The Dutch side – Sint Maarten, and the French side – St Martin.  The border is completely open, and noted only by roadside markers.  The French side is part of the European Union, and is an overseas collectivity of the country of France, it's largest city is Marigot.  The Dutch side is one of the four countries which make up the Kingdom of the Netherlands, and it's largest city is Philipsburg.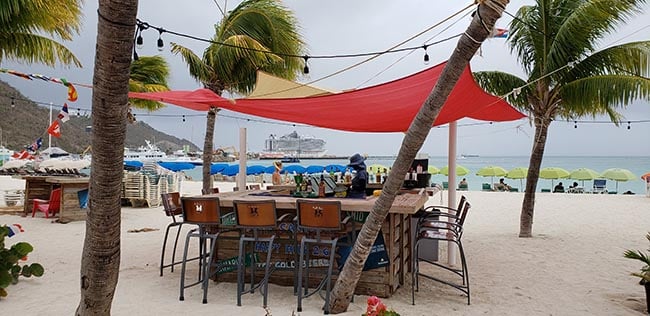 The Category Five Elephant in the Room
Last year Hurricane Irma devastated St Martin (and a number of other places).  Returning was wonderful, as I have many happy memories of the island – but it was certainly hard to see that so much of the recovery is ongoing.  While both the French and Dutch sides continue to rebuild, it's critical to know that not only is the natural beauty still present, but so are the wonderful people.  This island is remarkable in the combination of cultures and countries which come together to make something really special in an island paradise.  With tourism-based economies, it is critical that people visit Saint Martin, spend money in its restaurants, at its hotels, and talk with the locals who have had a rough year yet maintain amazing attitudes.  Please don't think for a moment that it is in any way inappropriate to visit places working hard to recover – quite the opposite.  The true is the same of San Juan, which we will be visiting tomorrow.  End of thought.
Worried about cruising during hurricane season?  Don't be.  Cruise ships go around storms and not into them. We share what you should consider when cruising during hurricane season, and explain how cruise lines handle the challenges.
À Partir de Marigot (Beginning in Marigot)
We woke up and decided to head ashore right away, hoping to grab some pastries and espresso from one of the French bakeries on the French side of the island.  While we'd contemplated booking an excursion we instead opted to get a cab and explore on our own.  The cab stand was a short walk from the ship and we quickly found a family of four willing to split a car with us as they were heading the same direction.  The cost would have been $25 for the two of us, but with the group, we wound up paying just $16USD.  The fact it was a fixed rate was helpful, as very recently construction on the major road between the two countries has caused traffic delays.  The ~25 minute ride ended up being quite a bit longer, but was comfortable.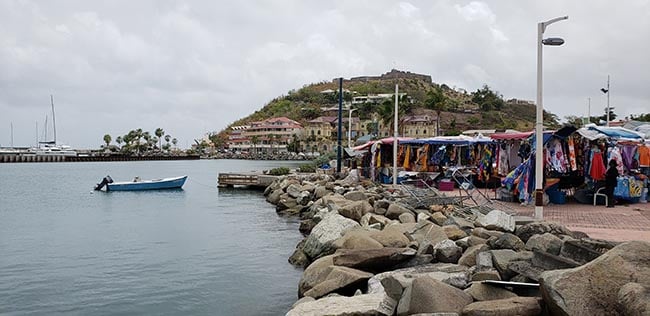 Unfortunately, by the time we arrived the local restaurants near Marigot's shopping area (just down from Fort Louis) had already stopped serving breakfast, and the bakeries in that area haven't reopened after the storm.  This was a bit strange as so many of the other businesses in that spot have set up shop once again.  Easily enough, though, a local pointed us in the direction of a bakery about a half-mile walk from her restaurant.  Au Pain Gourmond felt a bit more commercialized than some of the other establishments, but the staff was friendly and for just $4USD we had a raspberry beignet, a grilled-apple pastry, and an apricot croissant – they were all amazing.  Walking next door in the plaza (which was decidedly not a tourist spot) we grabbed some espresso and people-watched while eating breakfast.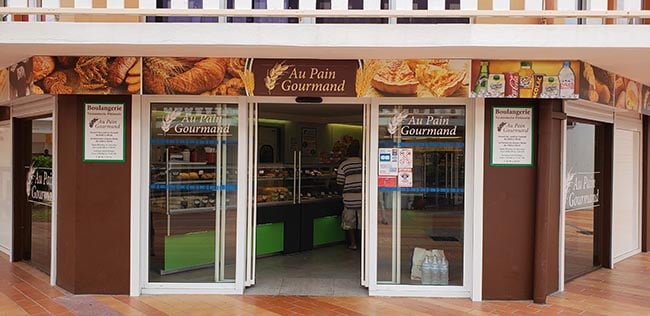 In the same plaza there was a grocery store, so we continued a tradition we enjoy when traveling, and went inside.  To us, grocery stores are great insights into how people really live, and you get to see neat local variants of products you might be familiar with.  Oh, and if you're looking for liquor or snacks, grocery store prices will always be better than the duty-free shops.  Leaving the store, we took a stroll around the local market, wandered into a mall with stores which should have foretold the $4 price tag on the water I bought, and headed off to find a taxi.  On the walk we observed many World Cup fans, and despite today being the France-Belgium Semi-Final, a huge number of locals sporting Brazilian flags (much to Larissa's delight).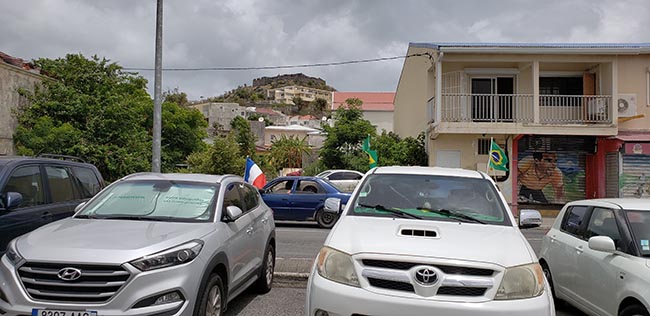 Volgende Bestemming: De Nederlandse Kant van het Eiland, Philipsburg  (Next Stop: The Dutch Side, Philipsburg)
The cab ride back was $20 for just the two of us, and our driver was a nice woman who just started driving again today after getting a new van (her previous vehicle was ruined in the storm).  We exchanged pleasantries and learned about her life.  I've never met someone in Saint Martin who isn't a delight. 
We asked to be dropped off somewhere in town (Philipsburg), and when going down one street the driver told us that this particular street had many establishments popular with locals – we asked her to stop there so we could begin taking a walk.
Quickly we found Shieka's Café, specializing in local and vegetarian cuisine.  I realize many people have some idea of what vegetarian cooking is, and I also realize that when you find great West Indies establishments like this, you can throw those ideas out the window.  The islands make some amazing food, and we had a fantastic meal for two, plus a local beer for $13.50.  As we left the restaurant we noticed there was a table of local police dining there – a sure way of knowing that those who know every part of the city also think highly of the food.  I highly encourage you to stop here and try something if you're in town.  The friendly staff works hard at this private restaurant and you can have a small plate, allowing you to try local fare for just $3!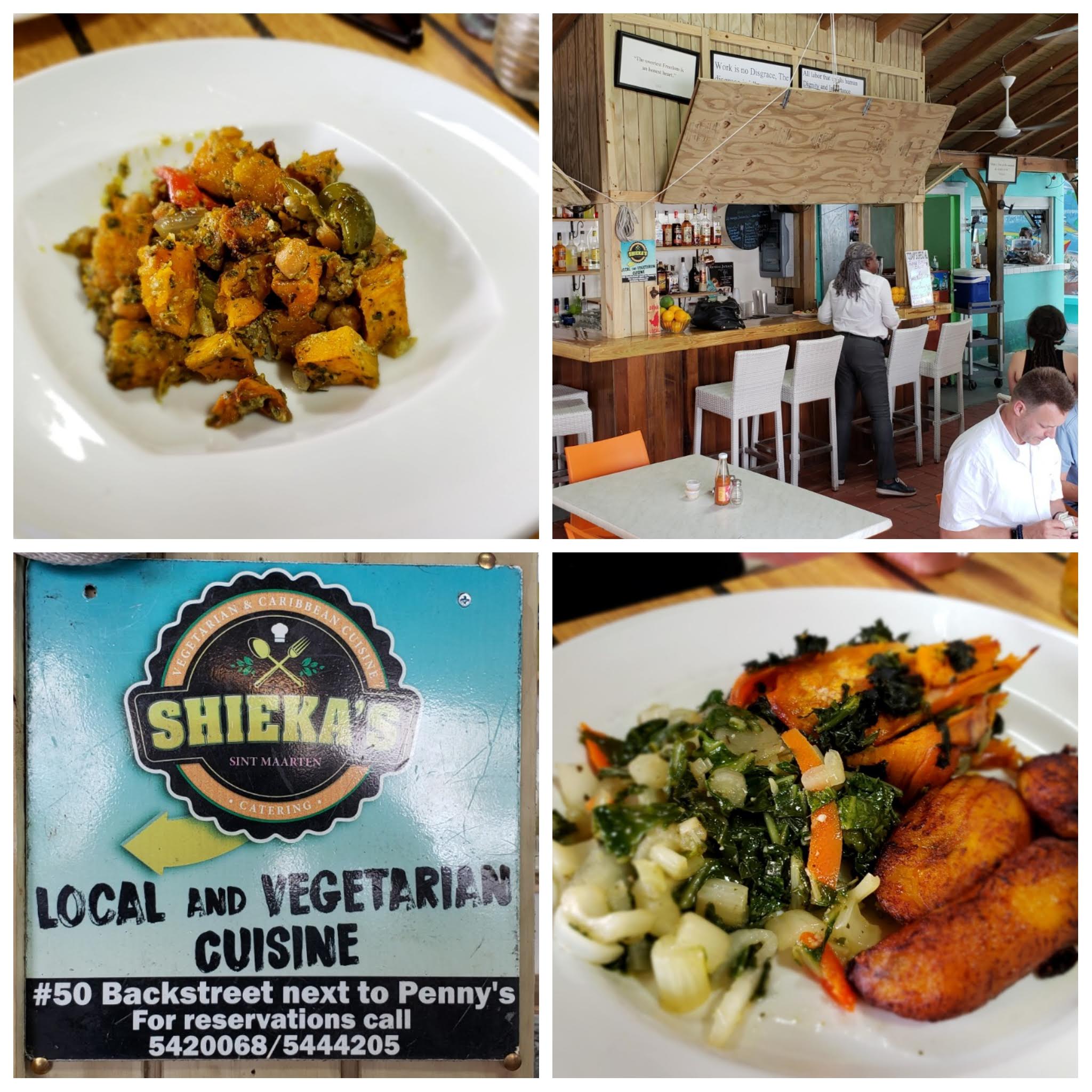 Continuing out walk we headed towards the boardwalk along Great Bay.  This is where there are some resorts, many bars, gelatarias, street vendors, and a fantastic beach, from which you can see the cruise port.  I'll admit, the colors aren't as vibrant since the storm – but they're getting there, with beautiful pastel buildings similar in color to what we've enjoyed in Curacao, another Dutch island in the Caribbean.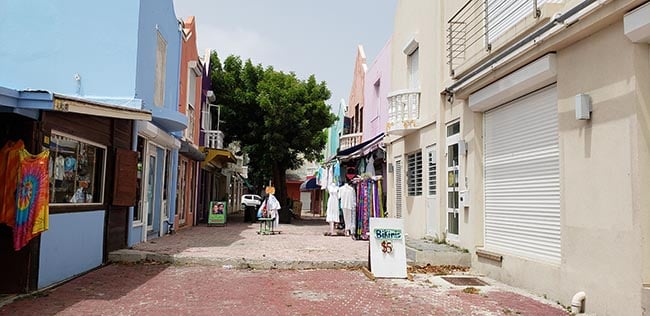 Larissa noticed one business that we knew we had to try – The Belgian Chocolate Fudge House of St Martin.  The owner, a Bulgarian woman, has run the shop for twenty years.  They have many handmade chocolates along with other treats (like home-made stroopwafels!) We had several chocolates and chatted with the owner (who was rightfully very proud of her business) and a local who seemed to have an amusingly pleasant relationship with the shop-keep as he teased her during our chat.  It was a fun experience, and ya know – chocolate.  Great chocolate.  If it wasn't for Venchi on the MSC Seaside and the 90F heat, I'd likely have done some more damage at this shop.  We'll be back in St Martin no later than January (on Celebrity Edge), and you can bet we'll be visiting this shop.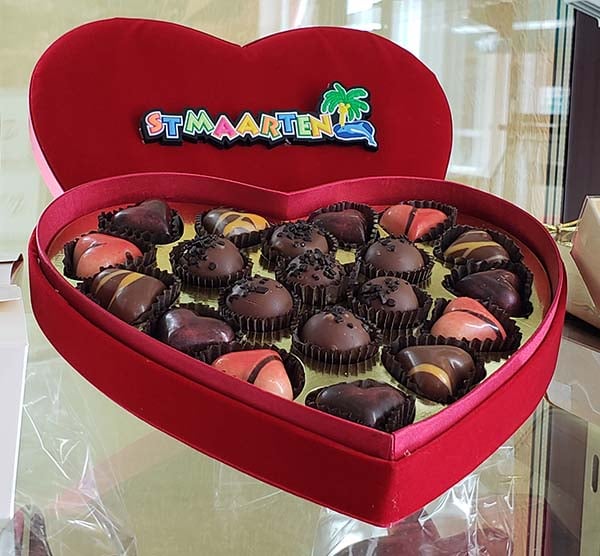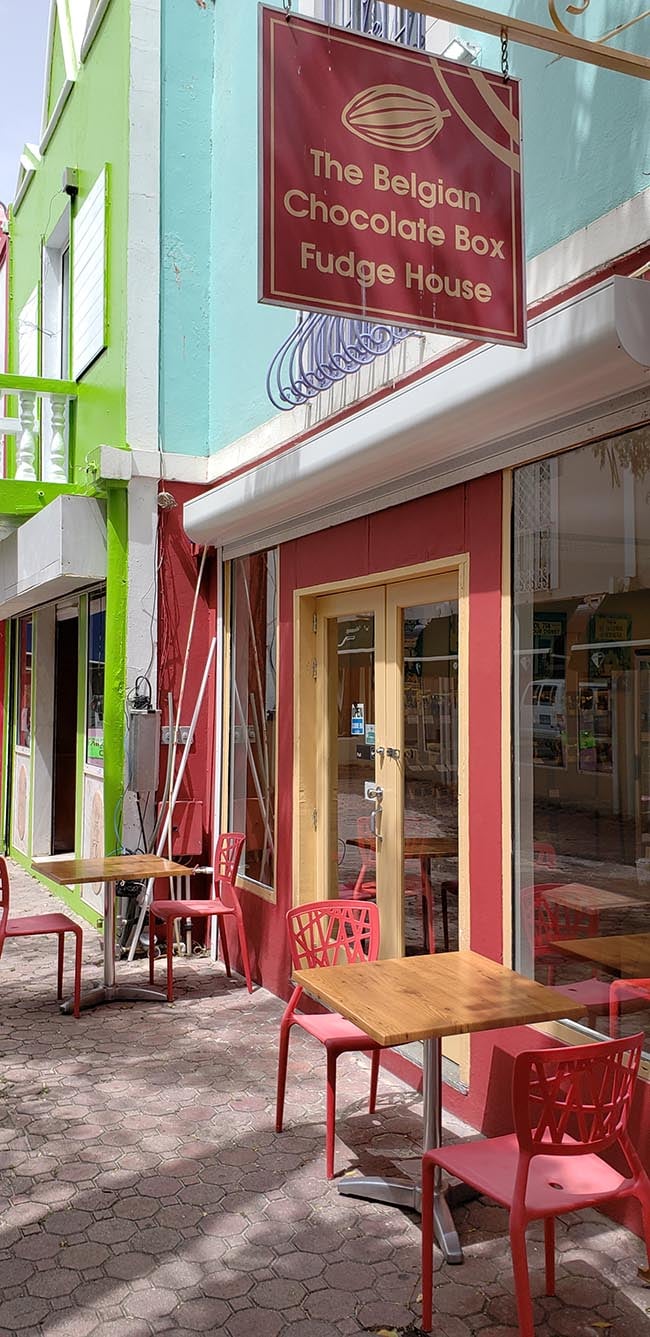 On the way back toward the ship we stopped to watch some of the France-Belgium match in a Mexican restaurant.  We had a few bars and the local crowd was having a blast watching the game.  While the service was friendly and the beer cold, I was glad we weren't hungry as they definitely featured tourist prices.  We also stopped at a cheese and knick-knack shop where you can buy giant quantities of imported Dutch cheeses to take home.  Let's just say that today was a red-letter day for my self-control.
In Realtà non Parlo Nessuna di Queste Lingue (Back on the Beautiful MSC Seaside)
Back on Seaside we cleaned up, had a snack, stopped at Venchi, and broadcasted on Periscope and Facebook.  Much of the broadcast was from the promenade on one of the lower decks, and the amount of deck space, chairs, loungers, and even seating areas from which you can enjoy a meal is still impressive to me.  Again – Seaside lives up to here name.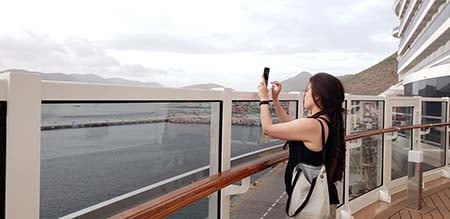 At the Shine Bar Larissa and a pleasant Colombian woman both confused each other for people they'd met earlier in the cruise and the result was a lovely chat with her and her husband.  They were delightful and we enjoyed the chat, which, as a non-native (and very poor) speaker of Spanish, took so much mental energy out of me that I burned off enough calories to justify the second Venchi stop of the day that we all know is coming.  Actually, if you have been reading the entire live blog then you realize a third stop at Venchi is entirely possible.
For dinner we decided to keep it simple and head to the Marketplace Café. I'll emphasize as I have in the past, that you really need to do a full lap around this buffet to make sure you don't miss anything.  Even similar stations (there are multiple Soup & Pasta stations, for example) may have different options.  Our meal was nice and for dessert we headed to… Venchi. 
Next Stop: San Juan, Puerto Rico
Tomorrow we'll be in San Juan, another city I've spent far too long away from.  As I'm actually writing this blog before 1:30am, we hope to get a nice early start because we're both extremely excited about seeing El Morro and enjoying all the older part of the city has to offer.
Do you have any tips for us tomorrow?  Wondering why my title translations are so poor?  Comment below or reach out on Twitter or Facebook!
MSC Seaside Live Blog Preamble
MSC Seaside Live Blog Embarkation, Day 1
MSC Seaside Live Blog Sea Day, Day 2
MSC Seaside Live Blog Sea Day, Day 3
MSC Seaside Live Blog St Martin/Sint Maarten, Day 4
MSC Seaside Live Blog San Juan, Day 5
MSC Seaside Live Blog Sea Day, Day 6