Author: Bill June 13, 2021, Updated: June 14, 2021
The last day of any cruise is relaxing and a bit sad – the final moments of a wonderful trip.  This final day on Celebrity Millennium was no different, except our disappointment that things were about to come to an end were eclipsed by how grateful we are to be back to sea, and back to a little bit of normal.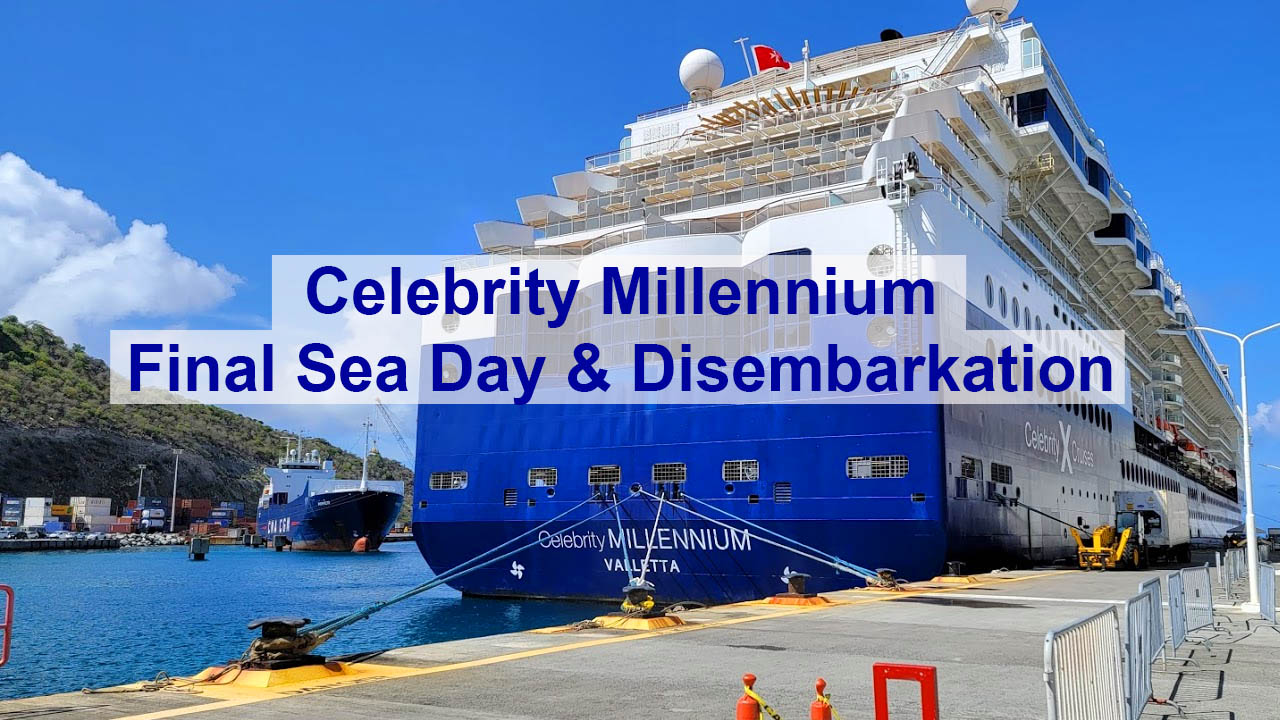 We honestly didn't do much the last day – not because there weren't a ton of options.  We took things slow, relaxed, and took in the slow pace of a relaxing day.  There was still great food and excellent entertainment to enjoy though, and we don't feel we missed out at all.
End of Voyage COVID Testing
The nasal swabs weren't the highlight of the trip, but perfectly painless.  No, not the defunct punk band, "The Nasal Swabs", but our end-of-cruise COVID test.  All week, guests have been able to schedule a COVID test for some time during the last two days.  These antigen tests serve two purposes: re-entry into the disembarkation port of St Maarten, and re-entry into the United States (where most guests onboard are from). 
The cruise line printed QR codes that could be scanned to load a webpage allowing you to schedule your test, but if you needed assistance or had questions, there were staff at the ready near the conference center on deck 3.  We'd scheduled ours for the final day at 1:20pm, though we should note that they were running well ahead of schedule, and guests were told they could go earlier if they wanted.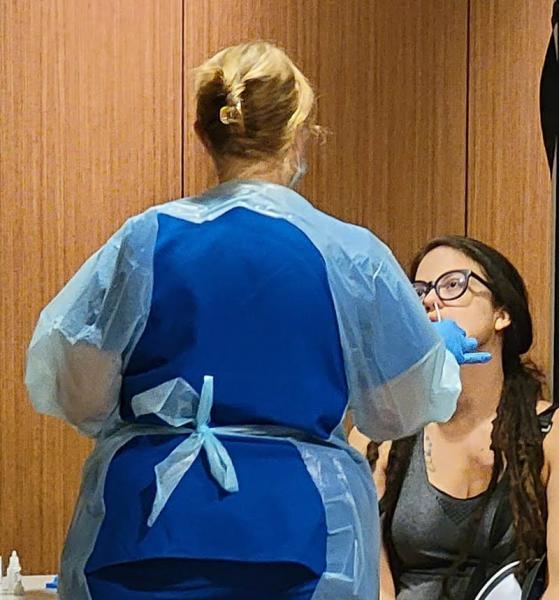 The process was wildly organized.  You scanned your SeaPass card (room key) and they confirmed your info, and then a team of nurses from a company Celebrity contracted with then swabbed you.  The entire process from walking it to walking out was less than a minute.  The results were emailed to each guest within an hour, and printed for distribution to staterooms later that night.
I actually provided a report to Reuters about the situation onboard, and you can see that here.
Lunch in the Metropolitan Dining Room
Often there is so much going on during a cruise that we fail to enjoy lunch in the main dining room (called the Metropolitan Dining Room on Millennium).  We do try and do this at least once each cruise, so the last sea day was our last opportunity, and we're glad we did it.
I enjoyed some friend mushrooms and an egg croissant, which I chose since it felt a bit like a brunch.  For dessert I enjoyed a rhubarb tarte that was incredible.  The fruit, the pastry crust, and merengue made for a perfect combination.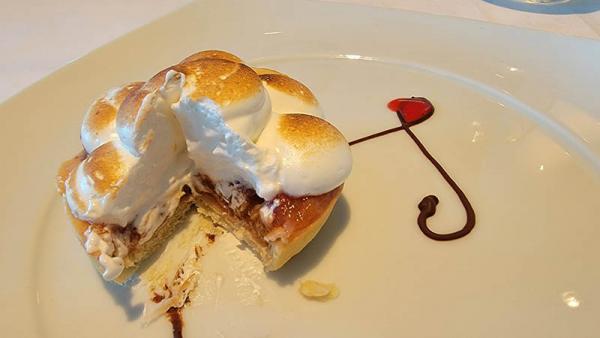 Service was good, and quick.  We're generally not in a dinner rush, especially in the dining room, but for lunch we're often in the middle of a few things – so the pace was just what we were looking for: not rushed, but not too leisurely. 
The dining room itself is such a pretty space – much brighter than before Celebrity Revolution.  It felt more modern and upscale.  Even on this overcast day the giant windows at the stern provided nice light and pretty views – with the ocean colors complimenting the blues in the venue.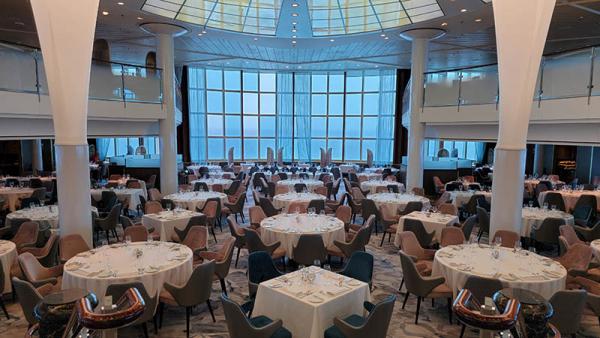 Final Exploration
After lunch I headed to the Sky Lounge as I kept wanting to see what it was like during the day.  It's so nice to see the light through all those floor to ceiling windows.  Interestingly, while the ship in general is brighter than before the refurb, this room is, in a way, darker.  The décor is inline with the rest of the ship, but there used to be a skylight above the dance floor.  Because there was a hot tub added to The Retreat suite deck just above this venue, the skylight is gone.  One thing that remains?  The old Cosmo sign (the previous name of the venue) still exists near the exterior entrance.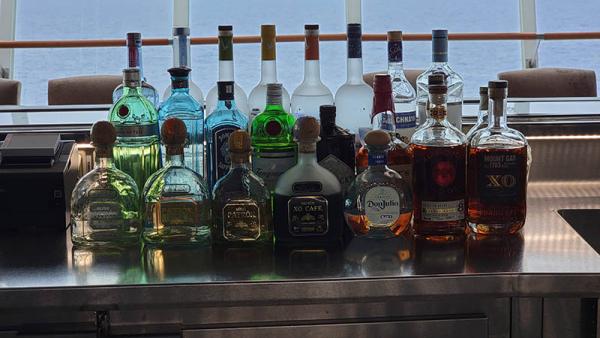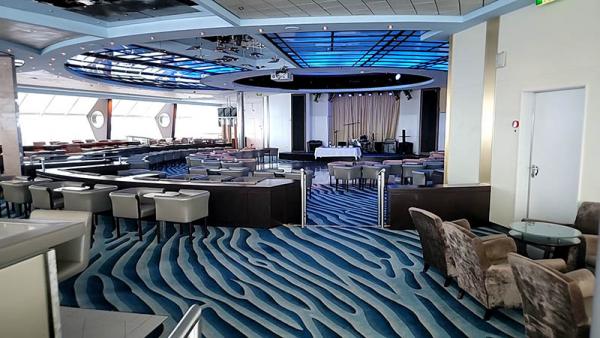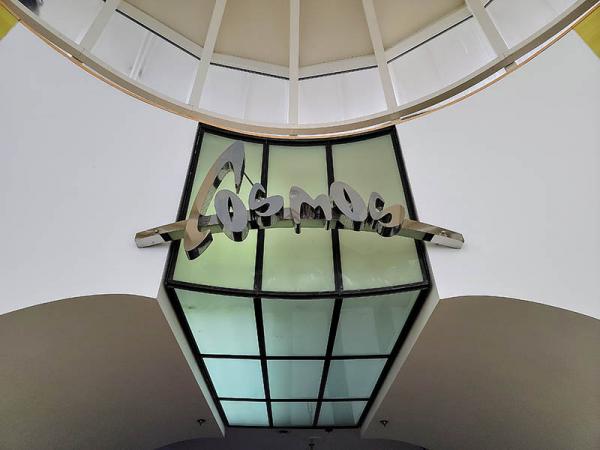 Dessert Before Dinner
On my way to get a drink strolled by Oceanview and saw a long row of cakes.  One superficial but nice advantage of the crew serving guests at the buffet is that quite often, within five minutes of meals starting the dessert section is a bit of a disaster – I know I'm not very good at taking the first piece of cake.  More good news on this front is that it seems likely that Celebrity will continue having crew serve guests, even after other restrictions are lifted.  This seems popular with guests.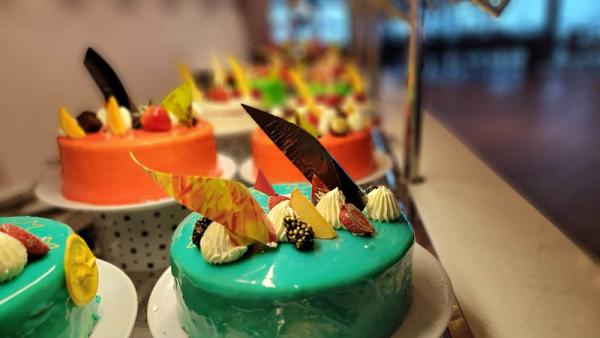 Great News Over Sushi
We enjoyed Sushi on 5 one more time, this time with our new friends Rick and Tommy (the couple who were engaged earlier in the cruise).  I failed to take any pictures of us during the meal, which I regret, but we did get some great news over the meal.
Just before our entrees arrived, Captain Theo came on with an announcement: there was zero community spread on Celebrity Millennium!  The procedures and restrictions, requiring the overwhelming majority of guests and all crew be fully-vaccinated before boarding, they made it so we could enjoy a cruise with no community spread, no need to end the cruise early, and no need for extended isolation of uninfected guests.
Savannah Smith: Jaw-Dropping Vocals
In the theater tonight, the main performance was by Savannah Smith, billed as a pop-country vocalist but with incredible range.  She not only performed covers by Melissa Etheridge, Brandy Carlisle, and others.  She also performed Midnight Train to Georgia with Uptown, the group featured earlier in the cruise.  Finally, she did several mashups that were wildly entertaining and high energy, ending with a song from Wicked that even included the stag raising her up.
Overall the performance was impressive, and also moving.  She shared a bit about her life, her family, and more than once left the audience in tears.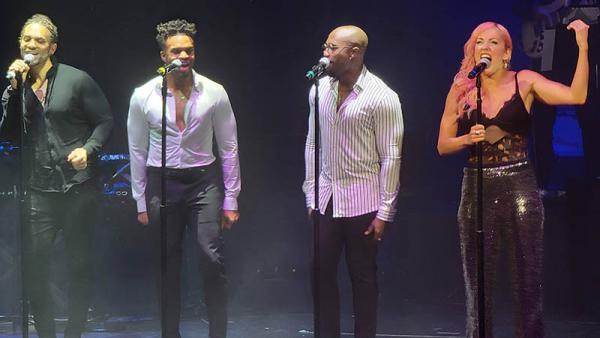 Turning in Early
After the show we returned to our room to finish packing and put our bags out.  There were some chocolates and jellied candies waiting for us as a parting gift.  That's good, I was low on desserts for the day… or not.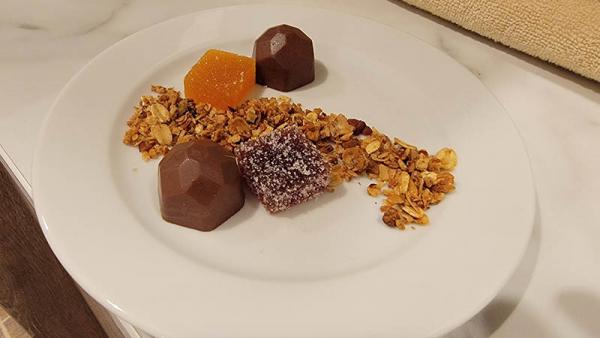 One quick tip here: the bag tags you put on your luggage that is being checked at disembarkation usually have a small section at the end you can peel off with the number matching the tag.  Put this on your key card in case you forget where to find your luggage in the terminal the next morning.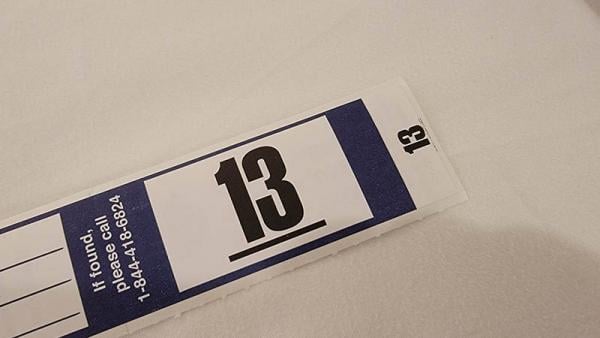 Disembarking Celebrity Millennium on St Maarten
We woke up just where we started – in beautiful St Maarten.  The sky was bluer than at any point during the trip.  Despite the prettier weather, the view of Philipsburg was much nicer when the cruise has just started, because we had the whole trip ahead of us.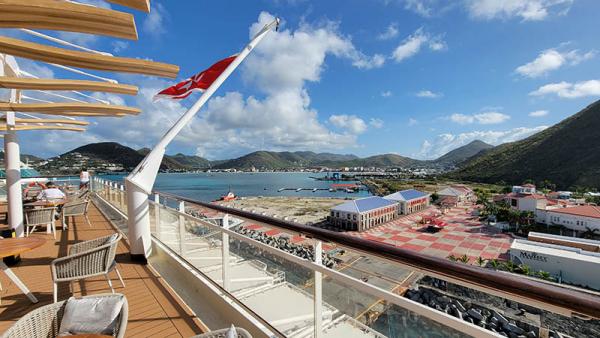 We gathered our carry-ons and went to get some breakfast while we waited for our luggage tag number to be called.  It was one of the last numbers, so while we waited, we headed to Café al Bacio for some espresso and a pastry.  The café is always open on the last day, and popular with guests and officers alike.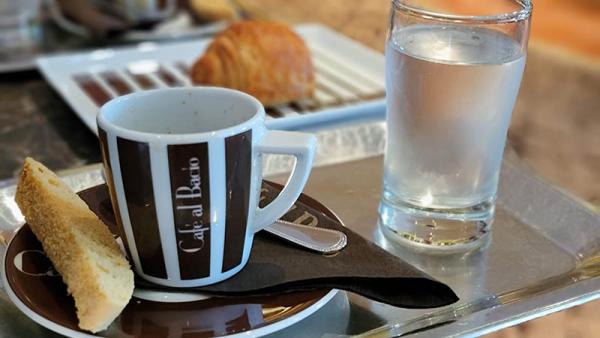 Eventually we disembarked the ship via deck one, and were taken by golf-cart to the port building just a short trip away.  There we got our bags and went through immigration.  This was the only bottleneck, but we still waited just a couple of minutes.  I can see this being a bigger issue on a sailing with more guests, but it may be that they have more immigration officers on hand by then. 
Celebrity did a great job of calling numbers at a pace that allowed everyone to wait on the ship comfortably.  After immigration, we walked through the same area in which we checked in a week before – all ready for the next round of guests.  Just outside that area was where we got a cab.  Total time from gangway to cab was under ten minutes.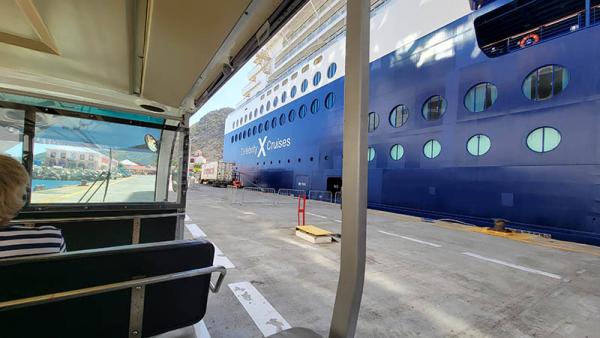 A Final Farewell to St Maarten
Having some time to kill before our afternoon flight, we decided to go back to where we started our St Maarten trip: Holland House Hotel.  It's a lovely property right in the middle of Great Bay Beach, and just a few minutes from the port.  In fact, if you're visiting St Maarten on a cruise, you can walk from the ship to the hotel (it takes about 20 minutes on foot).  A cab to the hotel is $12 (which seems a fixed rate from the port).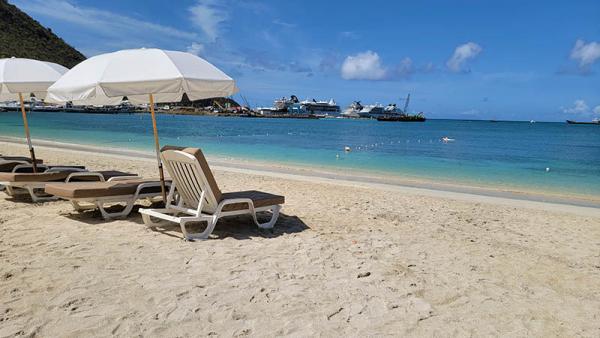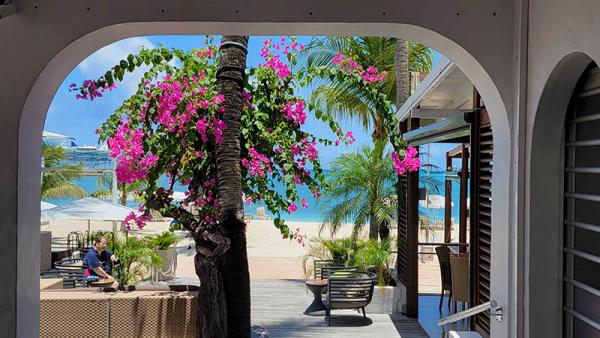 Along with some other guests and new friends, we enjoyed several hours of cocktails and amazing views.  You can buy a day-pass here as well.  $25 gets two guests WiFi, access to an outdoor shower, towels, two loungers, and four drinks.  Not bad at all!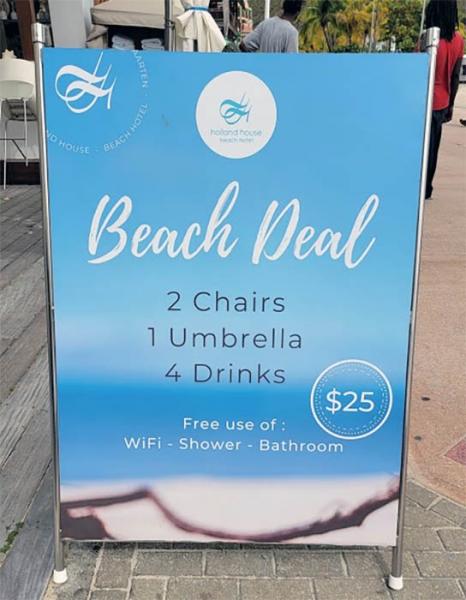 The Flight Home
The final leg of our trip involved a flight back to Ft Lauderdale.  This was the only problematic area, as Princess Juliana Airport was a bit of a mess.  It seems they have the top floor closed and limit how many people enter to maintain distancing, but frankly this only made it more crowded.  I won't complain too much, as most had little delay, but JetBlue (our carrier) was having computer issues this morning, so things were…stressful.  Still, we made it home just a few minutes late.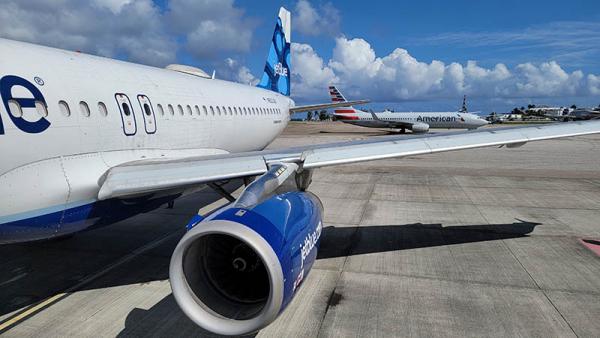 Once home I dealt with a feeling that I simply hate, but after 15 months away from cruising, I was so glad to experience: post-cruise blue.  There is only one way to get over the feeling of being back from a cruise though, I so promptly checked in to our next cruise: July 3rd on Celebrity Edge.  I'd love for you to join us and talk ship.  There is still space available, so click here and get a quote and we can enjoy the next sail away together.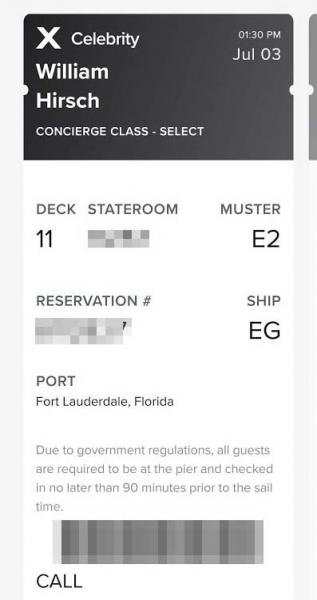 Please make be sure to follow us on Facebook, Twitter, and Instagram, and subscribe to our YouTube channel!  We do live broadcasts from ships and ports of call, answering your questions, and having a great time sharing - so come say hi!  Also, we're sailing Celebrity Edge on July 3rd, so if you want to sail a great ship out of Ft Lauderdale, come join us!