Author: Bill June 11, 2021, Updated: June 11, 2021
Our day began like many on this trip: sunlight coming in around blackout curtains and my wishing I had the willpower to get to bed early. Today, though, our Celebrity Millennium cruise was in Willemstad, Curacao, and I've decided it's one of my favorite destinations in the Caribbean.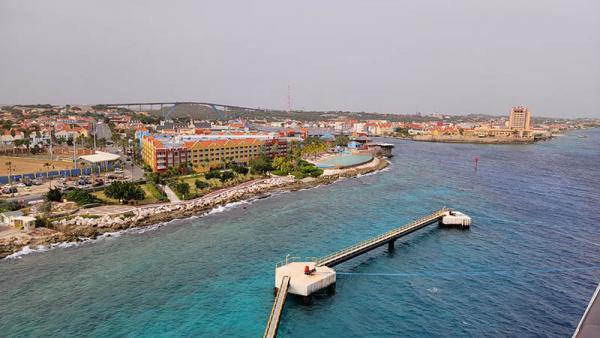 Exploring Willemstad, Curacao
After some food and much-needed caffeine (Cafe al Bacio is my savior), we headed ashore.  Curacao is another island nation in the Netherlands Antilles, but in our experience, it feels more culturally Dutch, and also South American.  Similar to the others however, they're a nation of polyglots, with most being fluent in English, Dutch, and Papiemento.  Spanish is also widely spoken.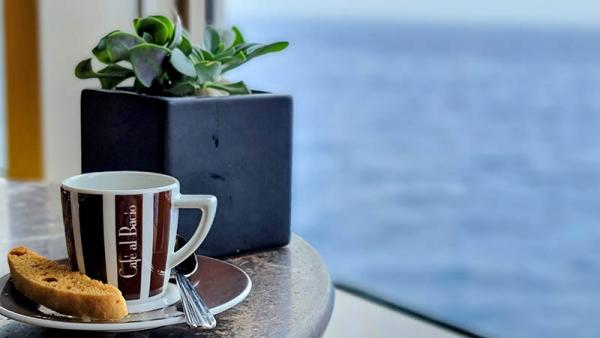 Stepping off the ship you walk though a well-curated and manicured area (like in my Caribbean ports).  There is a casino and hotel, shops, etc.  After about ten minutes of walking though, and after stepping through a fort turned shopping mall, you find a large bridge ahead.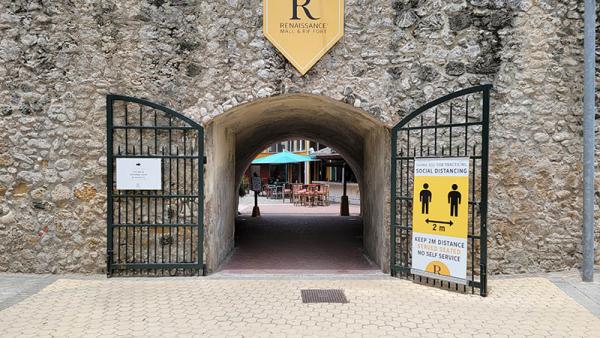 The Queen Emma Bridge is a beautiful collection of wooden slats laid across what look like boats – as if the boats are what keep the bridge above the water.  It spans several hundred feet across a large waterway which separates the neighborhoods of Punda and Otrobanda.  When vessels need to pass, the massive structure swings out of the way, hinged on one side, and propelled seemingly by boat motors.  Once the vessel passes, the bridge returns and is locked into position.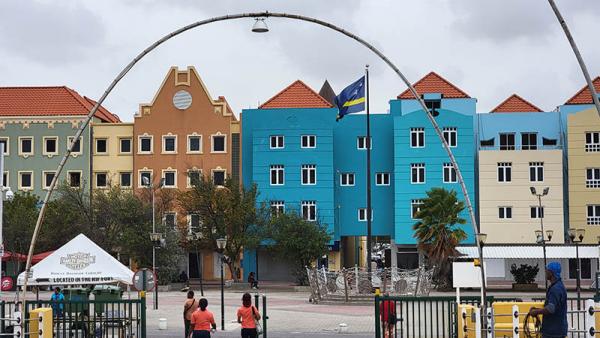 Following a walk across the bridge (which by the way, makes great noises with the surf), we started walking about the town.  Many of the buildings have very similar shapes to those seen in Amterstam Centrum.  Tall and thin, with peaked front facades.  Unlike in Amsterdam however, these are all beautiful pastels.  Some buildings are clearly newer and made to look the part, but others have been around for years.  Here you'll find many independent brands as well as some familiar to those in Europe – and even the US and Venezuela.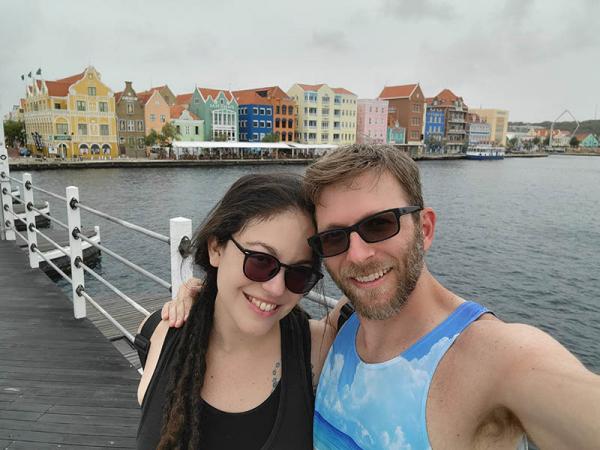 Eventually we reached the floating market – which was less floating than last time.  This is an area along the water where traditionally, boats pull up and sell their wares.  In the past, many of these boats were from Venezuela, being just 15 or so miles off the coast, but this time there was just one boat, a fishmonger.  Still, it was a colorful market of both souvenirs for tourists, and a wide variety of fruits and vegetables.  Last time we had some fresh fruit and chatted with a Venezuelan gentleman.  Hopefully the vibrance of this area returns as COVID and the challenges in Venezuela are one day part of history.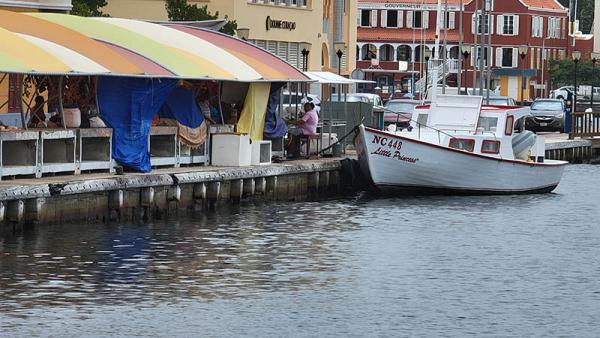 Nearby there are several other markets, including the Marshe market in a circular building.  This one was notable because while they had some touristy items, it was mostly products for locals, and there was a section of local food vendors.  Unfortunately, we arrived at an odd time so I wasn't able to try out any local fare, but we picked up some trinkets, and will remember to come back here in the future.
Bridges of Curacao
In addition to the Queen Emma Bridge we mentioned above, there are many other interesting bridges in town.  If you've visited Amsterdam you know that the bridges all seem to be built differently and have a unique look to them.  The same is true around Willemstad, where bridges for cars as well as smaller pedestrian bridges are all rather interesting looking, and not only are most able to be lifted or moved out of the way for watercraft to pass, but they each seem to use completely different methods of doing this.  To me, it really felt like functional art.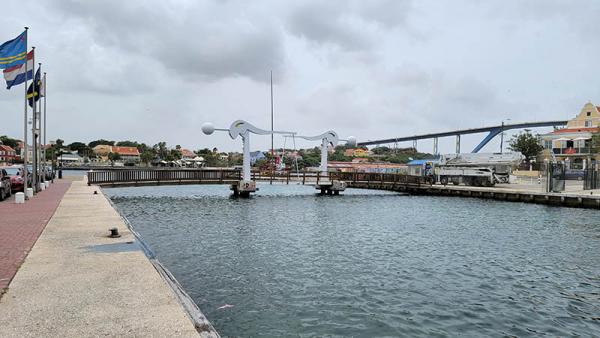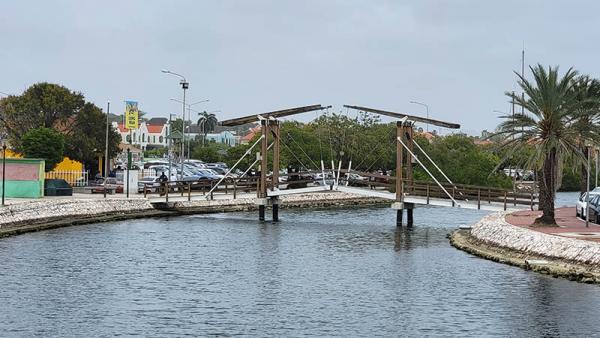 If you find this interesting like I do, you may also enjoy the Maritime Museum, which is just a five or ten minute walk from where cruise ships dock.  We went there on our last visit and found interesting exhibits and information.
Snacking with a View
As we headed back to the ship, we made to stops.  Before crossing the Queen Emma Bridge to return to the ship, we stopped at Iguana Café, which has a large number of tables right along the water, with a nice view of the bridge, boats going by, and the pretty buildings.  It was definitely one of the more expensive stops compared to other places we visited, but the $35 for a couple of local beers, waters, and arepitas (small, savory, cheese filled pastries) was well worth it for the view and atmosphere.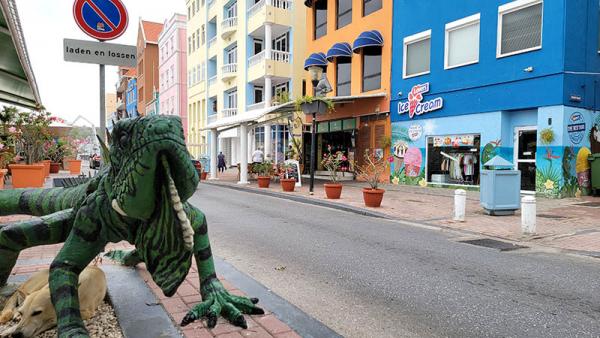 After Iguana Café, we crossed the bridge and made our final stop, a small building that sells French fries and other snack foods.  As mentioned in our Aruba post, fries with various sauces and toppings are a common street food in the Netherlands, and this spot serves them up in a very traditional way.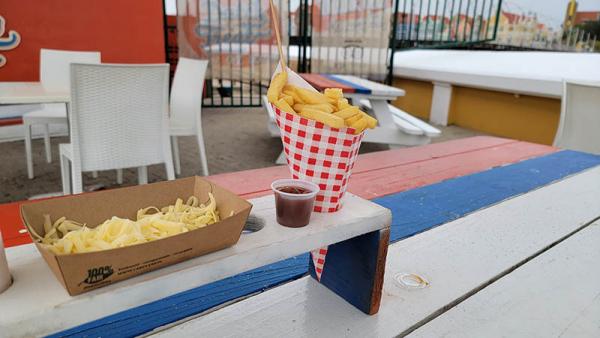 Keep in mind at these places and just about everywhere in Aruba, prices are listed in Guilders (NAf) – and sometimes in USD as well.  Just about every place will happily accept both, but the valuation can be quite different, so be sure you know which currency is on a menu or price tag.
COVID News Back On Celebrity Millennium
Once back onboard the ship I was laying out on deck and the Captain came on the PA with an announcement.  Two guests on this vaccinated sailing tested positive for COVID-19.  The tests were done as part of routine testing all guests are going through to meet re-entry requirements for St Maarten and the US.  They two guests are staying in the same stateroom, and are asymptomatic.  They explained that those identified as being in close contact with the guests would be tested immediately and isolated until the results came back. 
Because everyone 16+ is fully vaccinated, outside of the inconvenience for the guests that came up positive, and those in close contact, the sailing seems to be operating as normal.  All events and activities are still happening, though one party was moved from the an indoor venue to the open deck – perhaps because of this, but that's speculative on my part.  So far, hundreds of guests have been tested, and no one else has tested positive.  This is why it's so important to have very high percentages of populations on ship (or elsewhere) vaccinated: to reduce community spread.
I'll be following up with more information on this situation (be sure to follow me on Twitter), but you can read more from our friend Ashley, who is also onboard, and was isolated for the evening as a precuation.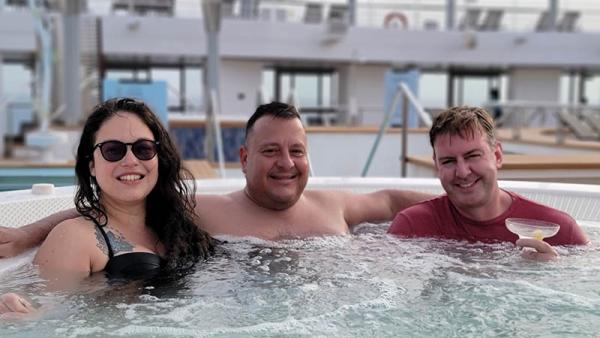 iBroadway in the Theater
Celebrity really has stepped up their entertainment game in the past several years.  The theater shows now often including acrobatics, stories written specifically for the show onboard, music performed by high-energy live bands, and singers you'd expect to pay to hear.  I often say that they've moved away from the traditional Broadway mashup, and while tonight's show may technically fall into that category, the quality of the performances and the overall production is nothing like what you saw on a cruise ship twenty years ago.
The Final Countdown [to disembarkation]
Tomorrow is a sea day, and the last day of our seven-night cruise.  Our sailing will end where it started, in St Maarten.  The disembarkation information and luggage tags have been placed on the bed, and I am in full, "I don't wanna get off the ship" panic mode.  We have another cruise coming up in just a few weeks, and that helps ease the anxiety a bit, but more than that, we're happy to have this feeling.
It's been almost 500 days since we were upset about a cruise ending, so in a bizarre way, this is a wonderful feeling of sadness – one we can't wait to experience again.  Still, there is a full day of cruising ahead, so I'll shake off that feeling for now and enjoy our last sea day.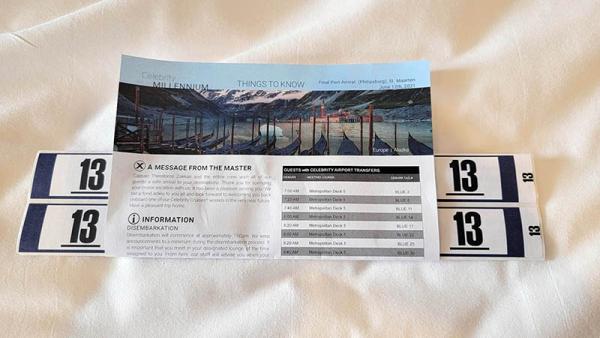 Please make be sure to follow us on Facebook, Twitter, and Instagram, and subscribe to our YouTube channel!  We're doing live broadcasts from the ship and ports of call, answering your questions, and having a great time sharing - so come say hi!  Also, we're sailing Celebrity Edge on July 3rd, so if you want to sail a great ship out of Ft Lauderdale, come join us!