Author: Bill June 10, 2021, Updated: June 10, 2021
Our cruise started in Philipsburg, St Maarten, and today we arrived an Aruba, another semi-autonomous Dutch nation.  This was clearly an exciting visit for the island, as early this morning multiple ships and boats welcomed us with horns, which was probably exciting to those who were already awake.  We had a late night, so instead of getting up to see the fanfare, we waited for our 9am coffee delivery and then prepared to head ashore.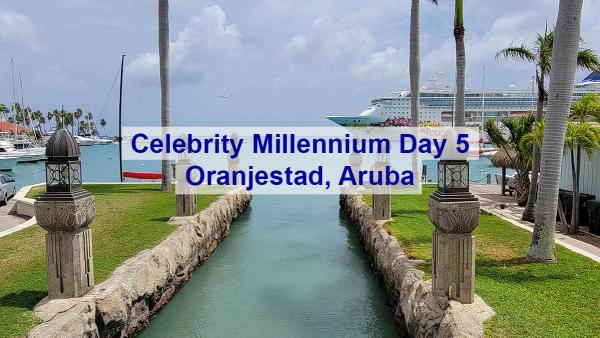 As we got dressed and had a snack, we saw several vessels in port, including Norwegian Sky, Norwegian Gem, and Oceania Insignia.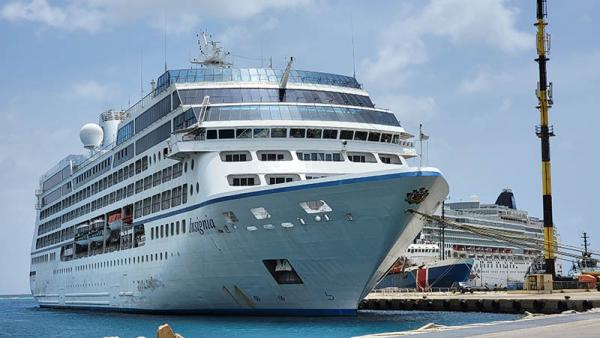 Aruba is Different
All of the islands in the Netherlands Antilles are unique, but Aruba really stands out.  It's well polished, loaded with high-end shops, restaurants, and resorts familiar to North Americans and Europeans, and offers beautiful beaches.  What makes it really different though, is the landscape and flora.  Unlike any other place I've visited in the Caribbean, Aruba has an arid desertscape, with cactus and other plants not generally associated with the beach.  Additionally, while most everyone speaks fluent English (as well as Dutch, Spanish, and often other languages – it's a country of polyglots), the locals often speak in Papiamento, an interesting mix of Spanish, Portuguese, Dutch, English, and other languages.  Another neat feature are the colorful buildings near the port area.  The views on the other side of the street aren't too shabby, either (as seen in the main image of this post).
A Cab to Eagle Beach…Eventually
Being the first cruise ship back, and with a small number of guests, there weren't cabs at the port by the time we disembarked.  We walked through a nearly empty terminal, a reminder that as normal as things feel onboard, the other ships in port didn't have guests on them.  We walked across the street to a hotel taxi stand and took a cab to Eagle Beach for $12.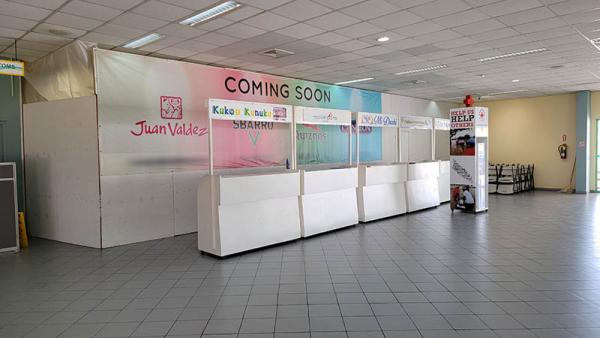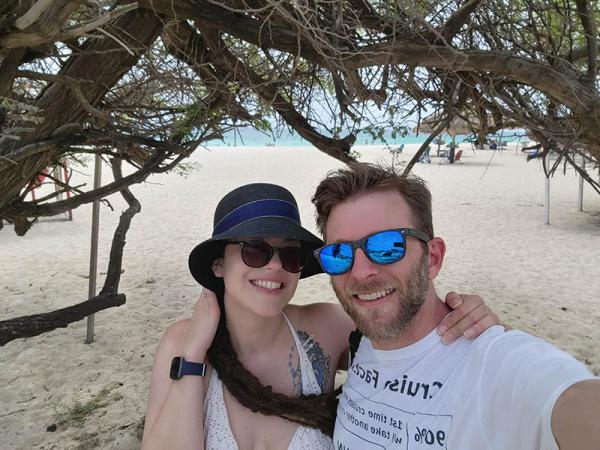 The beach sand here is made from crushed shells, so it's much more course, especially compared to our experience in Barbados earlier in the cruise.  The light sand beach stretches many feet to the turquoise waters, and vendors are on hand for watercraft rental, drinks, etc – though they're not imposing.  One very interesting quality are the trees, which look wildly different from the palms most of us associate with beaches, while offering nice shade.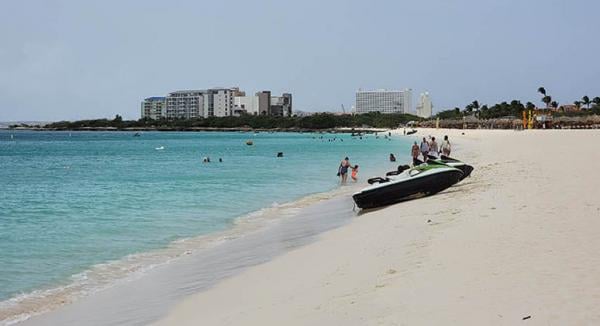 Drinks Near the Port at The Paddock
Often when cruising with friends, we'll tour the town and settle at a bar or restaurant within walking distance of the ship to take in the final moments ashore without risking being late.  On this trip we settled on The Paddock.  They served us local beer, well-made cocktails, and we even order some Dutch-style fries (fries with onion and sauces or mayo is a common street food and snack in the Netherlands).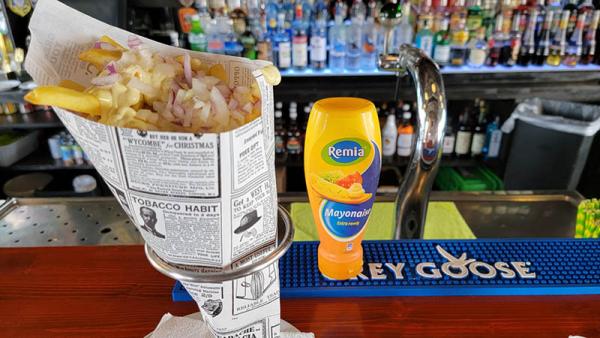 This spot wound up being just perfect, since in addition to good food and drinks, the restaurant sits between the harbor and the main drag, offering lots of shaded and breezy seating.  We gazed at the water and Norwegian Sky (also in port, but without guests) and chatted with the bartender.  His name was Louis and moved to Aruba from Colombia 11 years ago.  It was a genuine pleasure getting to know him, and he even gave me a Paddock shirt that I'll be sporting later in the cruise.  If you're looking for good food, drink, company, and views, near the port in Oranjestad, check out The Paddock.
LGBTQ Flag Raising on Celebrity Millennium
We headed back onboard and went to the helipad on the bow (not usually accessible to guests).  They had an LGBTQ flag raising event that was very well-attended.  Celebrity has long been an ally to the LGBTQ+ community, and also great about helping to close the gender gap in the maritime industry, so it's great to see them proudly advertising their inclusiveness.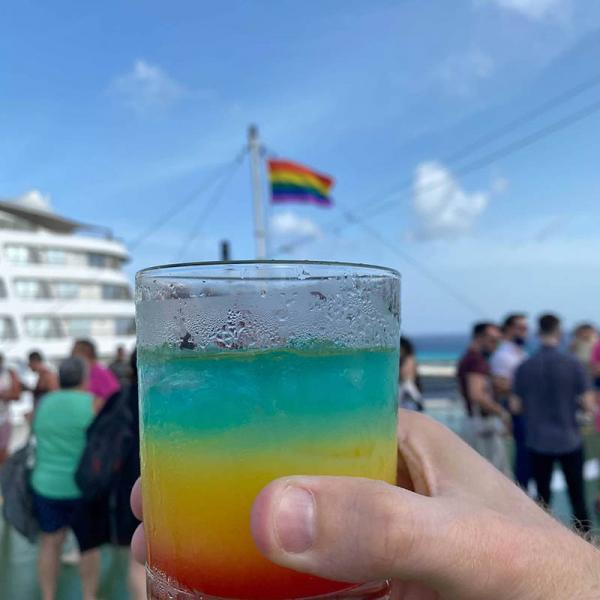 Thanks to Ashley K for the photo assist!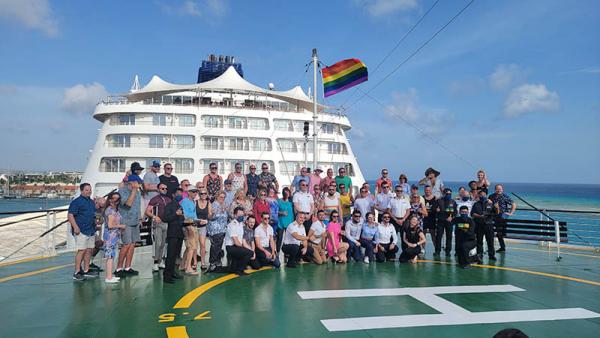 Bar Flare
After showering and changing, I realized the day was quickly becoming evening and we needed to figure out dinner.  Being easily distracted though, I ended up at the Martini Bar for a few, writing, and watching the bar staff spin bottles.  This is a crowd pleaser, and a great reason to go to the Martini Bar on any Celebrity ship, even if you're not into martinis.  It also seems to be the logical place to congregate before and after dinner. 
Celebrity loyalists may banish me for saying this, but I much prefer the Martini Bar on Edge class.  Yes, the bar is smaller, but you get much more seating, an area for live entertainment, and a second bar nearby to help the servers work the room more quickly.  On Beyond it's looks like it'll offer the best of both worlds though – as you can see in our Beyond teaser video.
Rushed Sushi on 5
At the Martini Bar I had a panic moment when I saw the time, 8:10pm.  I wanted to finish dinner in time to get to the theater at 9:00pm but was hoping to mix it up and not go to Oceanview Café for the buffet.  I love Oceanview, but we do that a lot.  Being just a minute walk away, I wondered if Sushi on 5 could accommodate us.
Walking up to the host stand at Sushi on five, I asked if it was reasonable to be seated and aim for leaving in time for the show.  They said they thought they could make that work.  We enjoyed edamame, truffled albacore, a Sunrise Roll, and a Spicy Tuna roll all while listening to Drake and Tara play at Cellar Master's next door.  Time out?  9:00pm.  Perfect.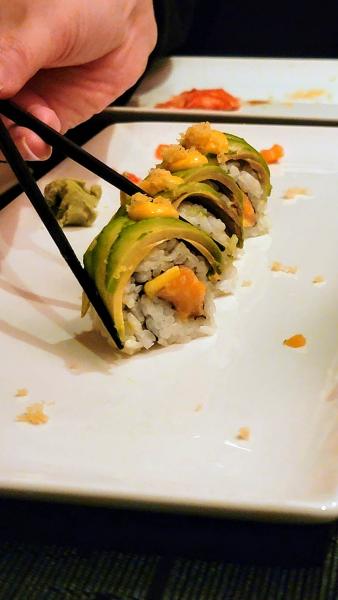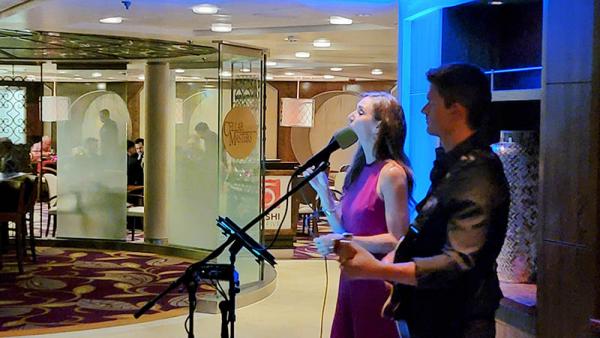 This just goes to show that if you have a time constant, talk to the staff.  If they don't' think they can do it they'll tell you, but this means everyone's expectations and goals are clear.
Tommy Proulx on Sax
Tonight's main theater performance was by a sax player named Tommy Proulx.  He is an undeniably talented man, who absolutely rocked a number of hits on soprano, alto, and tenor sax.  I'll confess that his style of music (sort of a smooth jazz sound) isn't my thing – but he can really play.  At one point he had a 'dueling sax' sort of playoff with one of the sax players in the house band, who he praised a lot.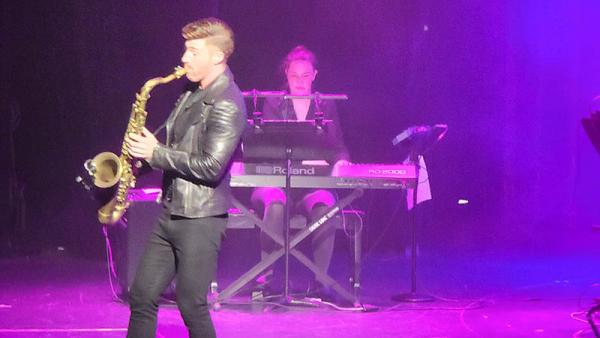 He took care to point out that Celebrity, unlike many lines, still employ musicians to play live music for all the shows.  It really does make a difference and is something that enhances the cruise experience. 
Wrapping Up at the Sky Lounge
Every night I end up at the last venue to close (other than the casino), and on Celebrity Millennium, that's been the Sky Lounge.  It's a nice forward lounge, but like many ships on various lines, I find it funny that the late-night spot is often one that can't be well-appreciated once dark.  The floor to ceiling windows wrapping 270 degrees around the venue are just black walls at night.  I guess it might work nicely in Alaska or the Norwegian fjords.  I wish we were onboard in AK in six weeks to find out.
Curacao: Amsterdam in Pastels
Tomorrow we call on Curacao, which is another island nation in the Kingdom of the Netherlands.  We've been here before, and I adore the architecture.  It looks like you're in Amsterdam Centrum, but the colors are all pastels…and it's hot.  I suspect we'll just roam around the city, as I recall it being quite walkable.  Enjoying the sites while sipping a nice Polar and taking a walk around the floating market sounds like a good plan.
Please be sure to follow us on Facebook, Twitter, and Instagram, and subscribe to our YouTube channel!  We're doing live broadcasts from the ship and ports of call, answering your questions, and having a great time sharing - so come say hi!  Also, we're sailing Celebrity Edge on July 3rd, so if you want to sail a great ship out of Ft Lauderdale, come join us!