Author: bill March 18, 2020, Updated: March 19, 2020
People of all types have a variety of career ambitions, yet only about one in fifty mariners is a woman.  Earlier this month, a team of talented women made history on the high-seas, as Celebrity Edge became the first cruise ship to be lead by an all-female bridge team and onboard leadership team.  This fantastic achievement is another step in the pursuit of equality under the line's thoughtful leadership of Lisa Lutoff-Perlo.  Be sure to read to the end and catch the video at the bottom!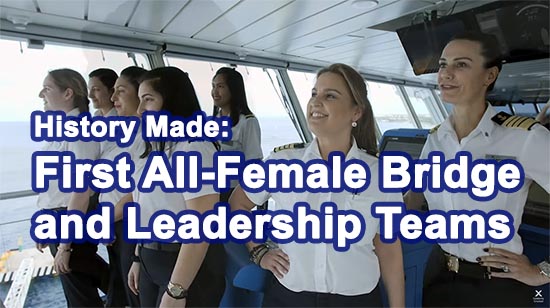 International Women's Day
Every March 8th since 1911, is International Women's Day.  On this day, the world celebrates the social, economic, cultural and political achievements of women. This March 8th happened to be the same day Celebrity Edge was scheduled to sail from Port Everglades in Ft Lauderdale, Florida.  Celebrity, being an organization that, like the day itself, calls to accelerate gender parity, leveraged some of the progress they've made in the industry to do something truly special on Celebrity Edge.

This Wasn't Previously Possible
It takes a lot of skilled people to run a large cruise ship, and with only about 2% of mariners being women, just a few years ago it would have been nearly impossible to put together a ship commanded by women in this way.  Over the years however Celebrity has increased the number of women on their bridge teams eight-fold, meaning that 27 women from 16 countries could come together and make this achievement possible.
At the Helm: Captain Kate McCue
Celebrity Edge's Captain Kate McCue (or just Captain Kate, as she is often called) is not just an employee of Celebrity, but she is a celebrity in the cruise world (seriously, follow her and her cat on Instagram!).  Seemingly adored by everyone, she is a vocal advocate for the advancement of women, can swim with a mermaid tail, and oh yeah - is an American female cruise ship captain.  Let's not skip over the fact she is the Master of puns - again, check out her Instagram.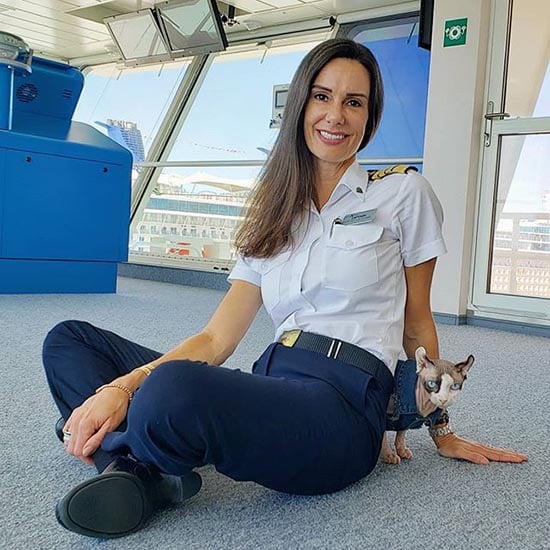 On this sailing, she lead the female team (and the rest of the ship, the Master Captain is the ship's highest ranking officer), and coordinated with Captain Cheryl Phipps.  Captain Phipps is one of the only female harbor pilots around, and is retiring soon from her long work at Port Everglades - so this was a truly rare opportunity.
Billy's Take
Is this a great press opportunity for Celebrity Cruises?  Certainly.  Is it a lot more than that?  It is to us.  Before realizing that they had to work so hard, I was a firefighter-paramedic, and was constantly amazed by just how much harder my female colleagues had to work, and the obstacles they had to overcome.  Some industries continue to, intentionally or not, forfeit intelligent and capable individuals because of their gender.  Women are even less well-represented in the maritime industry than in firefighting.  It takes bold people, men, women, or otherwise to aggressively change the status quo, and that's what Celebrity has done - now instead of 2% of women on the bridge, at Celebrity it's a quarter.  There may be a somewhat limited pool because of long inequities, but hopefully people seeing what is possible ("If you can Sea it, you can Be it", as Captain Kate says) will mean that one day in the near future, these inequities can be more a part of history than reality.
You can see Celebrity's press release below with more information, as well as a video of the historic event, where we saw some familiar faces from the fleet!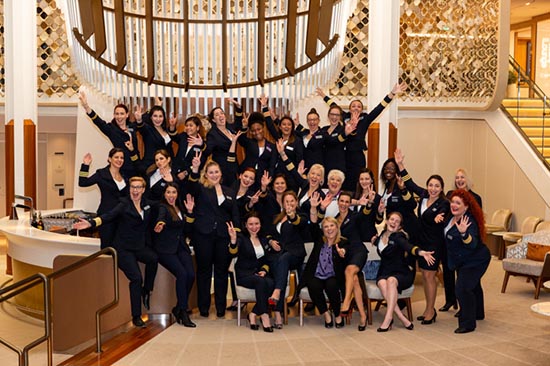 FORT LAUDERDALE, Fla. – March 9, 2020 – For the first time in maritime history, an all-female bridge and onboard leadership team set sail yesterday, commemorating International Women's Day. Led by Captain Kate McCue, the first American female cruise ship captain, who was accompanied by 26 other women representing 16 different countries, the award-winning Celebrity Revolution sailed out of Port Everglades and began its seven-day Caribbean journey. Retiring Pilot Boat Captain Cheryl Phipps, one of only a few female pilot boat captains in the country, led the ship out to sea.
Also, in celebration of International Women's Day, Celebrity Revolution lit up the high seas with a vibrant purple glow, the color associated with the day, to further celebrate change-making women everywhere.
Around the world, only 2% of the world's mariners are women. Celebrity Cruises made it a priority to #BRIDGEthegap, leading the maritime industry into a more diverse future and growing the number of women on their bridge teams from 3% to nearly 25% over the last few years, ultimately, making this historic moment possible
"I fell in love with cruise ships at age 12 when my family took its first cruise vacation. At the end of the trip, I asked my Dad if he thought I could be a cruise director someday and he replied that I could drive the ship, if I wanted to. Five years later, I enrolled at the California Maritime Academy and nineteen years later I became a Captain," said Captain Kate McCue. "I firmly believe that you have to see it, to be it. My hope is that today we inspire a new generation of young girls and women to chart their own course of pushing boundaries and breaking barriers to be whatever it is they want to be."
"To 'man the bridge' with 100% women and to fill every leadership role on board with women is truly significant. I am so proud of these accomplished women, who worked tirelessly to be the best person for the job in a traditionally male-dominated industry and I am honored to work alongside them," said Lisa Lutoff-Perlo, president and CEO, Celebrity Cruises. "Advancing gender equality in our industry takes a purposeful and focused commitment because it is not easy. This is such meaningful progress and we're just getting started."
On board for the history-making sailing are trailblazing women in other fields including Madeline Stuart, the first Supermodel with down syndrome; Kellee Edwards, the first black woman to host a national adventure travel show; and child prodigy artist Autumn de Forest; international jewelry designer Reout Kallati; and world-renowned fashion designer Mary Frances.  The historic seven-night sailing will celebrate other female achievements through a variety of events including panel discussions, gallery exhibitions featuring female artists, excursions to women-led businesses in the ports the ship visits, and a cinema series putting female directors, actors and inspirational narratives center stage.
Celebrity Edge, which debuted in late 2018, was brought to life by a team of visionary architects and designers and features an array of stunning industry-first innovations – such as the transformational Edge Stateroom with Infinite Veranda and Magic Carpet, the world's first cantilevered platform that travels up to 16 decks alongside the ship.  Building on Celebrity Edge's incredible momentum, Celebrity Apex debuts in 2020, followed by three additional sister ships in 2021, 2022 and 2024, respectively.​
To learn more about the historic International Women's Day 2020 sailing and meet the leading ladies who came together on board to make it possible, visit www.celebritycruises.com/about-us/celebrity-cares/international-womens-day.