Author: Bill November 25, 2021, Updated: November 28, 2021
We really enjoy St Maarten for its convenience, cuisine, and beaches, so I decided to work only a half day and enjoy some time in port.  It turns out we were far from the only ship in port though, and I was glad to see this.  After our day in port, we did something wildly uncharacteristic of us.
A "Return to Normal" with Six Ships
After working the first few hours of the day I packed up my things and walked to deck four to disembark.  The past few times we were here, our ship was in the first slip nearest the port shopping area.  In fact, when we were here on the first cruise to return in the Caribbean, which left from St Maarten, they just shuttled us right to the ship, skipping the closed outdoor mall.  Those first few visits, I couldn't help but feel terrible for the locals, as businesses were shuttered and it felt like a ghost town.  Today however, was quite different, as there were six cruise ships in port and tourists were spread out, eating, drinking, shopping, and taking photos - the whole feeling was very "normal" compared to the last year and a half.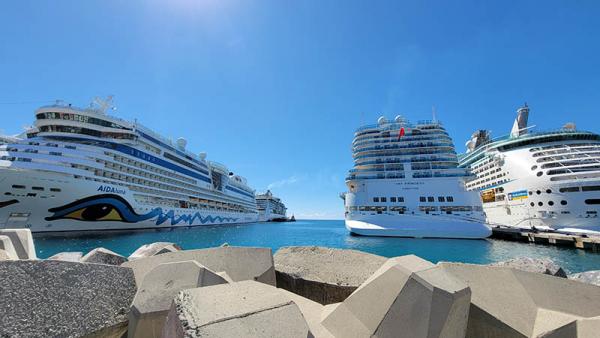 For those wondering, the ships in port included Royal Caribbean's Jewel and Explorer of the Seas, AIDAluna, AIDAdiva, Marella Discovery, and our ship, Sky Princess.  AIDA is a German cruise line, and Marella, British.
St Maarten, The Basics
St Maarten is an island which is half French, and half Dutch - not just in culture (there are many more represented than that), but literally, the island has two sides, belonging to two countries.  This adds, along with the terrain, to different experiences depending on where you go.  Cruise ships dock in Philipsburg, on the Dutch side, and today, that's where we stayed.
One of the more popular places in Phillipsburg is Great Bay Beach, which has sandy beaches and endless shops and restaurants.  You can walk from the cruise port to Great Bay Beach (it takes about 20 minutes), take a cab, or, take the water taxi (more like a bus).  We usually take a cab but opted for the water taxi.  For this, you just follow the water taxi signs, which are hard to miss, and pay $7 for a wrist band that allows you to go back and forth all day.  The photo below shows the pontoon-style water taxi and the bay it crosses.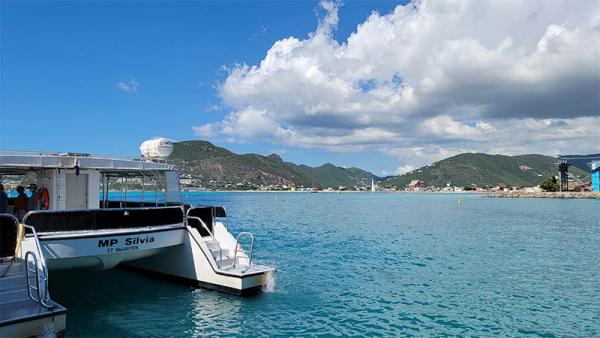 If you want to go to Marigot on the French side, you'll want to take a cab or book an excursion.  It can take 20 to 40 minutes to go back and forth, depending on traffic, so be sure to take this into account when scheduling things if you plan on heading to the French side, which is known for its cuisine.
Familiar is Good, Especially in St Maarten
On recent visits here we spent our time at Holland House Hotel, which is located in the center of Great Bay Beach.  We stayed there for several nights in June, but it's also a wonderful place just to spend the day.  Anyone can order food and drinks, or, if you want to lounge, they'll provide beach chairs, umbrellas, two drinks, access to the restrooms, an outdoor shower, and WiFi, for $25.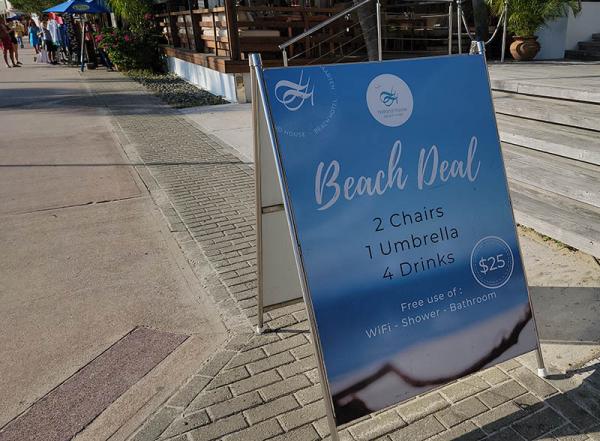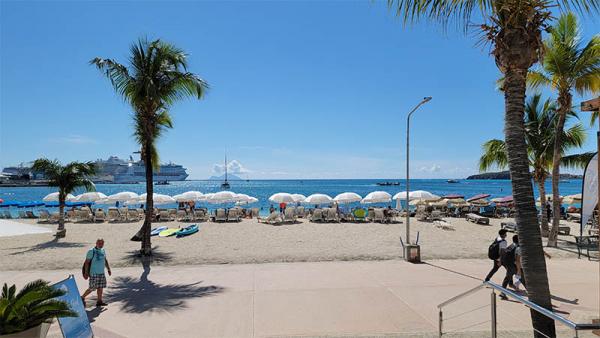 Part of why we like this spot is that the main floor of the hotel is a large breezeway, so it's covered, well-ventilated, and very welcoming.  You can sit at the bar, enjoy the comfy patio furniture, or have a nice meal, all while enjoying the views just feet from the beach.  When we were here once, multiple locals all recommended the restaurant at Holland House for a great meal - and they're right.

In addition to several great cocktails (thanks to Tori and the other bar staff we were happy to see again today) I had a tuna poke bowl, which was a new menu item for them.  The fish was very good, as were all the ingredients, and it was enough food that two could have easily split it and been satiated.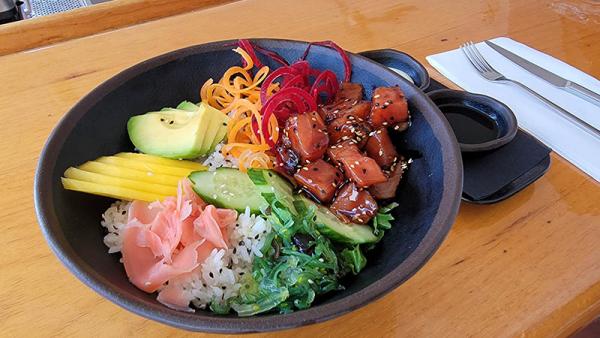 The time seemed to fly by, and eventually it was time to head back to the ship - but we really should arrange another trip to St Maarten so we can enjoy the island's hospitality for more than a day again.  It really feels like home.  We did make one stop on the way back, which was to the pharmacy next door.  On arrival to the ship this week we had a large bottle of sunscreen open up in a toiletry bag, so we picked up a bottle of rubbing alcohol to help clean up the mess before it's time to re-pack.  Never a dull moment.  All ships were still in port, so a silly picture was in order, since I rrarely get to see these vessels.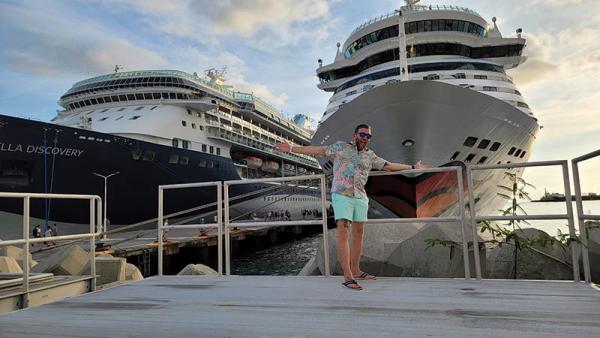 Trying Out Ocean Terrace Seafood Bar
One of the specialty dining options on Sky Princess is a small sushi bar located at the center top of the Piazza (atrium).  This is a nice setting that allows guests to enjoy the live music often being played two decks below, take in the ambiance of the main gathering area of the ship, while also feeling like they're in an intimate space.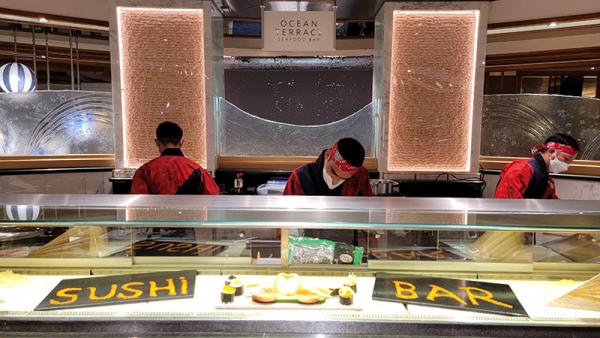 As I waited for Larissa to get ready for dinner, I found myself having a seat at this restaurant for a snack, which turned into a meal.  Sushi here is price a la carte, and is very reasonable.  Many four-piece rolls are under $4, some appetizers are offered complimentary with a drink or food order, and there was a nice selection.  You can see the current menu here.
I enjoyed the fact that the portions were small, as it allowed me to sample a wide variety of what the menu offered, including one selection perfect for pepper lovers, as it had thin slices of green chilis.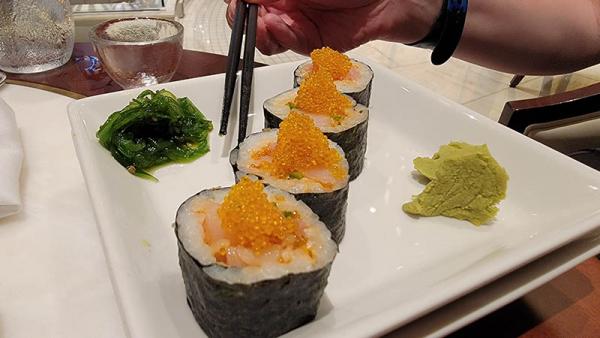 The Ocean Medallions (used in place of key cars) make this type of a la carte dining simple.  At one point the server simply confirmed my name (they can see who they're standing next to) and they added what I ordered to my tab.  Opening the app shows easily what has been charged to the onboard account.  In fact, as I write this, I'm overhearing two more senior guests marveling at the fact that when at the casino bar, the bartender knew their names and what they were drinking, even though they'd not met him before.  This goes to show that even among those who aren't tech-lovers, the Medallion program enhances the guest experience in ways that impress everyone.
Fading Fast
Following sushi I knew I needed to get out for some fresh air as I was getting very sleepy.  Working during the day, enjoying time on the ship with friends at night, and then doing it all over again does get tiring - but it's still a great way to live.  For that fresh air we headed aft on deck 16 to get to the Wake View Bar, where the aft infinity pool is.  This meant walking through the World Fresh Marketplace Buffet.  I can resist temptation though, right?
So I'm eating a giant slice of "Mimosa Cake" that I got at the buffet while walking to the pool, and I still have no idea what a "Mimosa Cake" is, but it was delicious.  As I enjoyed my dessert, listening to the pool water sloshing about while Larissa and our friends laughed over drinks, I kept needing to close my eyes.  At this point it was only eight or eight-thirty, so this wasn't normal for me at all.  I tried to resist, but I folded, and told everyone I was going to take a nap, but also acknowledged that I might not make it back up until the morning.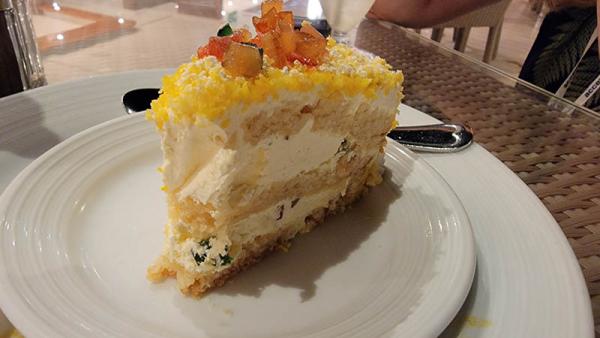 How did it turn out?  I set an alarm for 35 minutes later, as the ship rocked me to sleep (it's been a relatively rough sailing, to my delight).  When the alarm went off, I got up and thought, "wow, I can't believe I slept all night" only to then realize I definitely hadn't.  That confusion told me two things: 1) I was in a deep sleep and 2) I needed more of it.  I brushed my teeth and turned it for what was probably the earliest evening I've had at sea, knowing, at least, I've got two full days ahead to do nothing but relax and enjoy Sky Princess.
Stray Observations
The upper level of the Piazza has tiny hot air balloons as part of the decor.  I suspect it goes with the idea of this being the "Sky" Princess.  It's unusual, but quite nice.



This sailing has had rough seas and fantastic sunsets.  I don't know that there is any causation there, but they're two of my favroite things to experience at sea.

Live Blog Links: