Author: Bill November 22, 2021, Updated: November 28, 2021
Today we woke up to plenty of motion on the ocean as we sailed toward St Thomas.  This sea day was a work day for me, but after work we enjoyed the food and entertainment Sky Princess had to offer, including Rock Opera, their signature stage show.
Two Meetings & a Wedding
Overnight the time shifted one hour forward, something that often confuses cruisers.  This meant we lost some sleep and woke up just before they shut down the breakfast buffet.  I opted for a very light selection, including a vegetable tart, but the selection was rather nice and I wish I wasn't in such a rush.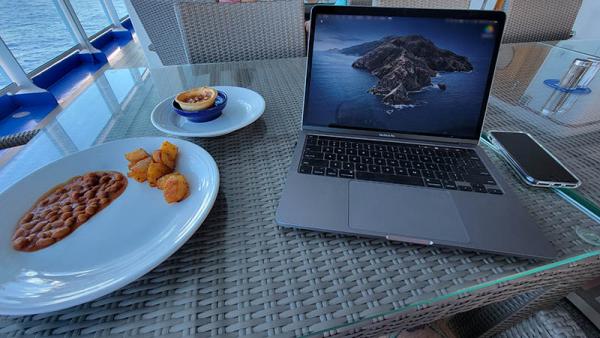 Sitting outside by the aft pool while working and having breakfast was actually lovely.  There is natural light, good air flow, and great views.  During a Zoom meeting, I heard a large round of applause and realized a couple got married on the other side of the pool.  Princess is one of the few lines that does legal marriages at sea, in part because most of their ships are registered in Bermuda.  My friend Eric caught a photo of the couple getting their photos taken down below a bit later.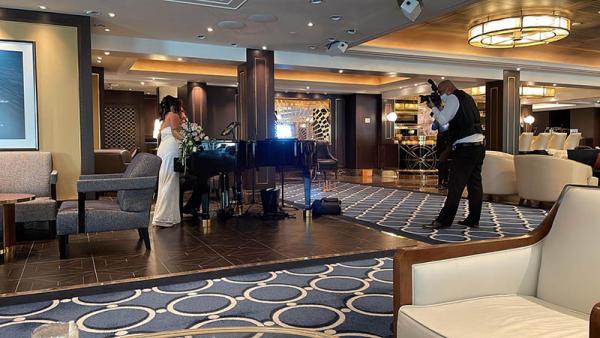 Changing things up, I headed to Belini's in The Piazza, and found a place to work there.  Svetlana, one of the servers, was kind enough to bring me some coffee and without disrupting my work made sure I had anything I needed.  I'm realizing that general quality, kindness, and attentiveness of service is what Princess really should hang their hat on.  This was a great work location as I could sit in the corner to avoid disruptions and guard my laptop screen, plus there was an outlet nearby so I could stay plugged in.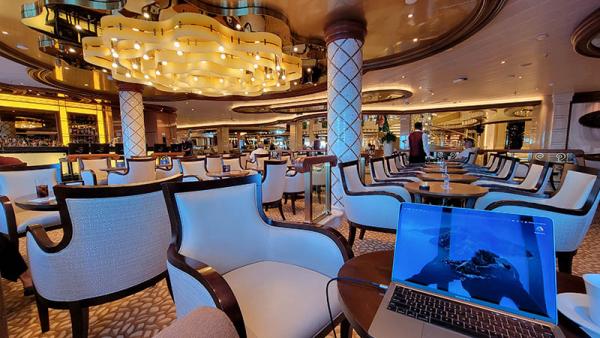 A Water Reboot
After working I closed my laptop and had just an hour before our early dinner, but I really needed to mentally go into "cruise mode".  I quickly changed and went to the main pool area.  As I set my belongings down the staff was in the process of moving all the loungers and adding padding, setting up for the nightly deck configuration which allows guests to comfortably watch movies or sports on the giant screen.
I took a quick dip in the pool, but found it a bit cold for my taste (I prefer it very warm), so I then got out and went into one of the nearby hot tubs.  Some were occupied, but one had no one around.  It's very rare I go into a hot tub, but it looked warm, relaxing, and a great way to spend five minutes before changing for dinner.  There are few things as calming as laying back in warm water and watching the sunset on the ocean.  Absolute zen achieved.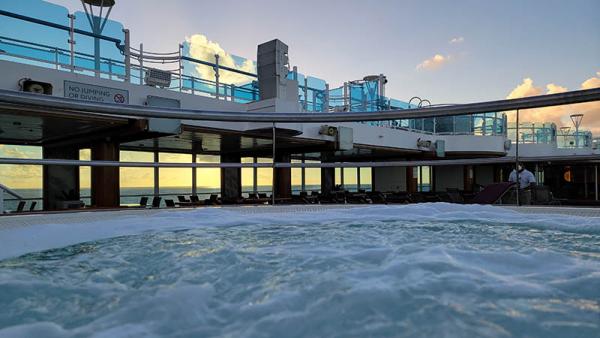 Sabatini's
Italian cuisine is one of mass appeal.  Who doesn't like Italian food?  Call them out in the comments!  Or not.  Most cruise lines have a signature Italian restaurant, and on Princess, it's Sabitini's.  The restaurant does carry an upcharge of $25 per person.  For this you get several courses and a widely attentive staff in a modern setting.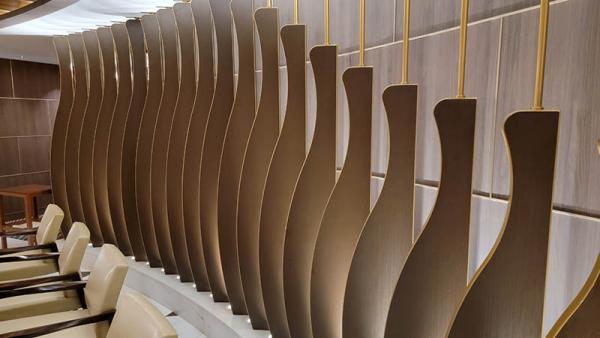 The decor really struck me as being nice in this restaurant, reminding me a bit of more modern-styled Celebrity ships.  It's also very quiet, even when most tables are full of guests enjoying each other's company.  We were also visited by Florin, an assistant restaurant manager from the main dining room, who has been tending to our party's dietary restrictions.  Fantastic follow-through in meeting us in a totally separate restaurant to ensure we were taken care of and show us tomorrow's menus.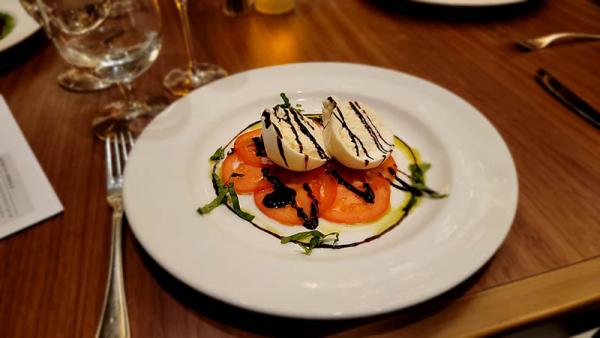 The food in Sabitini's was good.  I enjoyed every dish I had, but most of it didn't blow me away to be honest.  I'd probably come back on a future Princess cruise if I was feeling like Italian, but it's a lot of food and not something I'd do twice on the same cruise.  The stand-out dish was the caprese salad that was made with burrata.  The quality of the cheese made this dish.
Rock Opera
The main theater show tonight was the signature show on Sky Princess, Rock Opera.  Unlike several shows we've enjoyed on ships recently (including Royal Caribbean's new show, The Effectors) the set for this show was simple, there weren't acrobatics, and the focus was all on the vocals.  In that way it reminded me of some of MSC's shows, where they feature wildly strong vocal performers.  
Most of the music could be described as high-energy love ballads, with several songs, including the first and last songs, being from The Greatest Showman.  Many of the songs involved vocal harmonies, even an impressive rendition of O Fortuna.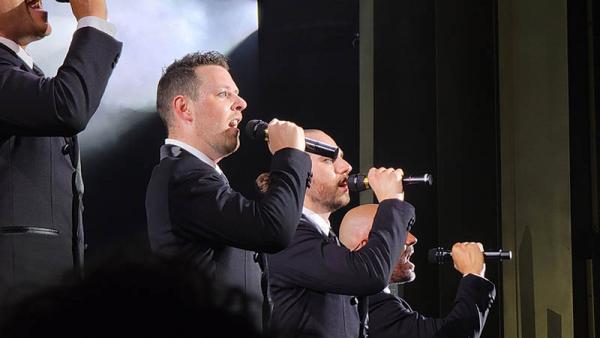 Black, white, and mirrored costuming was elegant but simple and stood out against the pink and purple lights on stage.  Also interesting was that the live orchestra playing the music wasn't in a pit, but all the way upstage.  I loved this, as they really got to be recognized as part of the show.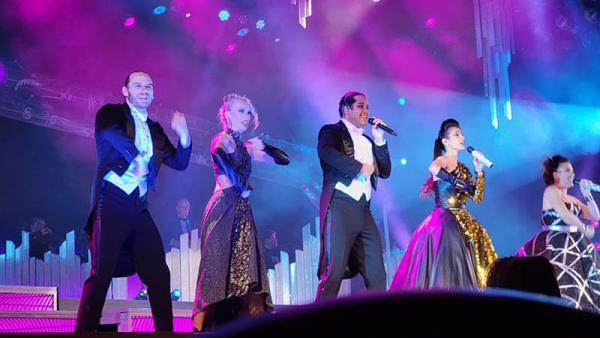 The most unusual but to me, interesting thing, was that the choreography for several songs was American Sign Language (ASL).  At first I thought they put an ASL interpreter on stage, but suddenly the entire cast was signing, switching off when the dancing meant some performers couldn't sign.  This didn't just serve to help those who might be hearing impaired, but made for absolutely beautiful movement that was more inclusive.  
Jazz & Snacks
The main theater exits just next to Jazz on Five, which has become our "home base" on this ship, so we headed back in for some great jazz music and drinks.  The snacks?  We got those from the International Cafe just one deck below in The Piazza, which has sweet and savory options 24 hours a day.  Some lines have very limited options at these kinds of places, but there are several display cases offering a wide variety, and everything we've had has been satisfying.  
Stray Observation
Princess Cruises requires all guests to be fully vaccinated against COVID-19, but masks are still required, and they have quite a bit of signage reminding guests of this.  That said, enforcement isn't wildly strict.