Author: Bill November 21, 2021, Updated: December 4, 2021
Many cruise lines have private beaches or islands in the Caribbean, and Princess is no exception.  Today we visited their private destination of Princess Cays to enjoy the beach and relax.  We also spent some quality time back on the ship for recreation, and even fitness.
Our First Morning on Sky Princess
I woke up in a dark room thanks to blackout curtains in front of the windows, as well as a curtain separating the living area from the bedroom.  I woke up to the sound of knocking at the door by the attendant with the coffee and pastry I'd requested the night before by placing a hang-tag on the door.  Unlike most lines, we didn't get a call a minute before their arrival.  I was a bit disoriented when greeting the attendant, but I was happy to have coffee.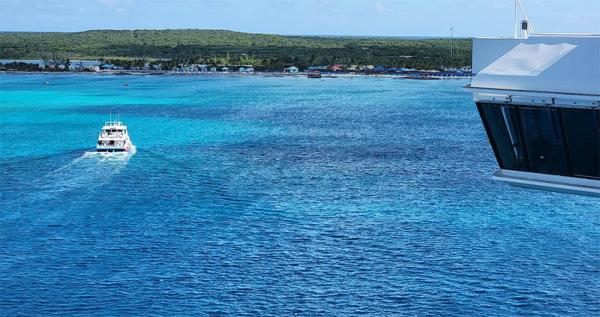 I then noticed the sound of announcements out in the hall that were explaining the tendering procedure.  Because the ship doesn't dock at Princess Cays, guests take tenders (or as Princess and other Carnival brands call them, "water shuttles") which are small boats that go from the ship to shore.
To reduce crowding at the deck where loading occurs, guests go to a restaurant in the atrium/piazza to get free tickets and then proceed to the loading area when their tickets are called.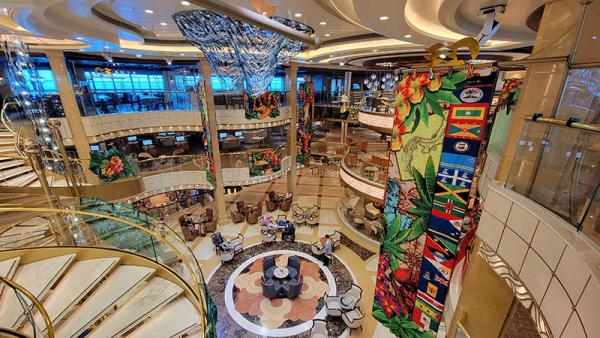 This seems like a good approach but we didn't pay it much mind figuring that by the time we showered and had breakfast, we'd be able to walk right on.  We enjoyed a light breakfast in the buffet venue, which I was happy to see being served late.  I did try a bagel that was clearly a frozen bagel which was then toasted.  Holland America Line remains the only line to have passable bagels, but perhaps I'm just a bagel snob.  The rest of my breakfast was good, and the pastries on this ship are superior to what I'm used to on ships or even hotel restaurants. 
After eating, we walked across the pool deck and were really struck with how lovely of a day it was and how nice the pool area is.  From there, sure enough, we were able to walk right onto a tender.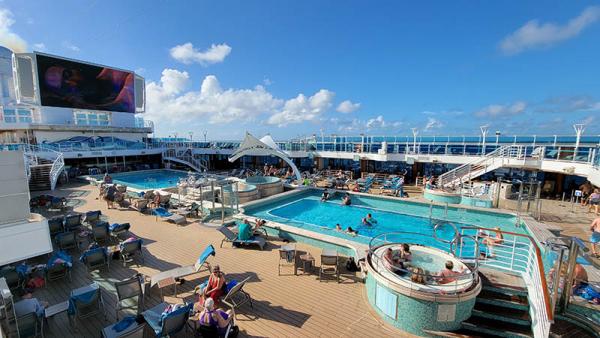 Princess Cays
Sometimes the weather makes the destination, and that was the case today.  The sky was blue, the air cool (relatively speaking, for the Caribbean), and the sun bright.  This made for a lovely day and enhanced the blue waters of The Bahamas.
Walking off the tender onto the thin strip of land that is the resort area revealed a simple and rustic property with multiple sandy coves.  While different beaches have slightly different feels to them based on differences in terrain, proximity to bars, etc., they all have ample loungers.  Shade wasn't easy to come by on the beach, but there was no lack of covered places to enjoy a drink or snack nearby.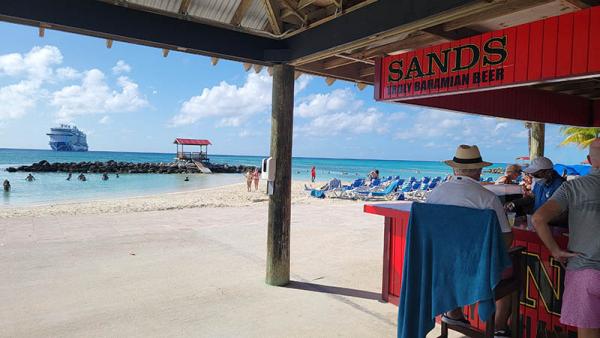 The overall level of development is similar to Half Moon Cay which we've enjoyed on several Holland America Line cruises.  One thing they have in common is that they've not seen some of the more resort - or even theme park - style development that some other cruise line private destinations have built up in recent years.  In fact, other than restrooms, the only places to go "inside" here are small beach bungalows which can be rented in advance or day-of, if available.  The prices vary by sailing and the size of the bungalow you're renting.  If I'd have woken earlier, I would've tried one of these out.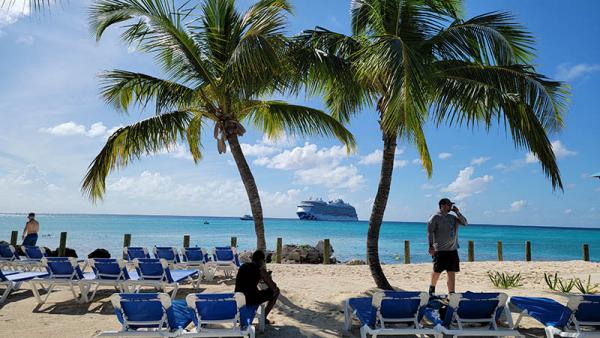 The downside of the more rustic nature of the property is that there is just one place to eat and it serves "island" barbeque.  Think hamburgers, ribs, coleslaw, etc.  Most cruise lines serve this same mix at their properties. While guests seem to enjoy it, I don't generally find it too exciting.  
Gym & Post-Workout Margaritas
After taking in the sun at Princess Cays, I headed back to the ship to get in a workout.  I try to hit the gym on embarkation days, but failed this sailing.  The gym is located between two of the pools and offers nice views from one side of the ship.  It is larger than I expected as it just seems to keep going with more and more rooms for classes, as well as handweights, Smith machines, multi-gyms, ellipticals, and treadmills.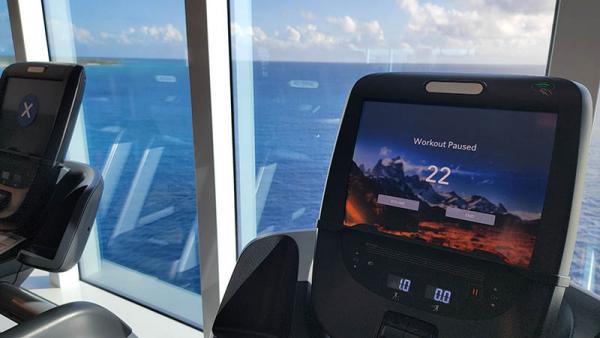 I've never taken a group workout class on a ship, but at some point I should try or perhaps spend time with a trainer just to see what lines offer in this way.  Sky Princess' gym does have a schedule up in the gym, as well as staff there to help and answer questions with no sales pitch of any kind.
Following any workout, some enjoy a protein shake or just a lot of water.  I opted for margaritas by the pool.  Why not?  For one of them, I tried out a feature in the Medallion Class app that allows you to order food or drinks delivered to wherever you are on the ship.  They even advertise this feature so you don't need to wait for a server to come by while you're sitting by the pool.  I gave this a shot and was delighted to find it was not only easy, but very fast.  I didn't time it exactly, but I wouldn't have gotten a drink any quicker if I would have walked to the bar myself, ordered it, and walked back with it.  The execution of this feature was really impressive and made me realize I can get what I want, where I want, when I want, anywhere on a Princess ship.  That is a differentiator for sure.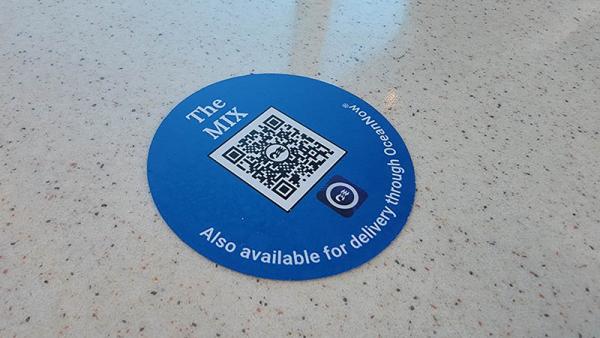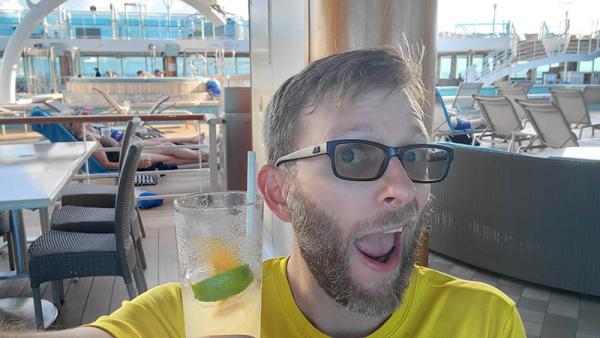 Early Dinner
We went back to the Estrella Dining Room for an early dinner.  This time I had a red-curry fish dish that was really delightful.  It was well seasoned, likely not too spicy for most, and a perfectly-sized portion.  I also had a Mexican salad which was like a side salad with cilantro and a nice lime dressing.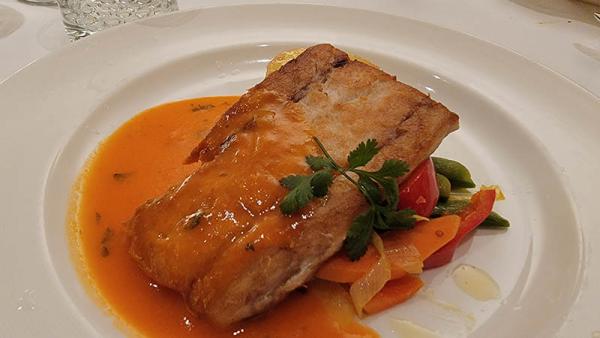 Dessert was a bit rushed because we wanted to make it out in time for trivia.  It was recently our friend Eric's birthday, so they brought him a cake, which was nice, but awkwardly it was not gluten-free despite them knowing that he has Celiac disease.  They've been good about communicating dietary restrictions so this was a bit disappointing, but worked out fine.  He ordered a different dessert, and I had some of the chocolate cake they brought for him.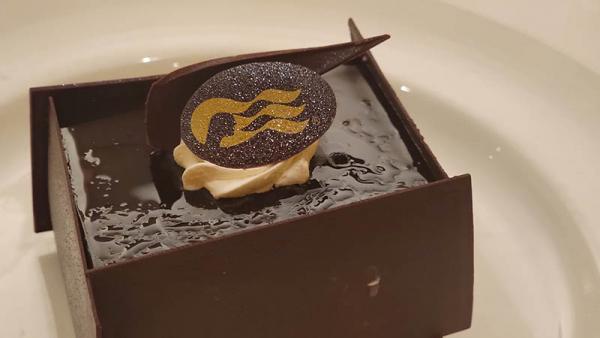 Disney Trivia
At any event on a ship, there is always a chance it'll be sparsely attended depending on the mix of guests onboard.  Well, this sailing must have a lot of Disney lovers because Disney Trivia in the multi-purpose lounge, Princess Live!, was packed.  The host, Jun, was delightful and energetic, and went through 25 Disney trivia questions in different categories.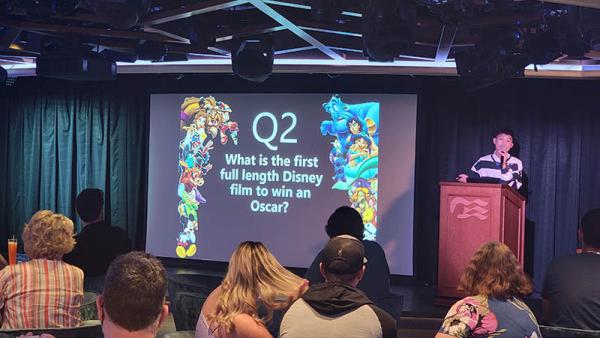 Now, our party is full of Disney people (I've even got a few Disney tattoos), but we were no match for a couple other teams, one of which got every single question right.  Enough guests enjoyed it that at the end, Jun asked if we'd like to do another round of Disney trivia on this cruise, and this clearly pleased the room, so he said he'd add that into the schedule later in the week.
We then made another stop in the International Cafe to grab some more snacks.  We did this not because we were hungry, but they have such great snacks—both sweet and savory.  All of these are complimentary and the specialty coffees are covered by Princess Plus.
A Night in Harlem - Live Jazz from the Prohibition Era
Following trivia, we found ourselves back in the Take Five lounge with the marquee onboard jazz band, The Larry King Trio, which we enjoyed last night.  This is really a nice space, even if we were just socializing.  The talented musicians, who we also found very friendly, really make it come alive.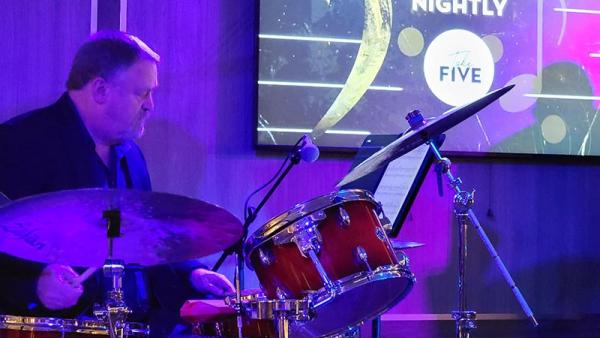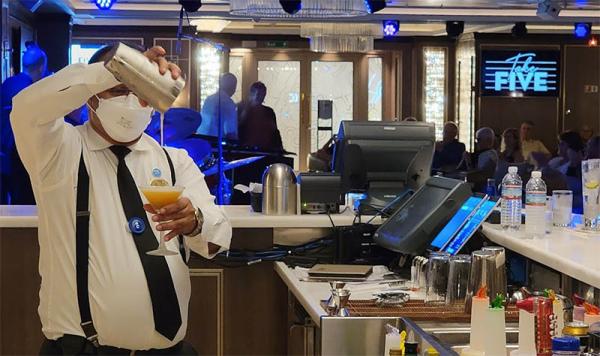 Tonight's theme featured music that both of us, especially Larissa, really like.  Making it especially nice is that Larry even narrates the show, explaining the history of music of the era.  There are also photos from famous jazz clubs on the TVs in the bar.  If you cruise this ship, do check out this band and their shows, even if you don't think you're a jazz fan.  The bar staff is pretty great, too.
Sea Days Ahead
Tomorrow we're at sea and the next day we're in St. Thomas.  I'm actually working my day job for the first part of this cruise, so I'll have my face burried in my laptop much of the time, but I plan on doing so in a nice atmosphere with great breakfast and lunch options before shutting down and transitioning back into vacation mode for the evening.  I'll try and do a live video or two when I take breaks, so follow along on Facebook and Instagram!
Stray Observations
Like all the cruises we've been on since cruising returned, cleaning has been enhanced beyond the thorough procedures in years past.

The logo shop on Sky Princess has some shirts that perfectly capture what we've celebrated the past five months.  Cruising is back!

I've heard people compliment Princess on their pizza.  They've got a casual pizza option called Alfredo's in the piazza, which we haven't tried yet.  They also have pizza by the pool which I tried and found impressively good.  Good sauce, cheese, crust, and served fresh.  

Live Blog Links: