Author: Bill March 6, 2020, Updated: April 19, 2021
A few months ago Princess Cruises ran a sale called "Best Sale Ever" where many sailings included the option to bundle Wi-Fi, drinks, and gratuities with your fare - at significant savings compared to booking these things independent of your fare.  It must have been quite successful, as it now seems it might be a more permanent option.

Princess Plus
From Princess: Because our Best. Sale. Ever. was so successful, we've created Princess Plus, a new fare type that includes our Premier Beverage Package, unlimited Wi-Fi and full gratuities paid to our crew on your behalf. It's the best value we've ever had, available for all destinations and all staterooms!
Is Princess All Inclusive?
No, for a few reasons.  While that term is often used anytime alcohol is included with the cost of a cruise or resort stay, there are many other considerations.  Specialty dining, shore excursions, and other onboard experiences come at an extra cost - whereas lines like Regent Seven Seas for example, include all of those things.  Further, this is a fare type that guests can choose to purchase.  If you're interested in a Princess cruise for you're aren't looking for a beverage package or internet access, you can still pay a lower fare that doesn't include those things.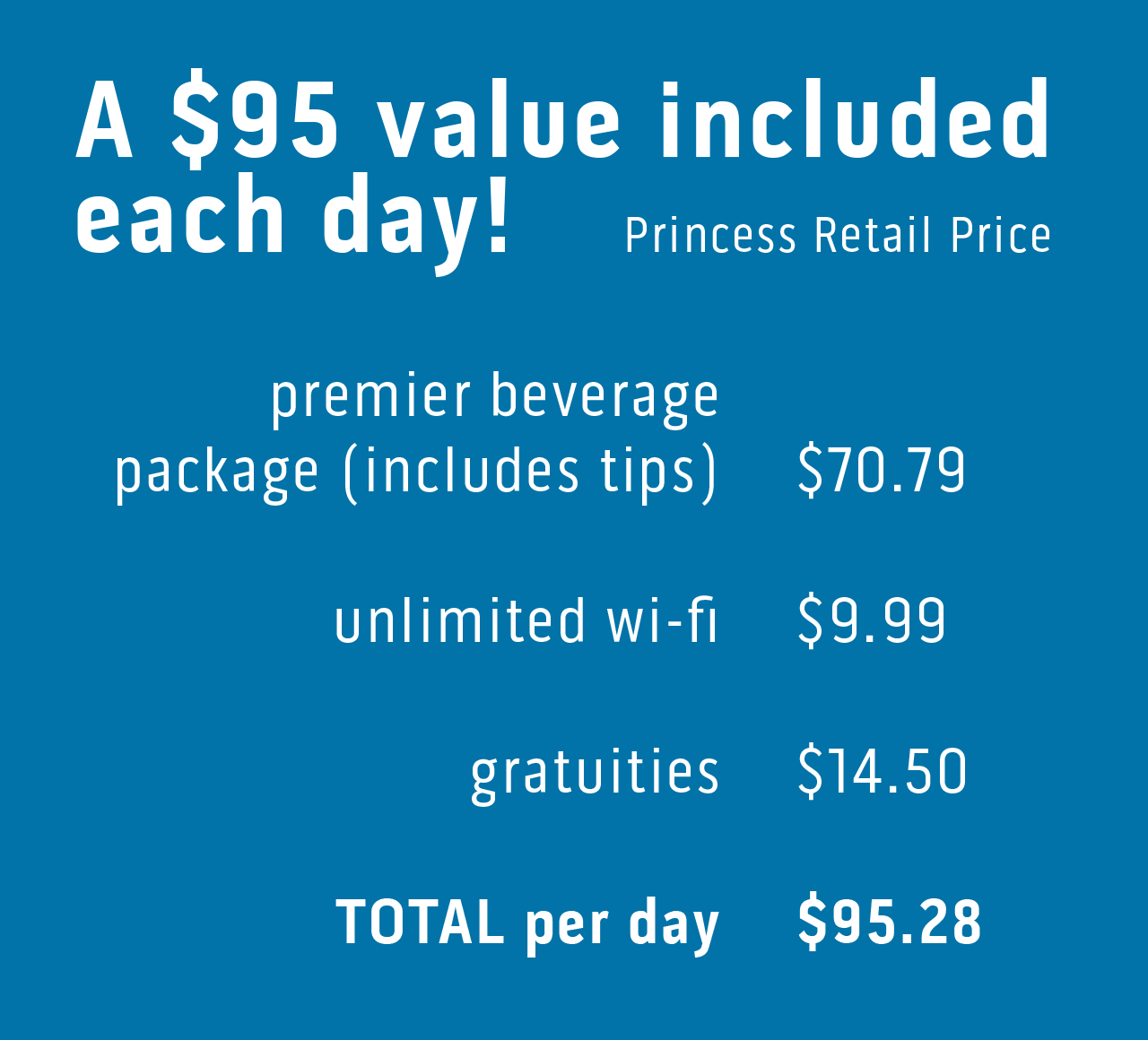 Is Princess Plus Worth It?
If you choose that "cruise-only" fare we mentioned above, and add a drink package later, you're probably paying much more than if you'd have gone with Princess Plus out the gate.  Luckily it's easy to check - just price out the cruise-only fare and add whatever you'd like to build in, then see what works out best for you.
Princess Cruises' Premier Beverage Package includes most alcohol, specialty coffees, bottled water, and more, and costs $70.79/day after service charges.  Their Classic Soda Package is $11.79/day.

Looking to stay connected?  On ships with Ocean Medallion, internet is $9.99/day for one device, if you purchase it in advance.  Want four devices?  That's $14.99/day. 
Billy's Take
When we cruise we generally purchase a drink package and internet access - regardless of the line, and gratuities are a given.  For us, Princess Plus represents a real savings opportunity on Princess sailings.  In fact, we've really liked other cruise lines who have had similar concepts for some time now.  Celebrity and NCL frequently allow guests to build more of their cruise expenses into the fare, which means this type of "pseudo-all-inclusive" option is now available on half of the six largest cruise lines in the US - and we can't help but wonder if Holland America will be next, as they've run similar promotions in the past.
Some markets (the UK, for one) really like flatter pricing, where more is built into the fare.  Depending on how you cruise, you may love or hate that idea, as if you don't tend to purchase drinks, internet access, or other things onboard, then the idea of an all-inclusive may sound like you're subsidizing others' trips.  If however you do purchase those things, the idea (and potential savings) can seem appealing.  With fare options like what Princess and others offer becoming more popular, it offers the best of both worlds for guests, while also making the ever-important onboard revenue stream much more predictable for cruise lines - which can overall lead to stabilized prices and fewer sales pitches.
In the end, no matter how you cruise, options are nice, and allowing for an option that simplifies cruising is to us, a real win.
Frequent readers may note that we've not sailed Princess before, but that too is all about to change, next month - April 2020.  The deals available right now on many cruise lines are fantastic, so request a quote from the same awesome folks who book our travel!