Author: bill August 6, 2017, Updated: February 17, 2021
We all want lower cruise fares, but getting charged for odds and ends may not be very relaxing either, so some guests prefer cruising where everything they want to do or purchase is included.  While all inclusive cruises are nothing new, there are more options than ever, and ways of packaging certain amenities for a flat cost, or even bundling some things in with your cruise fare on lines that aren't typically thought of as all inclusive.  Let's look at what it means to be an all inclusive cruise, what some cruise lines offer, and how to budget your next cruise including things you'd otherwise pay a la carte.
Defining All Inclusive
Let's start off by defining, for the purpose of this article, what an "all inclusive" cruise actually is.  One could make a good argument that most cruises are already all inclusive, as there is food, beverages (water, juices, etc), entertainment, transportation, and hotel services.  There is a good chance however that you're looking for some additional things from your cruise vacation which aren't included in that above list.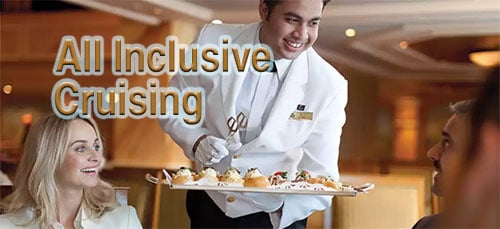 A good starting point is liquor - which for the North American market is not generally included on cruises most people are familiar with, such as Carnival, NCL, Holland America Line, etc.  On these cruise lines you can pay a la carte for alcoholic beverages
Dining is a highlight on any cruise, and as mentioned, it's generally acceptable to say that food is included on major cruise lines.  You can have three meals a day (or frankly, many more) plus snacks at almost any hour, as part of the cruise line's standard offering.  Over the years however specialty dining venues have become popular and come at an extra cost. These venues often offer more exotic selections, higher quality items, or simply more interesting theming.  There are lines however which include all dining - with no exceptions.  Oceania, as one example, has a number of venues on it's O class ships, which have distinct menus and flavors (some of the best dining we've experienced on land or sea, actually), and these are all complimentary.
Coffee, on some lines, such as Oceania, is already included - any type of coffee they have, prepared how you want, comes complimentary with your cruise (complimentary - remember, nothing on a cruise is free, you paid for it).  On other lines however specialty coffees, which generally refers to any coffee which includes espresso as an ingredient, do fetch an additional charge.  You should know that most cruise lines include American coffee with your cruise fare - we've yet to see anyone charging for a simple cup of drip coffee at breakfast, though we have seen quality which varies quite a bit.
Finally, while we discussed shore excursions in the past - and whether it's best to book them with the cruise line, third parties, or independently, some cruise lines actually include excursions.  Azamara for example doesn't include all excursions, but does have at least one excursion per sailing which has been arranged by the line and is complimentary.  Luxury lines such as Regent actually include almost any shore excursion in their catalog (some, such as private helicopter tours, do come at an extra cost).  While Regent and similar lines aren't cheap, if you're going on a port intensive cruise, the value proposition can increase quickly.
Other parts of cruises are included on some lines as well, such as transfer to and from the port, WiFi, gratuties, and more.  As you've probably figured out at this point - there is no clear definition of "all inclusive", but a line which includes all of these things above, is probably safe to label as such.
Truly All Inclusive Lines
Anytime we start listing cruise lines with certain qualities or amenities, it's important to remember that there are cruise lines that even the most experienced of cruisers may never have heard of - and they're not necessarily the most expensive (though plenty of them are).  Further some of the larger lines may not market to your part of the world.  Ever heard of Victory Cruise Lines, Paul Gauguin, AIDA? In short keep in mind we're just providing some examples.  
With the "this list is far from all inclusive" disclaimer out of the way, there are a few lines which stand out as having no additional costs which you're likely to run into, aside from retail purchases.  
Regent Seven Seas is a cruise line that is operated alongside Oceania under the NCL Holding umbrella, and offer experiences that focus on dining and service, which include all restaurants onboard, all alcoholic beverages (though we're pretty sure if you order a $500 bottle of wine, someone is getting a bill), and even their catalog of group shore excursions.  Similarly, Silversea, an independent cruise line offers truly all inclusive sailings, having been somewhat of a pioneer in the space, as does Crystal Cruises, which has been drastically expanding their offering to include luxury plane charters, river cruises, a yacht, and new ships.
From Regent Seven Seas' Website:
IT'S ALL INCLUDED…
This is cruising as it was meant to be — where even the most sought-after amenities are included: FREE Business Class Air*, FREE Unlimited Shore Excursions, FREE WiFi, and much more. Guests enjoy unparalleled hospitality and impeccable service by our professional staff in a sophisticated ambiance. They delight in the expansive spaciousness of all-suite accommodations, indulge in the exquisite cuisine of the finest dining experience at sea, and explore the world's greatest destinations without limits. Guests really can have it all aboard Regent Seven Seas Cruises®.
One interesting line to note is Celebrity Cruises.  In late 2020 they announced they'd be going all inclusive, where all standard fares include alcoholic beverages, tips, and some onboard credit.  You can read all about this new way Celebrity packages cruises here: Celebrity Goes All In - Drinks, WiFi & Gratuities Always Included. They also allow you to upgrade some of these included amenities by adding on packages - which leads us to our next topic.
Bundling/Packages
Just because something isn't included with your cruise doesn't mean you can't build it into the cost.  One of the most popular examples of this are beverage packages, which started being offered about 15 years ago.   These packages allow you to pay a set price for the entire cruise (or remainder of it if purchased after embarking) and include most beverages in certain categories - either up to a given price or a certain number.  The most well known of these packages are alcoholic beverage packages.  There are however also packages for specialty coffees as well as soda.  Depending on what you enjoy drinking and how much, these can be a great way to include drinks with the price of your cruise - a big step toward being all inclusive.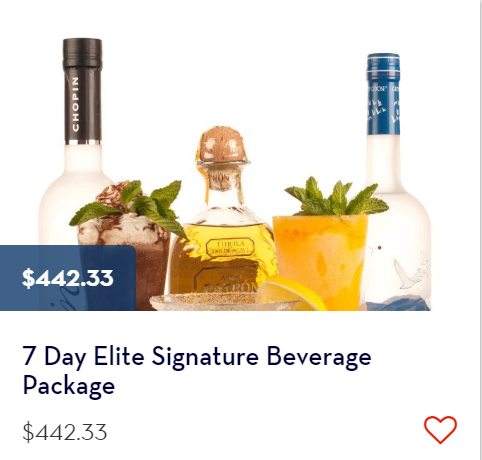 Often times, if you purchased an alcoholic beverage package, specialty coffees are included as are other non-alcoholic beverages.  Some lines, like Royal Caribbean,  also have prepaid "coffee cards" where you can prepay for a certain number of coffee beverages at a lower price.  Disney Cruise Line, quite notably, doesn't offer any beverage packages, though they do have a loyalty card for Cove Cafe, which gives you every sixth specialty coffee for free - what's nice as this simple punch card can be used across sailings.
Dining packages have also been introduced by several cruise lines, which allow unlimited access to specialty dining venues, or in other cases, one specialty dining meal each day of your cruises - or even just a package of several meals for your cruise at a reduced rated.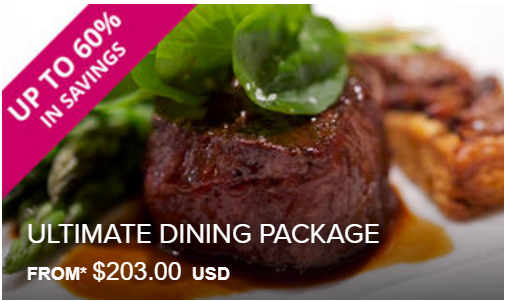 Less popular, though we'll bet we'll see more in the future, are shore excursion packages.  Many lines, for certain itineraries or ports of call will offer deals on excursions, often organized by the team to increase revenue for a certain sailing.  These aren't usually advertised ahead of time, and some lines don't do this at all - but we figured it worth mentioning, and you can always ask the shore excursion team.  interestingly, some third party shore excursion companies, which organize multiple options for any number of cruise destinations, do have these options.  Often these can be a great deal for families who don't have a specific objective in any of their ports, but find these companies with solid offerings in each port.  
Partially Inclusive Lines & "Grey-Area" All Inclusives
No, not grey-area in terms of legitimacy, but like many things in life, there are some blurry lines here.  See, different markets and demographics value a la carte vs inclusive offerings very differently.  One example of this is in NCL's UK beverage policy which we mentioned previously.  Beyond this however, look no further than suites.  Increasingly lines offer "ship within a ship" experiences for suite guests, which include special areas just for those guests, and often include things like WiFi, specialty dining, alcoholic beverages, and more.  Royal Caribbean's Star Class, for example, offers some accommodations which include everything but excursions along with larger rooms, butler service, etc.  Doing this makes some of the suite rates you see seem much more reasonable.  Norwegian also does things like this, but push hard for bundling of any number of amenities at time of booking.  In fact, often with NCL, purchasing a beverage package with your cruise fare can be less than half the price of adding it later.  Other lines, like MSC, have similar bundles for certain categories and even loyalty levels.
As mentioned, all inclusive cruising means different things depending on what you want out of your cruise.  If you don't drink alcohol, then that is a moot point and doesn't increase the value or appeal of a given cruise.  Below are just a few examples of lines which include different things with their fares.
Disney Cruise Lines - includes soda (on deck and in certain venues, not ship-wide)
Azamara - includes alcoholic & nonalcoholic beverages including specialty coffees
Oceania - includes all nonalcoholic beverages including specialty coffees, pre/post cruise hotel accomodations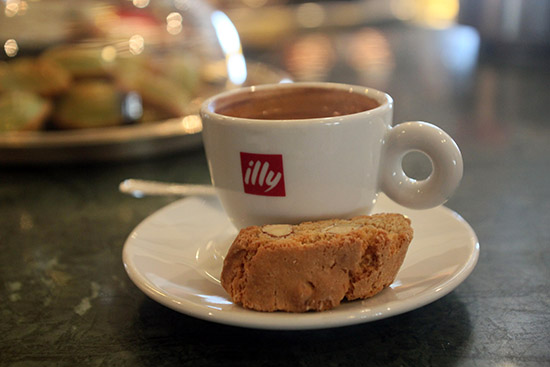 Conclusion
If the idea of an all inclusive cruise is appealing so that there are no unexpected costs and far fewer lines on your vacation budget spreadsheet then these are good times in cruising.  While some observe "nickel and diming" in the industry, never have there been more options for including so much of your vacation costs into your cruise fare - whether with packages purchase after booking bundles at time of your booking, or included amenities with certain cruise lines or even categories of suites.  No matter how you slice it however, you're paying for these things no matter what, so it's important to decide ahead of time what you value so that you can pick the right package and the right cruise.
Do you prefer all (or "more") inclusive cruising?  Would you prefer lower fares and having everything a la carte, or do you like not having to think about money once you board?  Let us know in the comments below, or reach out on Facebook or Twitter!