Author: bill November 10, 2020, Updated: April 19, 2021
Celebrity Cruises has for several years has given guests the option of building drinks and other add-ons into cruise fares - most recently with Sail Your Way.  Now every sailing will include WiFi, drinks, gratuities, and potentially more.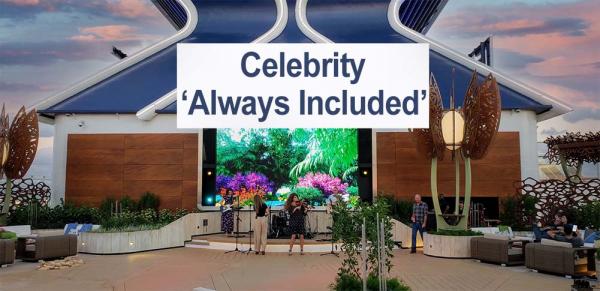 Always Included
Celebrity's new program is called Always Included, because starting November 17,2020 all sailings (except those in the Galapagos) will include WiFi, drinks, and gratuities.  
Book a Celebrity cruise and you'll get a classic beverage package, Wi-Fi for two devices, and gratuities/services charges are already built into the fare.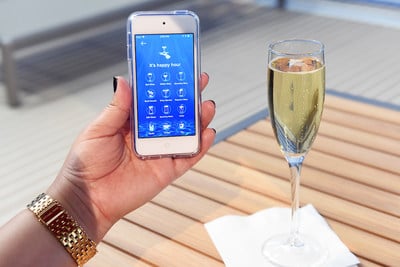 Going Further with Upgrades
Guests interested in upgrading their amenities have several options.  One option is to upgrade a la carte, and pay to just upgrade to the Premium Beverage Package, or upgrade the standard ("Surf") WiFi package to the "Stream" package.  This can be done either in the Cruise Planner (online) after final payment, or once onboard.  The cost of upgrading the beverage package is $11 per guest, per day.  
 
Gratuities
Bev Package
Wi-Fi for 2
OBC for ShoreEx
General OBC
Always Included
Yes
Classic
Surf
 
 
Elevate
$30 pp/per day
Yes
Premium
Surf
$100/$150/$200
 
Indulge
$60 pp/per day
Yes
Premium
Stream
$100/$150/$200
$100/$150/$200
Elevate & Indulge
It may be better for guests wanting to upgrade to upgrade to a different package instead - especially guests planning on taking any shore excursions through Celebrity.  You can think of "Always Included" as a base fare, plus there are two others, Elevate and Indulge.  Elevate, which costs $30 per guest/per day, upgrades guests to the Premium Beverage Package and includes up to $200 in onboard credit (OBC) for shore excursions.  Indulge, which costs $60 per guest/per day, includes the beverage package upgrade and the shore excursion OBC, bumps guests to the "Stream" WiFi offering, and includes an up to $200 additional OBC for general use.
Wondering what else you can use onboard credit for?  We explain what OBC is and how to use it here.
Suites Are All Set
Guests booked into The Retreat, Celebrity's suites area, will get the same amenities as the Indulge Package at no additional charge.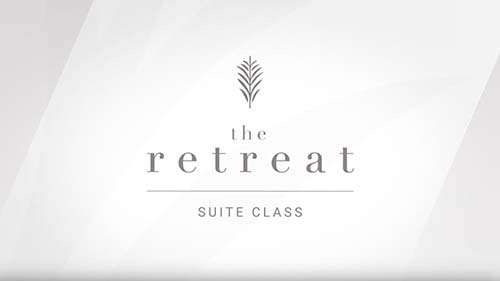 Two Exceptions, But No Catch
In life it seems for every rule there are ten exceptions, but in this case, just two.
This new structure doesn't apply to Galapagos sailings.  While still part of Celebrity Cruises, the fleet of ultra small ships sailing the Galapagos are handled rather differently, and already include many amenities.  
Celebrity may sometimes offer Simply Sail deals.  These are cruises sailing within 90 days and come at much lower rates - however they don't include any of the benefits mentioned here.  This doesn't mean these sailings won't have the Always Included options, just that guests not interested in WiFi, drinks, etc may have the option at booking some last-minute sailings at lower fares.  NCL has a similar construct with their Sail-Away rates.  As always, you'll want to do the math to see if this makes sense for you.

Keep in mind that there are a lot of considerations with last minute cruises.  Check out The Truth Behind Last Minute Cruise Deals.
Things You May Be Wondering About 'Always Included'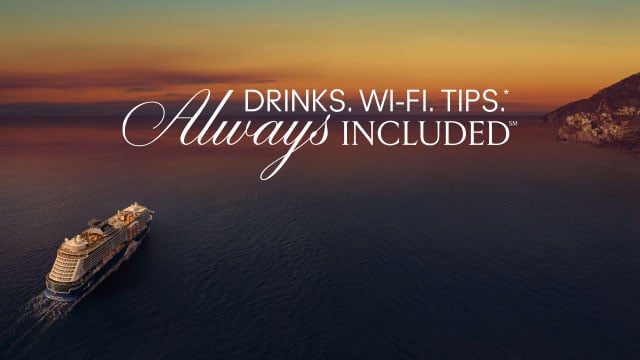 How much onboard credit is included with Elevate and Indulge?
The amount of onboard credit varies by sailing length.  Below is the breakdown.  Keep in mind for Elevate that this OBC is just for shore excursions, and for Indulge, half is allotted for shore excursions, and half can be used for anything you can usually use OBC for.
Elevate - $100 1-5nights; $150 6-9 nights; $200 10 nights or more
Indulge- $200 1-5nights; $300 6-9 nights; $400 10 nights or more
Does this apply to everyone in the stateroom?
The gratuities and beverage package apply to all guests in a stateroom.  Only two WiFi logins are provided (unless you opt to purchase additional of course).  The OBC is per-stateroom, regardless of the number of guests.
Do all guests need to be on the same package?
Yes.  This means, for example, if two guests are in a stateroom, and one guest wants to upgrade to the Elevate Package, both guests must do so.  
How long is this offer valid?
This isn't a special offer or promotion - it's a totally new way Celebrity is structuring fares.
Billy's Take
In our experience, the majority of guests we've met on Celebrity in the past several years have purchased both a beverage package and internet access - and many also appreciated the Sail Your Way bundles.  Assuming the numbers work, this will likely be a bit hit with those cruisers, and helps Celebrity get a better grasp on what revenue will look like on any given sailing.  Those who don't drink and tend to stay off the grid while cruising may not love the new packages - though the drink packages do include fresh-squeezed juices, specialty coffee, and bottled water.  In any purchase, for either type of guest, it's important to look at the price, look at what you get for that price, and decide if it's worth it to you.  
Understanding how to figure out if a drink package is worth it may also be a good exercise in calculating which of these packages to book.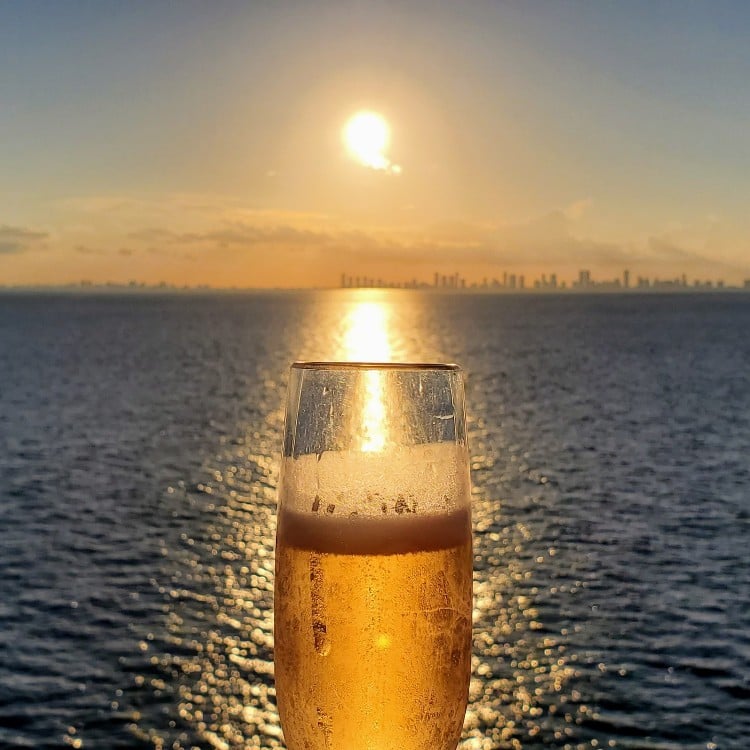 To us this doesn't come as a big surprise, as premium lines like Celebrity, Princess, and Holland America have been doing more and more bundling in the past few years. MSC Cruises bundles things as well, though with a bit too many 'flavors' of packages in our opinion.  One line however sticks out as being influential in this decision, and that's Virgin Voyages.  They've not had a sailing with guests yet, but they've touted the inclusion of basic beverages (though not alcoholic ones), service charges, and WiFi, with a brand that may resonate with Celebrity cruisers. 
No one wants to spend more money, but people do like predictability in pricing, and that's what this offers - in addition to savings compared to adding these offerings independent of cruise fare.  Frankly, I do wish the onboard credit was a bit simpler, or at least the messaging around it, as I can already hear this being explained over and over at Guest Services when someone doesn't understand why their shore excursion OBC didn't apply to their retail purchase.  Perhaps we'll see the wording evolve in time.  
In the end, we like this.  We've long built the cost of all of these things into our Celebrity Cruises, and now pricing them out will be easier.  The only thing more we could ask for is an upgrade that let's us get on board right now.