Author: Bill November 20, 2021, Updated: November 28, 2021
As frequent cruisers, it's hard not to compare one line to another when onboard a ship.  This is especially true when on a cruise line that we've never sailed.  This means we'll be doing a lot of comparing this week as we set sail on Princess Cruises' Sky Princess for seven nights in the Eastern Caribbean.
Why This Cruise/About Sky Princess
We've long wanted to try Princess.  They're positioned as a premium line and are owned by Carnival Corporation (like HAL, Cunard, Carnival, and several other brands).  They've always looked like a relaxing line and we haven't kept it out of our rotation on purpose.  In fact, we booked Sky Princess for early 2020, but of course that didn't happen.  Why Sky Princess?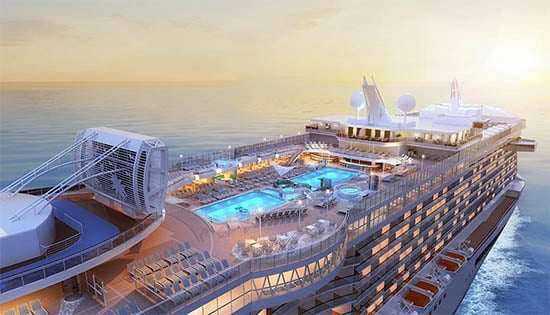 Princess Cruises only has a few classes of ships. In recent years, they've taken to rapidly adding Royal Class ships and that includes Sky Princess.  She started sailing at the end of 2019, but because of the industry shut down, this is still among her earliest sailings.  
Sky Princess is around 145k gross tonnes and can carry up to 3,660 passengers, though this sailing is not full.  She features a wide variety of dining options, entertainment venues, and many nice looking pool areas.  One other thing she has going for her?  She's home-ported in Port Everglades (Ft Lauderdale, FL), not far from where we live.
Embarkation Process
In the past few years, many cruise lines have smoothed out the embarkation process with pre-check-in via phone apps helping a lot.  It's a good thing too as COVID precautions including verification of vaccination and testing have added steps.  Because Princess' Ocean Medallion program promises a lot of guest enhancements via technology, we thought this would help with our getting on the ship.
We arrived at Port Everglades around noon and parked in the garage—something we usually skip in favor of an Uber ride.  This wasn't a great choice as we parked on the fifth floor only to find out the elevator was broken.  Make no mistake, this isn't Princess' fault.  In fact, it impacted cruisers on three different lines.  Fortunately, we followed our own advice and dropped off our checked bags before parking so I only had to carry 173lbs of luggage down the stairs having checked my bathing suit, box of tissues, and other lightweight items.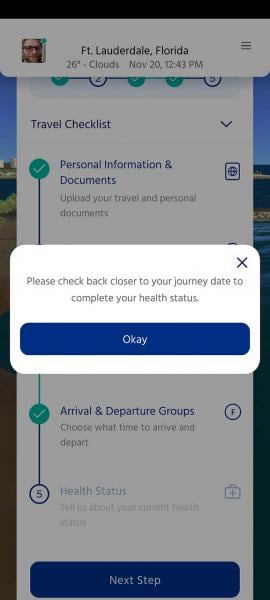 Once at the terminal, we found a long security line that indicated pretty clearly  they were not enforcing the check-in times given in the app.  Eventually, we made our way upstairs and Princess has two lines depending on how far you checked-in via the app before you cruise.  You want green status where you just walk on, but we had blue as the app didn't let us complete the health questionnaire, constantly indicating we had to wait until it was closer to our sail date.  This was an issue for quite a few others and resulted in a total check-in time of two hours.  My first impressions, in this way, weren't positive.  Still, my friend embarked Celebrity Apex right next to us, and also saw delays, even though my Celebrity check-ins are usually very quick.  In other words, things happen, and once onboard I was just happy to be there.
As soon as we boarded, I ran a speed test to ensure the internet connection was working well despite the app issues, and WOW what speeds!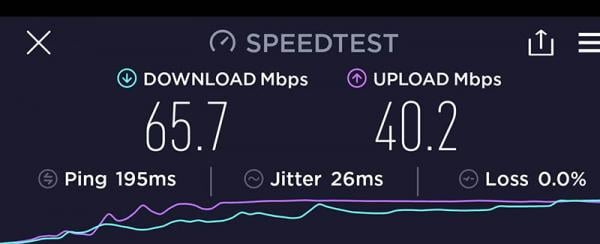 First Impressions of the Ship
In videos and photos of Princess ships, I appreciated that they looked very light, but also felt the decor seemed a bit more classical than I prefer.  Walking into the three-story atrium I found this to be a good representation, but prettier than I'd expected at the same time.  I think I just prefer grays, silvers, and earthy colors over gold and natural wood.  Ultimately though, it felt very comfortable and fresh.
The open decks are gorgeous to me as they feel less "family resort" and more of a comfortable place to relax in peace.  There are a lot of pools, something I'm sure we'll cover more as the sailing goes on.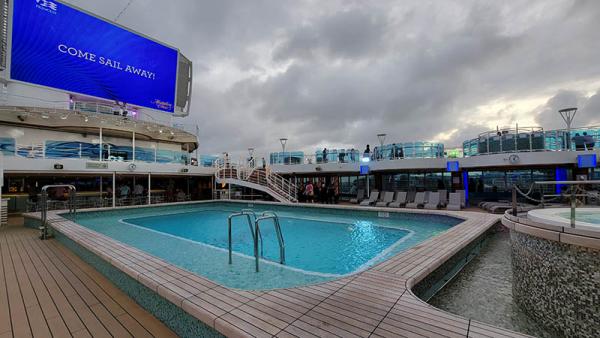 All areas, indoors and out, on initial inspection are very welcoming.  I also noticed that hallways and common areas feel very wide.  Like even when at full capacity, most areas give plenty of room for guests to pass each other.  I suspect this works out well for those with certain mobility issues, but also just feels nice for strolling about, especially in the atrium which they refer to as a piazza.  I actually think the term piazza is fitting here as there are places to enjoy live entertainment, get coffee, snack, and mingle.
Our Stateroom
We're staying in a mini-suite which, from what I can tell, is a slightly larger verandah stateroom.  The price point is certainly closer to a verandah than a suite, but it affords us some extra room that is useful as we work from the ship during the week.  It has a lot of storage including an open walk-in closet.  The shower is also a nearly full-size tub, which is handy.  I'll do a full stateroom tour on YouTube soon like we did for our recent Odyssey of the Seas junior suite.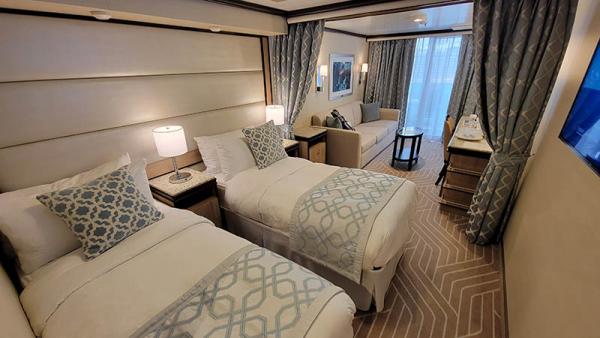 We had champagne (not sparkling wine) and chocolate-covered strawberries waiting for us.  I'm honestly not sure if this is a standard thing for mini-suites or something that the Princess team sent along just for us, but we're definitely appreciative!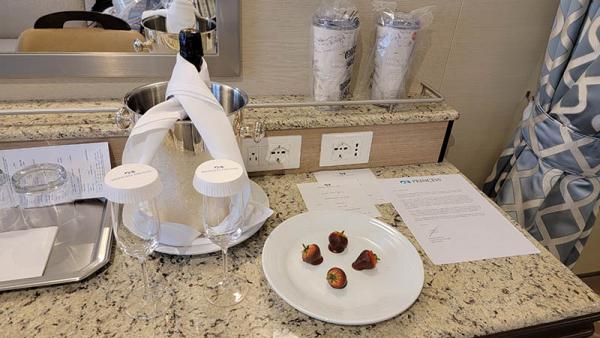 When we got to the room we did find that the beds were split despite specifically requesting they should be together.  This was easy to resolve though.  When we walked up to our room for the first time, our stateroom attendant approached us by name. How?  Ocean Medallions—the little tokens in our pockets—made it easy to tell who was walking near him.  I look forward to seeing how else this impacts the guest experience.
Dining and Jazz
We opted to try out the main dining room (of which there are technically three) for our first dinner on Princess.  I had some veggies with goat cheese, a mango grilled fish dish, and cheesecake.  I also had some of Larissa's vegetable tart.
I've heard many tout the food on Princess including, most recently, Greg at CruiseInd (please follow him for great industry information).  Our lunch in the buffet was fine; I'd describe dinner similarly.  The vegetable dish was unexciting, but tasted good.  The fish was a nice flavor combination and felt very tropical.  The highlight of dinner was actually the cheesecake which had a clearly-fresh strawberry compote and was better than a lot of cheesecakes I've had, even in New Yorker-heavy South Florida.  One odd thing is that the tables all have QR codes, but they're not loading anything.  Between this and a few app quirks, it seems they're having some issues but time well tell if that is a real issue.  Paper menus work fine.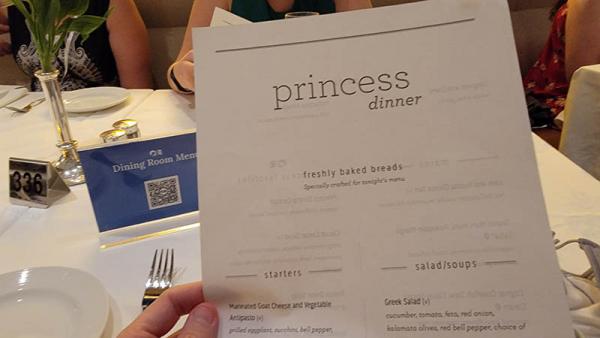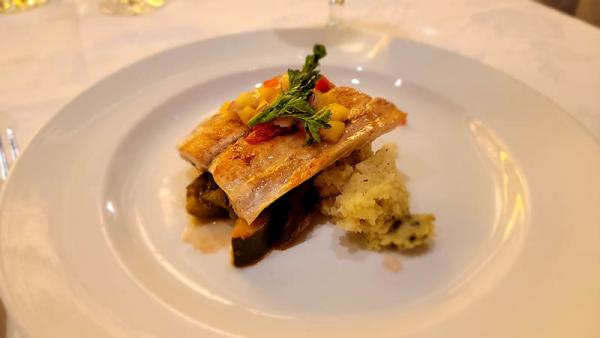 After dinner we headed to Take Five where the Larry King Trio was entertaining us with live jazz.  This venue is nice for drinks, socializing, and of course the music.  Bonus?  They have Talisker, one of our favorite scotches.  Also, I just heard them play Rainbow Connection, so now I'll be here every single night.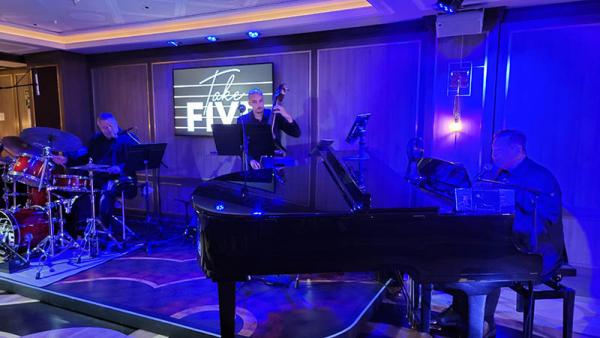 A New Private Destination 
Tomorrow, we spend the day at Princess Cays, the line's private destination in Eleuthera (the Bahamas).  I really enjoy the variety of private destination offerings by cruise lines.  They all have different rustic/resort balances, and while I tend to favor rustic, I recently found Royal Caribbean's Coco Cay to be a great destination for kids and adults alike.  We didn't book excursions or any activities, so a relaxing stroll is all we're planning on, and good weather is all we're hoping for.
Hello Gorgeous
I have to mention that we were docked next to two ships today.  Actually, seven were in port today—cruising is back!  Today, we were between Odyssey of the Seas, which we sailed a couple weeks ago, and Celebrity Apex, which we're sailing in January.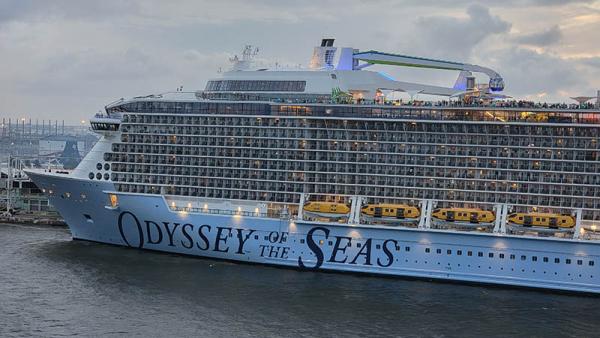 If you want to join us, we have some special incentives including a great trip to the Maya Chan resort for those who book through the group.  Please cruise with us!  You can find more information at ApexGroupCruise.com.  While berthed next to Apex, we caught a glimpse of our friend Andrew Ford on deck.  This shot is a bit far out, but we had to get that Apex logo in too.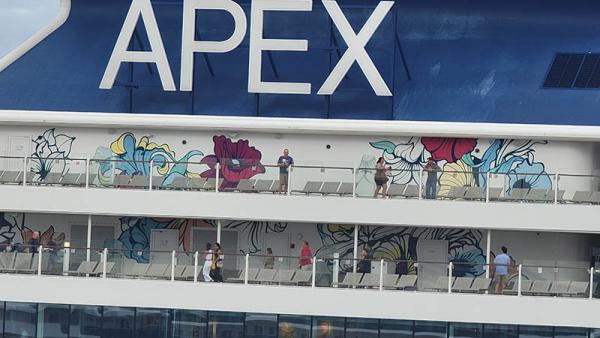 Live Blog Links: