Author: Bill November 26, 2021, Updated: November 28, 2021
Today was the first full sea day that I had to enjoy the ship without working, and after a very long night's rest, I was ready to go.  The weather, however, was less cooperative, but it didn't slow us down one bit.
Dining Room Breakfast 1, Billy 0
I really wanted to try having breakfast in the main dining room this morning, but it's only served until 9am (or maybe it was 9:30).  Later breakfast options are definitely something I'm looking forward to enjoying again on Scarlet Lady when we're back in two weeks.
The World Fresh Marketplace buffet has decent options, but by day six I was ready for someone to bring me my breakfast.  Maybe tomorrow (those who know me know the smart money is on "slept too late").  They did have a cute Thanksgiving cake near the pastry area of the buffet, though no word on what flavor a cornucopia is.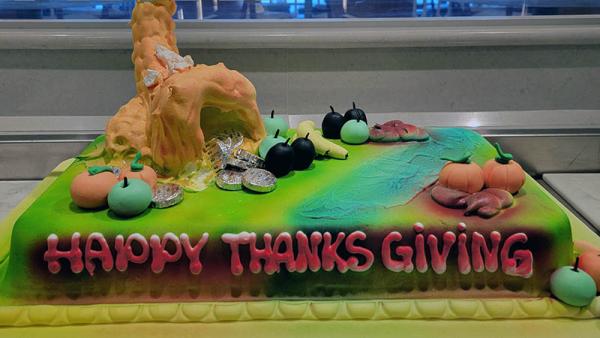 While walking back I noticed just how many ceiling fans there are over the covered parts of the main pool deck.  I know some ships have these, but I feel like there are more here, and it makes a really big difference, whether sitting down or just passing through.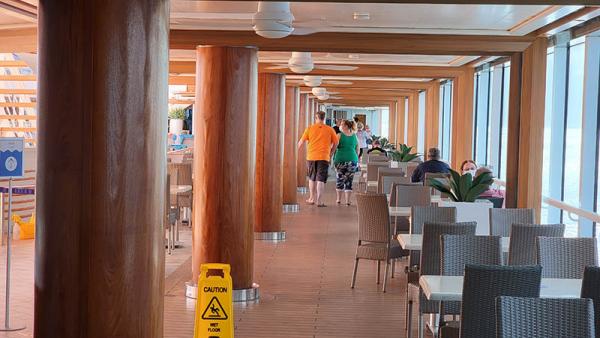 Weather Warning from the Bridge
I actually did have one task this morning after breakfast, but a good one: I needed to write yesterday's post (since I passed out prematurely last night).  Instead of being confined to the corner of a cafe, I went to the pool deck, one deck above us, on 16.  There I found a comfy seat by the Sea Walk, the glass walkway over the water.  Many other guests were out by the pool or laying in the sun, but my shaded spot ended up being just perfect.
After around 20 minutes of writing, the captain came on and announced that there was a shower we'd not be able to navigate around, and that in about five minutes there'd be some rain, so those on the open deck may want to head in.  This heads up was appreciated by many.  Despite the rain and high winds, the latter of which we've had for days, I stayed high and dry.  
First Princess Logo Gear & Interesting Co-Branding
Because this is our first time cruising Princess, we did something we don't usually do while cruising: we bought logo gear.  I've got many shirts, hats, glasses, etc with cruise line logos, but little with Princess.  I found their shop prices to be pretty reasonable.  Larissa and I each bought shirts of decent quality, and each were $20.  In fact, her polo was marked down from $28.  
They had some dresses that were cute as well, but the Princess logo wasn't terribly noticeable, and Larissa skipped them.  What I noticed though was a different logo: HH.  HH is Helly Hansen, a Norwegian clothing and sportswear company.  They make a variety of things, but on cruise ships, the only HH gear I usually see are bright orange.  No, not obnoxiously bright shirts, but they make marine survival suits and similar gear.  It appears, in this case, Princess has opted to use Helly Hansen for their clothing and bags.  They tend to make very high quality (and often somewhat pricey) things, so I found it kind of neat and worthy of mention.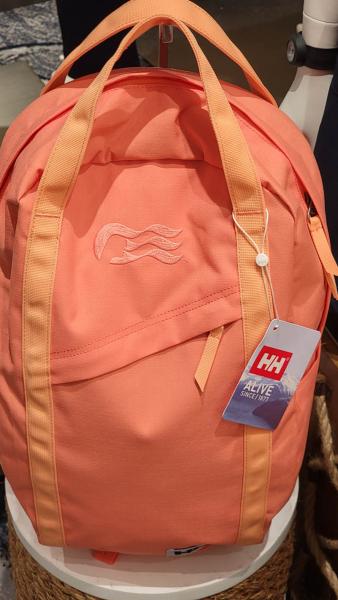 Thankful Cards
Just outside of the shops was an interesting display of "thankful" cards.  Earlier in the cruise guests were given cards to put down what they were thankful for.  I'm not one for these types of gestures, but I thought it was a neat idea, and it was heartwarming to read some of them.  Many wrote how thankful they were for the return of cruising and travel (don't get me wrong, me too!) but it's important to keep in perspective that those of us getting to do this are wildly fortunate, and were even while unable to travel.  Remember that when you interact with crew members working 16 hour days, every day for six months or more, away from family.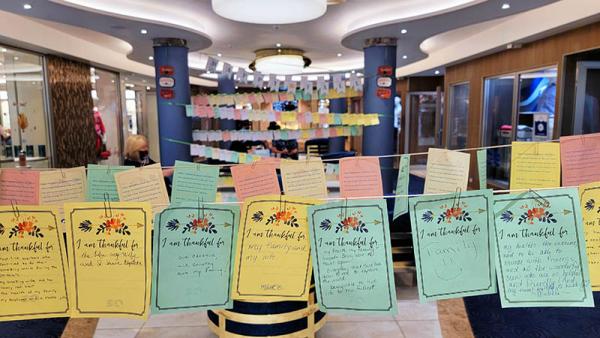 Main Dining Room Lunch
I don't always have lunch in the main dining room when cruising, but when I do, I find it very relaxing.  Everyone speaks more softly, the water is visible through the windows (which, eating late most nights, isn't usually the case), and the whole place has a different feel.  Looking out the windows today actually reminded me of cruising the North Atlantic on Cunard when I was younger - watching the sea churn rush by just a couple decks below the dining room, making the ship's speed obvious, and a contrast to the pace onboard.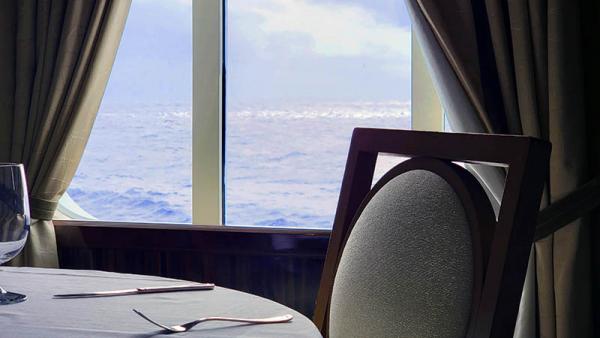 I had a soup and sandwich, nothing special, but the quality was good and service friendly.  Larissa and I shared a small rum cake for dessert.
Many Pools, One Winner
Sky Princess has several pools, and the smallest, by far, is the aft pool next to the Wake View Bar on deck 16.  It's awkward to get to for many, but of all the pools, it's my favorite.  I just love the views, plain and simple.  Do note it's quite shallow (less than four feet), but it makes for a relaxing place to enjoy a drink and watch the world go by.  It's just aft of the buffet, and there is plenty of covered seating if you want to enjoy your meal here as well.  There is a smoking area just above the bar, but so far I've not even noticed.  This isn't the case with the casino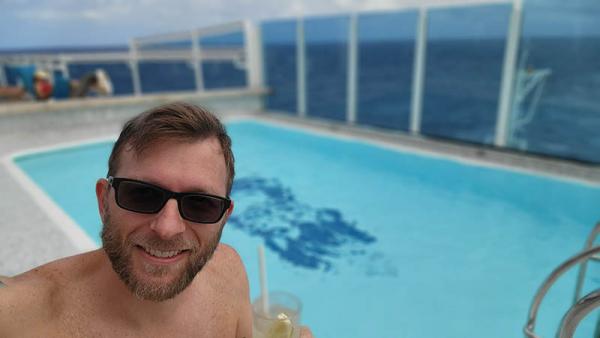 Room Tour...In the Works
I've taken to doing room tours on the CruiseHabit YouTube channel lately, so today I filmed the room in preparation for showing off what I liked (and didn't) about the room.  Subscribe to the channel to see when that goes live, but I'll give you this bizzarrely worded observation: the shower head in the mini suite bathroom is disproportionately small to the size of the shower.  First world problem, right?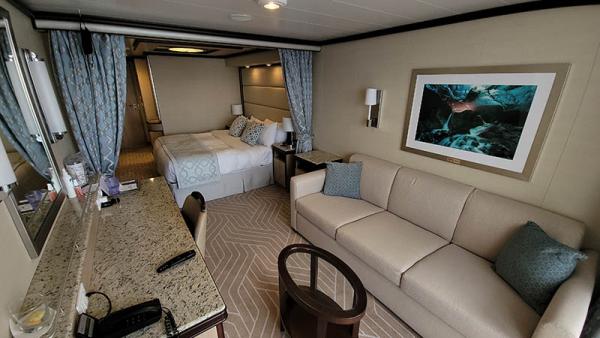 One other thing I'll mention here is that I really like the fact that the stateroom door opens up as you approach it because of the Ocean Medallion device.  I thought this might seem creepy, and I can see how in theory it's less secure, but I'm rather enjoying it.  On rare occasions I have to wait at the door an extra second or two for the handle to glow green indicating it's unlocked, but usually it's ready as I approach.  Very handy.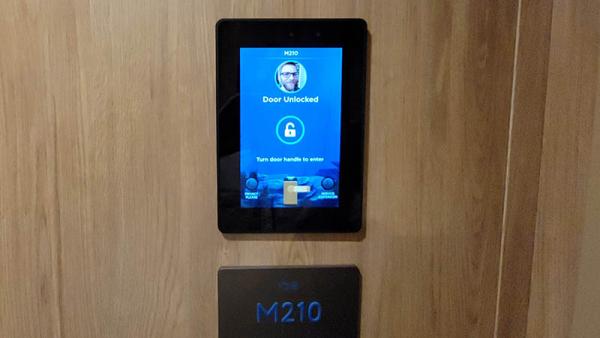 Poolside Snack: Princess Can do Better Here
I've been pretty happy with cuisine on Sky Princess, and one of the poolside options is pizza that I found to be quite good.  Today though I wanted a quick snack before heading to The Retreat Pool area, and I figured I'd try the veggie burger and fries at the Salty Dog Grill.  Like many places, they said it would take an extra ten minutes for a veggie burger, which was fine.  When it was ready, they offered up a wide variety of toppings, including fresh diced jalapenos!  I love fresh jalapenos.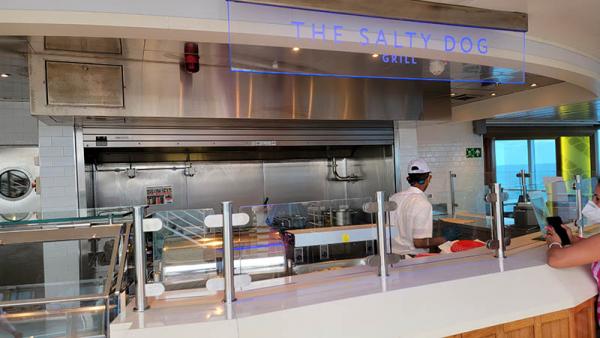 The burger itself, however, was mediocre at best.  It was the same as what was served at Princess Cays, and while it wasn't bad, it just isn't very good.  I found this in such contrast not only to the pizza feet away, but the veggie burgers on their sister line, Holland America Line.  The fries were pretty good, but please, Princess, get your cousins at Holland America Line to supply you with whatever makes their poolside veggie burgers so delicious.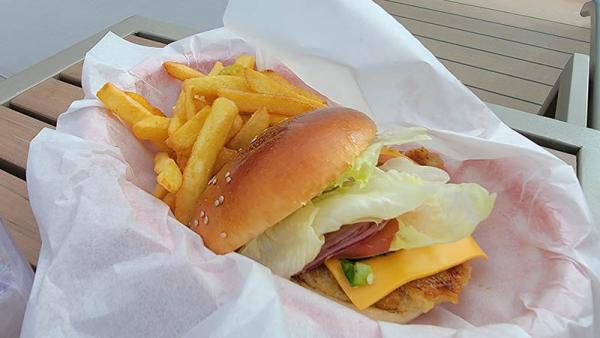 Traditionally Untraditional Thanksgiving
As someone who doesn't eat meat, I don't eat turkey each thanksgiving.  In fact, I have just one tradition over thanksgiving, which I had to skip last year: I take a cruise.  For dinner we went back to the main dining room, where, of course, turkey was on the menu.  Plenty of other options were available as well.  This being the second to last night of the cruise, it's a bit surprising we've note done more specialty dining, which may happen tomorrow, but it's been kind of nice being back to the semi-traditional routine of an MDR.  I say semi-traditional, as all guests on this cruise have anytime dining.  You can set reservations if you'd like, either once or for each evening, or just walk in.  In fact, Princess' entire dining concept is quite flexible, and you can read about their Dine My Way program.
My main course was a collection of well-seasoned seasonal vegetables between layers of flaky pastry.  This dish definitely came out looking like silver dollar pancakes with veggies, but it ended up being a flavor and texture combination that was just right.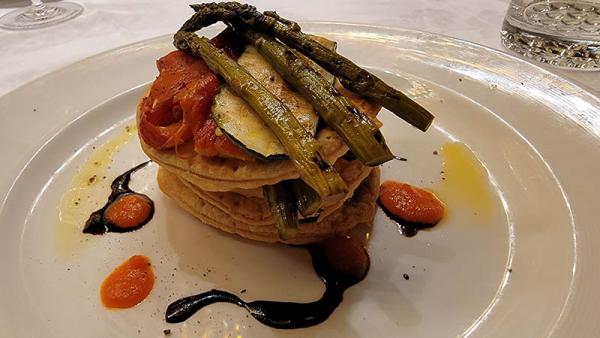 The highlight of this meal though, was, like others on the cruise, the company.  I want to take a moment to thank our friends Eric and Tracey for joining us on this cruise.  It was a rather last-minute thing and I'm so glad it worked out.  
Ever-Present Music & A Late Night Tour
It seems like there has almost never been a time I've passed through the Piazza that there hasn't been live music, and this makes a nice difference in the overall feel onboard.  If you're sitting in a fancy-looking atrium with a cup of tea in the middle of the day, you're waiting.  Do that while enjoying a duo peacefully playing Beatles covers, and you're spending quality time relaxing.  This is true when socializing as well, and after dinner, we enjoyed friendly conversation with our friends while sipping cocktails at Good Spirits, the mixology bar on Sky Princess.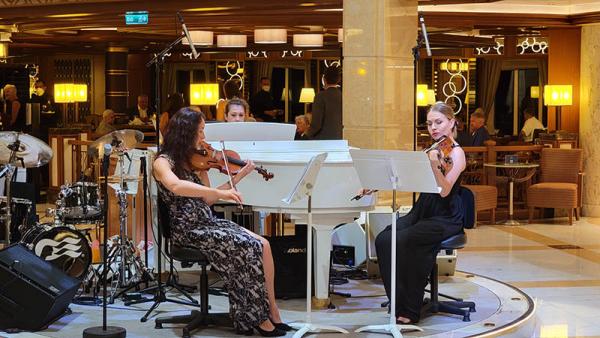 In another part of the ship, the Take Five jazz lounge, music we've enjoyed almost every night keeps going until a bit after midnight, and we went back this evening to hear the Larry King Trio once again.  This band and venue continues to impress.  Also impressive was the presentation of the vegetable cruidte that our friend enjoyed while we were listening to music.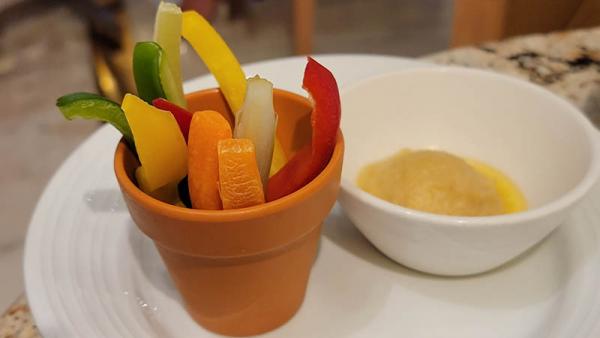 I was curious though what else was happening on the ship after hours, and heard that the Vista Lounge was the late night spot. 
The Vista Lounge is a classic aft lounge, a concept I'm very fond of, and the type of venue you'd expect to find karaoke in, an activity mysteriously missing from the schedule on our Sky Princess cruise.  Late in the evening it becomes, other than the casino, the last venue open.  I found a small collection of guests dancing the night away, a DJ providing the tunes, and a collection of bar staff getting guests their drinks.  One delightful surprise was that the music, at least back toward the bar, wasn't blaringly loud - I even wrote some of this post there.  Last call was at 1:15am, and the DJ even pointed out that after this, you could still get a drink at the casino bar, or anywhere on the ship using the Ocean Medallion app.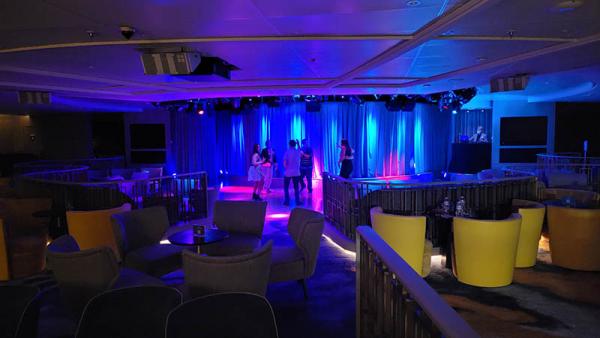 Stray Observations
Casino Smoke: As smoking indoors on ships becomes less and less common, it's still very prevalent in the casino on Sky Princess.  Overall I'd say it's well contained, except when passing in front of the entrance, where this photo was taken.  It's impossible not to miss it there.


N95s: All cruise lines, as far as I know, have staff wearing masks, at least indoors.  Princess, however, is the only line I've noticed so far that has staff wearing N95s.  They seems to be taking a very cautious approach, in general.

Late Night Pools: The Sky Pool (which is actually two pools at the main pool deck) are open much later than other ships.  This means when enjoying the "Movies Under the Stars" that Princess is famous for, you can even take a swim.  I've seen the pools open, with some guests enjoying them, even after the dining rooms have closed.
Live Blog Links: