Author: bill May 17, 2021, Updated: May 20, 2021
Princess' OceanMedallion program already gives guests ultra-fast WiFi at sea, the ability to access staterooms, make onboard purchases, book excursions, and more, right from a smartphone.  While cruising has been paused, Princess Cruises certainly hasn't stopped moving forward.  As part of the MedallionClass experience available on all Princess ships, guests can now use a mobile device (or other means) to arrange dining for their entire cruise, and flexibility is the name of the game.
From Princess:
Dine My Way is all about personalizing your cruise dining experience. Customize your dining time for each day, whether making reservations for the main dining room (which is included) or specialty restaurants (which charge a small cover charge). Have dinner at the same time each night or change it based on what works for you.* Once on board, you can order food and drinks for delivery wherever you are through OceanNow®. More options at your fingertips means less time waiting and more time to dine your way.

Ordering Food & Drinks with OceanNow
Whether you're relaxing in a lounge, enjoying Princess' famous Movies Under the Stars, or almost anywhere onboard, OceanNow lets you order food and drinks and have them delivered.  This means you don't have to wait in line, or even get out of your chair if you want a snack, or can't take your eyes off the sunset.
Dine When, How and Where You Like
When You Want
Dining when you want can mean choosing the same options for your whole cruise, doing something special one night, or establishing and changing reservations whenever you'd like.  We love flexibility when on vacation.
Change reservations as needed. (It's flexible!)

Request the same time each night and even the same waitstaff.

No reservations needed for those eligible for Club Class Dining.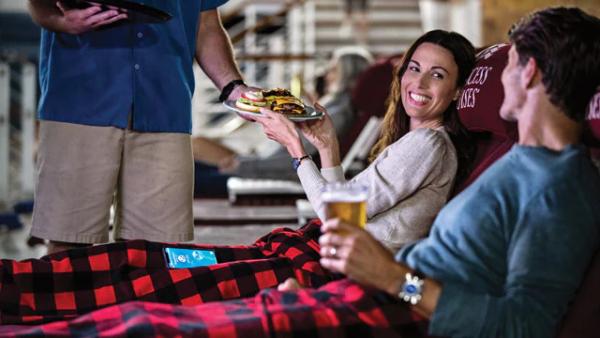 How You Want
Cruise lines have long been great about ensuring guests get what they want – but with Dine My Way you won't need to rush to the host-stand on embarkation day (still one of our top embarkation day tips) to request the table location you want, and you can be assured that the staff at all dining venues is aware of your dietary preferences in advance.
Customize your food and drink orders.

Share any dietary preferences.

Request your table location.

Choose your dining pace.
With Whom You Want
Maybe you're traveling with old friends, or you've just met new ones onboard – or maybe you're looking for a special night away from the rest of the family.  Dine My Way means you can make and adjust reservations for anyone in your party – just like you can already do for other events and shore excursions.
Let us know who's in your travel party.

Easily make and edit reservations that include members from this group.
Where You Want
Dine Your Way doesn't just mean arranging meals at the main dining room, but at specialty restaurants, casual venues, and even from wherever you might be relaxing onboard.
Take your pick of a variety of eateries and dining options, including regional cuisine.

Let your tastes and mood decide, anything from a celebratory multi-course meal at an award-winning specialty restaurant to the best pizza at sea. (Choosing's the only hard part!)

Don't get up! Order food and drinks delivered wherever you are with OceanNow®.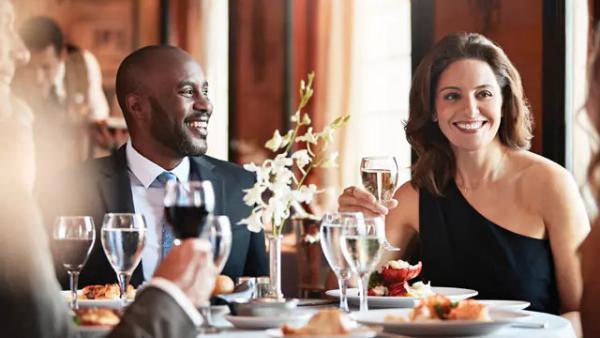 Other OceanMedallion Features
For guests, this new program adds to what is already a great suite of options available in the smartphone app, as well as on large touch-displays throughout the ship.  Guests sailing on MedallionClass ships (which as of late 2020, is ALL of them) can also look forward to the below features (and many more):
Scheduling debarkation times to avoid long lines

Reserving seating for shows

Booking onboard and shore side experiences

Setting and adjusting other guest preferences

Unlocking staterooms
Billy's Take
While most cruise lines have worked hard to increase connectivity and give guests access to apps and mobile sites for certain parts of their experience, Princess Cruises' OceanMedallion program seems to really focus on giving guests more options, and not just enhancing already available experiences.  Sure, dining reservations could always be made, but constant reservations adjustments required a shipboard phone or visiting a restaurant, often at specific times.  Food delivery to wherever you are?  That's an option we've seen Carnival offer for pizza, but little more.  Specifying the pace of your meal service?  Linking reservations?  These were off-menu requests before Dine My Way.  
Princess Cruises continues to enhance it's OceanMedallion program at a time when the minimization of crowds is more important than ever.  Such improvement to the guest experience help differentiate them from many cruiselines who tout their tech.